The latest leadership statistics emphasize the importance of good leadership and reveal how poor leaders can damage a company.
Excellent leaders are not just people who coordinate a team. They solve problems, monitor progress toward goals, and improve business strategies. Moreover, their task is to improve team communication, encourage and motivate employees, and boost workplace morale. In addition, the best leaders are empathetic, have an understanding of organizational direction, and know to communicate effectively.
Check the stats below to learn the latest trends so you can improve your trajectory and nurture the leaders of tomorrow.
Leadership Statistics in 2022 (Editor's Choice)
Interesting Facts About Leadership Demographics
1. 64.3% of leaders are White.
(The Washington Post)
At over 64%, White is the dominant ethnicity among leaders. Black or African American leaders account for 15.5% of the leader workforce, while Asian and Hispanic or Latino leaders hold 8.6% and 5.8% of all executive positions, respectively.
2. Around 36% of Millennials and Gen Zers hold leadership roles.
(Talent Intelligence)
Millennials and Generation Z are rapidly taking on more responsibilities. According to estimates, they will make up 58% of the leader workforce by 2028. This shift will influence future trends in leadership development as the younger generations want to see more mobile-ready learning opportunities and greater flexibility. Plus, recent research has confirmed that online development is a more effective tactic for young people than typical classroom learning.
3. Only six Fortune 500 companies are led by a Black CEO.
(Fortune, Korn Ferry)
Only six Fortune 500 companies have a Black leader in 2022, two of which are women. It's even more concerning that 60% of Black leaders say they need to work twice as much as their White colleagues to be considered equally capable.
4. As per the latest leadership stats, diversity in leadership is a priority for only 16.8% of companies.
(Workable)
The vast majority of leaders (64.8%) have listed diversity throughout the company as a priority area in their DEI strategy. This is undoubtedly a good step toward creating more inclusive organizations. However, only 16.8% of companies plan to prioritize diversity in leadership roles. Inclusion should be evenly distributed across all company levels, including the top positions.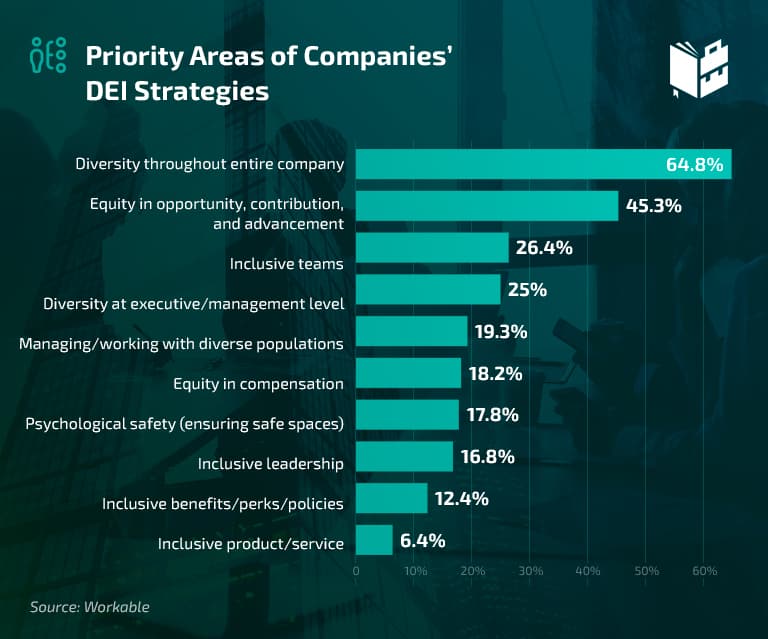 Women in Leadership Statistics
5. For every 100 men promoted to manager, only 86 women are promoted.
(McKinsey & Company)
Women are more likely than men to get stuck at the entry level. About 86 women get promoted as managers for every 100 men promoted to the same position. This "broken rung" is the reason why there are significantly fewer female leaders in senior roles.
6. Women leadership statistics indicate that 90% of mid-market organizations have at least one woman in a senior management position.
(Grant Thornton)
The percentage of women in senior management roles within mid-market companies has increased to 32% since 2021. It should be noted that the figures have stayed above the 30% tipping point for two years in a row, indicating significant progress towards gender parity.
7. 39% of HR directors are women, as women in leadership stats show.
(Grant Thornton)
Women in executive positions are most likely to work as HR directors. Although this role is strong in female employment, the gender bias persists as men are still overrepresented, accounting for over 60% of the total number of HR directors.
8. Women account for 24% of CEOs.
(Grant Thornton)
Females account for almost a quarter of the total number of CEOs. According to statistics on women in leadership roles, 23% of women serve as COO, and about 37% have a CFO role. Furthermore, 24% of CMOs and 19% of CIOs are women. These numbers confirm that women in C-level positions are still outnumbered by men, although there's improvement compared to the past years.
9. At 31%, the financial sector has the highest percentage of C-suite women by industry.
(Korn Ferry)
The finance industry sees the highest number of female leaders—31%. According to female leadership statistics, the healthcare sector comes next at 26%, followed by retail at 25%. Women occupy 24% of C-suite roles in the consumer sector and 23% in the industrial, technology, and energy industries. Finally, 21% of leaders in the service industry are women.
10. In North America, the percentage of women leaders is 33%.
(Grant Thornton)
When looking at the percentage of women in leadership positions worldwide, North America is slightly above the global average rate of 32%. Conversely, Africa accounts for the highest percentage of female leaders, with 40% of women in executive positions.
11. Women reach leadership roles 1.4 years earlier than men.
(LinkedIn)
A recent LinkedIn study has revealed that women who climb to the top of the corporate ladder do so 1.4 years faster than men. However, women have significantly smaller chances to reach the top positions than men: statistics show that for every woman who achieves a leadership role in the first 10 years of her career, 1.8 men do the same.
Statistics on Effective Leadership
12. Three in four employees think transparent and effective communication is the most important trait of leaders.
(Haiilo)
Three in four employees consider transparent and effective communication to be the most important leadership attribute. Effective communication is how a leader keeps employees engaged. Still, only one in three employees say their leaders can communicate efficiently.
13. Appreciation makes 43% of employees more confident.
(Survey Monkey)
Leadership facts highlight the importance of the leader who appreciates the team. A sincere pat on the back goes a long way. About 43% of employees will feel more confident, and the same number will be more motivated. Additionally, 78% of employees say that being appreciated makes them happy.
14. Growth leaders bring 80% more shareholder value.
(McKinsey & Company)
Transforming an employee into a leader requires great effort and thought. But if done right, it can produce excellent results. Statistics illustrate that growth leaders are responsible for 80% more shareholder value than others over a 10-year period.
Bad Leadership Statistics
15. For 75% of employees, their immediate superior causes the most stress on the job.
(APA)
Team leaders play a huge role in employee satisfaction which, in turn, is one of the most critical factors that impact employees' overall well-being. Unfortunately, 75% of employees point out that their immediate superior is the most stressful part of their job. Additionally, those who have described their relationships with leaders as "very bad" or "quite bad" have reported significantly lower satisfaction rates than those who maintain good relationships.
16. According to leadership statistics, 76% of job seekers say their boss is toxic.
(Monster)
In a poll that included people seeking new jobs, 76% said they wanted to leave their current company because of a toxic leader. In addition, 26% explained that their boss was looking out only for themselves, whereas 18% said their immediate superior was a micromanager. Furthermore, 17% described their boss as incompetent, and 15% said the leader was never around.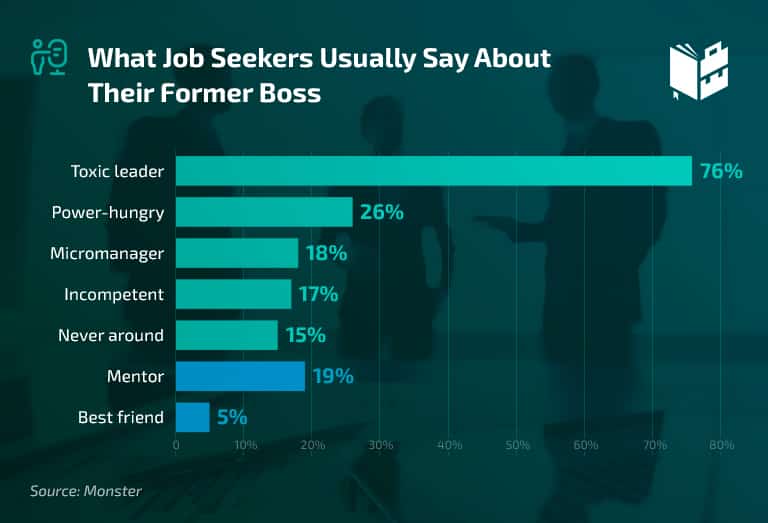 17. 57% of employees quit because of their managers, statistics about leadership confirm.
(DDI World)
A recent survey has shown that employees leave their bosses, not companies. A whopping 57% of employees have quit their jobs because of their immediate superiors. Of them, 14% have left multiple companies, and 43% have left one company due to the same reason. Additionally, 32% have thought about quitting because of their manager.
18. A poor leader either breaks even or loses $1 million a year.
(Zengner Folkman)
According to the latest statistics on leadership and management, a bad leader loses $1 million a year or breaks even, whereas an excellent leader either doubles or increases the profits by 20%. Looking at these numbers, good leaders create more economic value than bad leaders.
19. A single bad leader costs the company more than $126,000 a year.
(DDI World)
An average company loses around $126,000 per year due to one bad leader. The losses are related to leaders' failure to build strong relationships with employees and empower them to be more engaged and productive.
Must-Know Business Leadership Statistics
20. Hiring leaders internally boosts the success rate by 25%.
(DDI World)
Internal hires are 25% more successful than external ones. According to data from over 1,700 companies, 47% of externally hired executives fail compared to 35% of internal executive hires. Internal hires are more successful because HR professionals usually have more information to evaluate them and determine if they are a good fit. Additionally, internal hires are more likely to have already developed the skills needed to advance and take senior roles.
21. After the pandemic, 47% of leaders will focus on multiple scenarios to stay prepared for the future.
(Deloitte)
Leadership statistics show that 47% of business leaders will spend more time preparing for multiple scenarios that might impact their companies in the future, compared to only 23% pre-pandemic. Additionally, 17% say they will focus on unlikely events, and 32% will continue to factor in the possible events.
22. 70% of managers weren't expecting the promotion in 2019.
(DDI World)
Being promoted to leadership positions came as a surprise for about 70% of managers. Approximately 20% said they were excited about the new opportunity and challenges. However, interesting leadership facts pinpoint that 17% only took the role because it seemed like a logical next step.
Furthermore, 19% of leaders accepted the promotion because of the pay rise. The unexpected promotion resulted in 41% having second thoughts about whether it was the right move, and 18% regretted taking the role.
23. 68% of people agree that business leaders should step in when governments don't resolve societal problems.
(Edelman)
Facts about leadership uncover that people expect business leaders to step in when the government fails. Nearly 70% of people think business leaders should take over and fix societal problems when the government fails to do so.
Additionally, 66% of people believe business leaders should lead the change instead of waiting on the government to initiate change. What's more, 65% think business leaders should be accountable not just to the organization but also to the public.
24. Companies can fill only 47% of leadership roles.
(DDI World)
Trends in leadership are shifting due to the unpredictability in the workplace after the pandemic. Before COVID-19, companies were able to predict the challenges they might face in the next three to five years and prepare their leaders.
Now, on the other hand, leaders need to respond to rapid and unpredictable changes. This causes a short supply of leaders. Companies can fill only less than 50% of leadership roles, and only 11% of HR professionals confirm they have a strong talent pool to fill these roles, which is the lowest rate in the past 10 years.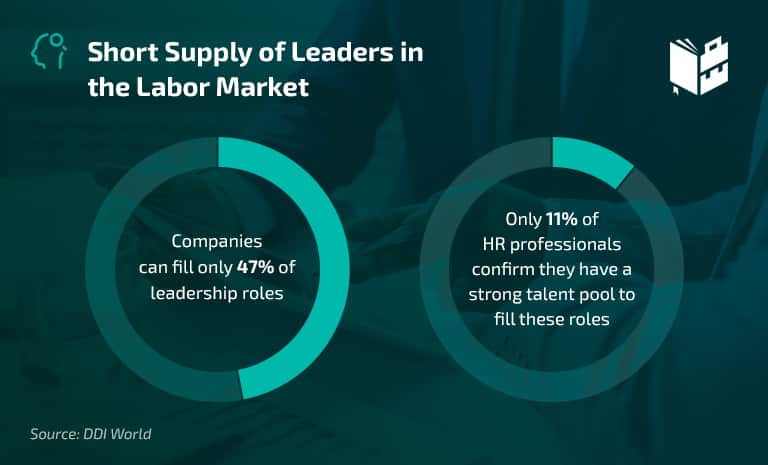 25. Only 22% of employees strongly believe their leaders have the mindset needed to keep up with the leadership trends and lead them forth.
(MIT Sloan)
Despite the rapid shift towards digital resources, the vast majority of leaders hold on to practices that worked in the past, and only 22% of survey respondents believe their leaders have the mindset to implement the changes their businesses need to meet the digital economy demands and thrive.
Leadership Development Statistics
26. According to 84% of HR directors, the need to upskill leaders will change in the next decade.
(DDI World)
The pandemic impacted the HR practices and operating models, forcing organizations to automate their workflow. According to 84% of CHROs, developing and upskilling is the area that will see the most changes in the following decade.
In addition, the new trends in nursing leadership and management will entail flexible working conditions and dynamic work models, greater diversity in the workplace, and hiring more female leaders or promoting them to executive positions.
27. 61% of new leaders who had gone through a formal assessment said they had a smooth transition.
(DDI World)
Formal assessment helps leaders become more self-aware about their strengths and weaknesses. About 61% of leaders who have adopted the current trends in leadership development and have gone through formal assessment report smooth transition. Therefore, formal assessment is one of the best practices organizations can do to support successful leadership conversions.
Quality is also a big differentiator in the process—50% of leaders are more likely to report a smooth transition when receiving a high-quality assessment.
28. Men are 13% more likely to get leadership training than women.
(DDI World)
Gender discrimination in leadership persists. Statistics on leadership indicate that men are 13% more likely to receive leadership training and 19% more likely to be formally assessed. What's more, men are 22% more likely than women to be assigned a formal mentor and get support in the transition process.
29. After the COVID-19 outbreak, organizations using ILT dropped by 10%.
(Royle)
As expected, the social distancing measures impacted the methods used in leadership development training. The percentage of organizations using instructor-led training decreased by 10%. Similarly, leadership development trends demonstrate that the use of virtual instructor-led training increased by 19%. The blended learning methods also increased by 7%.
30. 42% of companies don't have a leadership competency framework to guide their development programs.
(MMC)
About 42% of companies can't create solid development programs due to the lack of a leadership competency framework. About 30% of organizations blame senior management for not creating development programs. Furthermore, 25% say these programs take too long, and 22% claim the cost is too high.
31. According to estimates, by 2026, the leadership training market will grow by $18.59 billion.
(Technavio)
Leadership training statistics forecast that the leadership training market's worth would increase by $18.59 billion between 2021 and 2026, with a CAGR of 9.51% and a 7.87% YoY growth. Estimates also show that 41% of the market's growth will come from North America. Apart from the US and Canada, other key consumer countries include India, the UK, and Germany.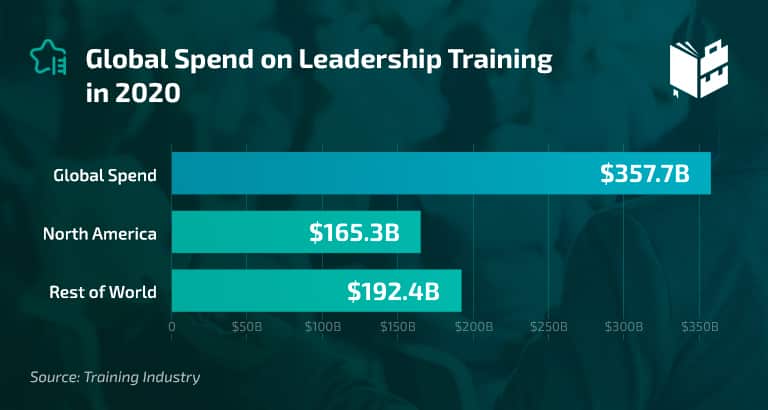 32. 49% of organizations leverage development programs to upskill or cross-skill their leaders.
(MMC)
Almost half of businesses rely on development programs to upskill or cross-skill leaders and support their growth. Additionally, statistics on leadership development unveil that 31% of organizations use these programs to identify potential leaders and 20% to create an internal succession pipeline.
33. 20% of leaders have a hard time adjusting to the new team's culture.
(MMC)
The biggest challenge for new leaders is adjusting to the new company culture, which can negatively impact their performance. The other most significant challenge is the low learning agility (20%), followed by an inability to network (18%), lead people (17%), and get results (17%). At 8%, early attrition is also one of the biggest challenges for new leaders.
Conclusion
Leadership trends have changed significantly, especially during the coronavirus pandemic. Nowadays, organizations face a more complex business environment than ever before, requiring leaders who thrive in collaborative organizations and can adapt to remote and flexible working.
Additionally, the stats have emphasized the importance of retaining and training talent to reduce staff turnover. It's best to promote an internal hire through leader development programs, mentoring, and coaching. However, making sure that the promotion isn't premature is imperative because it might cause adverse effects.
Last but not least, companies should strive for gender equality because such teams are more productive and organized.
FAQ