The benefits of inclusion and equality are numerous, and these diversity in the workplace statistics can prove it. Being a diverse company means employing people with various characteristics such as race, gender, age, religion, etc.
Companies that have more diversity are not only seen as more desirable to work for, but they also manage to outshine and outperform their competitors. It's beneficial for every organization to have a broader perspective, which will portray a positive image to the public eye.
Having such an approach to doing business can only increase your employee's productivity, services improvement, client list, and profits.
Workplace Diversity Statistics (Editor's Pick)
Diversity Facts and Statistics
1. Inclusive companies are more likely to lead and capture new markets.
(HBR)
Around 70% of diverse companies are better positioned to capture new markets, and with the higher number of markets comes much better performance and a lot more money.
2. 43% of companies with diverse management exhibited higher profits.
(McKinsey & Company)
Among the top facts is the increase in profits. According to diversity stats in the workplace, companies that have diverse management teams have enjoyed a notable increase in profits compared to their competitors.
3. Companies with racial and ethnic diversity are 36% more likely to outperform their peers.
(McKinsey & Company)
Statistics have shown that companies in the first diversity quartile perform better than those in the bottom quartile by 36%. This information goes hand in hand with the increase in profits, as it is increasingly clear that the lack of diversity in the workplace can only hamper your work and your company.
4. Diverse teams are 87% better decision-makers than individuals.
(People Management)
Teams that had geographical diversity, members of different genders and races, as well as an age gap of at least 20 years, were recorded as making better business decisions.
5. 73% of companies that employ gender equality practices are more profitable and productive.
(Entrepreneur)
Gender diversity in the workplace statistics show that companies with gender diversity issues perform worse than their counterparts without such problems. According to crucial statistics and revenue growth, when men and women in the workplace are treated equally, they perform better. In addition, executive teams with gender diversity are 21% likely to report above-average profitability.
6. 75% of inclusive companies exceed their financial target goals.
(Gartner)
When companies improve the working environment and create an inclusive workplace, people not only feel empowered, but they also band together and work harder to meet the company's target goals. According to diversity in the workplace statistics, three out of four companies with a diverse and inclusive culture exceed their financial goals.
7. 78% of workers think that diversity and inclusion offer a competitive advantage.
(Deloitte)
In today's modern global business environment, the diversity issue has become overly important. Even employees understand the importance of this matter. Over 75% of people believe this can lead to a competitive advantage, while about 39% truly believe it offers a significant advantage over the competition.
Minorities in the Workplace Statistics
A much more challenging topic many companies endure is discrimination in the workplace, regardless if it is subtle or overt in any way. Discrimination can indeed hamper an employee's productivity and work experience. This usually happens to members of a minority group of racial, ethnic, color, or other classification.
Most of the time, it occurs when members of these groups are treated differently compared to their colleagues or other employees, mainly because they belong to those groups.
For example, age diversity in the workplace statistics prove that if these issues aren't addressed the right way, a company cannot move forward and be a leader in innovation.
8. 18% of people in the US workforce are of Hispanic origin.
(US Department of Labor)
The percentage of Hispanic workers has increased from 10.7 million in 1990 to 29 million people in 2020. The number of Hispanic people in the workforce will reach 35.9 million by 2030, or 21.1% of all workers, workforce diversity statistics show.
9. Women make up 51.7% of Netflix's workforce.
(Bloomberg)
Netflix is one of the large companies that understand that workforce diversity is essential. As of 2021, women make up the most of Netflix's employees. The company also reports an increase in Asian, Black, and Hispanic workers — these three groups currently make up 23.5%, 10.7% and 8.6% of the company's workers, respectively.
10. 15% of Fortune 500 companies' CEOs are women.
(Statista)
Gender discrimination in the workplace is evident. Numbers suggest that there is still an enormous amount of bias regarding the hiring of women for CEO positions. Such figures further prove that the latest diversity and inclusion statistics are not just facts and need to be taken seriously.
74 women were CEOs of Fortune 500 companies in March 2022, up from 41 in June 2021. While the increase is impressive, it still means that women make up only 15% of Fortune 500 companies' CEOs.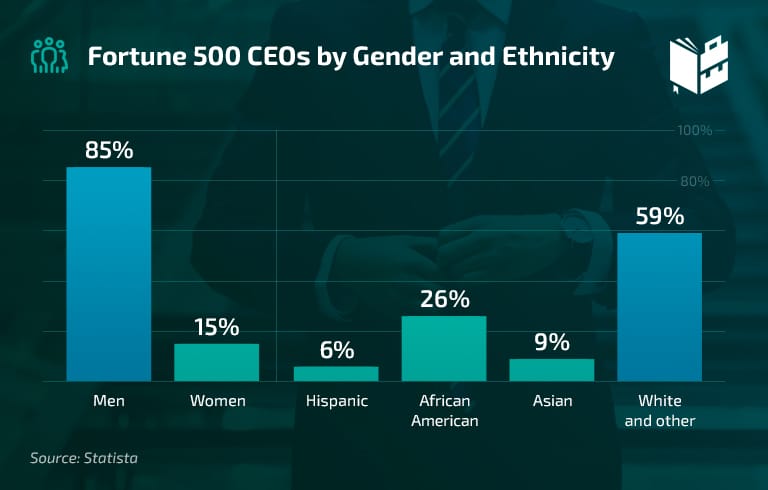 11. 26% of new Fortune 500 board directors are African-American.
(Statista)
The latest data on new board members in Fortune 500 companies shows that one out of four new directors are African-American. According to workplace diversity trends, this represents a significant increase from 2009 when they made up only 5.3% of newly appointed directors.
12. 41% of all managers state "being too busy" as a reason to implement any kind of diversity and inclusion initiatives.
(HR Daily Advisor)
It is safe to say that this is not how a business should operate with the intent of moving forward. Executive teams might want to invest time in addressing this issue. Facts about diversity in the workplace show that it's detrimental to a company's success.
13. Google stated that, by 2025, workers from underrepresented groups would fill 30% of leadership positions.
(Reuters)
Minorities in the US are called up for interviews less often, even if they have a flawless resume. It makes this statistic relevant for immediate action to be taken for every person to have an equal opportunity to succeed in life.
Black people hold only 3% of 900,000 top-paying positions in the US. In addition, Adidas also reports that 30% of new positions would be occupied by Latino or Black workers by 2025.
Other Diversity in the Workplace Statistics
14. The millennial generation makes up 35% of the US workforce.
(Pew Research)
According to the latest statistics, more than a third of the working population in the US are Millennials. On the other hand, Gen X and Baby Boomers represent 33% and 25% of the workforce, respectively.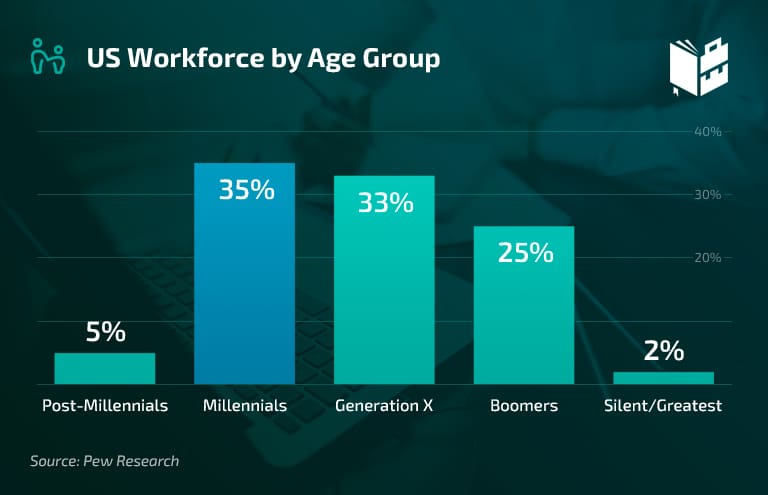 15. By 2025, Millennials will constitute 75% of the US workers.
(Brookings)
As diversity in the workplace stats show, millennials offer a vast opportunity for America's corporate future, primarily due to this generation's behavior in the workplace and their approach to life and culture
In the coming years, most Americans will strive to demonstrate a strong desire for society's well-being and be less troubled for individual success.
16. By 2044, the current "minority" groups will reach a "majority" group status.
(SHRM)
Diversity is not just about accepting job seekers from various demographic backgrounds in the workplace; innovation and performance play a considerable role as well. According to growth projections of the Asian, Hispanic, and multiracial groups in the workplace, minority groups in the US will reach the majority status by 2044.
17. Millennials and Gen Z-ers say discrimination against minority groups is the least present in the workplace.
(Deloitte)
Diversity in the workplace statistics show that, out of 11 environments, the Millennial generation and Gen Z workers claim that systematic discrimination is the least present in their workplaces. Two-thirds also said that their companies worked toward creating diverse and inclusive working environments.
However, 38% of Gen Z-ers and 34% of the Millennial generation believe that discrimination is still widespread at work. They add that there is plenty of work left to be done until the workplace becomes a place where everyone can be treated fairly and respectfully.
18. 83% of all millennials are more likely to be actively engaged if they believe their company stimulates a diverse and inclusive culture.
(Deloitte)
According to cultural diversity in the workplace statistics, millennials believe programs aimed at diversity and inclusion can improve business opportunities.
Fairness and the acceptance of different cultures and demographics can only boost productivity, lead to innovation, collaboration, and outstanding teamwork.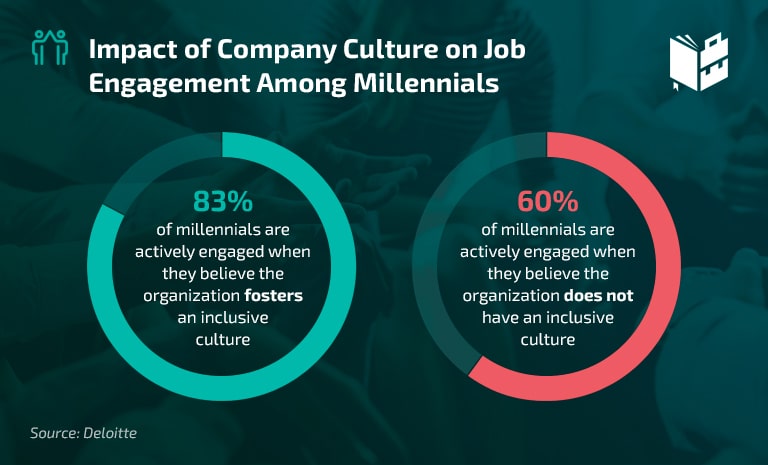 19. 48% of companies agree they have a more diverse workforce than in 2020.
(Affirmity)
Looking at many workplace diversity statistics, almost a half of businesses say their respective workforces are more diverse compared to 2020. However, 57% say only up to 20% of employees at their companies are members of ethnoracial minorities, while 20% claim the same for women.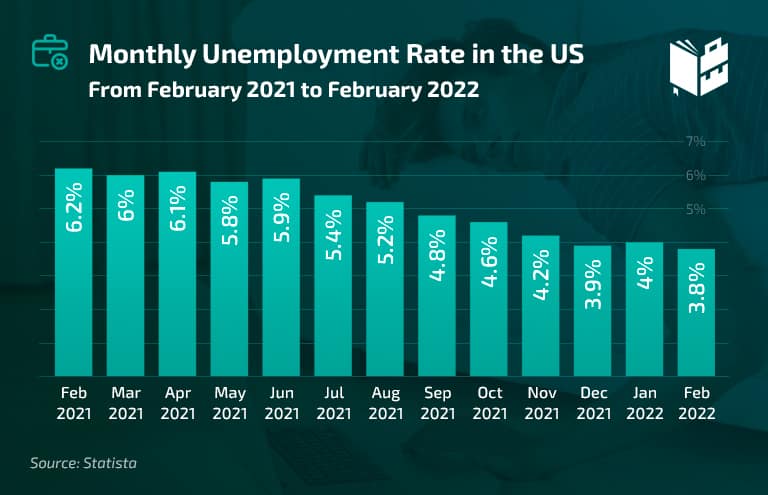 20. Up to 76% of workers value diversity.
(Glassdoor)
Three out of four workers agree that a diverse workforce will lead to more ideas and innovations. Companies look to improve in this area and value the importance of the matter because it benefits their current and future employees.
Workforce Diversity Statistics — Conclusion
A diverse and inclusive workforce includes people of various characteristics. It implies that a company is employing a wide range of unique and diverse individuals.
This was not always the hottest subject of discussion among HR representatives, but it has become a major goal for all companies in the past few years. Companies should use tools like a background checker instead of hiring people based on their skin color, race, or ethnicity.
A business' benefits of adopting diversity and inclusion policies are numerous, as it can grow its talent pool, improve employees' performances, acquire valuable and various talents, skills, and experiences.
People Also Ask (FAQ)