Employee retention statistics show what US companies are doing right and what new practices they need to introduce or change to improve their business.
Every business should aim to replace just those employees who are underperforming. However, retaining high-performing workers is a challenging process. They are aware of their impact on the business, and they want to be recognized for it. Still, thousands of companies worldwide don't realize the importance of workforce retention and fail to do so.
Top Stats and Facts About Employee Retention Rate
Employee Retention Statistics for 2022 — General Stats
1. 4.2 million Americans quit their jobs in July 2022.
(BLS)
The number of Americans quitting their jobs hasn't experienced drastic changes since March. In July 2022, 4.2 million people quit, representing only a slight increase from a year earlier (4.1 million). Healthcare and social assistance saw a 73,000 decrease in quits, while transportation, warehousing, and utilities experienced a 39,000 increase.
2. The average employee retention rate in the US is 90%.
(Great Game)
The average American company will replace no more than 10% of its employees this year. This figure is on par with the retention rate that thriving worldwide organizations maintain.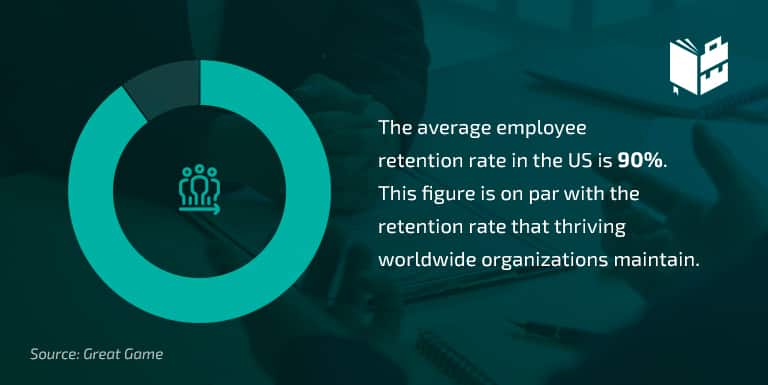 3. 41% of full-time employees feel burned out.
(Robert Half)
According to the new survey of 2,400 workers from Robert Half, 41% of employees have to deal with increased fatigue due to work overload, and 35% feel uncomfortable talking about it with their bosses.
Burned-out employees are less confident, productive, and, ultimately, less likely to stay with the company, as some other employee engagement and retention statistics documented.
4. 39% of employees list salary and bonus as the top reason they stay with their employer.
(WTW)
A good salary is the main reason many employees remain with their employers. More than a third of the surveyed employees listed this as one of the primary reasons behind them not switching jobs. Job security (38%), health benefits (34%), and flexible work (28%) are also listed as important.
On the other hand, 56% of those surveyed list they would move to another job because of inadequate pay and bonuses, while 39% would do the same because of health benefits.
5. Only 23% of US employers offer paid family leave.
(BLS, Forbes)
Various employee retention statistics reveal that not many employers provide new parents with the parental leave option. Moreover, mothers who don't take advantage of parental leave can expect serious difficulties. Unfortunately, the Family and Medical Leave Act (FMLA) is the only federal parental leave law, and it comes with numerous exceptions.
6. 24% of Millennials think about finding new jobs within two years.
(Deloitte)
Employee retention rate statistics indicate that Millennials are not a generation that sticks with their first employer their entire career, regardless of the work conditions. According to a 2022 Deloitte survey, almost a quarter of them plan to quit their jobs within two years.
7. 42% of current remote workers in the US will stay at their positions if they stay remote.
(Prudential)
Current remote employees expect their companies to continue expanding the remote work practice after the pandemic. If not, almost half of them will look for new jobs in companies willing to offer such opportunities.
8. 38% of Millennials expect to stay less than five years with the same employer.
(Deloitte)
Job retention rates for young adults suggest that Millennials have low expectations regarding their employers. Most of them don't expect to stay longer than five years. However, since they are the most significant part of the US workforce, employers might need to hear their demands.
9. 60% of Millennials are open to different job opportunities.
(Gallup)
Employers need to find ways to keep Millennials engaged and give them enough reasons to stay with the company and attract new millennial employees. In this case, retention and attraction strategies equally matter.
10. The median employee tenure is 4.1 years.
(BLS)
Employee retention statistics show an average employee stays with the same company for 4.1 years. However, only 29% of male and 27% of female workers stay with their current employer for 10 years or more.
Stats like this one just go on to show the value of training a company's employees. This Coursera review outlines the importance of online training in today's modern technological progress and why numerous successful businesses use it for their employees.
11. Employees who aren't lonely are more likely to stay with the company.
(CNBC)
The lack of a sense of belonging can make employees quit their job and decrease their performance. According to the EY Belonging Barometer 2.0 study, more than 80% of employees experience loneliness. Moreover, 90% of those feeling lonely don't report the issue to their superiors.
Employment Retention Rates — Employee Turnover and Its Cost
12. 59% of employees who struggle with monthly expenses look for a new job.
(PwC)
The most recent PwC survey on employee financial wellness shows that almost three out of five workers experiencing economic issues with household expenses search for a new job. In addition, 50% of those seeking to change their jobs rely on credit cards for necessities they cannot otherwise afford.
13. The average turnover rate in 2021 in the US was 47.8%.
(BLS)
According to the most recent employment turnover statistics, the turnover rates from 2021 in the US resemble the levels before the 2020 spike (56.8%). None of the regions significantly differed from the national average; the South experienced the highest turnover rate (52.2%), while the Northeast region had the lowest turnover (38.7%).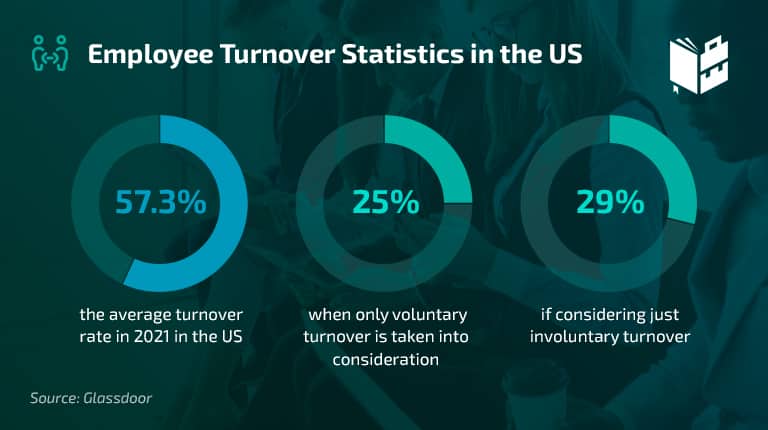 14. 50% of employees will stay with the new employer permanently.
(Prudential)
Over the past year, one in five employees has changed their careers. The main reason for switching careers for 27% was a better work-life balance. In addition, 26% wanted better compensation, and 26% searched for something new. These numbers are based on why employees quit statistics.
15. 31% of people would stay with their current employer if they had more flexible work schedules.
(Prudential)
The same survey has shown that flexible work schedules are among the top strategies employees can use to retain employees. Mobility opportunities are in second place with 25%. Remote-work options rank third, as 22% of people looking for a new job would stay if offered such a benefit.
16. 53% of employees plan to find a new job or are at risk of losing it in 2022.
(WTW)
According to the latest retention stats, over half of the 9,658 surveyed employees in the US from large and midsize private companies intend to change their jobs in the post-pandemic period. 28% of them are actively looking for a career change or a new employer, while 25% report feeling stuck and would leave for the right offer.
17. Employees at companies with high internal mobility stay almost two times longer.
(Linkedin)
The most recent Linkedin report reveals that employees are more likely to stay longer at companies with highly developed internal mobility programs. Moreover, the median employee tenure for companies with high internal mobility is 5.4 years. Conversely, employee satisfaction statistics reveal the median tenure for those with low internal mobility is 2.9 years.
18. 52% of employees don't switch jobs because they feel valued and supported.
(Achievers)
The retention rate would be much higher if the employers acknowledged their employees' efforts more often, based on the Achievers Workforce Institute's report findings. Unfortunately, fewer than one in five employers regularly provide their employees with feedback and focus on their engagement.
19. 29% of employees with five or more years of service find new organizations.
(MRA)
Employee retention trends show that, lately, these employees have been leaving organizations more. People with fewer than one year of service used to switch jobs more often, but a recent report tells us these two groups of employees have achieved equally low retention rates.
20. 54% of Generation Z will search for new jobs within a year.
(TechRepublic)
As much as 41% of employees plan to find new jobs soon. Various employee retention studies display the percentage of the younger workforce members feeling the same way is even higher. The lack of flexibility and support could be the main reasons.
Employee Retention Rates by Industry
21. 73.8% of the hospitality industry workers in the US change their jobs.
(Indeed)
It's a worrying fact that two out of three hospitality employees leave their jobs. The latest data available on employee turnover in the US is 3.6%. The possible reasons for these numbers could be low payment and scarce benefits.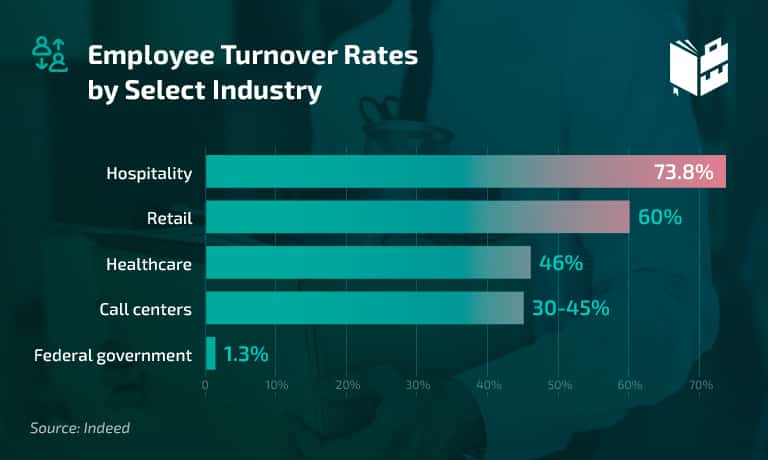 22. Over 60% of retail employees often look for new job opportunities.
(Indeed)
The retail industry is known for keeping very few long-term workers in the US. In fact, its employee retention rate is pretty low, and the most common reasons behind it are the wish to relocate and higher pay.
23. Leisure and hospitality had the highest turnover rate among all private industries in 2021.
(BLS)
The latest BLS data shows that the leisure and hospitality industry experienced an 84.9% turnover rate in 2021. The industry's accommodation and food services sector, in particular, noted an 86.3% turnover rate. On the other hand, the financial activities industry had the smallest number of separations in all private sectors, with a 28.5% rate.
24. 5–8% of full-time onboarded IT employees change their jobs.
(The Economic Times)
The most recent data shows that 5% to 8% of full-time IT employees switch jobs within the first 90 days. However, the industry still maintains a good employment retention rate.
25. Only 29% of nurses will stay in direct patient care.
(McKinsey)
A recent McKinsey survey further reveals that 35% of the surveyed nurses plan to stay in the workforce but in a different role. In addition, 31% of RNs plan to leave their jobs to focus on their family, pursue further education, or retire.
Employee Retention Cost — How Much Money Does Employee Retention Save?
26. Physician retention programs can save organizations up to $250,000 per employee.
(Jackson Physician Search)
Hiring new employees represents a huge time investment. Also, the recruiting process itself represents a considerable expense for the healthcare industry. Yet, 83% of the surveyed physicians say their employer doesn't have a physician retention program.
27. Millennials cost the US economy $30.5 billion per year.
(Gallup)
People from this generation change jobs more than any other generation — as much as 21% within the past 12 months. Employee retention stats show that three times fewer non-millennial employees have done the same. For companies, this is an enormous loss.
28. Keeping a bedside registered nurse saves around $44,000 per employee.
(Columbia Southern University)
The cost of replacing medical staff requires a vast sum of money regardless of the specialty. The healthcare industry can save between $33,000 and $56,000 per bedside registered nurse.
Employee Retention Statistics — Conclusion
After going through the stats listed above, one cannot help but wonder whether things will ever change for the average American worker. We learned that those who perform at a high level remain unrecognized, especially in high-stress work environments.
We also learned that most young adults don't even expect to be recognized for their work. However, Human Resources is an ever-evolving field, and there are always companies that excel at it. Just keep looking for them.
People Also Ask — FAQ