Modern companies are focused on keeping their employees engaged, and almost all employee engagement statistics highlight employee engagement's importance.
Organizations with motivated employees who work diligently are bound to be more successful. That's why being informed about it is crucial for any business.
In this article, you'll find all relevant statistics about employee engagement and its impact on the companies' progress, including job satisfaction, retention rates, and what causes engagement in the workplace. Such information can be useful to both employers and workers.
So, keep on reading and find out more about employee engagement.
The Key Statistics on Employee Engagement (Editor's Choice)
68% of employees are engaged in their work as of March 2020
Companies with highly engaged employees are 22% more profitable
The least engaged generation is millennials
More than 40% of employees who work 60% to 80% of the time remotely are engaged
Workers who find meaning and purpose are 1.4 times more engaged
17% of organizations claim measuring employee engagement is a top priority
Disengaged workers cost companies from $450 to $550 billion annually
Companies with higher employee engagement see a 28% decrease in workplace theft
The Recent Employee Engagement Statistics
There are four levels of employee engagement — engaged, actively engaged, somewhat disengaged, or actively disengaged. It's not easy to stay focused until the current situation stabilizes, but companies need to find ways to keep their employees motivated.
This year has brought significant changes to all industries, and many people have experienced occasional changes in the workplace. In this section, you will find out more about the current employee engagement trends, facts, and stats.
1. 15% of employees worldwide are actively engaged at work.
(Gallup)
According to Gallup's recent study, around 85% of employees worldwide are disengaged at work, regardless of the industry. Such employee engagement data reveal how difficult it is to make an employee engaged. It seems that most workers give only minimum effort.
2. As of March 2020, 68% of employees have been engaged in their workplace.
(Statista)
As we have seen in the previous statistic, people are seldom highly engaged at work. On the contrary, 68% of worldwide employees can be considered engaged. There's also an increase of 2% in engagement compared to 2019, and it has been the highest level of engagement since 2011.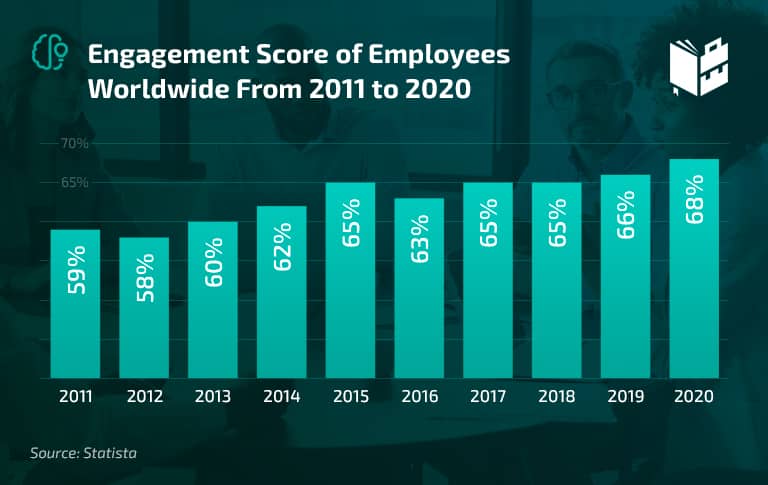 3. Employee engagement score is the highest in companies with up to 50 employees.
(Emplify)
It's not surprising that small companies have the highest, while organizations with 500 to 1,000 employees measure the lowest scores. It's significantly easier to recognize and motivate a smaller workforce, and recognition is one of the keys to high employee engagement.
4. 21% of employees are actively disengaged at work.
(Peakon)
Actively disengaged employees make up more than 20% of the workforce. According to the same employee engagement stats, 38% of employees are disengaged to some extent.
It's important to note that it isn't simple to determine the percentage of engaged or disengaged employees accurately.
5. 49% of employees in management positions or higher are engaged at work.
(Peakon)
Statistics point out that employees in higher positions are more engaged. Only 29% of them are disengaged, compared to 38% of employees in lower positions. Also, 15% of employees in higher positions are actively disengaged.
6. The average engagement score of employees is 3.6 out of 5, or 72%.
(Analytics in HR)
Employee engagement trends include constant tracking of employee engagement. This survey results show that the best way to improve employee engagement is to help employees find purpose and meaning at work.
7. Companies with a highly engaged workforce are 22% more profitable.
(Smarp)
One of the biggest reasons employee engagement brings more profit is increased rates of customer retention. Motivated and engaged employees can raise customer retention rates by up to 18%.
8. There are 55% of engaged employees in the US.
(Qualtrics)
Employee engagement survey statistics from a survey point out that the US has more than 50% of engaged employees. France also has 55%, while Canada, Australia, New Zealand, and the Middle East have more than 50% of engaged employees.
9. Only 8% of employees who are employed for up to three months are actively disengaged.
(Peakon)
Employee disengagement increases in time. Workers who are employed longer are less engaged. However, a fascinating fact is that employees who work between two and five years are less engaged than those employed for five years or more.
Employee Engagement Scores by Industry and Demographics
Some jobs require more diligence and concentration. Therefore, the overall employee engagement also depends on the industry.
Here, you will find statistics about employee engagement in various industries and how much the engagement varies depending on the occupation. Demographics also play a significant role in measuring employee engagement.
10. The highest employee engagement is recorded in South America (71%).
(Kincentric)
Employee engagement has increased during the years, especially in countries with low employee satisfaction, such as Japan. Employee engagement levels in South America stand at 71%, while the lowest levels are in Europe, with 60% of the engaged workforce.
11. Only 41% of millennials are engaged at work.
(Peakon)
Millennials are the least engaged, and the silent generation is the most engaged at work. As much as 55% of them are engaged, while only 16% are actively disengaged. On the other hand, 20% of millennials are actively disengaged at work.
12. 41% of employees who work 60% to 80% of the time remotely are engaged.
(Gallup)
Employee motivation statistics show that remote work stimulates engagement and productivity, regardless of the industry. Employees who work 60% to 80% of the time remotely have the greatest engagement rate.
However, employees who work remotely all the time are equally engaged as those who work at the office. Their productivity rate stands at 30%.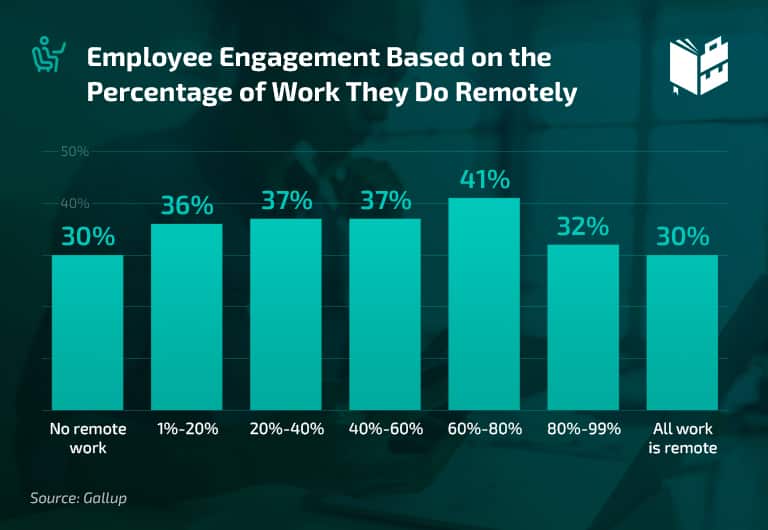 13. 41% of those who identify as women are engaged at work.
(Peakon)
People who identify as women tend to be less engaged and more disengaged than their male counterparts. US employee engagement stats show that 43% of those who identify as men are engaged, and 19% of them are actively disengaged.
14. Only 47% of healthcare workers claim their leaders communicated a clear course of action for the coronavirus pandemic.
(Gallup)
The lack of communication with their leaders can undoubtedly decrease employee engagement and productivity levels. Furthermore, 78% of healthcare workers agreed that coronavirus negatively influenced their workplace.
15. 44% of technology workers are engaged at work.
(Peakon)
Employee engagement benchmark data shows that the employees in the technology industry are among the most productive. Almost 50% of them are engaged at work, while only 19% are actively disengaged.
16. Only 15% of manufacturers are engaged at work.
(Sensrtrx)
Manufacturers are least engaged at work, and 85% of them are entirely disengaged. If leaders found a way to increase engagement, it would bring a tremendous increase in production.
Statistics on Employee Engagement, Satisfaction, and Productivity
It's a well-known fact that job satisfaction leads to better performance and high engagement levels. Great leaders and skilled company owners know how important it is for their employees to be engaged.
That's why they've found out what makes employees eager to work. Here, you can find more about the impacts, measuring, and results of employee engagement.
17. Engaged employees are 3x more likely to stay with their company.
(Emplify)
According to various employee engagement and retention statistics, employee retention is one of the most beneficial factors for every company. When workers are engaged, they're less likely to look for another job.
18. Employees who find purpose at work are 1.4 times more engaged.
(Emplify)
Many studies have shown that people value finding purpose at work more than a salary or benefits. Some practical strategies of nurturing meaning include allowing greater autonomy, practicing radical openness, and seeking clarity.
19. Workers who felt their voice was heard were 4.6 times more productive.
(Forbes)
Looking at many employee productivity statistics, we can find a correlation between high engagement and recognition. Recognized employees who regularly received feedback from their executives were almost five times more productive.
20. Almost 30% of professionals say flexibility would increase their satisfaction and overall productivity.
(Deloitte)
Satisfaction at work isn't the same as employee engagement, but it can positively impact it. Nearly 30% of professional workers claim work flexibility can increase their morale and job satisfaction.
Employee satisfaction statistics show that benefits like flexibility increase satisfaction and therefore lead to more engagement.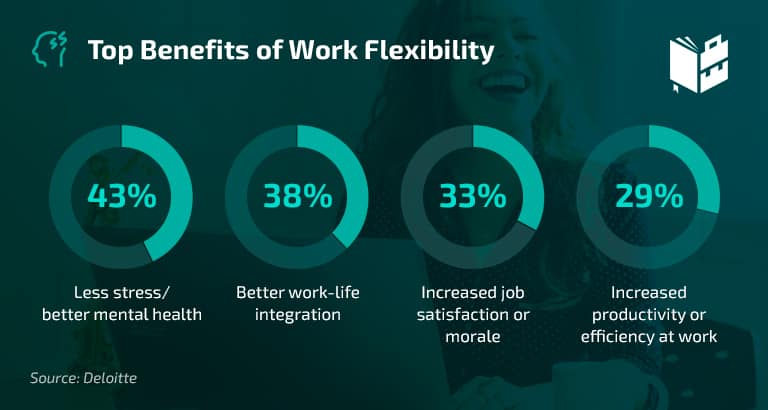 21. 55% of companies regularly measure employee engagement.
(Predictive Index)
According to a worldwide survey, only 55% of companies measure and analyze data and make a suitable plan of action. It's challenging to realize where the problem is without regular assessment.
22. 73% of millennials have experienced periods of decreased productivity due to burnout.
(Zapier)
Millennials and Generation Z are more likely to experience job burnout. Workplace productivity statistics reveal that younger employees tend to work too much because of the inability to unplug.
23. Only 17% of organizations think increasing employee engagement is a top priority.
(Predictive Index)
Companies that prioritize increasing employee engagement have various strategies to accomplish that.
According to this report, 36% of these companies implement procedures to handle their employees' needs, 33% improve their employees' loyalty, and 27% invest in sales or marketing teams to increase revenue.
The same employee engagement and productivity statistics reveal that only 17% of organizations try to increase employee engagement and improve retention rates.
24. 63% of HR professionals claim they have an employee engagement strategy, but only 42% of employees agree.
(HR Technologist)
It seems that employees perceive their executives' objectives differently. According to a survey including 1,700 respondents, only 42% of employees think their HR professionals have an official employee engagement strategy.
HR managers claim they provide 3.3 programs on average, while employees state that only 2.6 are available to them.
Other Relevant Employee Engagement Data, Facts, and Stats
Engagement, satisfaction, and productivity are beneficial for both employers and their employees, and there are many ways to influence them.
In this section, you will find more interesting statistics and facts about employee engagement benefits, disengaged employees' costs, and some other factors that can impact employee engagement.
25. Investing 10% more in employee engagement can increase a company's profit by $2,400 per employee annually.
(Human Resources Today)
One of the employee engagement facts is that engaged employees earn more money for a company.
Prominent companies should invest more in building company culture and work on increasing diversity in the workplace. Nevertheless, it's not easy to recognize every single employee in a vast workforce.
26. Disengaged employees cost companies from $450 to $550 billion per year.
(Forbes)
Although engaged employees vastly contribute to increasing a company's budget, executives should know that the same stats on employee engagement point out that burned-out workers cost a company around $150 billion every year, mostly due to absenteeism.
27. 59% of workers value recognition more than a higher-paid job position.
(Reward Gateway) (Screen.Cloud)
Almost 60% of employees would work for an organization with a culture where they received recognition rather than a job with a higher salary and no recognition. Feedback gives workers a sense of purpose.
Also, 70% of employees stated that a simple "thank you" from their managers and executives would boost their morale and productivity. That's why trends in employee engagement are based on improving relationships.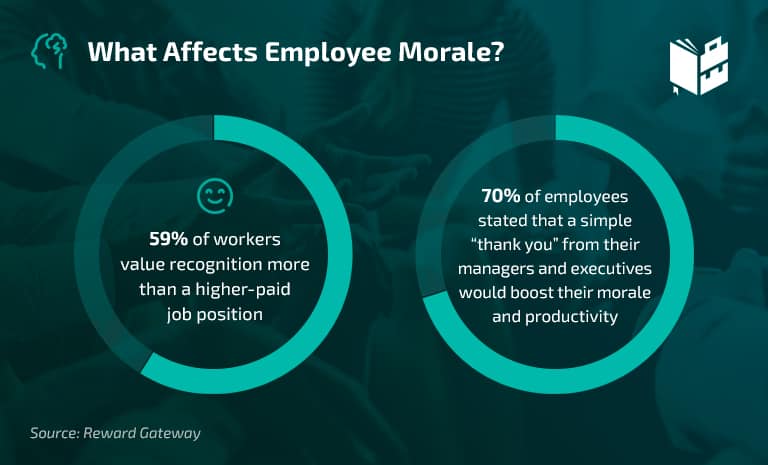 28. 13% of female survey respondents are dissatisfied with childcare benefits their company provides, which can lead to disengagement.
(Clutch)
Primary childcare benefits, such as paid parental leave or back-up care, can vastly impact the female workforce engagement. Only 6% of companies offer childcare benefits, and 43% of women feel employees in their companies have a fair chance to advance.
By offering childcare benefits to parents, especially women, employers would undoubtedly increase employee engagement and satisfaction. Gender equality is one of the latest trends in employee engagement.
29. Companies with higher employee engagement experience a 28% decrease in internal theft.
(Engagedly)
Employee theft can occur at times. However, more engaged employees are less likely to steal from their employers. Furthermore, they are more inventive, productive, and collaborative.
30. 40% of employees who receive inadequate training at their company leave within the first year.
(Go2HR)
Not only does inadequate training lead to disengagement, but also to increased employee turnover rates. Employees usually mention the lack of training and development as the main reason for leaving.
In-office training isn't the only way to engage employees. Numerous online learning platforms offer a wide range of skill-improvement opportunities.
Employee Engagement Statistics — Conclusion
Based on this information, you can conclude that companies can't be as successful and reach their full potential without engaged employees.
Job satisfaction, recognition, and a pleasant working environment are some of the factors that influence employee engagement rates.
Our very own CourseHero review shows just how much employees can better their knowledge and become genuine experts in their respective fields.
Companies are becoming more aware of how beneficial it can be — it decreases employee turnover, increases revenue, and makes a company a much more enjoyable place to work in.
We can say that taking care of employees and recognizing them is one of the new job trends.
Frequently Asked Questions (FAQ)