In the US, more than 50% of the workforce feels disengaged from their jobs. These employees don't work at optimal productivity, which causes organizations to have low output levels and costs them millions of dollars. Therefore, employee motivation is crucial to an organization's success.
We have put together a list of the most important motivation statistics to help you understand why and how to keep your employees happy and performing at their best.
Top Motivation Stats to Know in 2022 (Editor's Choice)
Importance of Motivation Statistics
Unmotivated employees can hurt the organization and business outcomes. Conversely, employee motivation empowers management to meet the organization's goals. What does a company stand to gain from motivated staff? Read on to find out.
1. Highly engaged employees bring 18% more sales.
(Gallup)
Motivated workers work better and more efficiently. They do their tasks with passion, energy, and purpose, which inevitably means better results. Facts about motivation indicate that a highly engaged workforce leads to 43% less turnover and 81% less absenteeism.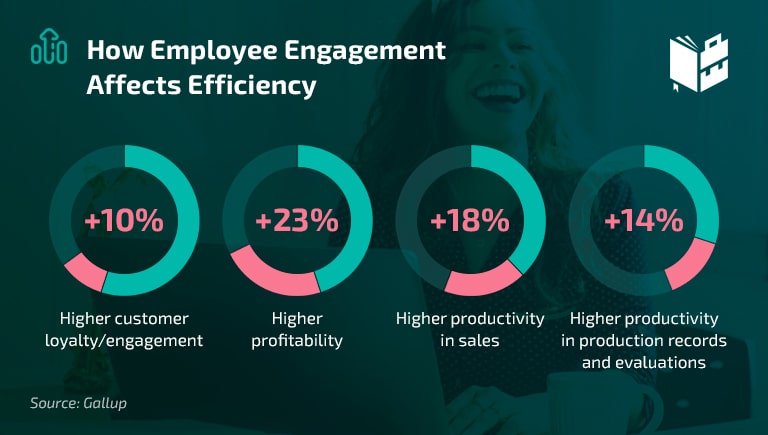 2. Engaged employees bring companies 23% more profitability.
(Gallup)
Motivation directly influences productivity. A survey of 112,312 businesses conducted by Gallup concluded that engaged employees bring in 23% more revenue than disengaged ones. Furthermore, the same study yielded some surprising facts about motivation and engagement— engaged employees bring 18% higher productivity in sales and a 10% increase in customer loyalty/engagement.
3. Motivated employees are 87% less likely to resign.
(Inc. Magazine)
Motivated staff members tend to connect with their organization on an emotional level, making them less likely to resign. They are invested and enjoy strong relationships with both peers and customers.
4. Motivation data indicates an employer spends roughly $5,000 when an employee resigns.
(Haiilo)
An employer will spend on average $4,129 to find plus an additional $986 to onboard a new hire. This means that it's more beneficial for employers to motivate and keep the existing workforce. Employers are better off investing in employee motivation than risking seeing quality talent go.
Motivation in the Workplace Statistics
Motivation drives employees and entices them to give their best. Developing motivation is essential to achieving organizational goals and overall success. What's the current state of motivation in the workplace, and why should you prioritize it? We're explaining it all below.
5. Only 20% of employees strongly agree that their organization's management motivates them to do outstanding work.
(Gallup)
Performance management can improve productivity and quality of work and can influence positive business outcomes. Still, only two in 10 employees think their organization manages their performance in a way that motivates them to do an outstanding job. Motivation statistics further show that 26% of employees believe that receiving feedback can help them do their work better.
6. A right offer would be a reason for 73% of employees to consider quitting their current job.
(Haiilo)
Over 70% of employees would consider leaving their current job if offered better conditions. But this doesn't always mean more money. 74% of younger workers would accept a lower salary for a chance to work their dream job or to work at an organization that values motivation.
7. 29% of employees in the UK are not motivated at work.
(Motivates)
Stats on employee motivation indicate that nearly 30% of full-time workers in the UK are not motivated. While 71% of employees are motivated, the numbers show a motivation decline of 11% compared to the previous year.
8. 77% of employees feel they are burned out in their current job.
(Deloitte)
Seven out of 10 workers feel exhausted at work. Additionally, more than a half say they have experienced burnout more than once. These motivational statistics emphasize the correlation between wellness and engagement.
Additionally, the findings show that passionate employees aren't immune to burnout: 87% claim they have a passion for their job, but 64% report they often experience stress at work.
9. Boredom is the main reason for one in three professionals quitting their jobs.
(Korn Ferry)
Around 33% of employees are enticed to change jobs because of boredom and desire for new challenges. Another 24% would leave because the work culture doesn't align with their values. Additionally, 19% of employees would start looking for a new job to pursue a higher salary.
These statistics further highlight that money isn't always a priority for employees. Managers need to make sure that employees have enough challenges and that they develop and learn; otherwise, the organization might start losing talent.
Employees Motivation Trends
Once you understand the importance of developing and sustaining motivation, you'll need to put your knowledge into practice. A few trends and proven practices can help you think outside the box and keep your staff happy.
10. 43% of highly engaged employees get feedback once a week.
(Forbes, Officevibe)
Management plays an important role in employee engagement and overall happiness. Motivation statistics show that 69% of workers would work harder if they felt managers recognized their work. In addition, 61% of employees say that trust between them and the managers leads to higher job satisfaction.
11. Employees who are involved in goal setting are 3.6 times more likely to be engaged.
(Gallup)
Employees want to know that their opinion is appreciated. By involving them in the goal-setting process, managers boost their satisfaction and engagement by up to 3.6 times. In addition, 30% of employees confirm their managers involve them in setting goals.
12. 89% of HR leaders say that ongoing peer feedback and check-ins are crucial to success.
(Workhuman)
Motivating facts confirm that employees want to feel recognized. They want to know that their work has meaning. Nearly 90% of HR professionals highlight the benefits of values-based recognition, saying that an organization that fosters supportive peer feedback with frequent check-ins can stimulate employee development and growth.
13. 87% of employees expect the employer to support their work-life balance.
(Glassdoor)
Self-motivation statistics confirm that a successful work-life balance is key. Employees want employers to understand and support them in balancing work and personal life. This means employers should be able to offer flexible schedules and encourage employees to utilize vacation time.
14. Employees who feel their voice is heard at work are 4.6 times more likely to perform at their best.
(Salesforce)
Beyond values-based recognition, employers should make communication a two-way street and ensure that employees' voices are heard. According to motivation statistics, organizations that tend to incorporate a broader range of perspectives into the decision-making process outperform the competition.
15. 70% of employees and HR professionals say empathetic organizations lead to higher employee motivation.
(Businessolver)
Employees won't feel respected if the organization doesn't show empathy. 82% of employees claim their managers are empathetic, while 69% claim the same about their CEOs. Businesses shouldn't neglect the importance of empathy, as it can pay off in better business results.
16. 68% of HR professionals believe that employee recognition positively impacts employee retention.
(SHRM)
Not only does this practice positively influence employee morale and motivation, but it also helps with recruitment. According to increases in motivation statistics, at 80%, employee recognition is the most common type of workplace program.
Many companies also deploy health and wellness (70%) and learning and development programs (68%). Likewise, 60% of HR professionals say their company helps employees celebrate important life events such as birthdays or having a child.
17. 60% of employees would like to see managers and leaders praising their colleagues' good work more often.
(Reward Gateway)
Although 82% of senior decision-makers believe that they show appreciation to employees, 60% of employees think employers could be more responsive when praising the work of their colleagues. According to motivational statistics, 85% of employees believe managers should spot good work and praise it, and 81% think this should be a continuous practice.
18. In call centers, the average absenteeism rate on a typical day is 6%.
(Cornell University)
Unplanned absences are the most significant challenge in workforce management, especially in industries where businesses depend on efficient and prompt service. As workplace statistics show, on average 6% of employees in call centers are absent from work every day. The highest rate is seen in outsourced call centers (10%) and retail (9.3%). Ensuring regular attendance and sustaining motivation should be a priority for every employer.
19. 43% of employees prefer being praised privately.
(Haiilo)
Recent personal motivation statistics show that 43% of employees prefer getting recognized privately during one-on-one sessions with the manager. Only 10% would prefer to get praised publicly in front of their colleagues, whereas 9% said they would like to receive the praise in written form.
20. 81% of employers say improving talent retention is the key motivator for adopting flexible work policies.
(PR NewsWire, MarketWatch)
As per scientific facts about motivation, flexible work seems to have become a norm. A growing number of workers say they would choose a job with flexible work options over one without. According to March 2022 estimates, 69% of organizations in the US are implementing a hybrid workplace policy.
21. 70% of employees agree that motivation would improve significantly if managers said "thank you" more often.
(BenefitNews)
According to work motivation statistics, 22% of decision-makers don't think recognizing and thanking employees regularly significantly influences staff retention. However, 70% of employees say motivation and morale would vastly improve their performance.
22. Money is still the main motivator for 63% of job seekers.
(American Staffing Association)
According to recent statistics, almost two-thirds of job seekers and employees looking for career opportunities are motivated by money. Additionally, statistics show that flexible hours (37%) and benefits (36%) also play important roles in attracting talent.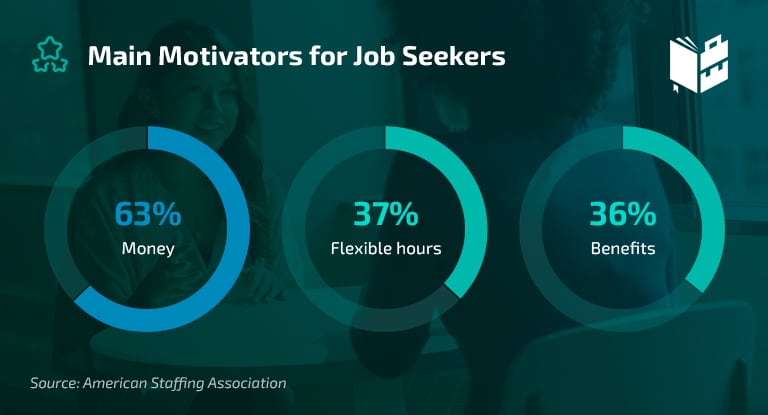 Incentives and Motivation Statistics
Employee incentive programs aren't just a buzzword. This is supported by the fact that 86% of organizations have an employee program in place. What's more, 70% of these organizations have between three and six programs in place. These programs are designed not only to motivate and engage but also to retain talent. Below, we're sharing the benefits of employee rewards and incentives programs.
23. 42% of employees consider rewards and incentives programs when looking for employment.
(Achievers)
Stats on employee motivation show that incentives and rewards can help employers find and retain talent. Before saying "yes" to a work opportunity, four in 10 employees would consider the employer's type of motivational incentives.
24. An incentive program at the workplace can motivate two-thirds of the workforce to stay at their job.
(Achievers)
Companies using incentive programs achieve 79% of their established goals. Additionally, companies that offer tangible sales incentives see three times higher annual revenue.
Employee motivation statistics further indicate that implementing a corporate incentive program motivates around 66% of employees to keep their job. Employers should consider recognizing the employees' achievements, praising them frequently, honoring them publicly, and offering awards.
25. 20% of employees prefer opportunities for career development to monetary rewards.
(Brandon Gaille)
Development and career advancement make employees self-dependent and they contribute more to the workplace, according to recent statistics. Additionally, employees appreciate when managers are interested in providing training and development and when they encourage them to progress within the company.
Student Motivation Statistics
Aside from work motivation, let's dive into student motivation. Many teachers struggle to motivate the leaders of tomorrow. The fact is, students who aren't motivated won't learn effectively. The next set of statistics helps to understand the state of student motivation and what makes them learn better.
26. Since the outbreak of COVID-19, 64% of students have reported facing distractions at home during virtual learning.
(YouthTruth)
Motivation statistics reveal that students have been struggling while doing their school tasks at home since the pandemic outbreak. For 64%, the reason has been at-home distractions. In terms of school motivation, 50% of students said they could focus on their learning, and 41% said they could motivate themselves to do homework.
27. 5th graders are most motivated to do their schoolwork.
(YouthTruth)
The higher the grade, the higher the percentage of students that lack motivation to do their schoolwork. Around 57% of 5th graders were able to motivate themselves to do school tasks during a school lockdown. Motivation drops in percentages for 6th graders (49%), 7th graders (46%), and 8th graders (41%). 11th and 12th graders experienced the most notable motivation decline, to 27% and 26%, respectively.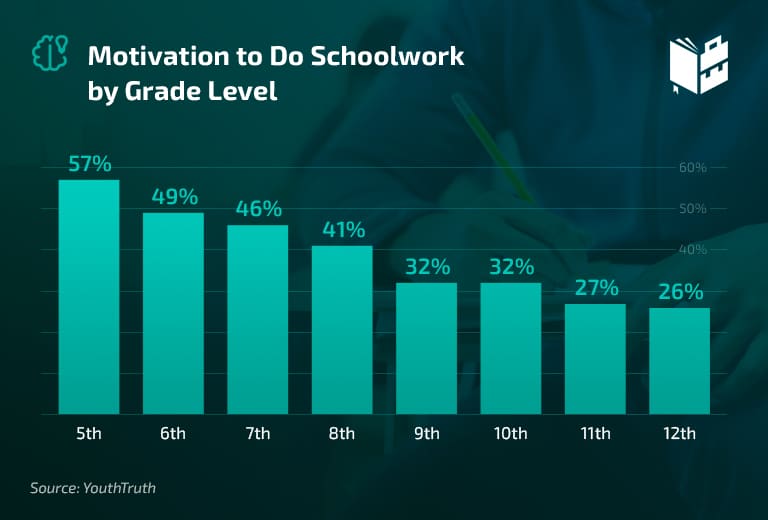 28. 76% of undergraduate students lack motivation for online learning.
(NASFAA)
The self-motivation percentage following the COVID-19 outbreak was lower than ever. The lockdown and the measures imposed to contain the impact of the pandemic presented new challenges for students.
As a recent survey showed, 76% of undergraduates lacked motivation for online learning. Similarly, 56% of graduate and professional students felt the same. Lack of interaction with peers, inability to effectively learn, and distracting home environments, were also cited as big obstacles.
The Takeaway
Hopefully, these motivational statistics have helped you understand that motivation can go a long way in boosting productivity and lowering the levels of absenteeism and staff turnover. Motivated employees are driven, enthusiastic, and take pride in their work. Taking the right measures to recognize your employees and praise them can entice them to be proactive and want to do a good job, both for themselves and for the company.
Frequently Asked Questions