Today's topic will cover millennials in the workplace. But before jumping into the statistics about this generation and answering the burning questions about their work habits, plans, and prospects, we should clear up the basics.
Speaking roughly, the term millennials includes those born during the mid-to-late 1980s, 1990s, and early 2000s. This generation is about to become the largest part of the global workforce and has, therefore, become a popular topic. Next, we should define what the workforce (or labor force) is: it's the total number of labor-available citizens.
Now that the technicalities are out of the way, we can jump into the statistics:
10 Key Facts and Statistics About Millennials in the Workplace
Millennials will represent 35% of the global workforce in 2020
By 2025, millennials will make up the majority of the workforce (75%)
There are 56 million millennials in the US workforce
21% of millennial workers have switched jobs in the last 12 months
73% of millennials put in more than 40 hours of work per week
Millennial turnover costs the US economy $30.5 billion per year
Less than 30% of millennials are engaged in their work
44% of millennials would be more likely to increase their work engagement if their managers met with them regularly
62% of millennials looking to switch jobs are considering a switch to freelancing
35% of millennials plan on retiring before reaching the age of 65
Millennials in the Workplace Statistics — The Latest Data
1. 47% of millennials in the US with a bachelor's degree say they were promoted during the pandemic.
(CNBC)
Studies show that millennials continued to move up in their careers throughout the pandemic. However, not all of them had the same opportunity. A survey reveals that the level of education played a crucial role in promotions.
Only 26% of millennials without a bachelor's degree were promoted during the same period.
2. 61% of millennial employees believe learning is the key to success in their career.
(Statista)
According to a global survey on employees, the percentage of millennials in the workforce who think they need to learn more to advance their careers is pretty high. In comparison, 76% of Gen Zers believe the same.
The share of older employees who agree with this statement is lower. Gen Xers and baby boomers are behind millennials with 56% and 55%, respectively.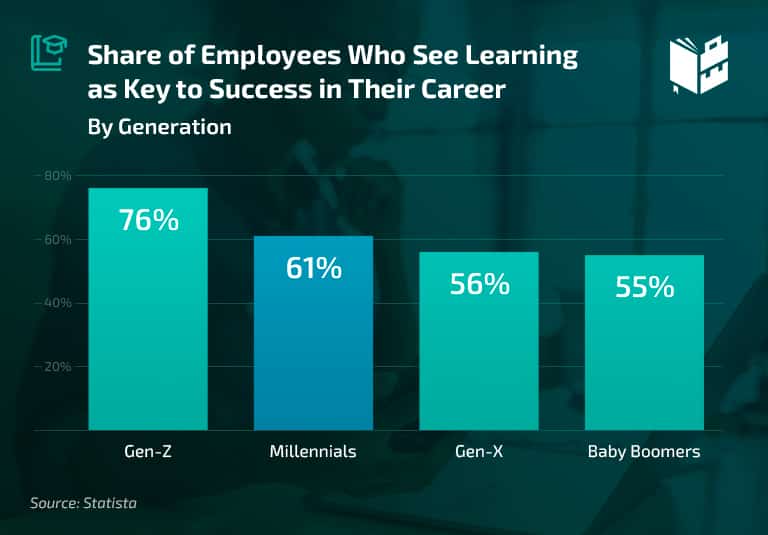 3. 51% of millennials say they would like to learn new skills to perform a new work function.
(Statista)
The findings of a survey show that younger employees are more ambitious employees. More than half of millennials in the workforce in 2021 would gladly acquire new skills to perform a new function at work.
In contrast, only 23% of baby boomers are ready to do the same.
4. 25% of millennials say they would like to work in the office "a little to a lot less often" than they used to before the pandemic.
(The Deloitte)
Similar to other generations, millennials are gradually going back to the formal work environment. However, upon working from home for over a year, millennials in the workforce have realized they aren't ready to work in the office full time.
The most recent data shows a quarter of them would like to work from the office as little as possible. Their wish will probably be fulfilled, as work environments will definitely change.
5. 46% of millennials claim that flexibility and adaptability are the most critical employee characteristics for successful businesses.
(The Deloitte, ZenBusiness)
Almost half of millennials prioritize being adaptable and willing to learn new job skills. If we're familiar with the main characteristics of millennials in the workplace, we can account for this high percentage.
Namely, millennials are well-known for their multitasking capabilities and their love for challenges. Moreover, they enjoy learning new skills. Therefore, it's obvious why millennial respondents put flexibility or adaptability first.
6. 25% of millennials qualify as job hoppers.
(IBM)
A recent survey tells us that one in five employees change jobs voluntarily. What's more, millennials comprise a quarter of those. As much as 32% of millennial workers report work flexibility as the top reason for switching jobs.
The survey also shows that 27% of millennials in the workplace left their jobs due to more purposeful and meaningful work.
7. 15% of millennial recruiters use social media outreach as a tool.
(Monster)
The latest report reveals that recruiters use various tools to reach candidates worldwide. It turns out that millennial recruiters are more likely to use a broader set of tools, including job board recommended matches (18%), social ads (17%), email (23%), internal talent pipeline (15%) and mobile (11%).
Older recruiters mostly use personal connections (47%), direct phone calls (25%), networking (30%), and candidate profiles (31%).
8. Millennials in the workforce statistics suggest that 36% of younger millennials (under 32) have experienced ageism at work.
(The Harris Poll)
A 2021 survey shows that age biases aren't limited to a particular generation. Moreover, coworking statistics reveal that 31% of adults report experiencing ageism in the workplace personally. Millennials under the age of 32 are among them.
Interestingly, 44% of younger millennials believe other people see them as inexperienced. Conversely, only 28% of older millennials (32–56) feel the same way.
Understanding Millennials in the Workplace — Facts and Stats
9. 35% of millennials disclose a mental health issue at work.
(Limeade)
A new report shows that 30% of all-age employees have disclosed a mental or emotional health issue in the workplace. For millennials, the rate is slightly higher. The report implies that younger generations are more likely to reveal mental health concerns in the workforce.
Only 18% of baby boomers have disclosed such issues at work. Older employees may have been in the workplace long enough to know these concerns won't be well received.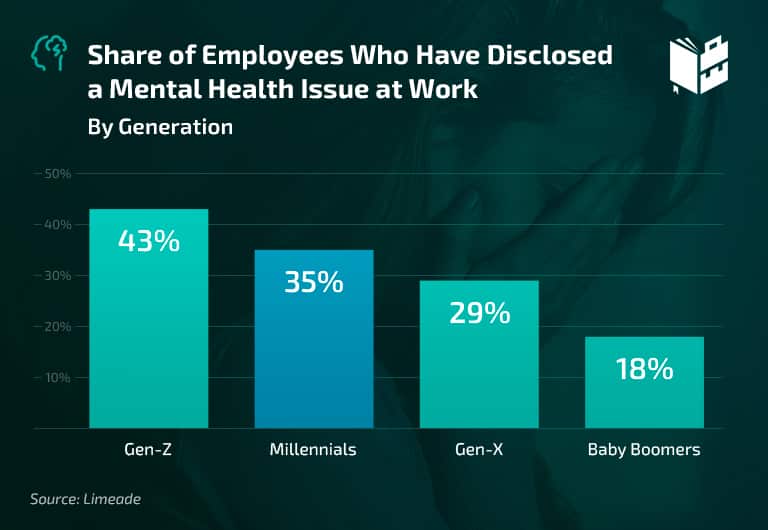 10. Statistics on millennials show that they are four times more likely to leave a job when they don't get fair compensation or personal meaning.
(Great Place To Work)
Studies suggest that 85% of millennials feel they are paid well. However, other data shows that only 67% of them are paid fairly. One thing is sure, though — millennial employees are experiencing a gap in pay and meaning more than any other generation.
According to a survey, if the pay and the purpose don't align, millennials at work are ready to leave. In fact, they are nearly eleven times more ready to do it than Gen Xers.
11. 79% of millennial workers without caregiving duties plan to stay at their job for a long time.
(Great Place To Work)
In comparison, 85% of millennials with caregiving duties plan to stay at their current job for a long time. It seems that millennials without children or eldercare responsibilities are at a greatest risk of turnover.
12. 9 in 10 millennials in the workplace would trade money for a workplace purpose.
(Talentculture)
Extensive research tells us that millennials need more than money or a career. Many of them would trade a high-paying job for a sense of professional fulfillment. Moreover, they rank money as the second most important work-related thing.
13. 75% of millennials working remotely are engaged at work.
(Gallup)
Earlier research showed that millennials wanted a greater work-life balance. According to the latest report, more than two-thirds have achieved this goal by working from home. This way, one of the most critical problems with millennials in the workplace has been solved.
It's crucial to mention that this percentage refers only to millennial employees who strongly agree that their managers keep them informed. It also includes those who feel well-prepared at work.
14. 63% of millennials who feel their company cares about their wellbeing are engaged at work.
(Gallup)
Around two-thirds of non-remote millennial employees show a higher level of engagement when their companies express concern about their wellbeing. Still, it's not just about health. These employees pay attention to social, community, financial, career, and physical elements as well.
Rare Data About the Millennial Workforce
15. Less than 50% of millennial employees say they have had opportunities at work to learn and grow within the past year.
(Wealth Management)
Numerous studies point out the millennials' desire to acquire new skills that would make them competitive. The good news is that 68% of millennial workers plan to stay at the current organizations because they have had such opportunities in the past year. However, in the past 30 days, only 39% of millennials have learned something new on the job.
16. 47 percent of millennials in the workforce wish they had chosen a different career path.
(CNBC)
According to a recent survey conducted on US adults ages 33 to 40, nearly half of these employees have career regrets. In fact, this age group represents older millennials. The survey highlights that, as older millennials approach middle age, many of them realize they imagined their professional lives differently. Nevertheless, 68% of all millennials are satisfied with their career choice.
17. The pandemic impacted the income of 59% of older millennials.
(CNBC)
Statistics on millennials in the workplace confirm that the majority of the labor force was affected by the pandemic. Unfortunately, 15% of older millennials had their wages reduced. What's more, 11% of them got fired. Only six percent received promotions, and eight percent were furloughed.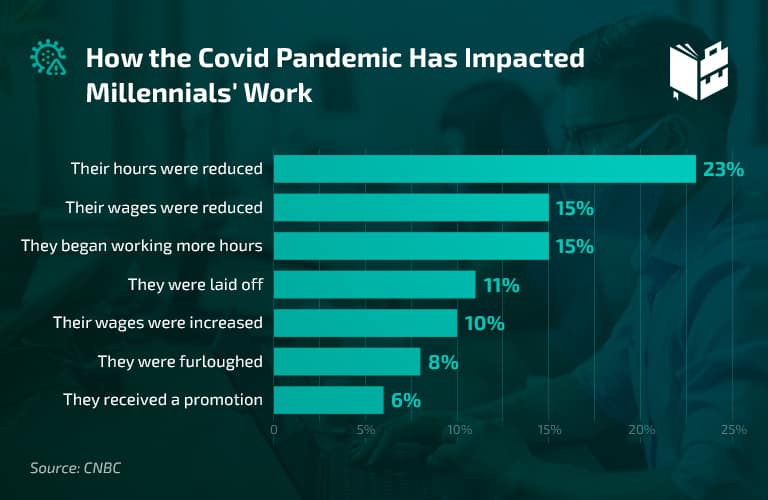 18. 70% of millennial employees are worried about stress at work.
(CPA Practice Advisor)
Workplace statistics imply that millennials question the need to return to the office more than any other generation in the workforce. Additionally, they are more concerned about the overall workplace experience, especially about stress, mental health, and employee burnout.
19. Millennial workforce statistics bring out 22% of women millennials who would no longer work for an employer if they were unable to work from home in the future.
(CNBC)
A recent survey involving 1,600 participants shows that nearly two-thirds of millennial women between 25 and 40 view remote work as a priority. In addition, 43% of these women think remote work is very or extremely important.
Some millennial women would go as far as quitting their job if working from home was no longer an option.
20. 57% of the millennial generation in the workplace would like to be allowed to take naps at work to reduce stress.
(Web MD Health Services)
Based on a new study, millennial employees are eager to take advantage of workplace benefits to reduce stress. Moreover, fitness amenities and free snacks and beverages would help 40% and 52% of the respondents feel better during working hours.
Interestingly, a pet-friendly workplace would reduce the stress of 40% of millennial workers.
21. More than 6 in 10 millennials say they moved into management because it was the only way to advance their career and earn more money.
(Zapier)
Working with millennials can be pretty pleasant if they feel good about their workplace and position. Otherwise, the members of this age group leave their jobs. However, one study has detected 61% of millennials found another way to boost their careers.
Besides advancing their career and earning more money, 46% of millennial managers claim that they wanted more responsibilities that come with the role.
22. 69% of millennials want a manager with good communication skills.
(Zapier)
Millennial employees value managers who communicate clearly, according to hiring stats. Furthemore, 61% of the respondents like managers who increase productivity and efficiency. On the other hand, budget management concerns only 33% of millennials.
Millennials and the Workplace in the Future
23. By 2029, the number of millennials in the labor force will increase by nearly 4.5 million.
(BLS)
By 2029, millennial employees will shift into the 35–44 age group. According to the Bureau of Labor's projections, this age group's labor force will grow significantly by the end of this decade. Overall, this increase is considered the largest gain for a single age group.
24. Millennials will comprise 75% of the global workforce by 2025.
(Inc)
As a result, baby boomers will be replaced by the millennial generation in the workplace. Moreover, it will drastically reduce the number of Gen Xers in the global labor force. As millennials, the digital natives, take over the workforce, more tech use is expected in the workplace.
25. 61% of millennials born between 1981 and 1988 are planning to have a second job during retirement.
(CNBC)
Planning to work in retirement is typical for millennial employees. Many studies have confirmed it. Still, these people don't plan to work due to insufficient savings. Instead, they see retirement as an opportunity to find a job they actually enjoy.
Facts About Millennials in the Workplace — Conclusion
Like every generation before them and every generation that will come after, millennials have their qualities and their flaws. Overall, we can say that the good outweighs the bad and that millennials have enough potential to make a positive impact not only on the world of business but on our planet as a whole.
As millennials, we should all do our best to ensure that the generations before us, and the ones arriving after, are proud of us.
Frequently Asked Questions (FAQ)