Hiring stats can help all job seekers understand how recruiting functions and how to take advantage of it.
Finding and hiring new employees evolves over time. There are many new ways of hiring job applicants, such as referrals or recruiting through social media and job platforms.
Since you want to know more about recruiting, you'll find all the information you need in this extensive article.
Let's check out the numbers behind the facts.
Key Recruiting Trends, Statistics and Facts
Well-prepared applicants are interviewed 6 to 12 times before getting a job
41% of candidates get interview feedback
In the US, LinkedIn hiring rates decreased by 11.3%
31% of Native Americans experience discrimination when looking for a job
16% of survey respondents think their age prevented them from getting a job
60% of employers use video technology for recruiting
45% of recruiters have difficulties filling positions
The average cost per hire is $4,129
Hiring Statistics for 2022 — The Latest Data
A job applicant can get demoralized if they don't get invited for an interview. However, many factors can influence recruiters' decisions, such as a chaotic resume or better applicants. Take a look at the following statistics to know more about job interviews and their processes.
1. The top recruiting priority for 52% of organizations is improving the quality of hire.
(HCAmag)
Employers have implemented new hiring strategies in 2021. Recruiting statistics from a survey conducted by Jobvite show that the coronavirus pandemic has made 61% of recruiters change their recruiting priorities. The quality of hire has become the most important recruiting priority.
2. Hiring employees with more soft skills could increase revenue by over $90,000.
(Forbes)
Soft skills, such as empathy, mindfulness, emotional intelligence, adaptability in the workplace, and resilience, have become more important because more job activities become automated. Self-motivated and ethical employees are what recruiters will look for in the future.
3. Well-prepared applicants have between 6 to 12 interviews before getting a job.
(CareersKick)
The average number of interviews per job is from 6 to 12. Approximately two to four employers interview one applicant, which means that an applicant has around three interviews with one employer.
4. 80% of recruiters check candidates' references.
(The Balance Careers)
One of the worst things candidates can try is to trick the system with fake references. Eight out of ten recruiters check the provided references and use them as the main criteria for screening.
5. Only 41% of candidates receive interview feedback.
(LinkedIn)
According to recruiting industry statistics, 94% of candidates say they'd want interview feedback. However, only 41% of applicants say that they've received it. Recruiters should be aware of how important feedback is and implement it in their hiring strategies.
6. 54% of companies test for drug use during the hiring process.
(Jobvite)
More than half of all companies perform a drug test at some point during the hiring process. The strictness extends to company functions, with 49% of organizations not serving alcohol during the events.
7. Executive search's worldwide market size amounts to €18 billion.
(Statista)
The latest competitive job market statistics point out that the revenue of the worldwide executive search industry has been increasing rather steadily since 2015. Executive search is a unique form of recruitment focused on attracting highly skilled management talents.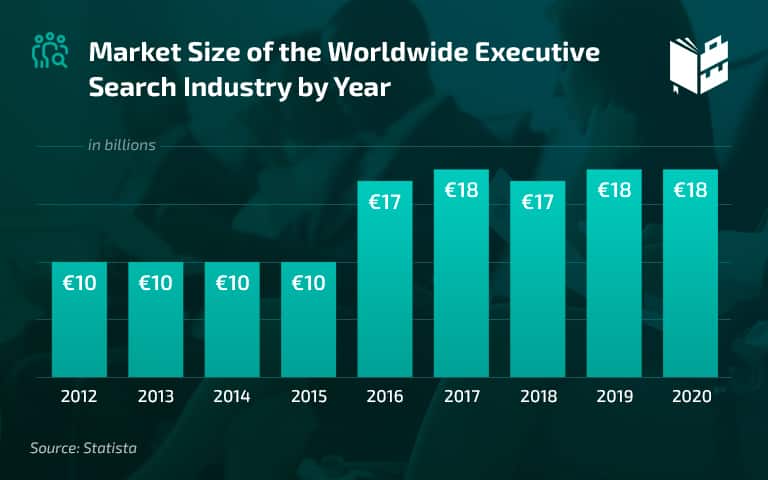 8. 29% of organizations rely on employee referrals when hiring.
(HCAmag)
Referrals are one of the safest ways of recruiting, along with internal hiring. Also, the primary factor to 70% of recruiters is previous job experience.
9. 36% of organizations rely on internal hiring.
(HCAmag)
Internal hiring is sourcing and hiring existing employees for open job positions. According to internal hiring statistics, employers mostly prefer internal hiring and, apart from job boards and employee referrals, it's their most significant source of high-caliber talent.
10. 87% of employers think a four-year college degree is what makes an entry-level candidate competitive.
(Finances Online)
Although college graduates usually don't have much working experience, 66% of hiring managers would recruit and train entry-level employees if they obviously had potential. That's why college graduates shouldn't worry much about the lack of skills for a particular job they want to apply for.
11. LinkedIn hiring rates in the US decreased by 11.3%.
(LinkedIn)
The national rates of hiring in the US decreased significantly due to the coronavirus pandemic. The industries that experienced the highest decrease in LinkedIn hiring rates are the entertainment, legal, arts, and real estate industries.
12. The average time to hire an applicant is 22.8 days.
(Convey IQ)
The amount of time it takes an organization to hire an applicant from the first interview to the job offer is around 23 days. Usually, employers go through up to 3 interview rounds before choosing a candidate
13. Google hires only 1% of job candidates per year.
(Kalibrr)
Google hiring statistics point out that it's surprisingly difficult to work for Google. Only between 4,000 and 6,000 applicants are hired every year. Their hiring managers spend 10 hours a week on recruiting, while top executives spend up to 24.
14. Only 27% of employers are entirely transparent about pay ranges and salaries.
(Finances Online)
Statistics reveal that less than 30% of recruiters are transparent with job applicants when salaries and pay ranges are in question. Unfortunately, poor communication can make employers miss out on excellent workers.
Remote Hiring Statistics
As we've already mentioned, the global pandemic has forced employers to change the ways of recruiting new employees. Hiring people online has become more popular. Furthermore, it saves time both for applicants and hiring managers. Let's find out more about remote hiring from the statistics listed below.
15. 86% of organizations conduct virtual interviews because of the coronavirus pandemic.
(Gartner)
As the latest remote hiring statistics and trends show, companies have found many ways to hire people even during the worldwide pandemic. Namely, 85% use the latest technology to hire new employees, but 82% of organizations report a decrease in external hiring.
16. 82% of companies list attracting passive job candidates as the top reason for using social media.
(SHRM)
Contacting those who aren't actively looking for a new job is the main reason why recruiters use social media. That's why social media recruiting is one of the recent remote hiring trends. ​Over 33% of organizations have leveraged mobile recruiting to reach smartphone users.
17. 84% of US companies use social media for recruiting.
(SHRM)
With 84% of companies in the US using social media for new hires and 9% of companies planning to start doing so, it is more than evident that the age of traditional recruitment is over.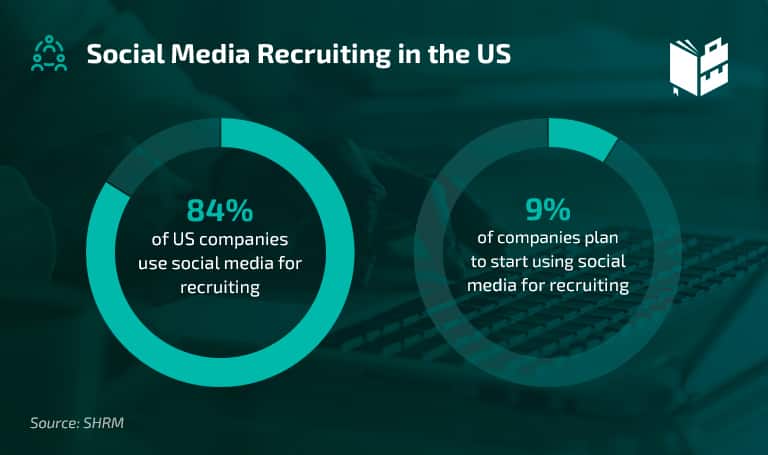 18. 87% of recruiters use LinkedIn to check candidates.
(Zety)
LinkedIn hiring statistics reveal that LinkedIn is also a tool that recruiters and hiring managers frequently use. Before applying for a job, make sure your online presence is G-rated, as some recruiters check applicants' Twitter, Facebook, and other social media accounts.
19. 60% of employers and hiring managers use video technology for recruiting.
(Finances Online)
Since remote hiring and video interviews have become more common, more than half of companies have adapted and started utilizing video technology.
Hiring Discrimination Statistics
There are many race and gender gaps in recruitment, even in 2021. Nevertheless, many companies try to improve the diversity of their staff. There are various ways to do so, such as blind hiring, for example. Read more about hiring discrimination in the following statistics.
20. White people make up 75% of the total FBI workforce, which is a sign of hiring discrimination.
(Govexec)
Unfortunately, the FBI has failed to make its staff more diverse. White people make the majority of the workforce. FBI hiring statistics reveal that all other races and ethnicities make up the remaining 20%.
21. Around one-third of Native Americans experience discrimination when looking for a job.
(NPR)
A shocking 33% of Native Americans report that they face discrimination when asking for a raise or promotion, and 31% have obstacles finding a job.
22. Female candidates outperformed men by 1% in the Hubble Space Telescope application process when applying was entirely anonymous.
(HBR)
The Hubble Space Telescope Time Allocation Committee conducted an experiment to prove a gender bias when recruiting. Their hiring statistics showed that, before anonymization, men had their proposals accepted 5% more than women.
23. 57% of surveyed black applicants think recruiters mistreat people of color.
(Huffington Post)
While almost 60% of black employees said that people of color aren't treated fairly in the hiring process in the place they work, only 23% of white and 31% of Hispanic respondents agreed.
24. Women are 30% less likely to be considered for a recruiting process than men.
(PHYS)
Unfortunately, recruiting trends still favor men. Statistics show that many women endure unfair treatment when seeking a job, as they are less likely to receive a call for an interview.
25. Survey results show that 16% of respondents think their age prevented them from getting a job.
(Welchcon)
AARP (American Association of Retired Persons) conducted a survey and revealed that 12% of respondents thought they failed to get promoted because of their age. Also, 33% of respondents feel vulnerable to future age discrimination.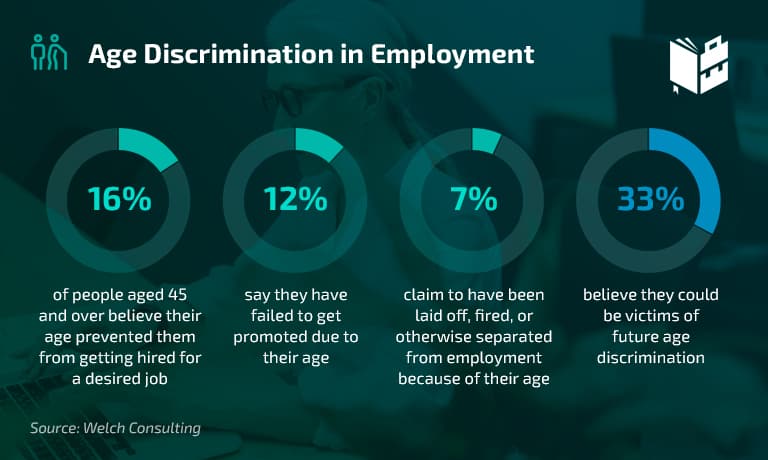 26. 57% of recruiters are less likely to call a candidate for an interview if they can't find them online.
(PRNewswire)
According to social media recruitment statistics, not having social media profiles can hinder a candidate's application. Out of these recruiters, 36% want to gather more information about potential employees, and 25% expect a candidate to be present online.
27. 37% of recruiters who didn't interview a candidate based on their online behavior did so because they posted discriminatory comments.
(PRNewswire)
One of the common reasons people don't get hired is the discriminatory comments on social media. Such comments can be regarding age, gender, race, ethnicity, etc.
Other Relevant Hiring Statistics and Facts
Times change, and recruiters have to adapt and figure out the most effective ways of hiring. Hiring managers recognize only the best resumes. Also, since people spend more time on social media, it's possible to reach out to candidates through various job platforms. Let's see what numbers can tell us about other relevant topics regarding recruitment.
28. Tech job postings in Pittsburgh (Pennsylvania) increased by 44% in the second quarter of 2020.
(Hire Well)
Pittsburgh was the city with the most significant increase in tech job postings, and the latest hiring trends are more hiring, diverse teams, and remote hiring options. The coronavirus pandemic has had a strong impact both on the trends in the tech industry.
29. Direct contact by a recruiter decreases the time it takes candidates to accept an offer.
(LinkedIn)
Candidates appreciate direct contact from their prospective employers. Almost 90% of them would accept a job offer faster if their recruiter contacted them. The percentage for direct contact with a manager climbs to 94%, as well.
30. 45% of recruiters say they have difficulties filling positions.
(ManPowerGroup)
According to various hiring stats, the talent shortage is a severe problem for recruiters. Employers all around the world report that they hardly find candidates with the skills they need.
31. The average cost per hire is $4,129.
(Apollo Technical)
Employers need to be careful when hiring a candidate. The cost of a bad hire is up to 30% of an employee's salary for the first year. Managers need to spend 17% of their time supervising poorly-performing employees.
Hiring Stats – Conclusion
Getting hired might seem complicated, but recruiters need to be selective and choose only the best candidates. That's why recruiters should never rely on the race, gender, or ethnicity of their applicants.
The coronavirus pandemic has changed many hiring trends and requirements, and many companies stopped hiring new people. Luckily, job seekers have many online learning platforms that can help them enhance their skills and get hired remotely.
The statistics listed above serve to educate and share some of the standard practices in the hiring industry. What's more, they help avoid those mistakes, putting the odds in your favor.
Frequently Asked Questions (FAQ)