Interviews are nerve-wracking for both newbies and more experienced candidates; however, they are crucial for finding the right fit for a job position.
The following interview statistics reveal all important numbers related to the recruiting process. Read on to find out some interesting data, the latest practices and techniques, and critical first-impression facts that will help you ensure your job search ends with success.
Key Stats On Job Interviews (Editor's Pick)
The average number of interviews before getting a job offer is 2–3.
Face-to-face interviews take about 45–90 minutes.
On average, there are 24 business days between the first interview and the job offer.
Scheduling an interview takes between 30 minutes and two hours.
The interview-to-hire conversion for the top-performing industries is 12–17%.
76% of recruiters reject candidates who seem arrogant.
75% of recruiters use behavioral questions to assess soft skills.
Half of the candidates who felt disrespected pulled back from the recruiting process.
Must-Know Statistics About the Interview Process
1. On average, employers go through 2–3 interview rounds before choosing a candidate.
(Career Sidekick)
The average employer typically interviews fewer than 10 candidates for one job position, and the average number of interviews per job is 2–3. If they can't find the ideal candidate that fits the job role requirements within these interview rounds, they will interview more applicants.
The phone interview is usually the first step, after which recruiters invite 2–4 candidates for an onsite interview.
2. Since the beginning of the pandemic, 86% of recruiters have been conducting virtual interviews.
(Gartner, Job Description Library)
Recent virtual interview statistics show that the pandemic forced companies to rethink hiring plans and modify their interview processes. However, experts predict that virtual interviewing will be the norm even after the pandemic is over. For comparison, 79% of first-stage interviews were conducted in person or via phone before the pandemic.
3. In-person interviews last 45–90 minutes.
(Indeed, Job Description Library)
Apart from the average interview length, an interesting fact is that about 88% of in-person interviews occur at the employer's office, whereas 12% happen in public meeting spaces. Before the pandemic, 94% of final interviews were conducted in-person, but the number dropped to 17% upon the coronavirus outbreak.
4. It takes 24 business days on average between the initial interview and the job offer.
(Indeed)
The average interview process length is usually determined by the urgency for filing a position. Moreover, the number varies by industry. For example, organizations in certain sectors like manufacturing and electronics offer the job to the best candidate within 16 days, whereas companies in the hospitality industry might take 39.5 days to do the same.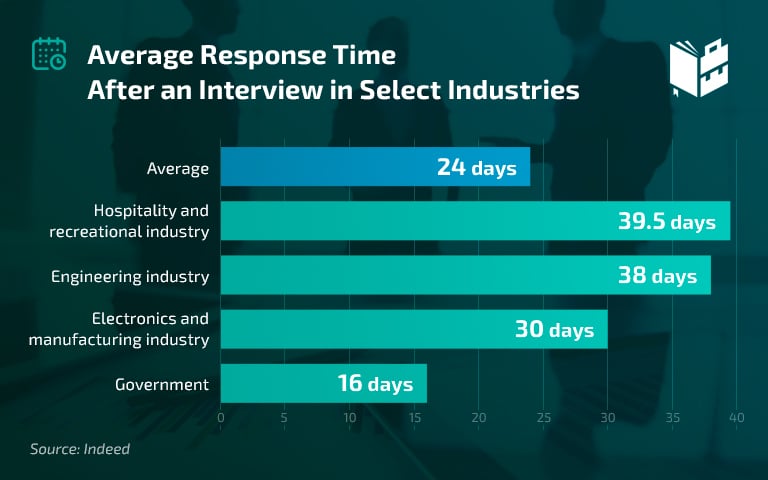 Interesting Interview Facts & Stats
5. The average time-to-hire across industries is 3–4 weeks.
(Yello)
The majority of interviewed candidates expect an offer within five days of the interview. However, the process isn't that fast. Depending on the industry, more than 40% of recruiters spend more than two weeks on the interview process, and only 25% of them say they hired someone in two weeks or less.
6. Scheduling an interview with one candidate takes between 30 minutes and five hours.
(Yello)
Job interview statistics show that the main challenge is finding a time that works for everyone. According to 67% of recruiters, scheduling an interview with a potential candidate takes between 30 minutes and two hours.
Moreover, about 56% of companies have a dedicated person responsible for scheduling interviews. In addition, 51% of recruiters use interview scheduling software, whereas 49% resort to emails, phone calls, employee calendars, or text documents.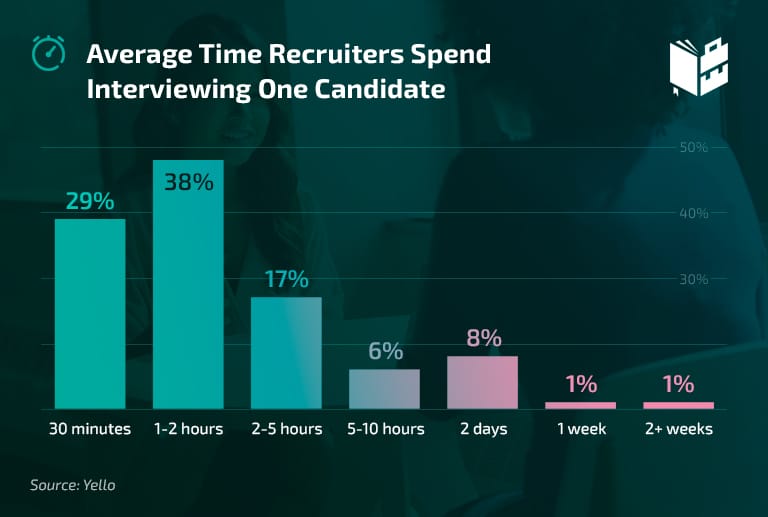 7. Recruiters spend about two-thirds of their hiring time on the interview process.
(Yello)
The interview is the most time-consuming process during the hiring phase. On average, recruiters spend approximately 66% of their hiring time on interviews. However, 59% of those who use interview scheduling software report cutting the average interview time by 2–10 hours a week.
8. The top-performing industries see 12–17% interview-to-hire conversion.
(Career Plug)
The top-performing industries need 69% fewer applicants to make a hire. Restaurant and Food Service is the industry with the best interview-to-hire rate (17%), followed by Retail (12%), Healthcare (12%), and Hospitality, Entertainment & Recreation (11%).
Read more: The Most Common Retail Interview Questions
9. According to 51% of recruiters, the best candidate is found after three interviews.
(MRI Network)
More than half of recruiters and hiring managers agree that the average number of interviews before getting a job is three. Moreover, about 22% of recruiters say the average number of interviews is four, whereas 9% agree it might take five or more.
Another 17% believe it takes just two interviews to find the perfect candidate. On the other hand, only 1% of recruiters think they need one interview to get a hire.
First-Impression Job Interview Facts to Have in Mind
10. Recruiters need about 90 seconds to determine whether they would hire a candidate.
(The Undercover Recruiter)
First impressions are essential. About 33% of recruiters claim they decide whether they will hire a candidate in the first minute and a half of the interview. Therefore, you should try and make the most out of that 90 seconds as it would play a significant role later on. Make sure to be as genuine as possible, smile, and speak clearly.
11. Lack of confidence during the interview is why 40% of interviewers don't take a candidate past the first stage.
(Twin Employment)
Interview statistics reveal that employers are looking for confident candidates. Therefore, it's natural that you feel nervous during the interview; however, keep in mind that 40% of recruiters state the candidate's voice quality and a lack of smile might be reasons for rejection.
Additionally, 65% of interviewers reject candidates who fail to make eye contact. Furthermore, 20% of interviewers don't take into consideration candidates who sit with their arms crossed.
12. 71% of interviewers will pass on a candidate who isn't appropriately dressed.
(Inc.)
Appearances are a big part of the first impressions. Job interview statistics show that employers usually want polished looks and smart attire. That said, it's best if you take note of how people in the company dress and go for it.
13. 47% of interviewers say they wouldn't choose a candidate who has little knowledge of the company.
(Twin Employment)
An interviewer assumes you know a bit about the organization. Therefore, it's crucial that you visit the company's website and social channels and educate yourself about the business mission, goals, and core values. Moreover, the latest interview statistics reveal that 36% of employers want a candidate with multitasking skills, 31% seek initiative, 21% want creative thinking, and 12% look for something else.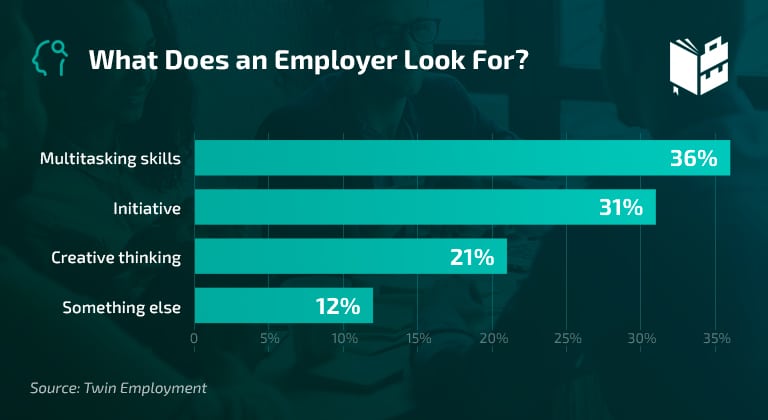 14. 76% of respondents reject candidates who appear arrogant.
(Inc.)
The majority of interviewers won't consider a candidate who appears arrogant. Of course, having confidence is good, but employers need to know you can respect their authority and value the team. Also, it's vital that you show you're willing to learn and advance and take responsibility for your actions and mistakes.
Top Recruiters' Practices
15. 75% of employers ask behavioral interview questions to assess soft skills.
(LinkedIn)
Moreover, behavioral interview statistics show that 70% of recruiters read body language, and 58% ask situational questions. These questions are designed to determine the candidates' ability to work under specific circumstances and situations using a particular set of skills.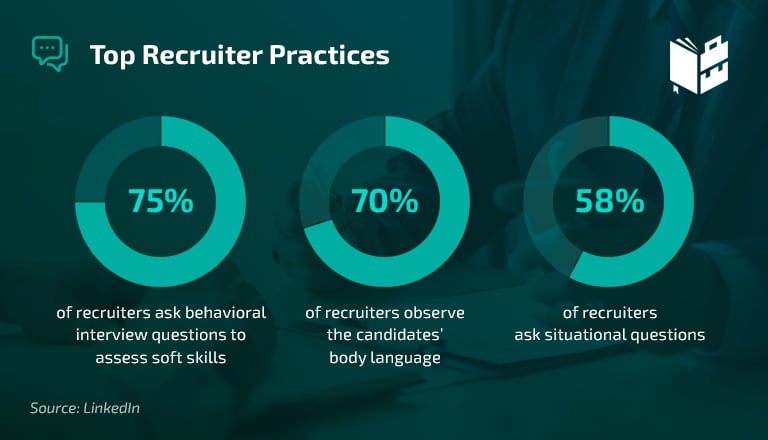 16. 84% of talent recruiting professionals using work assignments say it's an effective interview technique.
(LinkedIn)
Although such a large number of respondents consider this technique effective, only 32% of recruiters use it to assess whether a candidate is a good fit for the job role. Work assignments require a candidate to complete a task as if they were hired. So, instead of having them talk about their skills, a recruiter can directly observe their performance.
17. According to the latest interview statistics, 91% of employers expect the interviewee to know the salary before the interview.
(Job Description Library)
The vast majority of employers expect candidates to have information about their salary before attending the interview. Even so, about 78% of candidates say employers don't always specify the salary during the application process. That said, 9 in 10 recruiters would be happy to discuss salary during the interview.
18. 41% of employers wouldn't consider a candidate without an account on social media.
(ResumeLab)
Social media is an important aspect of the recruitment process. According to the latest statistics, recruiters and hiring managers won't call a candidate who is inactive online. The reason is that employees use social media to screen candidates and find out more about them before taking the next steps in the hiring process.
Interview Candidate Stats
19. Having a positive interview experience makes candidates 38% more likely to accept a job offer.
(Glassdoor)
Recruiters who focus on improving the candidate experience have better odds of finding the ideal candidate and growing the company's team. Data shows that 54% of candidates with positive interview experience are ready to accept the offer, while only 39% of candidates with negative interview experience will accept the job offer.
20. 92% of candidates think the mock interview is the most critical prep experience.
(Preplaced)
The latest mock interview stats emphasize the importance of mock interviews in the interview prep process. In fact, about 96% of candidates who had taken a mock interview got their dream job.
Mock interviews help enhance your soft skills, improve behavior-based answers, and reduce anxiety. Additionally, a mock interview gives you a chance to reflect on your attitude and improve the weak spots.
21. 52% of candidates report positive experience when recruiters inform them of the steps needed after the interview.
(Brazen)
Interview feedback statistics show that more than half of candidates appreciate it when the HR professional follows up in the said time frame and informs them about the post-interview steps. Additionally, the satisfaction rate of candidates increases by 15% when recruiters or hiring managers give them specific feedback regarding their job fit and by 20% when they provide feedback on the assessment candidates performed.
Interview Success Rate
22. Generally, the interview pass rate should be around 30–50%.
(Safe Graph)
A lower pass rate means a recruiting team doesn't vet candidates thoroughly before the interview. On the other hand, a pass rate of over 50% indicates that a recruiter should take chances with candidates who might not look like they are the best fit on paper but might be perfect for your company.
23. Only 2–3% of candidates who apply are invited to interview.
(Career Sidekick, TopResume)
An average job posting gets about 250 resumes. Still, most employers will shortlist fewer than 10 candidates. Furthermore, resume statistics show that 75% of resumes don't get past the initial screen.
24. You have an 8.3% chance of scoring an interview from one application.
(Hire Lehigh)
A recent survey reveals that it takes 100–200 applications on average to get one job offer. In other words, it takes between 10 and 20 applications to land an interview and about 10–15 interviews to get an offer. These numbers confirm that employers are picky, and you need to be persistent and don't lose motivation.
25. The Google onsite interview acceptance rate is 0.67%.
(PatchMatch)
The tech giant is a highly selective company. It's also one of the best companies to work for, thanks to the high average salary of $117,000 and the prestigious position at Google. About three million applications are submitted every year, and Google accepts approximately 20,000 candidates.
26. The average interview-to-offer rate is 42.1%.
(NACE)
Approximately 42 in 100 interviewed candidates receive an offer. Furthermore, nearly 66 in 100 candidates who receive an offer accept it, which means the average onsite interview success rate is almost 66% (65.7% to be exact).
27. The job placement of Wharton is 96.8%.
(MBA Careers)
Wharton is one of the colleges with the best placement rates. The reputable school had 754 students in the 2021 class. Moreover, about 99% of graduates reported job offers. In addition to the great Wharton interview acceptance rate, another benefit is a median annual salary of $155,000.
Final Words
Although the pandemic halted the job growth, things seem promising. The number of job openings in early 2021 reached 7.4 million, which is the highest since the pandemic's onset. Therefore, there are plenty of in-demand jobs you should consider and apply to.
Of course, scoring an interview might not be easy since an average job attracts many applicants. Only the best candidates will be called, so make sure to use this data to polish your resume and improve your chances of landing a dream job.
People Also Ask