HR statistics are of vital importance for both HR and non-HR personnel as they can help tackle hard decisions while also ensuring a positive impact on a company and its employees.
Working in HR is challenging, as these professionals need to obtain, analyze, and summarize the latest available data to improve the company's processes.
Collecting information can provide insight and help ease the decision-making tasks on topics like job satisfaction, performance management, or employee engagement and retention, just to name a few.
Without further ado, let's see what the newest trends and numbers show:
Mind-Blowing HR Trends of 2021 (Editor's Pick)
67% of candidates believe that a diverse team is of vital importance
As of 2020, there are more than 150 onboarding applications
69% of employees say recognition makes them work harder
93% of employees believe empathy plays a huge role in retention
2020 might experience a decrease in millennial workforce by up to 69%
There are about 250 resumes sent for each available job listing
75% of HR personnel use recruiting software
Fear of job automation is present in only 7% of all HR managers
HR Contracting Statistics
1. 67% of hirers list the lack of skilled labor as the greatest challenge.
(Source: Source Match)
According to this report, the shortage of highly skilled candidates is hirers' biggest problem. This is followed by fierce competition (52%), and budget shortage (36%).
2. A positive interview experience will change the negative opinion of 87% of job seekers about a job position or company.
(Source: G2)
Interview statistics indicate that having a positive interview experience makes candidates 38% more likely to accept a job offer.
Additionally, HR stats indicate that 87% express having a positive interview experience can change their opinion about a job or position they did not fancy.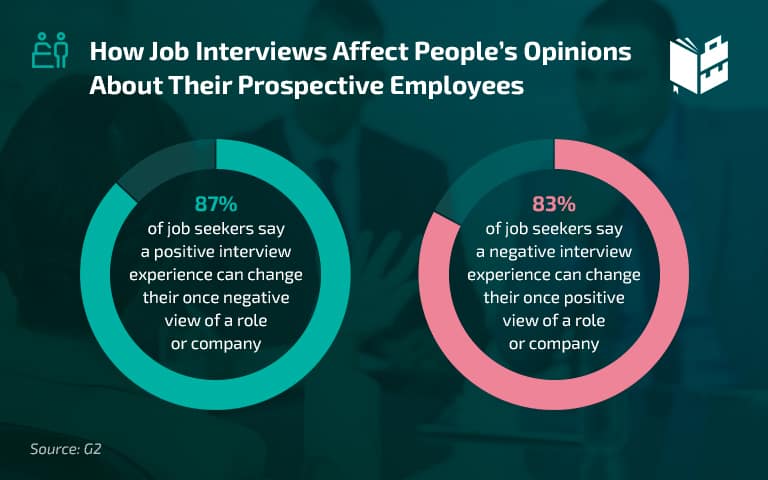 3. Complex and lengthy job applications make 60% of job seekers quit their application process.
(Source: SHRM)
Nearly 60% of candidates say that they have stopped completing employment applications because of their length and complexity.
4. 85% of applicants want constant communication during the interview and evaluation process.
(Source: G2)
HR statistics from 2019 show that 85% of the 13,000 applicants surveyed from North America, Europe, Africa, the Middle East, and Asia-Pacific countries say that constant communication during the recruitment process contributes greatly to overall candidate experience.
5. 64% of candidates say that hirers do not provide clear job descriptions.
(Source: HR Drive)
While hirers are left bedazzled by the low-quality of available job seekers, research shows that vague job descriptions might be the leading factor in the inability to put the right peg in the right hole.
According to these HR statistics, 72% of hiring managers say they provide clear and accurate job descriptions. However, only 36% of the candidates agree with that statement.
6. Companies that invest in a good candidate experience improve the quality of their hirings by 70%.
(Source: Glassdoor)
When companies invest in strong candidate experiences, their chances of getting high-quality hires increase by 70%.
7. 80% of job seekers will not reapply for jobs in companies that do not notify candidates of their application status.
(Source: Workplace Trend)
Statistics HR managers tend to overlook is the reapplication of candidates. One of the practices in recruiting is giving job seekers updates about job applications.
Relevant to this is the fact that eight out of ten job seekers said that they would not consider applying for another job at a company that did not give them a notification about their status.
However, if they were notified, the chance of them reapplying to the company would increase 3.5 times.
8. 83% of candidates seek information on the internet about a company before applying for a job.
(Source: Glassdoor)
HR trends show that a good reputation is a key factor in getting high-quality candidates for a specific job position. A strong brand is capable of attracting top talent.
9. 66% of employers are willing to hire and train candidates who do not have skills for the job but have the potential.
(Source: CareerBuilder)
Having the potential is essential for every job applicant. According to current HR trends, 66% of employers are willing to hire and train candidates who may not have all the skills for the job, but who have demonstrated the potential to assume responsibility and who are motivated enough to do well.
10. Companies spend 33% of the annual salary of an employee who quit his or her job to find an adequate replacement.
(Source: Hubspot)
Staff turnover is expensive. Companies must spend up to 33% of the annual salary of an employee who resigned to find an adequate replacement, according to a survey conducted on HR industry trends.
This situation accentuates the need to have a plan on how to keep employee turnover under control.
11. 67% of job seekers claim that it is important to be a part of a diverse team.
(Source: Glassdoor)
Diversity and inclusion stats show that job applicants are willing to be included in a diverse team since it can benefit a company in terms of solutions and ideas.
12. Businesses in the top quartiles for ethnic and racial diversity are 35% more likely to realize more financial returns.
(Source: McKinsey)
Emerging HR trends and new research on 366 companies show that organizations with diverse workforces realize better performance in terms of financial returns.
13. Companies with diverse human talent are 70% more likely to capture a new market.
(Source: Harvard Business Review)
In a survey of more than 1,800 business professionals, it was discovered that firms could benefit a lot from diversity. There is a higher chance of unlocking innovation, which will result in growth in market share.
Trends in HR – Onboarding Statistics
14. 76% of companies underutilize onboarding practices.
(Source: Business Wire)
Nearly 76% of HR leaders express that onboarding practices that involve employees' adaptation to the work environment are underutilized at their companies.
15. 55% of organizations do not measure how effective their onboarding programs are.
(Source: Business Wire)
Many companies do not practice new staff onboarding. Those that gainfully engage their new members of staff do not conduct research to analyze its effectiveness, and many do not know how adequate the program is.
That hinders accountability for progress and blocks improvement opportunities, according to these HR metrics.
16. 36% of HR executives say they do not practice onboarding because of insufficient technology.
(Source: Business Wire)
In the 21st century, there are apps for virtually anything, right? However, for HR executives, that is not the case. At least that is what respondents claim. They say their inability to organize and automate induction programs is the reason why staff onboarding is not implemented.
17. There are over 150 onboarding apps.
(Source: G2 Crowd)
Human resources industry statistics do not lend credence to claims of HR executives in the previous stat. According to G2, there are dozens of onboarding apps, from Paylocity and ApplicantStack to BambooHR. Those apps are used in health care, education management, IT services, and more.
18. 53% of HR executives confirm that onboarding leads to more staff engagement.
(Source: SilkRoad)
In a 2017 survey of over 1,300 executives, 53% of HR professionals admit that when onboarding is introduced or improved, employee participation also improves.
HR Metrics & Employee Morale Stats
When a company makes the well-being of its employees a priority, the result is an improvement in employees' morale and, consequently, an increase in performance, overall production, and revenue.
In this respect, we will take a look at how employers can improve the general well-being and morale of their staff. Moreover, we will comment on a few cases where the lack of proper management can be detrimental to the company in the long run.
We will back this up with real-life HR statistics examples.
19. Around $190 billion in health care costs is spent in the US due to employee burnout.
(Source: SHRM)
Job burnout is a serious issue for HR management. The burnout is a chronic physical and mental exhaustion produced by excessive responsibilities, workaholism, and lack of balance between work life and personal life.
20. 69% of employees would work more if their employers appreciated them.
(Source: Tinypulse)
According to Tinypulse's statistics on human resources, 69% of employees would work harder if their efforts were appreciated.
A recognition program does not necessarily have to involve a lot of resources. Periodic feedback sessions can be enough to improve motivation.
21. HR figures show that happy employees can increase productivity by 31% and sales by 37%.
(Source: Forbes)
A positive and motivating work environment encourages employees to give their best, which translates into higher productivity. That is further confirmed by these human resources facts from a research made by the Harvard Business Review (HBR) and the University of Warwick.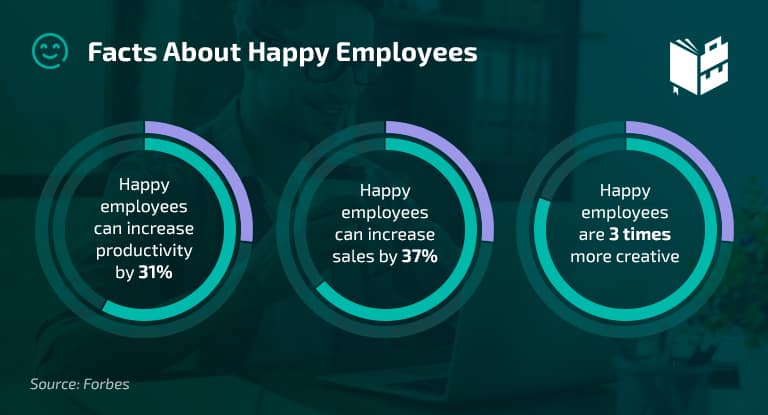 22. 79% of executives say that the redesign of the performance management system is important.
(Source: Deloitte)
Performance processes are changing. For 79% of executives, the redesign of the performance management system is a priority. They also emphasize that new strategies need to be incorporated, such as effective feedback, goal setting, and assertive communication with employees.
23. 87% of staff expect their employers to take their personal commitments into consideration.
(Source: Glassdoor)
According to HR data statistics on employee behavioral tendencies, 87% of people expect their employers to recognize and support their efforts to maintain a good work-life balance.
24. 84% of employers provide financial security programs.
(Source: G2)
Many companies have several financial security programs like debt management, loan counseling, access to budgeting resources, and others. Such programs are one of their several wellness strategies.
25. 70% of companies have invested in the improvement of the physical environments to improve healthy behaviors.
(Source: Willis Towers Watson)
Healthy practices and environments are essential for employees' good health and well-being. HR professional statistics show that many companies add healthy meals to the menus at their cafeteria, provide walking spaces, as well as bicycle-sharing programs. The options are endless.
26. 78% of companies say that the welfare of employees is a fundamental part of their business plans.
(Source: Virgin Pulse)
It is hard to retain employees if their well-being is not taken into account. The well-being of each individual contributes to the overall company's success in terms of production and revenue. Business executives are incorporating workplace wellness programs into their business plans.
Human Resources Statistics on Employee Loyalty
27. 89% of employees who work for companies that offer wellness programs will recommend their company to other job seekers.
(Source: APA)
If a company wants to retain and attract workers with good potential and skills, then it should implement workplace wellness programs. Employees who are taken care of in the workplace will likely recommend the company to other job seekers.
28. 51% of employers say that the use of health and wellness benefits will be more important in three to five years.
(Source: MetLife)
According to MetLife's trends in HR management, boosting a team's morale through programs that promote good health and wellness is a smart move. It is estimated that such practices will help improve employee loyalty and retention.
29. 93% of employees believe that showing empathy helps promote employee retention.
(Source: Busines Solver)
Successful business operations are not just about looking inwards and showing concerns for work activities but are also about understanding and showing compassion to employees.
Human Resources Stats on Employee Retention
30. 22% of employees leave their current positions because of professional development.
(Source: Hubspot)
There are five main reasons why employees quit their jobs:
Professional development (22%)
The balance between work and family life (12%)
Administrative behavior (11%)
Compensation and benefits (9%)
Wellness (9%)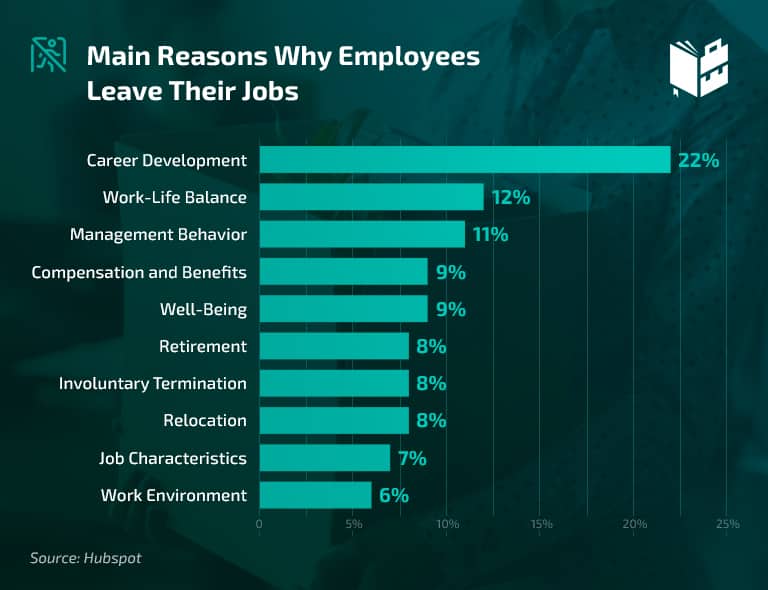 31. 61% of employees admit that their company's wellness programs influence their healthy lifestyle.
(Source: Forbes)
One of the current trends in HR management that improve quality staff retention is the introduction of wellness programs. More than half of surveyed employees agreed that workplace wellness programs inspired them to make healthier lifestyle choices.
32. 49% of small and medium-sized businesses say they cannot attract or retain high-quality or skilled employees without offering competitive health and wellness programs.
(Source: Entrepreneur)
Offering health benefits has to be an integral part of the retention programs at any company. According to small business HR statistics, that is especially challenging for small and medium-sized businesses. Hence, they find it hard to keep their top quality staff members.
33. 66% of millennial employees will quit their current jobs in 2020.
(Source: Glassdoor)
There is a high demand for millennials in many organizations due to the paradigm shifts in the 21st century. According to research by Glassdoor, those people will resign from their current jobs by 2020.
These HR statistics of 2020 show that 30% say it is because they need a better offer, 27% say their career goals are not aligned with their companies' goals, and 13% will leave because they have no opportunities to grow.
34. Older workers quit their jobs because their companies do not offer workplace flexibility (47%), professional flexibility (45%), and work hour flexibility (44%).
(Source: SHRM)
Those are the topmost reasons cited by older workers upon leaving their job positions. Flexibility has proven to be a key factor in increasing employee satisfaction.
Human Resources Fun Facts
35. 76% of resumes are discarded because of unprofessional email addresses.
(Source: Twin Employment)
Approximatelly 76% of the time, candidates' resumes are not taken into consideration because of unprofessional email addresses that include sexual references, words related to drugs and alcohol, current employer's name, cell phone number, nicknames, and similar. Job seekers should think about how their email addresses will be perceived by future employers.
36. Current trends in HR show over 3 million job openings and 11.8 million unemployed people in the US.
(Source: Insider Hub)
According to this report, there are 11.8 million job seekers in the US. However, not every person on the job market is qualified for available job positions.
Due to the rise in automation and digital manufacturing, companies are looking for high-quality workers with digital skills. The problem is that there is a shortage of skilled candidates in the labor market.
37. On average, 250 resumes are received for each job position.
(Source: Insider Hub)
HR facts point out that for each vacant job position in the labor market, 250 resumes are submitted, and only four to six candidates will be interviewed, according to research from the Insider Hub.
38. Your recruiter will spend between five and seven seconds on your resume.
(Source: The Undercover Recruiter)
You may have spent hours writing and perfecting your resume. However, on average, employers or recruiters will only spend a few seconds on each resume they receive.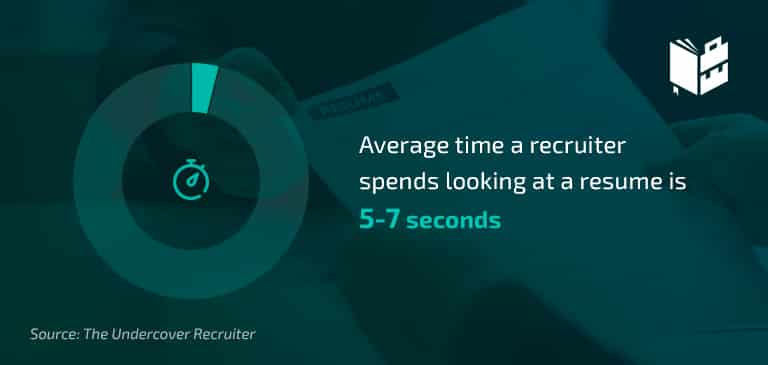 HR Technology Trends
39. There are over 21 different types of HR software.
(Source: G2 Crowd)
Such software is developed for things like employee welfare, time tracking, financial security, employee benefits, and much more.
40. Hiring stats indicate 75% of HR professionals use recruiting software.
(Source: Capterra)
To improve the hiring process, three out of four hiring managers say they use HCM software.
These are interesting facts about human resources managers as they utilize various software that can easily track their applicants. This software aids in the organization and selection of the most suitable candidates.
41. 64% of employees say that the use of mobile devices at work makes them more productive.
(Source: ArubaNetworks)
According to research from ArubaNetworks, mobile devices such as tablets, iPods, and smartphones can improve productivity when used during working hours. For example, listening to music at work has been proven to reduce stress and improve productivity.
Automation Trends HR People Should Know
42. 76% of hirers say the impact of AI will be significant in the future.
(Source: LinkedIn)
We are moving toward a time when repetitive jobs will be replaced by artificial intelligence, and recruiters will only look for highly skilled workers who can handle demanding tasks.
43. Only 7% of HR managers fear that robots will take over their jobs.
(Source: Devskiller)
Facts about human resources suggest that most HR recruiters are not afraid of losing their jobs to AI. Over 55% of them are confident that no one will be replaced in the next few years.
44. 76% of recruiters believe that AI saves more time.
(Source: LinkedIn)
The biggest advantage of AI is that it saves time. It also removes human biases (43%), finds the best candidate matches (31%), and even saves 30% more money.
Recapping HR Statistics & Trends
Using statistics in human resources management is fundamental for companies and their HR departments.
Collecting and analyzing necessary data can help track a company's growth and use strategies to improve productivity, employees' well-being, and the overall job satisfaction.
As these stats show, it's highly recommended that HR professionals keep abreast of their profession and current events. It's always useful to request guidance from other HR professionals and employees who have been surveyed about their positive and negative experiences.
Frequently Asked Questions (FAQ)