Over the last few years, coworking has become an exceedingly popular option, and many coworking statistics can prove it. By sharing workspace with other companies, businesses can cut costs and still provide employees with a dedicated workspace.
There are distinct benefits for employees as well. These spaces give remote employees access to a professional workspace and the chance to network with those sharing the space. Users cite an increase in productivity and an opportunity for collaboration with other office mates as the primary motivations for choosing this work environment.
The Top Coworking Industry Statistics (Editor's Choice)
Five million people will be using coworking spaces by 2024
43% of businesses believe a good coworking space should foster team building and collaboration
In the US, the number of people using coworking spaces increased from 300 in 2010 to 4,000
By 2022, 13% of businesses outside the US will use shared workspaces
The number of workers using these spaces will almost double between 2017 and 2022
WeWork, ImpactHub, and Regus are the largest coworking companies in 2021
30% of offices will be based on this model by 2030
70% of coworking company owners plan to buy standing desks
General Coworking Space Statistics
1. The first hackerspace, called C-base, was created back in 1995 in Berlin.
(Coworking Resources)
Hackerspaces are considered the precursor to co-working spaces. At the time, the focus was more on providing a space where people could collaborate—it offered more than just a desk and chair to use. Since then, these spaces have evolved to incorporate many more benefits. It was a pivotal moment in the history of coworking.
2. 55% of those using a coworking space still work in the same one they started in.
(Statista)
Users who find the suitable space are reluctant to leave it, as long as the space is convenient and well maintained. As the industry has started to mature, companies are moving toward locking clients into longer-term leases.
3. We're moving away from the traditional 9 to 5 working model.
(Statista)
According to workplace statistics data gathered on coworking spaces, Statista found that 80% of people in Japan see flexible working as the way of the future. In Germany, this number drops to 68%. All over the world, we're redefining the limits of what the typical work environment is like.
4. By 2024, five million people will be working from coworking spaces.
(Coworking Resources)
There has been a 158% increase in coworking spaces since 2020. The coworking space demand has been high over the last few years, prompting more expansion in this industry.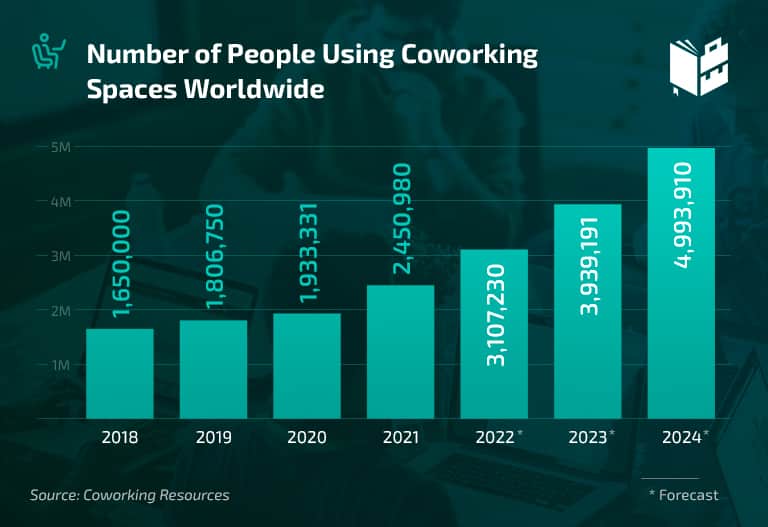 5. 60% of coworking space providers admit it's challenging to sign up new members.
(Statista)
The problem is that the market is very competitive. Also, there are a lot of misconceptions about how well the concept works. Companies express the concern that staff may get distracted. Also, in industries where security is a big concern, companies may not be willing to risk working in a shared environment.
What It's Like to Work in the Shared Workspace Industry
6. Interactions may decrease by 70% in this environment.
(The Royal Society)
For those companies concerned that other workers would be too much of a distraction, this Royal Society study could provide some reassurance. The study found that face-to-face communication decreased by 70% in open coworking environments.
7. 43% of the businesses that have adopted this measure have a staff complement of under 1,000.
(Gensler)
Large corporate companies are also starting to explore these spaces, but for the moment, the lion's share of business in this industry comes from small to medium enterprises.
8. 62% of the millennial generation already works in this kind of environment.
(Gensler)
Coworking space trends show that millennials are the most likely group to make use of these offices. Millennials have redefined a lot of what's seen as the conventional work environment. This option appeals to them because it allows for more sustainable and effective use of resources.
9. Baby boomers only make up 5% of this market.
(Gensler)
It seems that some habits are hard to break. Baby boomers appear to prefer working in a more traditional space.
10. It takes around 23 minutes for you to regain your focus after being interrupted.
(University of California)
It might be better to avoid a vast space with a lot of other workers, though. According to the University of California, it takes around 23 minutes for you to regain your focus after being interrupted. Future coworking trends should include the fact that too many people sharing the same space can cause issues.
11. 73% of businesses find that a mostly open spatial set-up is most conducive to productivity.
(Gensler)
What do they mean by "mostly open?" That could be where there are cubicles that have been created or where there's a closed office available for specific functions. Having a completely open space is considered too much of a distraction.
12. 33% of businesses using shared space want the latest technology and tools to be provided there.
(Gensler)
The companies don't expect items like computers to be included. They would, however, hope for there to be printers, phones, and possibly fax machines.
13. According to coworking statistics, 43% of businesses believe that a good office space should foster team building and collaboration.
(Gensler)
One advantage of working in a shared environment is that you can bounce ideas off other users. They may not work at the same company as you, but they can still provide an excellent sounding board and possibly even some inspiration.
The State of the Industry in the US
14. The number of coworking spaces in the US increased from just 22 in 2007 to 4,528 in 2018.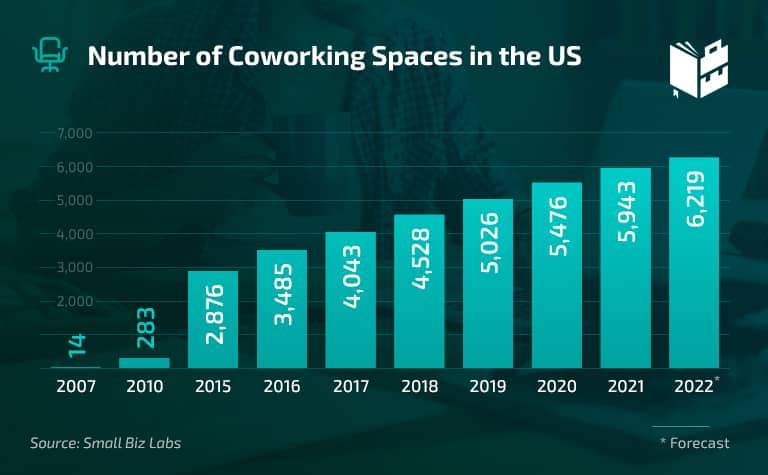 (Small Biz Labs)
There's no question that coworking has redefined our views on the traditional office environment. They bound coworking occupancy rates to increase even more in the future.
15. In New York, you'd pay an average of $1,063 per space or desk.
(Statista)
The prices for shared spaces depend on the location. Naturally, it's going to be in line with what the standard rentals for the area are. That's why it's worthwhile to consider an office in a less popular area to save money.
16. There are 6,923 flexible workspaces in the US.
(Statista)
How many coworking spaces are there? In the US alone, we have close to 7,000 spaces. A workspace here is classified as the whole office or building being used in this manner.
17. Boston was the most expensive city to rent a shared area.
(Statista)
You were looking at an average cost of $1,889 per space in Boston a few years ago. That was above the norm, even for a large city like New York.
18. The average price for a permanent desk is between $650 and $750 per month.
(Launchpad Centre)
Coworking statistics tell us that the price you'll pay depends on the city you're in. It also depends on the supply and demand for space. If space is at a premium, as it is in New York, you can expect to pay a higher price.
19. About 40% of coworking spaces are profitable.
(Desk Mag)
According to the second Global Coworking Survey data, less than half of coworking spaces are profitable. Nevertheless, keep in mind that more than 50% of all coworking spaces are less than a year old.
20. Additional coworking statistics show that by 2022, 6% of business in the US will be conducted from these spaces.
(Colliers)
It makes sense for companies to look for alternative solutions when it comes to cost-cutting. A shared workspace is an excellent way to cut back on expenses.
21. By 2022, 13% of businesses outside the US will be using shared workspaces.
(Colliers)
The drivers for this shift include cutting costs and saving space. Office space in larger metropolitan areas is severely limited. Coworking helps to alleviate some of the issues with space.
22. 542,000 people in the US worked out of shared spaces before the coronavirus pandemic.
(Statista)
While year after year coworking growth in these spaces is slower in the US, it's still one of the major players in the industry.
23. American workers account for 45% of the global coworking industry.
(Statista)
Americans were early adopters of this trend, as almost half of the workers sharing space in the world are in the US. It might also account for the slower growth of the industry in the States over the last few years.
24. In terms of the market share of these coworking spaces, Statista shows that Manhattan had the biggest share in the US.
(Statista)
Considering the cost of renting a property in Manhattan, this makes sense. Even a small office space can set you back significantly. By choosing a shared space, companies only need to pay a fraction of the price, and they can upgrade or downgrade the amount of space they require.
Nevertheless, it's not just larger cities that are benefitting. It might surprise you to learn that smaller cities tend to have a higher percentage of these workspaces.
The Global Coworking Space Industry Analysis
25. It's estimated that the number of people using coworking spaces will almost double between 2017 and 2022.
(Statista)
The number of US workers in these spaces is estimated to reach 1.08 million by 2022. That's close to double the 542,000 people using the spaces in 2017. It's clear from the stats that the rise of coworking is not over yet.
26. Private workspaces must be around 150 square feet.
(Space IQ)
It's of the utmost importance to consider different desking concepts before making and completing a coworking floor plan. For example, open workspaces are usually smaller and require an average of 125 square feet.
27. The average number of spaces and workers has been increasing steadily before the coronavirus pandemic.
(Statista)
The number of members in each space tripled at the same time, indicating a sharp rise in the popularity of coworking spaces.
28. The number of spaces offering this service is set to increase by 2,200 between 2017 and 2022.
(Statista)
We can also expect to see a wider range of venues. Hotel spaces are looking into this idea to supplement their income. There's a lot of interest in these spaces, meaning that many property owners want to get in on the action.
29. The coworking footprint is around 86.0 million square feet.
(Space IQ)
According to a global coworking survey, and other data, The coworking footprint nearly doubled since 2017 and now is approximately 86 million square feet.
30. The number of global coworking spaces is estimated to cross over 40,000 by 2024.
(Coworking Resources)
People will work from coworking spaces more often, as around 2,45 million people use them in 2021. According to research, there will probably be 41,975 coworking spaces around the world.
33. Only 2.35% of large-scale companies use coworking spaces.
(Compare Camp)
Coworking industry statistics show that large-scale corporations use coworking spaces the least. On the contrary, 37.93% of small-to-medium enterprises (SMEs) use them.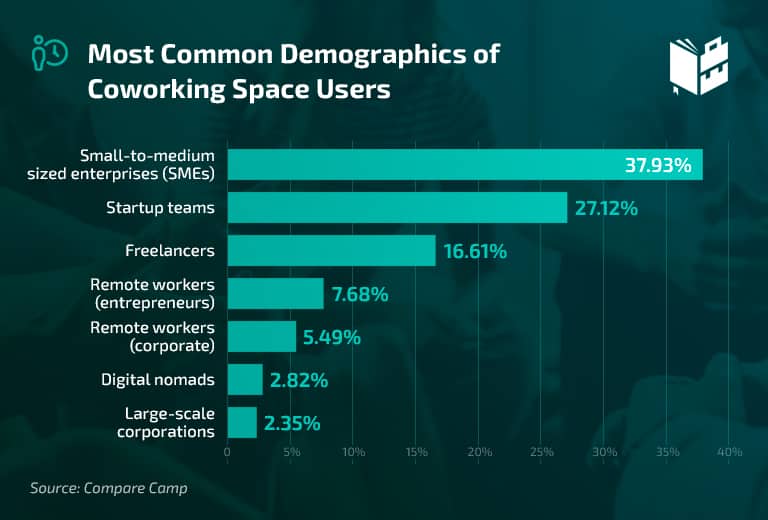 34. 16.61% of freelancers use coworking spaces.
(Compare Camp)
Even freelancers, remote workers, and digital nomads use shared spaces. Experts attribute this phenomenon to an increase in outsourcing and the ever-growing US gig economy. Remote work is much more common and popular in the US.
According to these coworking statistics, 7.68% of remote workers (entrepreneurs), 16.61% of freelancers, 5.49% of remote corporate workers, and 27.12% of startup teams use coworking spaces.
35. 35,000 coworking spaces in the world amount to around 521 million square feet of space.
(Allwork)
The number of worldwide coworking spaces could be even higher. Furthermore, flexible workspace inquiries are getting bigger, and some of them surpass more than 50 people.
36. Coworking industry statistics show that in London, a new coworking space opens approximately every five days.
(Coworking Resources)
New York comes in at a close second in the US, with spaces opening around every 7.5 days. That depends on the city you're in. A new space opens up only once in 47.5 days in Amsterdam.
37. 23% of the top-grade office spaces in big Asian city centers are now shared spaces.
(Gensler)
In many large cities in Asia, top-notch office space is expensive to rent and can be hard to come by. Sharing empty spaces allows companies also to share resources and have access to top-quality properties.
Coworking Growth Over the Last Few Years
38. The number of operators in the market grew by 135% between 2014 and 2018.
(Colliers)
There has definitely been a boom in interest in this sector over the last few years. So is it too late for new players to enter the market? There are still opportunities to be had here. To take advantage of them, though, you'll need to do your homework correctly.
39. The number of centers offering these services grew by 205% between 2014 and 2018.
(Colliers)
The coworking space statistics demonstrate a substantial growth rate over these four years. It's indicative of people's changing attitudes toward flexible spaces.
40. Spaces within retail properties like malls are set to grow as much as 25% annually until 2023.
(Forbes)
Malls and retail spaces offer an interesting option here. They're conveniently located and have parking, with easy access to foot traffic. There are a lot of ways to maximize this retail space. Some companies have even toyed with the idea of renting space from restaurants that only open at night.
How Big Is the Coworking Market?
41. Regus is the biggest player in this market.
(Colliers)
WeWork comes in second and is especially popular in the States. Knotel and Impact Hub are two other big players.
42. 80% of all the spaces available are divided among the ten biggest operators.
(Colliers)
The barriers to entering this market can be high. Property prices are high, especially in the kind of prime business areas we're talking about.
43. ImpactHub, WeWork and Regus are some of the largest coworking companies in 2021.
(Upsuite)
Both companies have established themselves as industry leaders. Part of the reason they've been so successful is that they've come up with innovative add-ons. Coworking trends show they're constantly tweaking their offerings, following their client's requirements.
WeWork
44. WeWork plans to open 60 new locations this year.
(Tech Jury)
The company was started in 2010 by Adam Neumann and Miguel McKelvey. Interestingly enough, it was when Neumann and McKelvey saw some empty space in their office building that they decided to start the company.
45. In 2018, WeWork's turnover was $1.8 billion.
(Coworking Resources)
The company formed around the idea of providing sustainable office spaces. It originally started as Green Desk, with that principle in mind. Neumann and McKelvey sold Green Desk but kept up with the idea of providing more sustainable office space. Their presence in the shared workspace industry has paid off for them in spades.
46. WeWork reports a first-quarter net loss of $2 billion.
(Reuters)
WeWork's turnover increased by 106% from 2017 to 2018. That illustrates the potential downside to this market: buying and maintaining properties is expensive. Also, the coronavirus pandemic has had a tremendous impact on WeWork's revenue.
47. WeWork has more than 500,000 members.
(Reuters)
This startup's business approach clearly works. That said, there are concerns that the market is currently overinflated. As of April of 2018, there were 219,000 members. A clear representation of the rise of coworking, this number increased to 466,000 people.
48. According to WeWork's CEO, remote workers are less engaged.
(Forbes)
Sandeep Mathrani, the CEO of WeWork, thinks that only those who wish to work from the office are actively engaged. However, numerous remote work stats can show us the opposite. Only 9% want to work from the office all the time.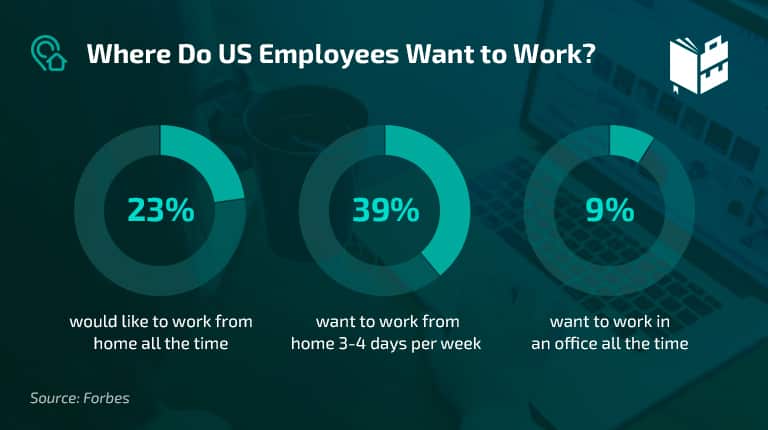 Regus
49. Regus held 11% of the global market.
(Statista)
We've spoken a lot about WeWork, but they're not the only company to keep an eye on. If you're analyzing the popularity of coworking spaces, Regus is also a big player in this field.
50. Regus operates in 900 cities spread over 120 countries.
(Statista)
Regus is a European company that was founded in 1989. It has since become a global conglomerate with widespread representation.
51. Regus has a total of 9.4 million square feet of property in the US.
(Statista)
Regus is one of the largest coworking companies and has over 9 million square feet of property. WeWork comes in second with 6.5 million square feet of property in the US.
New Trends in Coworking Spaces
52. By 2030, 30% of offices will be based on this model.
(Forbes)
Over time, we're going to see the lines blurring between different use spaces. We've already started to see non-traditional venues like hotels and spas renting out extra space. The way that we work has also changed substantially. We're going to see more unconventional office arrangements coming forward in the future.
53. 70% of coworking company owners consider buying standing desks.
(And Cards)
Coworking trends in 2021 show that members are optimistic about the future. The coronavirus pandemic has brought new trends, and strict hygiene rules and wellness are one of them. Consider buying ergonomic furniture and making meditation rooms, and organizing yoga classes.
54. Most tools are built for spaces intended for 20 to 200 members.
(Coworking Resources)
Since most coworking tools are designed for spaces intended for up to 200 members, those who operate 10 spaces for up to 400 members should invest in infrastructure and getting Cisco routers.
55. The number of spaces available globally will increase by 42% between 2019 and 2022.
(Coworking Resources)
The coworking statistics show a slowdown in the growth of space openings from the year before. Between 2017 and 2018, year on year growth was 15.2%. We can expect to see at least 25,968 spaces available by 2022.
Final Notes
If you've been keeping track of coworking trends, you'll know that the market is fast reaching its saturation point. Before you rush off to become a supplier in this industry, it's essential to do thorough research.
Over the last three years, 900 of these spaces have closed. Thanks to the fierce competition in the market, it's fast becoming saturated. There are even those who believe that this may be a bubble and that the current growth rate is unsustainable.
Frequently Asked Questions (FAQ)