High school statistics can reveal much about students' lives. Whether you're a teacher, student, or parent, you should know more about what happens in high schools.
This article will tell you all about recent trends, graduation and dropout rates, and relationships between students and their teachers.
We hope that you'll find these statistics interesting and valuable. Let's dive in by looking at some of our favorite stats we've discovered while compiling this list.
Key Stats About High School Demographics, Trends, and Ratings (Editor's Pick)
The adjusted cohort graduation rate (ACGR) for the school year 2016-17 was 85%, which is the highest since 2010-11
Graduating from high school in 46 US states will not qualify you to attend a public college
Around 45% of teens say they are stressed all the time
In 2017, there were 2.1 million high school dropouts
Around 59% of teens say that they have plans to attend a 4-year college after finishing high school
General High School Statistics — The Latest Data
1. It's estimated that 17,245 students will enroll in high school in 2022.
(Statista)
More than 17,000 students will most likely enroll in high school next year. While 15,703 of them will choose public institutions, only 1,542 will go to private high schools.
2. There are 26,727 high schools and secondary schools in the US.
(Think Impact)
Out of all high schools in the US, 2,845 are private. One of the interesting facts about high school is that there are 3,892 institutions in California, making it the state with the highest number of high schools. On the other hand, only 83 high schools are in Delaware.
3. The number one high school in the US News national ranking is Thomas Jefferson High School for Science and Technology.
(US News)
US News has a comprehensive American high school ranking system, including data on more than 24,000 public high schools in the US. They ranked more than 18,000 schools based on high school graduation rates and other factors. Thomas Jefferson High School for Science and Technology is first in the rankings with a 100% graduation rate and 100 college readiness score.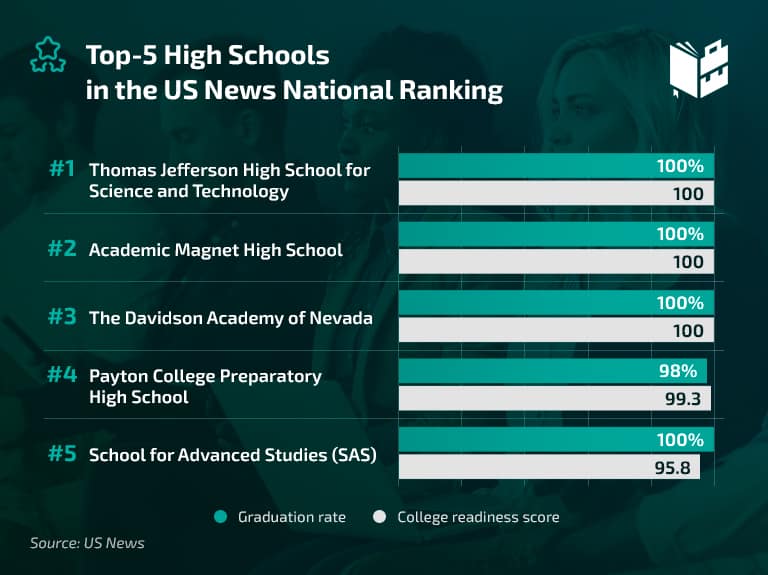 4. The median high school teacher salary is $61,660.
(US News)
High school teachers might have an average salary, but it's still the best education job in the country. Furthermore, some cities, like Bakersfield, California, offer them a median salary of $97,680. New York and California are the best-paying states for high school teachers.
5. The percentage of high school graduates that go to college this year is 62.7%
(BLS)
Out of all students aged 16 to 24 who graduated in 2020, two million enrolled in college. Unfortunately, the enrollment rate is down by 3.5% compared to 2019.
6. There is one college counselor per 464 high school students.
(School Counselor)
This is the nationwide number which changes significantly when we look at specific schools. Furthermore, 38 states shortchange either students from low-income families, students of color, or both.
These facts about high school students show us that low-income students and students of color have less support for high school graduation and college entry requirements. Without the help they need, they are less likely to graduate and get into college. That is just another problem we need to deal with if we want to have the same level of life success for all US citizens.
Facts and Stats Regarding High School Trends
7. 40% of parents plan to buy fewer back-to-school supplies than before.
(Deloitte)
Naturally, this doesn't mean that all of that money is spent on things high school students need, but they are certainly a big part of that. They mostly spend money on electronics and gadgets, computers and hardware, digital subscriptions, clothing, and accessories.
8. 55% of the average family budget for school goes to clothing.
(Deloitte)
We established that US families spend a lot of money during the back-to-school season, but it seems that more than half of their budget is spent on clothes.
9. The number of male participants in 11-player football has dropped by one million from 2019 to 2020.
(Statista)
High school football stats show that the number of high school athletes decreased drastically. Furthermore, the coronavirus pandemic has influenced the number of students who play football, regardless of gender.
10. The average spending per child for the back-to-school season is $529.
(Deloitte)
We can make some additional deductions when we look at this number, and the previous figures for the total spending parents have. On average, out of these $529, around $261 will be spent on clothes and $102 on school supplies.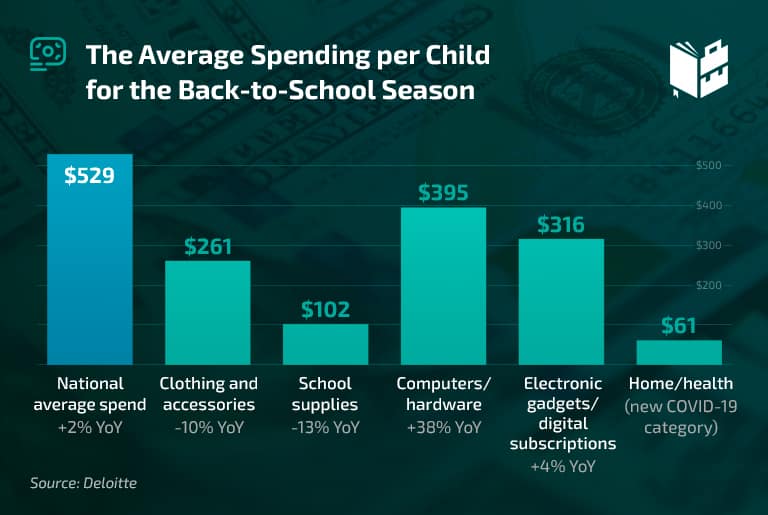 11. The most popular app among high school students and other teenagers is still Snapchat.
(Statista)
High school stats point out that approximately 41% of teens use Snapchat, while 35% use Instagram. Facebook is not a popular app among teens, with only 6% of teens using it. Facebook was the most popular app only seven years ago, with a staggering 42% of teenagers using it, while Snapchat and Instagram had far fewer users.
12. 85% of teachers think that virtual reality will have a positive impact on students.
(EdTech)
While many teachers believe that VR can be helpful, we can't say that it's one of the high school facts. Only 2% of teachers have stated that they actively use virtual reality features in their classrooms, which is non-existent.
Furthermore, 83% of teachers say that virtual reality can improve learning outcomes. We hope that the near future will bring more VR into classrooms.
High School Student Stress Statistics
13. Around 45% of teens say they are stressed all the time.
(Globe News Wire)
Almost half of all high school students think they are always stressed. The most common causes of this are relationships and teachers. Only 6% of teens stated that they are never stressed, and around 12% said they were rarely stressed.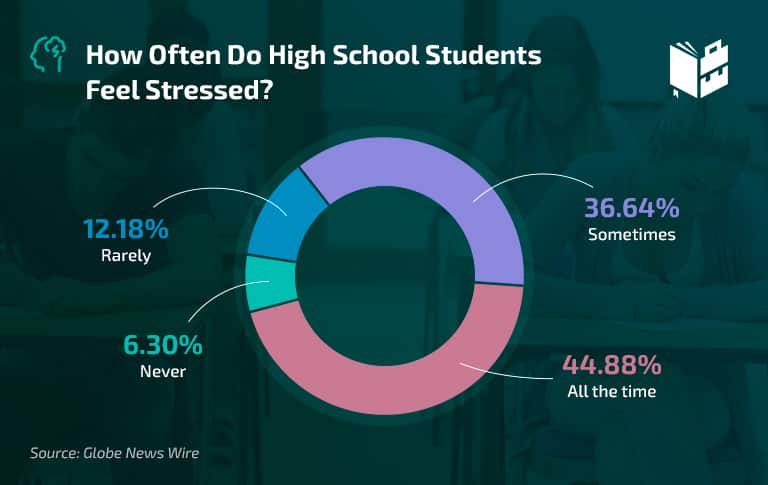 14. About 44% of teenagers say that apps and other online resources help them feel better when they are under stress.
(Globe News Wire)
Stress in high school students statistics point out that only 2.5% say that they use resources available at school to cope with stress. Thankfully, only 10% say that they tend to turn to alcohol or drugs for help. Additionally, one-third of them say that they do nothing to deal with their stress, which is not healthy either.
15. Most teens see anxiety and depression as the most significant problem among their peers.
(Pew Social Trends)
According to 70% of teens aged 13-17, anxiety and depression are significant problems among their generation. However, there are many more problems with their peers. For example, high school bullying statistics reveal that others consider bullying and drug addiction major problems.
16. 61% of teens feel pressured to get good grades.
(Pew Social Trends)
Apart from getting good grades, 29% of teens say they feel pressured to look good, and 28% say the same about fitting in socially. The good thing here is that only 6% feel pressure to drink alcohol, and only 4% feel pushed to use drugs.
17. 61% of boys are more likely to prioritize money than 41% of girls.
(Pew Social Trends)
The latest statistics on high school students tell us that boys and girls have similar aspirations. However, one thing where they do differ is money. Boys are far more likely to prioritize money in adulthood than girls. Other aspirations are relatively the same for both genders — having a job or a career and helping those in need.
18. 40% of teens say they feel bored every day, while 29% say they are tense and nervous every day.
(Pew Social Trends)
Stress and nervousness top the list of emotions high school students feel on a daily basis. Besides these two, other problems include wishing for more good friends, getting excited about studies, getting in trouble at school, and more.
High School Relationship Statistics
19. High school students who get married young have a 54% chance of their marriage lasting ten years.
(Brandon Gaille)
Having a high school sweetheart for a long time is certainly a nice feeling, but the numbers tell us that such couples typically don't last forever. Naturally, it doesn't mean that everyone needs to give up on marrying their high school sweetheart, but it's good to know the odds of that marriage succeeding.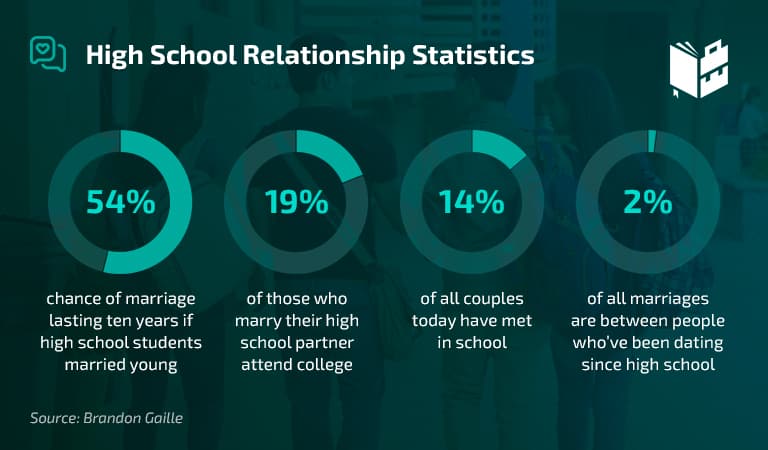 20. 9.4% of high school students reported being physically hurt by their partner in the past year.
(The Hotline)
High school dating statistics show that abuse is present even in teen relationships. One in ten high school students has been hit, slapped, or physically hurt intentionally in the past year.
21. The relationships of young teens (aged 13 to 15) typically last less than five months.
(Classroom.Synonym)
Young teens are prone to have shorter relationships than those aged 16 or older, whose relationships last two years on average. Most long-term relationships don't occur early.
22. High school students who wait to become 25 to get married have a 78% chance of their marriage lasting for at least ten years.
(Brandon Gaille)
According to the same statistics about the percentage of high school relationships that last, the marriage success rate is excellent for those who don't marry before 25. That should encourage teenagers to wait to get married until they get a bit older.
23. Only 19% of those who marry their high school partner attend college.
(Brandon Gaille)
Only 2% of high school students who marry their sweetheart obtain a college degree. When you take a closer look at these numbers, it seems that the movies showing high school students who married their high school sweetheart and never attended a college are based on true stories.
24. 14% of all couples today have met in school.
(Brandon Gaille)
Sometimes high school relationships facts may seem bitter, but this one is an entirely different story. In our opinion, 14% is more than excellent and shows that a high school sweetheart can mean a lot, even after high school.
25. Barely 2% of all marriages are between people who've been dating since high school.
(Brandon Gaille)
Many parents are afraid that their children will get married too young. However, it seems that only a tiny percentage of the US population actually ends up marrying their high school sweetheart.
Statistics About High School Dropout Rate and Dropouts
26. The dropout rate of high school students was 5.1% in 2019, and it's difficult to say that the current rate is.
(CS Monitor)
Since the coronavirus pandemic has completely reshaped the way schools work, online education has made it difficult to calculate the exact dropout rate. However, an encouraging fact is that the dropout rate in 2019 is considerably lower than in 2017.
27. 17% of students are chronically absent.
(Boston)
Chronically absent students are those who miss more than 15 days of school per year. Also, the same statistics show that the number of chronically absent students has been increasing since 2017/18.
28. According to high school students statistics, high school dropouts commit 75% of the crimes in the US.
(Do Something)
This statistic is worrying yet relatively logical. High school dropouts commit more than 70% of all crimes in the US. On top of that, almost 2,000 US high schools graduate less than 60% of their students.
29. Students experiencing homelessness at some point are 87% more likely to drop out of high school.
(America's Promise)
If that number wasn't alarming already, consider the fact that former high school students without a diploma are 4.5 times more likely to experience homelessness later in their lives.
30. The latest high school dropout rates by state show that they are the lowest in North Dakota (2.7%) and highest in Louisiana (8.7%).
(NCES)
According to the National Center for Education Statistics, the highest dropout rates are concentrated in the South and West. Sixteen states and the District of Columbia have dropout rates that are significantly lower than the national average.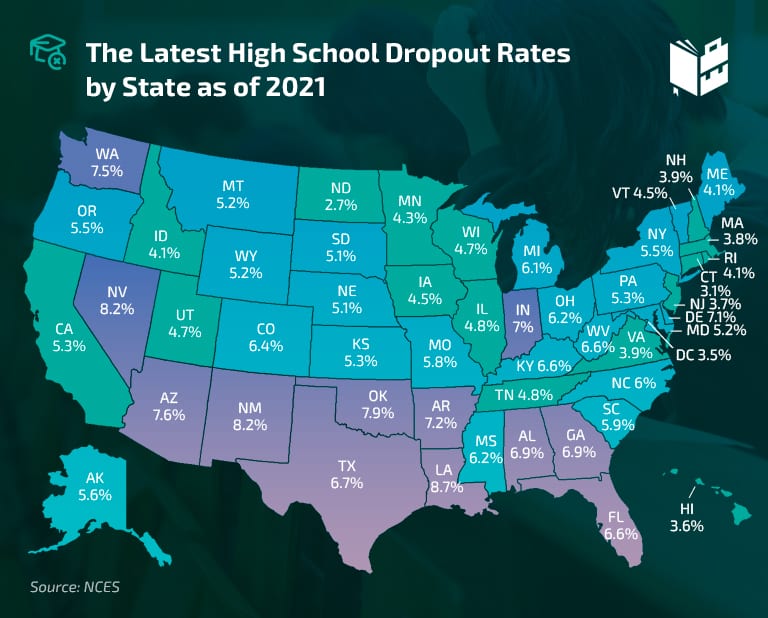 31. Juvenile incarceration decreases a person's chance of finishing high school by 13%.
(Spotlight)
Troublesome teenagers have more difficulties graduating high school. Additionally, young incarcerated people are 15% more likely to end up in prison again in the future for a violent crime.
32. Low-income students are 2.4 times more likely to end up as high school dropouts than middle-income students.
(Spotlight)
These high school dropout statistics also show that low-income students have ten times higher chances of dropping out of high school than high-income students. Alongside college tuition increase, high school expenses are too high for many families.
However, this is nothing compared to the fact that high school students with disabilities often don't finish school, with 36% of them ending up being dropouts.
33. If the high school graduation rate increased by 5% among males, the country would save $18.5 billion in annual crime costs.
(Spotlight)
These high school dropout statistics show that investing in education can save expenses related to crimes and many other factors, making these investments worthwhile. $18.5 billion is not a small number, especially when you consider the fact that the US spends some $80 billion on corrections expenditures on all levels of the country (local, state, and federal).
In the 1980s, that number was only at around $17 billion, which is less than what we could save today by increasing the high school graduation rates of the nation.
High School Graduation Statistics
34. Low-income students have a 21% higher chance of graduating from high school.
(Chalkbeat)
Low-income students also have slightly higher scores on standardized tests. They seem to be somewhat better in most metrics when compared to other students. So if you feel like you have fewer chances of graduating than other kids with more money, understand that the statistics show otherwise.
35. The high school graduation rate was 88% for the previous academic year.
(US News)
The US graduation rate currently stands at 88%, and it's the same as the previous year's average. According to the data on high school graduation rates by state reported by 17,618 high schools, the state high school graduation rates ranged from 75% to 94%.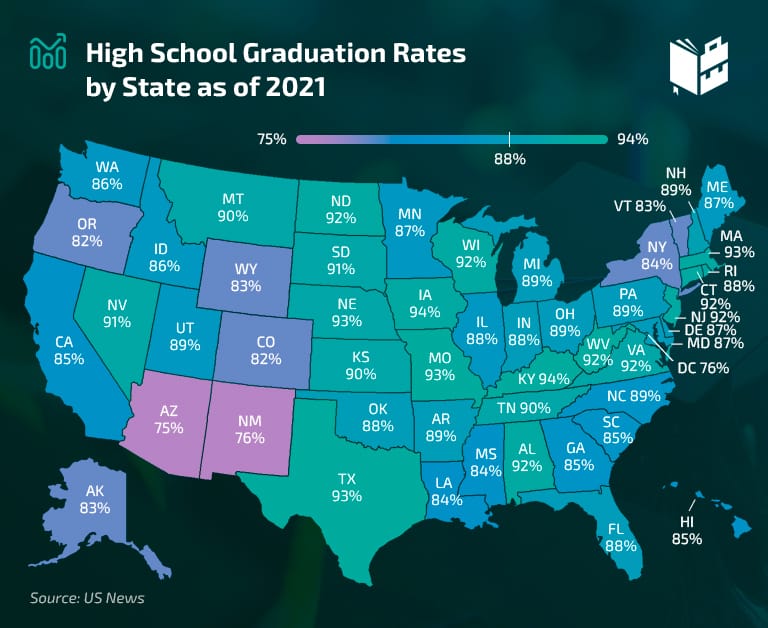 36. Only three high schools in the US have a graduation rate of 100%.
(US News)
Out of almost 18,000 ranked high schools, only three have a 100% graduation rate. Those schools are Thomas Jefferson High School for Science and Technology, Academic Magnet High School, and The Davidson Academy of Nevada.
37. Only two states had an ACGR rate of over 90% for 2016-17 — Iowa and New Jersey — both with 91%.
(NCES)
Only Iowa and New Jersey have very high graduation rates. On the other side of the spectrum is New Mexico, with the lowest ACGR of 71%. A total of 40 states have rates of 80-90%.
38. Students with disabilities consistently graduate at much lower rates than their peers, with the current national rate being 67.1%.
(America's Promise)
According to various statistics about high school students, the graduation rate of students with disabilities has jumped by 8.1% between 2011 and 2017. Despite the rise, 14 states have noticed their students with disabilities' graduation rates decline recently.
39. Around 59% of teens say they have plans to attend a 4-year college after finishing high school.
(Pew Social Trends)
This percentage is not alarming at all. However, the data on high school demographics show a disparity between boys and girls, making high school graduation rates by gender something to ponder.
More girls have plans about going to college (68%), while only 51% of boys do. Also, girls who finish high school and plan on enrolling in college are more likely to accomplish that goal, with 64% of them enrolling in college. That rate for boys is only 55%.
40. The total number of high school graduates is projected to be 2% higher for the school year 2021-22 than in 2008-9.
(NCES)
The number is from the NCES high school graduation rates statistics, so we can expect it to be the case in 2022. Interestingly, the same projections say there will be a decrease in the number of private school graduates.
41. Black high school students had a graduation rate of 79% last year.
(JBHE)
Unfortunately, black and Hispanic students have lower graduation rates than white students, as 89.1% of white students graduated on time last year. The state where the graduation rate for black students is the highest is Alabama (87.7%).
42. 26 states have recently improved their graduation rates for students with disabilities.
(America's Promise)
The latest high school students statistics from America's Promise Alliance tell us that these schools have also been able to improve at least two of their measures of academic success. Unfortunately, almost one-third of the states failed to achieve this.
43. A 90% high school graduation rate for a single cohort of students would mean that the US would get a $3.1 billion increase in annual earnings.
(Graduation Effect)
Among several notable improvements, the country would also see a rise of $5.7 billion in GDP and 14,260 new jobs on a yearly growth rate. A 90% graduation rate for high schools would be an excellent thing for the entire country.
High School Statistics — The Bottom Line
Being a high school student has become even more stressful because of the coronavirus pandemic. It's of the utmost importance to know such information about high schools, their students, and high school trends.
Teachers can become aware of the problems they haven't noticed before, and students might start studying more. Students should keep in mind that good education can vastly influence their careers. Parents also need to stay up-to-date and help their teenagers go through stressful periods related to school, peers, and studying.
Frequently Asked Questions (FAQ)