Even though education is the right everyone should have, education statistics show that things aren't so great. Despite the steady increase in literacy rate in the past 50 years, there are still illiterate people around the globe.
The latest figures below serve as a reminder that there's a lot to be done to reach the ultimate goal — literacy for all youth and most adults by 2030. They also illustrate the impact of COVID-19 on education, the state of equality in the sector, the importance of sexual education, and more.
Top United States Education Stats (Editor's Choice)
International Education Statistics
1. The global literacy rate for adults is 86.3%.
(World Population Review, World Bank)
The results are related to people older than 15. Compared to the beginning of the 21st century, when the literacy rate was nearly 81%, we can notice a steady increase. Still, almost 14% of the adult world population is illiterate.
2. The literacy rate in most developed countries is 96% or higher.
(World Population Review)
Global literacy rates are higher in developed countries. The latest education statistics by country reveal that Finland, Norway, Luxembourg, Andorra, Greenland, Lichtenstein, and Uzbekistan have a 100% literacy rate. On the other hand, the most illiterate adults live in West and South Asia and sub-Saharan Africa. Niger has the lowest literacy rate — only 19.1%.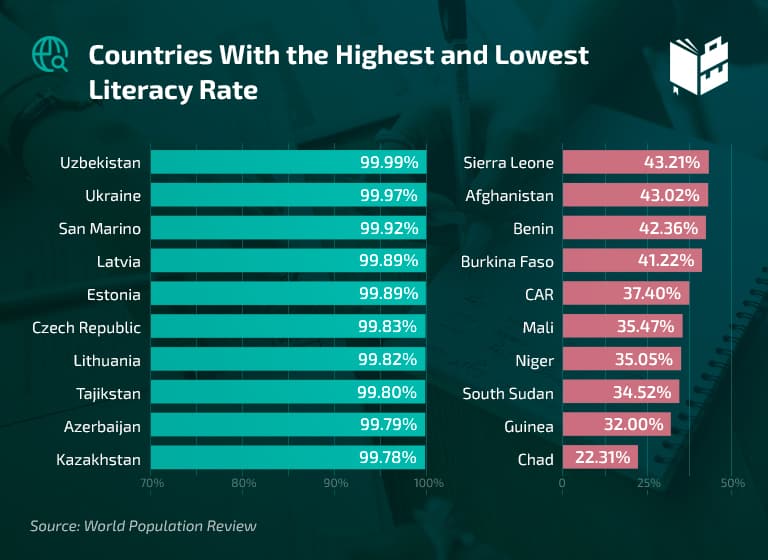 3. About 175 million children aged 3–5 aren't enrolled in preschool education.
(UNICEF)
Trends in early childhood education show a low enrolment rate. Despite many lifelong benefits and a strong education base that pre-primary education provides, nearly 50% of all pre-primary-age children aren't enrolled in preschool education. The issue is more extensive in low-income countries where only one in five children aged 3–5 is included in pre-primary education.
4. The global higher education market is valued at $13.7 billion.
(Verified Market Research, Straits Research)
National education stats reveal that the global higher education market grows at a rate of 21.5%, and it will reach $64.2 billion by 2028. Moreover, the global online education market is growing faster at a 23.1% rate and is projected to reach $198.9 billion by 2030.
5. In Japan, 83% of 3-year-olds are enrolled in kindergartens.
(NCEE)
One of the best-known Japanese education system facts is the high enrollment rate across all educational levels. When it comes to preschool education, the country has two types of institutions — childcare centers and kindergartens. Enrolment in preschool institutions in Japan is as high as or higher than the OECD average. Moreover, 96% of children aged four and 97% of five-year-olds are enrolled in kindergarten.
6. 57% of children in low- and middle-income countries couldn't read proficiently by the age of 10 before the pandemic.
(World Bank)
According to the education statistics from the World Bank, the rate jumps to 90–91% in poorer countries. The high levels of illiteracy are alarming, and estimates show that the average learning poverty rate has likely jumped to 70% due to the pandemic.
7. Around 244 million children are out of school.
(Relief Web)
Around 90% of countries, together with UNESCO, have set national goals for quality education for everyone by 2030, including out-of-school rates. In addition, the current trends in education show that the gender gap of students out of school is closing: the gaps between primary and upper secondary education students have all but disappeared, but disparities among regions still exist.
8. Nigeria has 20.2 million children who are out of school.
(Relief Web)
Over 20 million children in Nigeria and 10.5 million in Ethiopia don't go to a learning institution. In the Democratic Republic of Congo and Kenya, 5.9 million and 1.8 million children don't attend classes, respectively.
Education Statistics: COVID-19 Edition
9. About 258 million children worldwide were out of school due to the pandemic.
(UNICEF)
According to estimates, at least 463 million students worldwide were unable to learn in 2020, mainly due to a lack of remote learning policies or equipment needed for learning at home.
In 2022, UNICEF reported that around 147 million children missed more than half of their in-person learning due to school closures. As of March, 23 countries are yet to reopen their schools for in-person operation, meaning at least 405 million children still struggle with full or partial school closures.
10. 94% of countries adopted remote learning policies.
(UNICEF)
Education around the world statistics reveal that the most common approach was digital instruction used by 74% of countries for primary education. Similarly, 77% of countries adopted the digital instruction approach for upper secondary education and 42% for pre-primary education.
11. Only 60% of countries adopted remote learning policies for pre-primary education.
(UNICEF)
Providing online learning opportunities at this education level is vital — every $1 invested in pre-primary education enrollment returns $9 in benefits to society. However, out of the 94% of remote learning policies, less than two-thirds were for pre-primary students.
12. Statistics about education reveal that TV-based learning opportunities reached 62% of students.
(UNICEF)
Even though it's not the most convenient method for distributing course materials, television plays a significant role in remote learning. Data indicates the TV-remote learning policies reached the most students — 930 million worldwide.
13. 40% of countries failed to support learners with disabilities during the lockdown.
(UNESCO)
Education and poverty statistics reveal substantial inequality among students. Less than half of lower-middle and low-income countries didn't provide adequate support to disadvantaged learners during the lockdown. When schools eventually reopen, those countries should urgently focus on students left behind to create equal educational opportunities for all.
14. 31% of students didn't have access to digital or broadcast remote learning assets in 2020.
(UNICEF)
As per education statistics worldwide, three out of four students who couldn't be reached by learning opportunities were from poor households or rural areas. The minimum share of students not reached was the highest in Eastern and Southern Africa — 49%, whereas the lowest was in Latin America and the Caribbean — 9%.
15. 20% of college students report their mental health has worsened during the pandemic.
(Active Minds, The Lancet)
School closures and social distancing took a toll on students' mental health. Recent data reveals that the mental health of one in five students has worsened since the beginning of the pandemic. Also, 48% of students have experienced financial issues because of the pandemic, and 38% have had trouble focusing on their studies.
The State of United States Education Stats
16. 94% of Americans have a high school diploma.
(Education Data)
In the US, education fulfillment among 25–29-year-olds has increased by 80% since 2000. As a result, 49% of Americans hold an associate's degree, while 39% have a bachelor's degree. Additionally, 9% hold a master's degree. According to the latest data, the number of college graduates is on the rise, positively influencing the job market.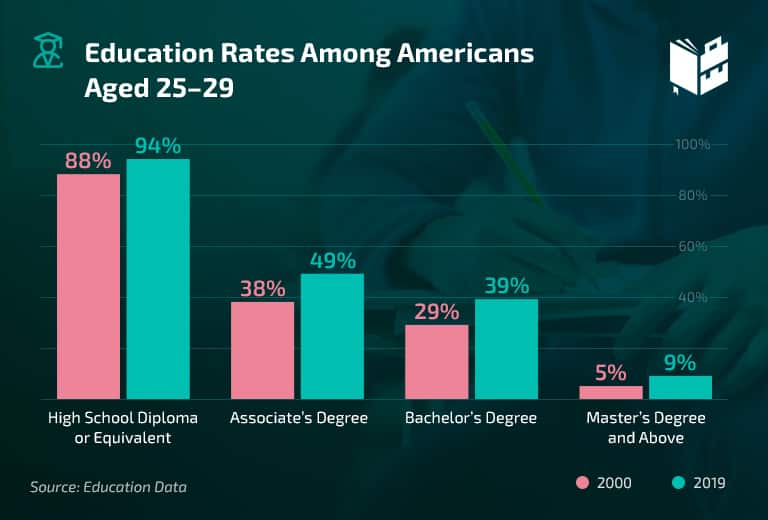 17. The unemployment rate for students with an associate's degree is only 4.6%.
(BLS)
According to US education statistics, the unemployment rate among students with a bachelor's degree is 3.5%. On the other hand, 6.2% of those with a high school diploma and 8.3% of those with less than a high school diploma are unemployed. The unemployment rate is even lower for students with a master's degree (2.6%), professional degree (1.8%), and doctoral degree (1.5%).
18. Approximately 70–80% of students are active in the labor market.
(Admissionsly)
Considering the high education expenses and the student loan debt, it's not surprising that so many students work while enrolled in a college. American education stats further reveal that about 40% of students work full-time, or at least 30 hours a week, whereas others work part-time jobs.
19. Around 22% of teens report being bullied during the school year.
(BJS)
Bullying is a serious problem in primary and secondary schools. One out of five students aged 12–18 have been bullied at school. However, the percentage from 2009 (28%) indicates that there have been fewer bullying incidents over the years. The most recent report also shows that female students experienced bullying more often than males (25% vs. 19%).
20. One of the not-well-known facts about education in the US is that 20,241 private schools are religiously oriented.
(NCES)
Religiously-oriented private schools account for 66% of private schools across the country. The most frequent religious orientations include Roman Catholic (6,449 schools), Christian (4,451 schools), and Baptist (1,763 schools). Moreover, the student-to-teacher ratio across all private schools is 9.7.
21. Public schools have about 514 students on average.
(Private School Review)
Facts about education reveal that the state with the largest average number of students in public schools is Georgia, with 751 students. On the other hand, Montana has the smallest average public school student size — 176 students.
22. There are 30,492 private schools in the US.
(NCES)
Private primary and high schools make up one-third of the total number of schools in America. As the United States education statistics show, the remaining two-thirds (98,469) are public schools. As opposed to private, public schools are available to everyone, regardless of their financial status.
On the other hand, private educational institutions require considerable sums for enrollment. Thus, it's not much of a surprise that 50.8 million students go to public schools.
Sexual Education Facts & Stats
23. 96% of female teenagers and 97% of male teenagers had formal sex education in high school.
(CDC)
Young adults in the US are surely well-educated when it comes to sex. Namely, most of them had formal sexual education before turning 18. In addition, 92% of boys and 93% of girls said they were educated about STDs. Likewise, 89% of boys and 88% of girls reported being taught about HIV/AIDS prevention.
24. 81% of male and 87% of female teenagers received formal sex education on "how to say no to sex."
(CDC)
US teenagers know when and how to say no to sex they aren't ready or willing to have. According to the latest sexual education statistics, a high percentage of teenagers know how to refuse sex. Besides, 62% of boys and 70% of girls stated they had received formal education about birth control methods.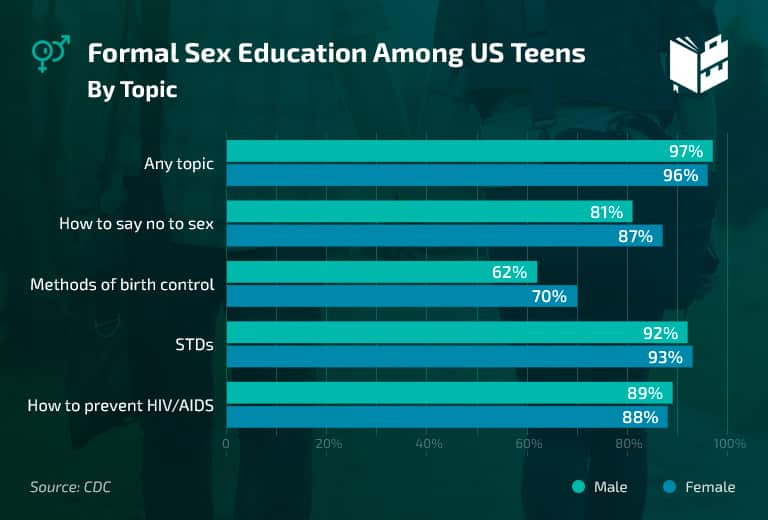 25. Two out of three male and four out of five female teenagers talk with their parents about at least one sex education topic.
(CDC)
It's encouraging to know that American parents are eager to talk with their children about sex. Out of six important topics (how to say no to sex, birth control, HIV and AIDS prevention, STDs, where to get birth control, and how to use a condom), they covered at least one before their kids turned 18.
Moreover, male vs. female education statistics show that girls aged 15–17 are more likely (80%) to talk about sexual-related issues with their parents than boys of the same age (68%).
Special Education Facts & Stats
26. In the US, 7.2 million students aged 3–21 require special education.
(NCES)
In addition, students with disabilities make up 15% of all students enrolled in public schools in the US. Out of that percentage, the most common category of disability was specific learning disabilities — 33 percent.
27. Less than 10% of countries have laws that ensure inclusion.
(UNESCO)
Education statistics show that not enough world countries have passed laws that enable complete inclusion in schools. The main factors for exclusion are age, location, ethnicity, race, sexual orientation, religion, disability, and similar.
The UNESCO report indicates that the exclusion was even greater during the COVID-19 pandemic — 40% of low and lower-middle-income countries haven't supported disadvantaged learners during school shutdown.
28. 11.5% of students with disabilities have autism.
(NCES, Statista)
Special education stats confirm autism is highly present among students. About 828,338 of all special ed students are diagnosed with autism. Data also shows that the number of students with autism is on the rise, considering that only 94,000 of them could be found in 2000. According to surveys, boys are up to five times more likely to have autism than girls.
29. New York has the most significant number of students with disabilities — 20.5%.
(NCES)
United States education stats show that the number of students with disabilities varies by state, revealing that not all states make enrollment easy for these students. For example, the number of disabled students receiving special education is the highest in New York (20.5%), followed by Maine (20%), Pennsylvania (19.9%), and Massachusetts (19%). Conversely, the enrollment rate goes as low as 11.3% in Texas and Hawaii and 11.5% in Idaho.
Education Inequality Statistics
30. White students represent 46% of the total enrollment at public schools in the US.
(NCES)
Moreover, 22.6 million White students, 13.8 million Hispanic students, and 7.4 million Black students enrolled in the 2019–2020 school year. The smallest minorities in the US public schools are Asians (2.7 million) and American Indians/Alaska Natives (0.5 million). In addition, the US education rate is the lowest for Pacific Islander students — 180,000.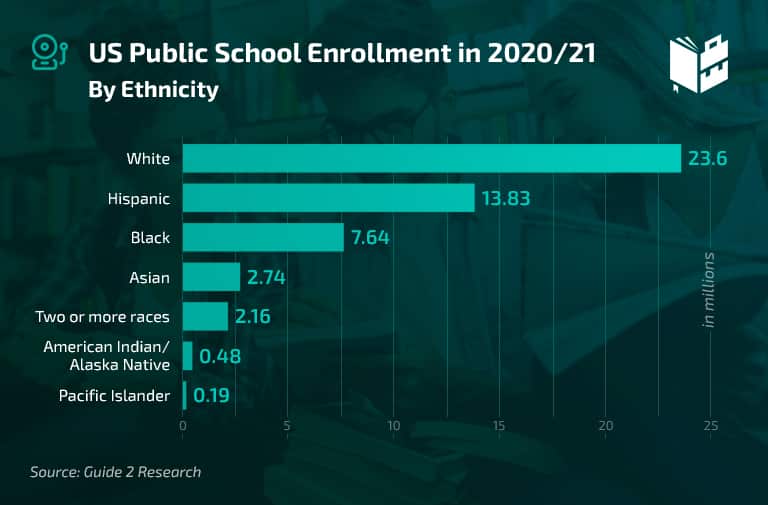 31. 91% of Black students have access to the internet.
(NCES)
This is lower than their Hispanic (92%), White (96%), and Asian (99%) peers. The recent data also shows that about 11% of both Black and Hispanic students aged 3–18 access the internet solely through a smartphone, compared to 4% of White students and 2% of Asians. In addition, 26% of all students say they can't access the internet at home because they can't afford it.
32. US education statistics reveal that 90.3% of Black students have a high school diploma.
(Census Bureau)
Universal compulsory education has increased high school fulfillment. Additionally, more educated youth has replaced the less educated generation, which also influences educational attainment. As a result, 90.3% of Blacks have a high school diploma, which is close to the national average (91.1%) and much higher than the 7% from 1940.
33. 28.1% of Black students have a bachelor's degree.
(Census Bureau)
Black education statistics show that only 1% of black students finished college in 1940. The gap between the Black student college attainment rate and the national average was four percentage points. Today, the rate is much higher as the national average rate is 37.9%, representing a gap of almost 10%.
34. 26% of Latino immigrants older than 25 have at least a bachelor's degree.
(Pew Research)
According to Hispanic education statistics, Latinos aged 25 or more are among the rapidly growing share of recently arrived Hispanic immigrants who completed high school — 67%. Additionally, more than a quarter have a bachelor's degree or more.
35. 45% of people aged 25 or more and holding a master's degree are White.
(Education Data)
Racial inequality is most apparent at the highest education levels — most master's degree holders are White. However, Asians account for 23% of the total number of 25-year-olds with advanced degrees — 92% higher than other races. Asians are also almost five times more likely to get a master's degree than Hispanics.
Trends In Education Statistics
36. 41% of universities and colleges have already implemented AI.
(Guide2Research)
Educational institutions use artificial intelligence to lighten time-sensitive admin and academic tasks, boost the learning experience for students, enhance IT processes, and increase enrollment. However, the majority (57%) of universities and colleges are still skeptical about AI implementation, although more than a third have already implemented it.
Predictions are that AI will play a significant role in education in the next 10–15 years and become one of the hottest trends in higher education.
37. 18% of colleges and universities have fully deployed VR.
(Guide2Research)
The education sector accounts for 26% of VR investments, right after the gaming industry (59%). Most recent data shows that 18% of universities and colleges have fully implemented VR technology, 28% use it to some extent, and 32% are testing it. More and more institutions realize the potential of VR, which means these numbers will increase.
38. According to the latest education data, online learning platforms launched 3,100 courses in 2021.
(Class Central)
Massive Open Online Courses will remain a significant trend post-pandemic. The online learning platforms attracted 220 million learners (excluding China) in 2021, compared to only 300,000 in 2011. Additionally, these platforms now provide 1670 microcredentials, with almost a third of them (500) launched in 2021 alone.
Fun Facts About Education
39. College students from low-income families with access to arts education are twice as likely to graduate than those without it.
(I Paint My Mind)
Art education sets up students with the attitude and skills needed to pursue higher education. Moreover, students with access to art education are three times more likely to pursue a bachelor's degree as art education inspires students to complete their degree programs and graduate. Additionally, low-income students with access to art education are twice as likely to graduate from college than their peers with no access to art education.
40. Students with access to art education are five times less likely to drop out.
(I Paint My Mind)
Art education statistics reveal that the dropout rate is five times lower for students who have access to art education. This area of learning inspires and stimulates the students' approach to learning and rekindles their academic motivation. What's more, art education can increase students' academic participation, making them four times more likely to be recognized for their achievements.
41. Only 23.2% of students are physically active for at least one hour a day.
(State of Childhood Obesity)
The rate of students meeting physical activity recommendations has been on a steady decline since 2011. Recent physical education stats reveal low physical activity among students, as 70.1% of them didn't attend PE classes on one or more days in a given week. On the other hand, sedentary activities increased — 20.7% were watching TV, and 43.0% reported playing video or computer games for three or more hours on a school day.
42. Children enrolled in music lessons score 44 points higher in math than those who aren't engaged in playing a musical instrument.
(Guitar Chalk)
When it comes to the benefits of music education, statistics show that schools with music education programs have a 93.9% graduation rate, significantly higher than those without them (72.9%). Apart from graduation rates, schools with these programs also boast a higher attendance rate (90.2% vs. 84.9%).
43. Only 43% of students pursuing a STEM major remain in the field at the time of their last enrollment.
(NAP)
STEM education stats reveal a disappointing state in the STEM field. Among the students pursuing a STEM major, only 43% of four-year and 14% of two-year students remain in the field at their last enrollment, whereas the rest are moving to other majors. The majority (48.7%) shift to business majors, 21.2% to social sciences, and 11.1% to education.
The Importance of Education
Throughout history, significant progress has been made regarding education and literacy improvement. Yet, education statistics show that there are still countries with a 30% literacy rate and 260 million children out of school, which is a lot of work.
Proper education is essential for several reasons. First, it creates better opportunities for personal and professional growth. Second, it contributes to generating higher income and adds to the development of social capital and permanent economic growth.
Frequently Asked Questions (FAQ)