Bullying statistics reveal this global issue can take many forms, from physical assault and threatening to insulting and cyberbullying.
Bullying is a common occurrence at school, online, in the workplace, and even at home. Most often, people become subjects of bullying because of their race, sexual orientation, appearance, or disability.
We're sharing insightful data in an attempt to shed light on this rising problem and raise awareness.
Key Information on Bullying (Editor's Choice)
According to bullying facts, verbal harassment accounts for 79% of bullying instances.
Nearly a third of middle school students have been bullied in the classroom.
64% of young adults report being bullied by a teacher at least once.
More than 70% of school staff have witnessed bullying.
About 30% of the US workers experience bullying.
Nearly 40% of trolls are active on social media.
Cyberbullying results in social anxiety with 41% of students.
Over 90% of workers have experienced bullying in the workplace.
School Bullies Statistics
Bullying is most widespread in schools. A vast number of students get bullied every day, and verbal harassment is the most common type of bullying.
1. One in five US students aged 12–18 is bullied during the school year.
(NCES)
About 20% of students aged 12–18 are bullied at school. Among those, 15% have been the subject of rumors, and another 14% have been insulted or made fun of. Around 6% of the bullied students have been purposefully excluded from activities, while 5% have reported being pushed, spit on, tripped, or shoved.
2. At 79%, verbal harassment is the most common type of bullying at school.
(Do Something)
Statistics on bullying show that the majority of bullied students have been verbally harassed. Social harassment (50%) is the second most commonly reported type of bullying at school, followed by physical bullying (29%) and cyberbullying (25%).
3. Sixth-graders experience the most bullying (31%).
(StopBullying.gov)
Students in lower grades experience more bullying. The latest numbers show that 6th graders are being bullied more than any other grade (31%). The number is also high for 8th and 7th graders — 25% and 22%, respectively. According to school bullying statistics, the percentage drops for higher grades — 19% for 9th graders, 21% for 10th graders, 16% for 11th graders, and 15% for 12th graders.
4. Nearly half of students aged 9–12 have been bullied at school.
(Cartoon Network)
Data shows that 49.8% of tweens have experienced bullying at school, and 14.5% were bullied online. The numbers further show that 13% of 9–12 year-olds reported harassment both at school and online.
5. 29% of middle school students have been bullied in the classroom.
(Very Well Family)
According to bullying facts, classrooms are among the places where middle school students are most often bullied. Additionally, 29% of students have reported being bullied in the hallway, and another 29% have said bullying usually occurs in physical education (PE) classes. Furthermore, 23% have been harassed in the cafeteria, 12% in the bathroom, and 6% on the playground.
6. 6% of male students are victims of physical bullying, compared to 4% of female students.
(NCES)
Male students are more often physically bullied than females. Gender bullying statistics indicate that male students are more likely than females to become victims — 6% vs. 4%. On the other hand, the number of female students who have been the subject of rumors is twice higher than male students — 18% compared to 9%. Another statistic shows that 7% of female students are excluded from activities compared to 4% of male students.
7. 64% of young adults have been bullied by a teacher at least once.
(Very Well Family)
School bullying is most commonly associated with peers; however, statistics show it's common for students to be bullied by teachers or school staff. According to stats on bullying in schools, 15% of students are likely to be bullied by teachers. Around 64% of young adults have experienced bullying by a teacher at least once, and 93% of high-school and college students have encountered at least one teacher who is a bully.
8. In 30% of the cases among 12–18-year-old students, bullying is related to physical appearance.
(NCES)
According to school bullying stats, 30% of students in the 12–18 age group have been bullied based on physical appearance. Race (10%) is another common reason for bullying, followed by gender (8%), disability (7%), ethnicity (7%), religion (5%), and sexual orientation (4%).
9. 70.1% of LGBTQ students experienced verbal bullying because of their sexual orientation.
(GLSEN)
The most recent statistics indicate that many LGBTQ students are verbally bullied because of their sexual orientation. Additionally, verbal bullying facts suggest that 59% are harassed because of their gender presentation. Furthermore, 59.5% feel unsafe because of their sexual orientation, and 34.8% have skipped at least one day at school.
10. 43% of transgender students have been bullied at school.
(Human Rights Campaign)
LGBTQ youth is more likely to be bullied than straight people. About 43% of young transgender people have been harassed on school grounds. According to transgender bullying statistics, 29% have attempted suicide. Similarly, 21% of gay and lesbian students and 22% of bisexual youth have tried to kill themselves because of experiencing harassment at school.
11. 70.4% of school staff have seen bullying.
(American SPCC)
Bullying is widespread, and the school staff often witness it. More than 70% of young people report seeing bullying in their schools. The vast majority (62%) report having seen at least two instances of bullying in a given month, and 41% witness bullying once a week or more.
Workplace Bullying Statistics
The majority of workers report they have experienced bullying in the workplace. The numbers of women and men bullied in the workplace are approximately the same, and more often than not, bosses are the bullies.
12. More than 90% of employees have been bullied in their workplace.
(Forbes, Monster)
The overall rate of workplace bullying has increased by 19% in the span of 11 years. The latest bullying data shows that over 90% of workers have been bullied at their workplace at some point. More specifically, 51% report being bullied by their superiors, whereas 39% have been harassed by their coworkers. Only 4% of employees have reported being harassed by a client.
13. In the US, 30% of workers experience bullying.
(WBI)
Stats for bullying illustrate that about 30% of Americans are victims of bullying at the workplace. In addition, 43% of the victims are remote workers. The data also shows that 66% of adult Americans are aware of bullying in the workplace.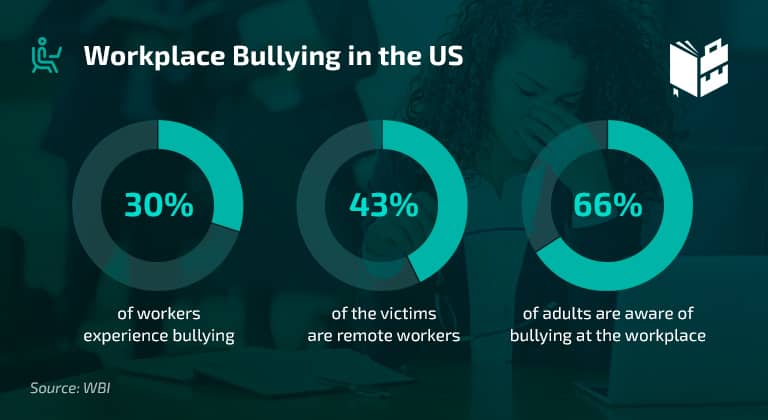 14. 67% of workplace bullies are men.
(WBI)
A WBI survey indicates that the number of women and men bullied at the workplace is almost equal (49% vs. 51%). However, the data shows 67% of bullies at the workplace are men and that 61% are bosses. Finally, in 60% of bullying cases, the bully is the same gender as the victim.
15. 50% of US remote workers reported experiencing or witnessing mistreatment during online meetings.
(WBI)
The bullying rates between peers have increased during COVID-19, according to 25% of remote workers. In addition, 50% of workers have experienced mistreatment during group or private online meetings, whereas 9% have felt mistreated in a group or private emails.
16. At 53.8%, Hispanics are bullied the most of all races.
(WBI)
The people that are bullied the most because of their race are the Hispanics. They also admit to being bullies 6% more than other racial groups. Racial bullying statistics reveal that approximately 47% of Whites, 45% of Blacks, and 32% of Asians are bullied.
Cyberbullying Statistics
With the expansion of social media, cyberbullying is more widespread than ever. Kids are the most vulnerable category. Let's take a look at the stats.
17. Since January 2021, 41% of US internet users have experienced some form of cyberbullying.
(Statista)
According to online bullying statistics, about 41% of internet users in the US have been victims of electronic bullying, while 27% have faced severe forms of harassment such as physical threats, sustained harassment, stalking, and sexual harassment. Data further shows that 26% have experienced purposeful embarrassment, and 35% have been called names. The vast majority (77%) have said the harassment occurred on Facebook.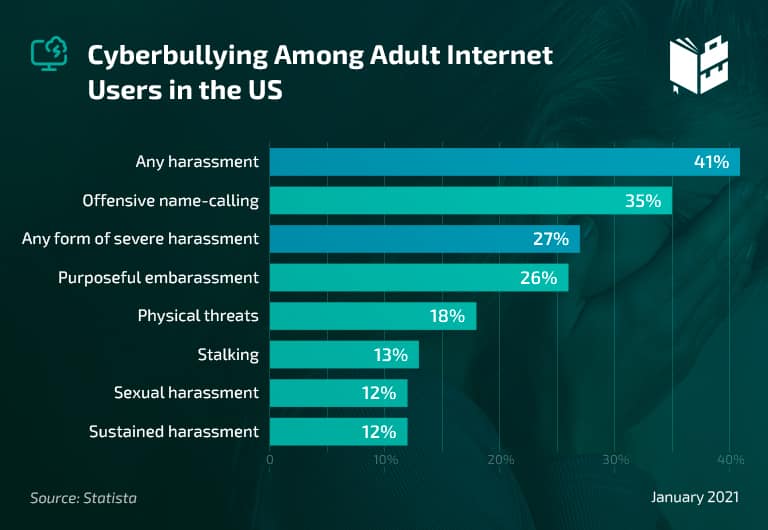 18. One-fifth of bullying happens on social media.
(Achieve Medical)
Facts about bullying online confirm that 19.2% of harassment occurs on social media sites. At 11%, text messages are the most common form of cyberbullying, followed by video games (7.9%). Moreover, 6.8% of the children's parents have reported it happens on websites other than social media, and 3.3% have reported being harassed via email.
19. YouTube is where most kids experience cyberbullying.
(Security.org)
The majority (79%) of kids cyberbullying on social media takes place on YouTube. Snapchat has also seen a high rate of online harassment at 69%, and TikTok is not far beneath (64%). As per social bullying facts, 61% of online harassment occurs on Instagram and 49% on Facebook. On the other hand, Twitter and WhatsApp have the lowest rates — 28% and 26%, respectively.
20. After the COVID-19 lockdown started, there was a 70% increase in hate speech within just a few months.
(L1ght)
Since the COVID-19 outbreak, children have started spending more time on online platforms to socialize and perform their school tasks. According to the latest bullying stats, the levels of online bullying and usage of abusive language among kids and teens increased by 70% in just a few months of the quarantine.
21. 38% of internet trolls are active on social media.
(Statista)
Statistics reveal that social media is where online trolls are most active. Besides social media, 23% are trolling people on YouTube and other video-sharing platforms. Another 15% of trolls are active on entertainment and news articles, whereas 13% operate on blogs.
22. Rude name-calling is the most common form of child cyberbullying (42%).
(Pew Research)
Besides offensive name-calling, spreading false rumors (32%) and receiving explicit images (25%) are common kinds of bullying. Stats about bullying indicate that 21% of children are constantly asked who they are, what they are doing, and who they are with. Another 16% of children receive physical threats, and 7% have had explicit images of them shared without consent.
23. 64% of victims that receive aggressive texts know the bully from in-person situations.
(Very Well Family; Ditch The Label)
Perpetrators don't back off just because they have met the victims offline, facts about bullies show. 35% resort to mocking the targets' photos or status updates in group chats, 25% troll victims in an online game, 17% have liked something that mocks somebody, and 16% have done something that annoys the other person. Furthermore, 12% have sent a nasty message, and 5% have created and used a fake profile to annoy other users.
24. 37% of teens are bullied online before they turn 18.
(Do Something)
Younger people are more prone to cyberbullying, teen bullying facts confirm. 37% of teens aged 12–17 are bullied online at least once. Data shows that 60% of their peers have witnessed the bullying but didn't do anything to stop it. They usually don't intervene to avoid becoming victims.
25. India has the highest rate of cyberbullying — 37%.
(Ipsos)
Globally, one in five parents says their children have experienced cyberbullying. However, an interesting fact about bullying came up during the research — none of the respondents polled in Russia reported their children have experienced online harassment. On the other hand, in India, 37% of parents have said their child had been a subject of cyberbullying. Brazil comes next with 29%, followed by the US (27%) and South Africa (25%). According to parents, the issue is also common in Canada (20%) and Turkey (19%).
Effects of Bullying Statistics
The effects of cyberbullying can be catastrophic. Bullied people are prone to anxiety, depression, and even suicide.
26. 27% of bullied students say being bullied negatively affects how they feel about themselves.
(NCES)
Statistics indicate that as much as 19% of bullied students say it has affected their friendships, school work, and relationships with their families. Additionally, 14% of students say that bullying has taken a toll on their physical health.
27. Bullied students are twice as much likely to attempt suicide.
(ResearchGate)
Bullying is associated with developing depression, low self-esteem, anxiety, academic difficulties, school violence, and family problems. Data shows that bullying suicide rates are twice as high for bullied students compared to students uninvolved in bullying.
The suicide attempt rate is 1.9 times higher for victims bullied online and 1.7 times higher for school bullying victims. Finally, suicide rates for cyberbullying offenders are 1.5 times higher, whereas offenders involved in school bullying are 2.1 times more likely to attempt suicide than those not involved in any type of bullying.

28. Bullied students are three times more likely to become violent and engage in delinquency.
(Cyberbullying.org)
Students bullied at school are three times more likely to engage in delinquency. The rates are the same for students who have experienced online harassment. According to physical bullying stats, the students' likelihood to express delinquent behavior after being bullied does not depend on whether they develop negative emotions from it or not.
29. 41% of cyberbullied students develop social anxiety.
(Ditch The Label)
The effects of online bullying are similar to the effects of physical and verbal abuse. 41% of students develop social anxiety, and 37% lead to depression. Additionally, 26% have suicidal thoughts, 26% have deleted their social media profiles, and 25% have self-harmed. Another 25% have stopped using social media altogether, whereas 20% have started skipping classes. Furthermore, 14% have developed an eating disorder, and 9% have begun taking drugs or alcohol.
30. 66% of women harassed online have experienced powerlessness.
(Statista)
Statistics about bullying show that 66% of women harassed online have experienced powerlessness to respond to harassment. Additionally, 63% have experienced sleep deprivation, and 61% have lost self-confidence. 58% of female victims of cyberbullying feel apprehensive when thinking about using the internet or social media. Data also reveals that 56% of women find it hard to focus on everyday tasks, and 55% suffer from panic attacks, anxiety, and stress.
How to Stop Bullying Facts & Stats
Bullying requires proactive measures. Raising awareness about the issue and enforcing harassment laws are just some of the ways to stop the bullying epidemic.
31. 76% of internet users believe cyberbullying needs extraordinary measures.
(Statista)
The vast majority of internet users are aware of the severity of cyberbullying. 76% of internet users believe it requires special attention to solve the problem. For the sake of comparison, only 24% think cyberbullying can be resolved through the existing measures.
32. At 91% each, Sweden and Italy have the highest rate of cyberbullying awareness.
(Statista)
Online bullying facts indicate that many countries have high rates of cyberbullying awareness. The global average is 75%, with Sweden and Italy topping the list. Chile and South Africa follow with 89% and 88%, respectively, while cyberbullying awareness is lowest in Saudi Arabia — 37%.
33. 48 US states have electronic harassment laws, which include cyberbullying.
(Statista)
Cyberbullying laws in the US vary by state. 48 states have explicitly included cyberbullying in their electronic harassment laws, whereas 44 have included criminal sanctions in their cyberbullying laws. Furthermore, bullying statistics show that 45 states have included school sanctions for cyberbullying, 49 have school policies, and 17 include off-campus policies.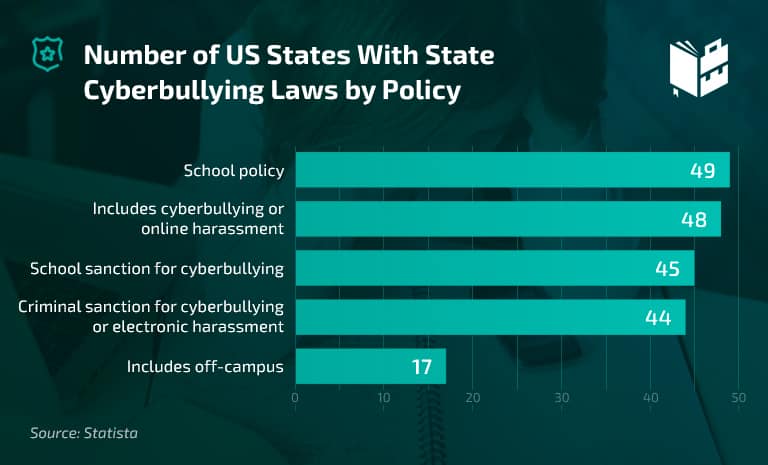 34. 26 US states have a sexting law.
(Statista)
As of 2019, 26 US states have a sexting law, with nine explicitly including the word "sexting." Moreover, a total of 42 states have regulations for revenge porn. Seven states include the potential of felony punishment for sexting and 17 list misdemeanor as a possible penalty.
35. 38% of cyberbullying victims admit it to their parents.
(ReportLinker)
Anti-bullying facts highlight that the best way to solve the issue is to talk about it openly. Fortunately, a good percentage of online bullying victims are willing to admit it to their parents. Additionally, 27% speak to their friends about it. Only 15% of bullied teens believe that sweeping the problem under the rug will make it disappear.
36. 70% of teens consider blocking the bully's account to be the most effective method for stopping cyberbullying.
(NCPC)
According to bullying statistics in the US related to teens, blocking the perpetrator online is the best way to stop or prevent cyberbullying. Another 34% talk to a friend about the issue, and 28% sign offline. On the other hand, a whopping 29% of US teens do not take any action to stop the bullying. 
The Takeaway
Bullying can take many forms, and the impact can be catastrophic. While it's easy to turn a blind eye to the effects of bullying, the reality is that this problem requires serious consideration and immediate action. Hopefully, the stats we shared raise awareness and shed light on the gravity of this issue.
Frequently Asked Questions