The college student statistics below will give you a hint of the current state of higher education. Moreover, you'll find out more about the students' life on campus and get valuable information on their health. In the end, the last stats section represents future projections and expectations.
Trends in higher education change fast, and all college students can do is adapt. However, factors like socioeconomic status, sexual orientation, gender and race (in)equality, job market demands, and similar significantly influence their choices.
Check out the following facts to see what it's like for other college students.
Key College Students Stats and Facts for 2022
Stats on College Students in the US
1. 34% of college students in the US have an anxiety disorder.
(Healthy Minds Network)
The newest National Data report reveals that one-third of the screened college students deal with anxiety. The college student mental health data suggest many students need professional help.
According to the same anxiety in college students statistics, 18% of the respondents suffer from moderate and 17% from severe anxiety. Moreover, 41% of students struggle with depression.
2. 9.6 million college students in the US are female.
(NSC Research Center)
Female college students have outnumbered male students in the US ever since the 70s, and this school year is no exception. Out of 16.2 million college students, only 6.6 million of them are male.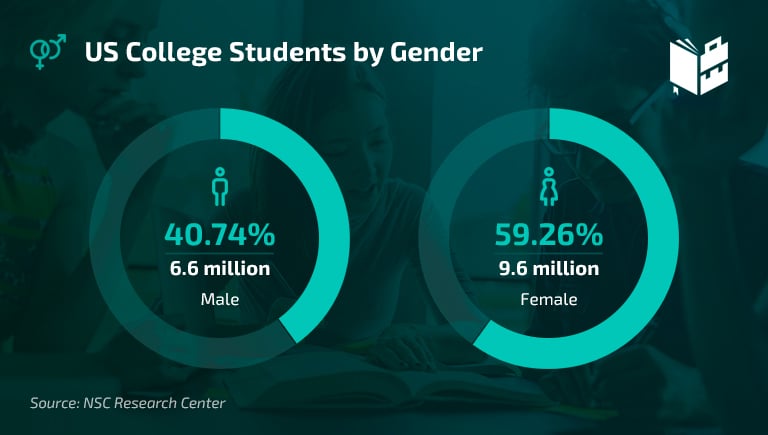 3. 4.7% fewer undergraduate students enrolled in colleges in the spring of 2022.
(NSC Research Center)
This percentage translates to over 662,000 students. Recent college student statistics suggest the figure is slightly lower than last spring, when the drop was 4.9%. The rates are particularly lower in community colleges (7.8%).
Read more: Cheapest Community Colleges in the US
4. In 2022, 6.5% fewer Black college students have enrolled in the spring semester.
(NSC Research Center)
On the other hand, the same data shows that other ethnic groups among undergraduates are experiencing growth. The numbers of White, Hispanic, and Native American students have increased by 0.9%, 4%, and 8.5%, respectively. In addition, Asian students have seen a 15% increase, the highest among all ethnic groups.
5. 60% of college students anticipate taking online classes even after their campuses start functioning normally.
(Best Colleges, U.S. Bureau of Labor Statistics)
One of the main reasons for that is the large percentage of college students who work — 27% students who attend 4-year colleges. Due to work and many other obligations, three out of five of the surveyed college students anticipate taking online degree programs next year, as online education gives them more schedule flexibility.
6. College students in the US owe over $1.7 trillion collectively in 2022.
(Forbes)
There are currently 45 million borrowers in the US, according to student loan debt statistics. Student loan debt is the second-highest consumer debt category, right behind mortgage debt. So, it's no wonder that 16% of them struggle to pay for higher education while minimizing student debt.
7. 22.3 million student loan borrowers are younger than 34.
(Forbes)
This age group makes up for half of the total number of student loan borrowers in the US. The 35–49 age group counts 14.4 million borrowers, and their total debt amounts to $622.9 billion. Moreover, 2.5 million borrowers are 62 or older, and this group collectively owes only $100.3 billion.
8. 45.6% of college students use birth control pills.
(Statista)
Starting a new life away from home gives college students the freedom to explore their sexuality. Interesting facts about college students show that they use various methods of birth control. Apart from birth control pills, 20.5% of college students use the withdrawal method as a form of birth control.
9. The college enrollment rate of Asian students in fall semester 2021 was 85.9%.
(U.S. Bureau of Labor Statistics)
A lot of Asian students who graduate from high school attend colleges. On the other hand, the college enrollment rate of Hispanic (58.6%), Black (61.2%), and White graduates (61%) is relatively the same. On the other hand, 19.1% of Asian students drop out of college.
10. The percentage of students who go to college and graduate in four years is 33.3%.
(Cappex)
College graduation rates in the US differ among institutions, and the mentioned data refers to community colleges. Moreover, the six-year graduation rate is 57.6%.
Regarding private institutions, 52.8% of students graduate after four years, while 65.4% graduate after six years.
11. 25.6% of college students are food insecure at the University of New Mexico.
(Basic Needs UNM)
The food insecurity rate varies across demographic groups at the UNM. For example, 49.1% of American Indian students are experiencing food insecurity. On the other hand, fewer Hispanic students have the same problem — 28.2%.
College Student Health Statistics
12. Almost 150,000 college students develop some kind of alcohol-related health problem every year.
(Alcohol Rehab Guide)
A large percentage of college students participate in heavy drinking and can have alcohol-related problems. These problems often have long-term negative consequences, like liver damage, high blood pressure, inflammation of the pancreas, and other health conditions.
13. 14% of college students rate their general health as excellent.
(Statista)
In 2021, less than a sixth of 30,967 survey participants described their overall health as excellent. Conversely, only 2% said their health was poor. However, the statistics on college students discovered that the largest group of college students (39%) felt very good.
14. Cold is the most common health issue for 26.9% of college students.
(Statista)
The second most common health problem among college students is orthopedic injury, such as a broken bone or a sprain (8%), followed by urinary tract infection (7.7%). Lower on the list is bronchitis, with only 2.9%. Finally, STDs noticed among college students are chlamydia (1.1%) and gonorrhea (0.4%).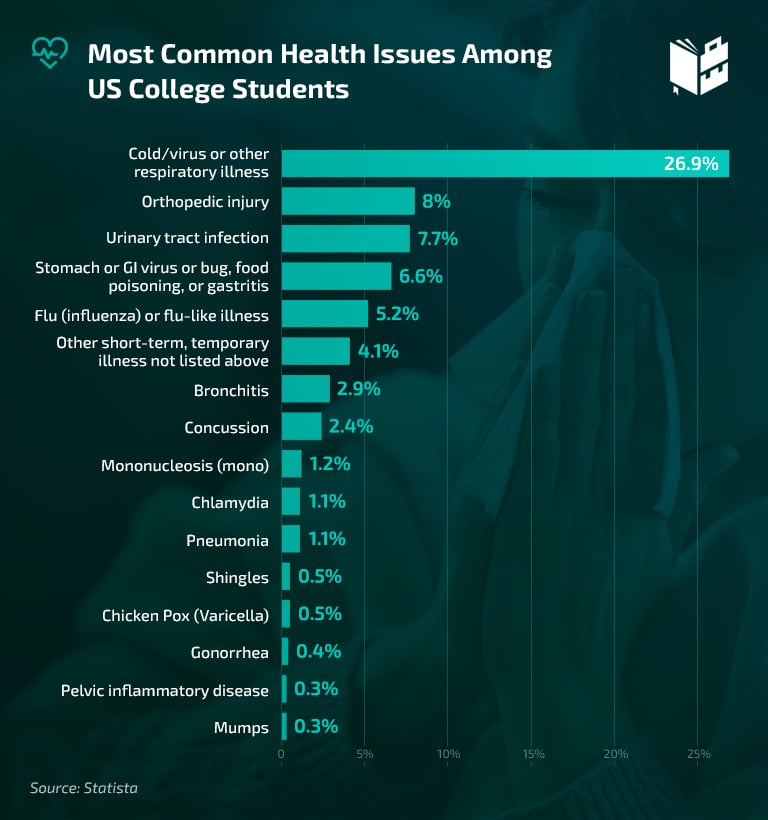 15. Suicide is the second most frequent cause of college students' death.
(ACHA)
College student death statistics point out the rising suicide rates among young adults between 15 and 24. According to the ACHA's research, the suicide rate of this age group is three times higher than it was 70 years ago.
16. Around 33.4% of college students skip breakfast every day.
(NCBI NLM NIH)
Unhealthy dietary habits among college students are frequent. For example, many of them skip breakfast almost seven days a week. On the other hand, many never skip lunch (49%) or dinner (55.2%).
College Life Statistics
17. The most common scooter college students drive is GS Motor Works CY50-B.
(Classes & Careers)
The reason college students love it so much is its price. The scooter costs $769, which is pretty affordable for them. Not to mention the convenience of finding a parking space for such a small vehicle.
18. In the US, 62% of colleges and universities have LGBTQ student groups.
(SAGE Journals)
Many non-heterosexual people feel lonely on campus, according to LGBT college students statistics. In addition, more severe forms of rejection often result in depression, anxiety, and suicidal thoughts. Therefore, student support groups create an LGBT-friendly climate, and college students who join these groups are less likely to experience depression.
19. 80% of college students say beer pong is the most popular college drinking game.
(The Ladders)
Flip cup is in second place with 55%, followed by quarters with 44%. On the other hand, keg stands is the least popular drinking game among students.
20. College students' eating habits statistics show 47% of the respondents eat when stressed.
(NCBI NLM NIH)
Nearly half the surveyed college students use food to deal with stress. They consume fruit (40%), meat (39.7%), seafood (44%), and dairy products (43.3%) 1–2 times a week. However, they also indulge in cakes, candies, and soft drinks (40.4%).
21. One in four community college students nationwide are enrolled in a California Community College.
(Foundation CCC)
The California Community Colleges are the most extensive education system in the US, as they have over 2.1 million new students every year. In addition, community college statistics suggest that more than 69% of them have diverse ethnic backgrounds.
22. College student demographics reveal that 12% of college students at four-year public institutions are African Americans.
(PNPI)
Moreover, they make up 13% of the college student population at four-year private non-profit institutions and 29% of the student population at four-year private for-profit institutions. In addition, only 15% of African American students attend a highly selective institution, while 8% of them attend an elite research institution.
23. Stats on college students show that 59.1% of college graduates are White.
(Education Data)
Furthermore, Hispanic or Latino students make up 13.1% of all students who obtain a degree, while there are 11.1% of African American and 6.6% of Asian college graduates.
In addition, 51% of White graduates earn a bachelor's degree, while the percentages for Hispanic or Latino, African American, and Asian students are 45.3%, 44.2%, and 53.1%, respectively.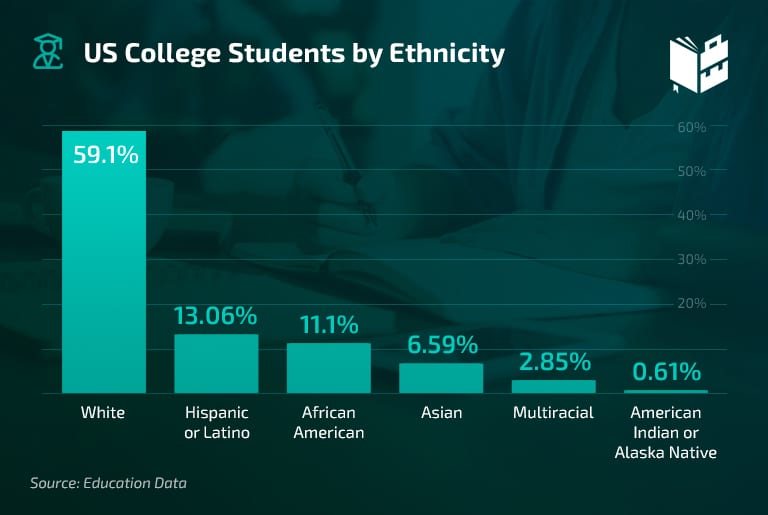 24. College students' exercise statistics show that 43.8% of students exercise over 30 minutes one to two times a week.
(NCBI NLM NIH)
The survey results also show that male college students exercise more regularly than females. In addition, they show lower levels of stress as well. On the other hand, female college students tend to snack more.
Additionally, senior students exercise much more than first-year students. Overall, 42% of college students don't exercise at all.
25. One in four college students perform worse due to lack of sleep.
(University Health Center UGA)
College student sleep statistics from the health center at the University of Georgia detect sleep deprivation among the students. According to the data, most students sleep for 6–7 hours on average. Moreover, it has shown that the lack of sleep causes lower grades, missing projects, deadlines, and classes.
26. 28.1% of college students at Harvard want to study social sciences.
(Harvard College)
Social sciences are the most popular field of study at Harvard at the moment, while biological sciences are second with 18.3%. On the other hand, only 10.3% of college students are interested in engineering programs.
27. College applicants statistics tell us Harvard accepted 2,320 college students in 2021.
(Harvard College)
The college admitted a pretty small number out of 57,786 applicants. They come from various regions — Middle Atlantic (20.7%), South (18.3%), New England (16.6%), Pacific (13.2%), Midwest (9.9%), and Central (1.8%). In addition, international students account for 15.6% of applicants
28. 25.9% of college students at Harvard are Asian American.
(Harvard College)
Asian American students are the largest ethnic group at Harvard. In second place are African American students with 15.9%, while Native Hawaiian (0.5%) and Native American (1.1%) are the least frequent ethnicities. Hispanic or Latino are somewhere in the middle with 12.5%.
Alcohol Facts for College Students
29. Around 80% of college students consume alcohol.
(Alcohol Rehab Guide)
The latest studies reveal that four out of five college students consume alcohol to some degree. One of the reasons is that, upon leaving their home, college students tend to experience new things. The availability of liquor tempts them, leading to regular drinking.
30. 20% of college students meet the criteria for an alcohol use disorder.
(Alcohol Rehab Guide)
According to the newest available statistics for college students, roughly 60% of students between 18 and 22 admitted to drinking in the past month. In addition, nearly two in three of them engage in binge drinking. What is concerning is that frequent excessive drinking activities can quickly result in alcohol poisoning or alcohol dependence.
31. College students reduced drinking by 28% during the onset of the pandemic.
(University Business)
Contrary to expectations, alcohol abuse didn't happen among college students at the beginning of the pandemic. The main reason is that, during that time, the majority of students were at home. Therefore, this data shows how the living situation affects college drinking behavior.
32. College facts and statistics reveal that 24.1% of college students report heavy alcohol use one time within two weeks.
(Statista)
The data shows the percentage of college students in the US who have five or more alcoholic drinks (for males) and four or more drinks (for females) in one sitting, as it is considered heavy alcohol use. Moreover, 14% of students reported heavy drinking two times in two weeks, while 6.1% of them reported heavy drinking three times in two weeks.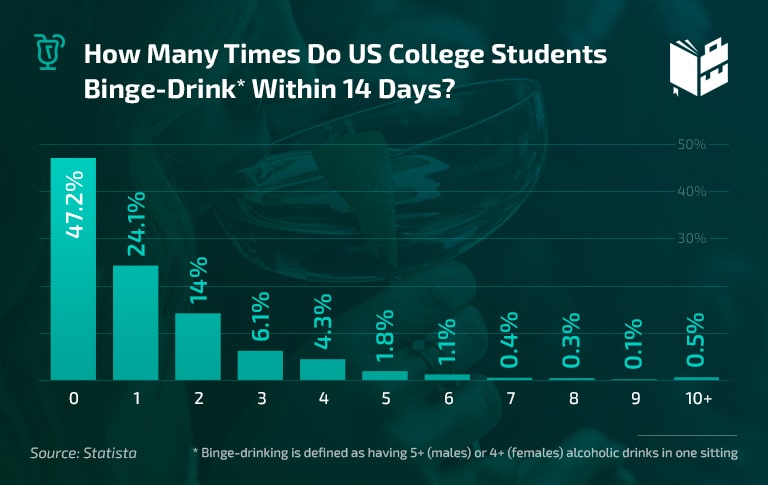 33. One in four college students have academic problems because of drinking.
(Stanford Children's Health)
Young people involved in constant drinking activities are at a higher risk of achieving poor academic results. Facts about college students say ongoing drinking affects students' performance in multiple ways. For example, they miss classes, fall behind in class, fail exams, and get lower grades.
34. Approximately 696,000 college students per year are assaulted by another student who has been drinking.
(Alcohol)
Around 97,000 of those report sexual assault or date rape. Alcohol lowers one's inhibitions, leaving a person in great danger. Too many drinks paired with underlying mental health or relationship problems affect one's judgment. So, they often result in aggressive behavior towards both men and women on campuses.
College Student Statistics — Projections
35. 15.1 million US college students will go to public colleges by 2030.
(Statista)
Based on the current situation, steady growth of college students enrolled in public colleges is expected over the next decade. Although more expensive, private institutions will also have more college students — approximately 5.38 million.
36. Nearly 600 million college students will exist by 2040 worldwide.
(ICEF Monitor)
The global demand for higher education will rise in the next couple of decades. As a result, the number of college students in the world will be three times higher than the current number (around 200 million). Education statistics imply the world will see a 4.2% growth rate on average every year.
37. The number of prospective college students in the US will decline after 2025.
(The Chronicle of Higher Education)
Birth rates during and after the Great Recession declined significantly. As a result, there will be fewer high school graduates after 2025. So, US colleges will witness a steep decline in college applicants.
College Students Stats — Conclusion
The ever-present dilemma of whether college is worth the trouble persists. If we put the major choice aside, there are lots of other equally important factors to consider. It stands to reason that everyone will make a decision based on their personal preferences.
The data we've compiled displays some interesting college life info, stats about college students, and data about their mental health. We've also mentioned some astonishing gender-related facts about college students. All of this supplies us with precious insights into college life in general.
FAQ