Community college statistics show that thousands of community colleges in the US have played an important role in getting many young people ready for entry-level positions in numerous industries. To this day, community colleges have remained an essential part of the US education system.
If you're looking to enroll in one, your first step is to get informed about the relevant details. This data could help you, even if you're already enrolled in a community college program and wishing to transfer to a university.
Let's dig in.
Key Community College Stats (Editor's Choice)
The Latest Community College Statistics
Community colleges have a reputation as low-budget, even low-quality education institutions. While that may be true, there's much more about community colleges that people haven't heard of.
The following data reveals uncommon information about this group of colleges.
1. As of January 2022, there have been 935 public community colleges in the US.
(Statista)
More than 900 public community colleges were registered with the AAC in January 2022. Simultaneously, 72 community colleges were registered as independent, while 35 were tribal community colleges.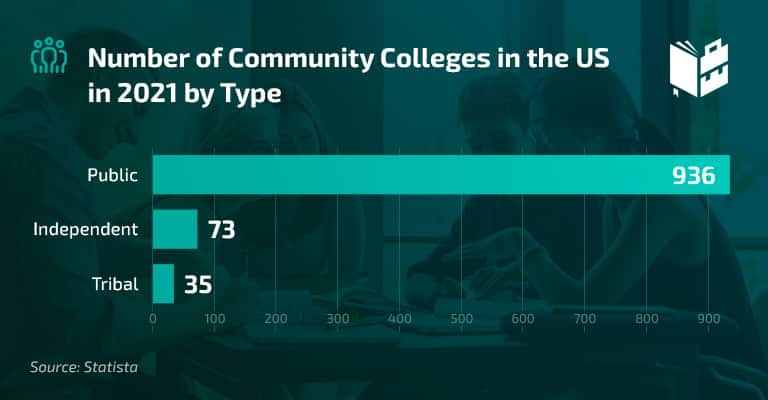 2. Rural community colleges have the highest college expenditures by urbanicity ($16,000).
(ACCT)
Community college trends show that, on average, rural community colleges receive funding similar to their urban and suburban peers. However, the costs of providing services at a rural community college are much higher.
The burden of overall costs at suburban community colleges is $15,000, and $14,500 at city colleges.
3. 58.8% of community college faculties in California are white.
(EdSource)
California has 115 community colleges. More than half of those colleges' faculty members identify as white. Community college statistics also show that 17% of the community college faculty members are Latino.
Moreover, there are 9.9% of Asian faculty members at California's community colleges, while only 6.2% of the members are black.
4. Only 13% of community college students graduate in two years.
(Community College Review)
Statistics tell us that a relatively small number of students graduate from community colleges on time. Around 22% of students graduate within three years, while 28% graduate within four.
5. The national average community college acceptance rate in 2022 is 79%.
(Community College Review)
The newest research shows that the average acceptance rate at public community colleges is approximately 85%, while the figure for private community colleges stands at 75%. Furthermore, the states with the highest average acceptance rate at community colleges are Illinois (90%) and Michigan (89%).
In comparison, Ohio and Massachusetts have the lowest average acceptance rates at community colleges in 2022 — 68%.
6. On average, 14% of first-time, full-time students complete a community college nationwide.
(Community College Review)
Studies say that the national community college completion rates at community colleges are pretty low. What's more, the average completion rate for the same student category at public community colleges is 10%.
The situation is only slightly better at private community colleges — approximately 26% of full-time, first-time students complete them.
7. Nearly half the community colleges have intercollegiate sports programs.
(Community College Review)
According to college student statistics, community colleges enroll almost 12 million people per year. Out of those, over 50,000 community college students participate in intercollegiate sports programs. Moreover, community colleges tend to involve more students in athletics by starting new programs or expanding the existing ones.
8. The average age of community college students is 28.
(AACC)
Many people think that community colleges are for non-traditional students, meaning older students, but recent data from the American Association of Community colleges shows that more than half (56%) of community college students are younger than 22. Moreover, unlike the general assumptions, only 8% of community college students are over 40.
9. There are 142 community colleges that grant community college baccalaureate (CCB) degrees.
(Degree Choices, Statista)
Community college statistics claim that 25 states authorize community colleges to give baccalaureate degrees. These 142 degree-granting institutions represent 15.1% of the reported 935 public two-year community colleges in the US. In addition, there are 565 approved CCB programs across all institutions.
10. Native American community college students represented 53% of all undergraduates in fall 2020.
(AACC)
Community college students' demographics reveal that the majority of Native American undergraduates attended a community college in fall 2020. Hispanic followed with 50%, while Black community college students accounted for 40% of undergraduates nationwide. On the other hand, only 36% of Asian Pacific students attended a community college.
11. In the 2019–20 school year, community colleges awarded 865,504 associate degrees.
(AACC)
These findings come from a study of 145 public and 46 independent colleges. Apart from thousands of associate degrees, these institutions issued 599,397 certificates as well. On the other hand, only 21,348 baccalaureate degrees were given that school year.
Community College vs. Four-Year University Statistics
To be fair, many students know right from the start they cannot afford top-quality education because it is expensive. Thus, they choose to enroll in their local colleges. As a result, they don't have to battle the anxiety brought by the ever-growing student loans.
Nevertheless, both of these higher education options have plenty of benefits, especially for community college students.
12. The tuition price for students at public two-year colleges is $3,900, while the amount stands at $9,400 for four-year institutions.
(NCES)
Community college vs. university statistics emphasize how affordable community colleges are. In fact, the tuition is much lower because community colleges typically don't have big campus infrastructure or extracurricular programs. Conversely, tuition at private colleges is approximately four times higher than those at public institutions.
13. Community colleges have class sizes of 25–35 students.
(TSC)
Universities have larger classes (300–400 students) due to the number of students attending the school. As a result, there's not much one-on-one communication with professors. On the other hand, community college facts tell us that around 25–35 students attend classes at community colleges, making it much easier to ask questions and develop relationships with classmates.
14. Construction saw a high enrollment growth rate of 19.3% at two-year colleges in 2022.
(NSC Research Center)
Student academic interests at community colleges in the field of construction and mechanics have grown over the years. Student enrollment in the construction field grew by 19.3% in spring 2022, while the number of students who enrolled in mechanics and repair programs increased by 11.5%.
Interestingly, 18 fields experienced student enrollment growth year-over-year, compared to only eight in 2021.
15. Community college transfer rates to four-year colleges fell by 1.3%, while reverse transfers fell by 16.2% in the 2020-21 school year.
(NSC Research Center)
In the 2020–21 academic year, there were approximately 2.1 million transfer students. However, the latest research shows that transfer enrollment fell by 191,500 students (8.4%). In fact, all transfers were affected but in different ways.
For example, lateral transfers between two-year colleges fell by 83,600 students (15.2%). Moreover, upward transfers in the fall semester fell by 15,500 students (2.3%). On the other hand, the transfer rate increased by 0.9% in the spring semester (+2,400 students).
16. Liberal Arts is the most common undergraduate major at two-year colleges (1,434,734 students).
(NSC Research Center)
At the same time, community college vs. four-year university statistics say the most popular major for four-year college students is Business, Management, Marketing, and Related Support (1,500,247 students). In fact, the number of students interested in this major has grown by 0.6% since last year.
On the other hand, 0.3% fewer two-year college students wanted to study Liberal Arts and Related Sciences in 2022. Interestingly, this is a much smaller drop in numbers compared to the year before, when the drop was 13.8%.
17. In 2020–21, 11,109,474 students enrolled in four-year public institutions, while 7,046,213 entered two-year public colleges.
(NCES)
Community college enrollment trends show that more students went to four-year universities than community colleges in the 2020–21 school year. Researchers based the findings on the data from 5,831 institutions.
In addition, the number of enrolled students stands at 4,950,418 for private nonprofit four-year colleges, while only 68,068 entered private nonprofit community colleges that school year.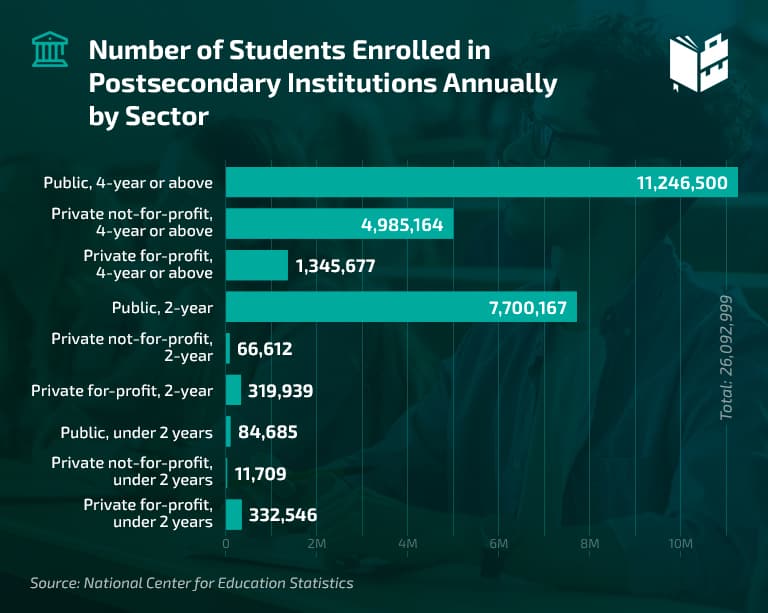 General Community College Students Statistics
The community college student body is pretty diverse. These people are of various backgrounds, ages, and ethnic origins. Recent years have been hard for all of them, despite the differences.
If you're a future college student, these stats can help you grasp what being a community college student means.
18. Over half of the total undergraduate enrollment losses occurred in community colleges.
(NSC Research Center)
According to community college facts and statistics, higher education spring enrollment decreased from 16.85 million in 2021 to 16.17 million in 2022, translating to 685,000 fewer students (4.1%).
Moreover, more than 50% of the total enrollment decline happened in community colleges. In fact, there were -7.8% or 351,000 fewer enrolled students in these institutions.
19. Community colleges have lost 7.1% of students aged 18–24.
(NSC Research Center)
The number of traditional college-age students has declined by 5% as of spring 2021. Moreover, community college enrollment trends for 2022 show that, over the years, community colleges have experienced the steepest enrollment decline for students older than 24. There are 175,836 fewer students aged 25 or more this year, representing a 10.8% drop from 2021.
20. Over 400,000 community college students receive more than $800 million per year in private grants to help them pay for their education.
(Help To Study, SoFi)
Studies show that community college students get a fifth of all college scholarships. Moreover, students whose families' overall income is lower than average have higher chances of getting a scholarship or eligibility for free studying at a community college, as reported by Sofi.
21. 23.4% of California community college students are white.
(EdSource)
Based on community college diversity statistics, the share of white students has dropped from 41% over the last 20 years. This is one of the findings of a recent survey involving 1.2 million full-time students.
Moreover, the number of Latino community college students varies by district, ranging from 26.9% to 76%. Unfortunately, black students make up a minority at California community colleges, with 1.1%–18.7% enrollment. Still, if you're curious about attending one of California's community colleges, West Valley made our list of the cheapest ones.
22. There were 60,170 international students at community colleges in the US in the 2020–21 school year.
(Open Doors)
According to community college stats, 7% of all international students in the US were at community colleges in the 2020–21 school year. Additionally, the students arrived from 196 different places. On the other hand, 2,286 US community college students studied abroad in the 2019–20 school year.
23. One-fourth of all college students who begin at a community college transfer to a four-year institution.
(Community College Review)
Reports showing high dropout rates for community college students might be inaccurate. The reason for this is the number of students who transfer from community colleges to four-year universities. Community college students statistics also show that 60% of such students graduate with a bachelor's degree.
24. Public two-year colleges in New England charged the highest average tuition and fee amount in 2021–22 ($5,800).
(Statista)
In the 2021–22 school year, the average college tuition and fees varied greatly across regions in the US. Unlike New England, the West region had the lowest two-year public college fees ($2,510).
The Southwest area is next with $3,040. In the South, students at two-year public colleges had to pay $3,940. Community college facts and statistics show that such institutions in the Midwest and the Middle States charged $4,750 and $5,530, respectively.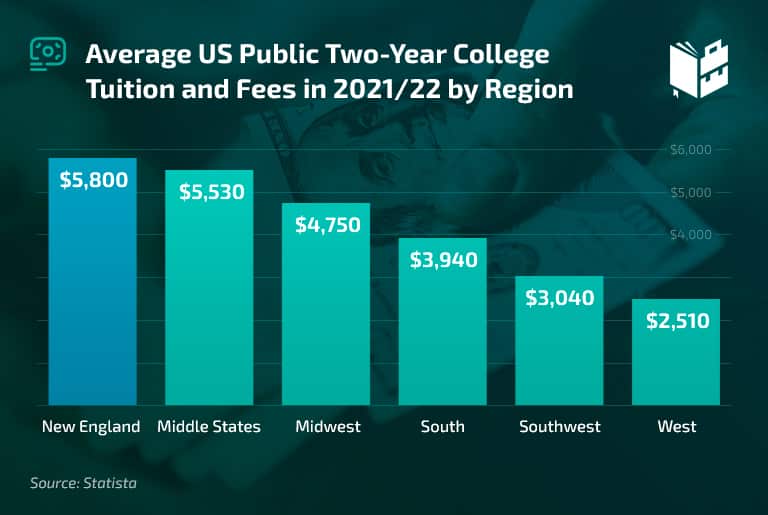 25. In fall 2020, 4,752,808 students attended public two-year colleges.
(NCES)
A survey from 2020 tells us that community colleges were quite popular among students. The survey collected information from 913 institutions. However, the previous findings show that 5,458,618 students enrolled in community colleges in 2019.
In fact, enrollment at community colleges has been decreasing ever since 2010. At that time, 7,284,638 students went to postsecondary schools.
26. Community college data shows that 1,638,561 students attended community college full-time in 2020.
(NCES)
The same research from the previous stat points out that many students go to college part-time for various reasons. However, this research doesn't state why 3,114,247 community college students attend classes part-time. However, the number is significantly higher than that of full-time students.
27. Community colleges accounted for a 58% lower number of fall 2020 starters.
(NSC Research Center)
According to the report, beginning part-time students have been affected the most. However, the community college retention rates for them rose by 1.7%, while the persistence rates increased by 3.5% in 2020, indicating a rising trend after the noticeable drops from the previous year.
Conclusion
Any opportunity to get higher education these days can be a gold mine for the future. No matter if you choose a community college or a university, make sure to go for what you love doing. Community colleges often get a bad rap as less difficult, low-rent versions of universities.
However, they come with many conveniences, give you top-quality education, and propel your career with great job opportunities.
FAQ