Are you thinking about dropping out of college? Maybe you're feeling overwhelmed and want to try something different? Whatever the case may be, you are certainly wondering about the college dropout rate and how it affects you and your chance of finishing college.
With that in mind, we wanted to give you a detailed report with all the vital statistics and numbers you need to know about college dropouts. The article is here to show you the reality of the situation in the US. It's also here to try to convince you not to give up.
Before we get started, let's take a look at some of the most interesting data we found.
Key College Dropouts Statistics (Editor's Choice)
The Most Important College Dropout Statistics
1. 39 million Americans hold some postsecondary education or training without completion.
(NSC Research Center)
Almost one million people per year enter postsecondary education for the first time in the US. Nevertheless, many of them don't complete it. A recent study reveals millions of Americans dropping out of college with only a couple of years of education.
They are known as the Some College, No Degree population because of this. Those who have already finished two years of education before their last re-enrollment are often called "potential completers". In the 2020/2021 school year, 944,200 of SNSC students re-enrolled, and 60,400 of them earned their first degrees.
2. College dropout rate statistics for 2022 show that the cost of studying is one of the main reasons students give up on college.
(College Data, Student Loan Hero)
For the 2021/22 academic year, the average price of tuition and fees at private colleges is $38,070. At public colleges, it's $10,740 for in-state residents and $27,560 for out-of-state residents.
To show how expensive this is and how unable students are to pay for it, you only need to take a look at the fact that around 46 million Americans have $1.75 trillion in student debts. No wonder college dropout rates are higher than they should be.
3. 70% of California's community college students fail to graduate or transfer.
(Community College Review)
A new study shows that more than two-thirds of community college students in California drop out of college. They either fail to obtain a degree or transfer to a four-year institution. The study also detects a disparity among dropout rates for students of different races.
For example, Latino students rank first by the number of people that drop out within six years — 78%.
African American students are right behind, with 74% of dropouts. In fact, college dropout rates by race reveal astonishing numbers for white (63%) and Asian Pacific students (65%).
4. Most people who drop out of college are first-year students.
(Education Data)
On average, 24.1% of first-time first-year students leave college. The percentage of students who drop out of two-year institutions in the first year is 39%, while 18.4% of those who enroll in 4-year institutions do the same. On the other hand, students who enroll in the first year for the first time in selective public institutions are 51.9% less likely to leave education.
5. The ADHD college dropout rate for students who are not on medication is 51%.
(ADDitude Mag)
Research suggests that medication doesn't substantially improve the academic outcomes of college students with ADHD. However, those who take medication have fewer symptoms of depression, possess better executive functioning skills, and receive educational accommodations in high school and academic support services in college.
Overall, college students with ADHD face an increased risk of academic difficulties. Numerous studies have implied that a high dropout rate is typical for students with an attention deficit in higher education.
6. The college dropout rate in America for undergraduate students is 32.9%.
(Education Data)
Education statistics show that a significant number of undergraduates leave college. What's more, many of them don't make it to their sophomore year. The most recent data available shows that 24.1% of college freshmen drop out during their first year.
7. 19.1% of Asian students drop out.
(Education Data)
Out of all ethnic groups, Asian students are the least likely to drop out either from two-year or four-year colleges. On the other hand, American Indian/Alaska Native students' dropout rate is 45.1%, the highest among all ethnoracial minorities.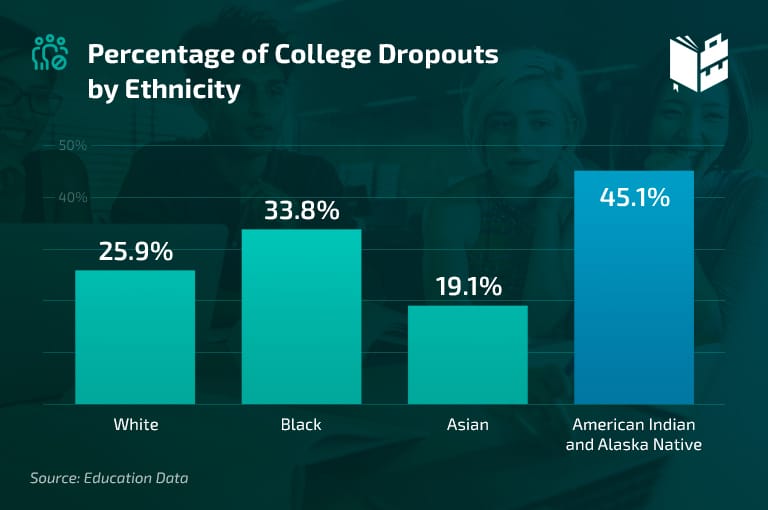 8. The national six-year college dropout rate has decreased by 1.2%.
(NSC Research Center)
The national six-year college completion rate has plateaued, increasing by 1.2%. In addition, the completion rates in two-thirds of states have increased by 1%. In terms of racial minorities, Black students saw the biggest decrease in dropout rates for these college programs — 1.9%, while the rates for Asian students remained mostly the same.
9. 33% of dropout students at schools with a graduation rate under 40% return after one term.
(EAB)
Although many students leave college for good, some take a temporary break. Several studies suggest that at schools with graduation rates between 40% and 70%, and over 70%, the percentage of college dropouts that return after one term is 42%.
After one year, the percentage increases to 60% for these colleges. Similarly, 53% of dropped out students at schools with college graduation rates below 40% re-enroll after one year.
10. 56% of students at four-year colleges drop out within six years of studying.
(College Atlas)
It's not easy to finish college, but it seems that, after six years, more than half of students feel it's time to give up. If you're in your sixth year, you should know that this is also the time when most students graduate. In addition, 70% of Americans enroll in a 4-year college, but only two-thirds acquire a degree.
College Dropout Facts and Stats
11. 32% of people leave college because of family commitments.
(UPCEA)
Almost a third of those who leave college cite family or personal commitments as their main reason, mid-millennials being the most prevalent group. For example, foster kids are 3 times more likely to get suspended or expelled. On the other hand, many have families and had to choose between education and working to provide for their family members.
In addition, 30% of respondents say they left college because it wasn't the right fit for them. 43% of Gen Z students cite this as their primary reason for dropping out, indicating different priorities from other generations.
12. Two in five college students drop out because of financial issues.
(UPCEA)
College dropout reasons statistics show that 42% of people leave higher education because of financial trouble. 65% of all students who leave college have a household income below $50,000, while 33% belong to the $50,000–$100,000 category.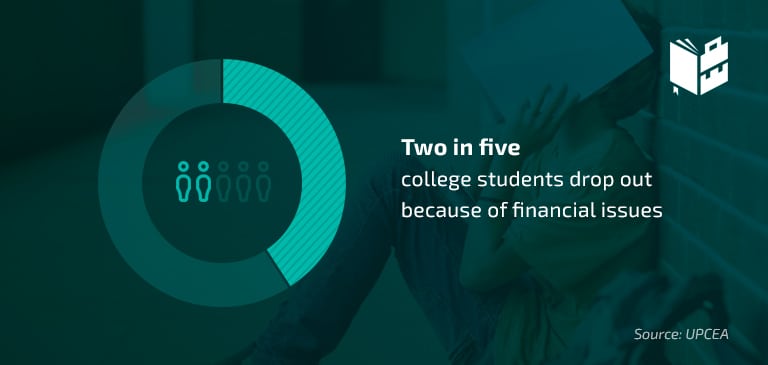 13. Computing is the major with the highest college dropout rate — 10.7%.
(MV-organizing)
The number of dropout college students varies across degrees and majors. After computing, advertising is another field of study that many students give up on — 7.7% of them. Moreover, due to the wide scope of knowledge students need to obtain an agriculture degree, 7.4% never complete it.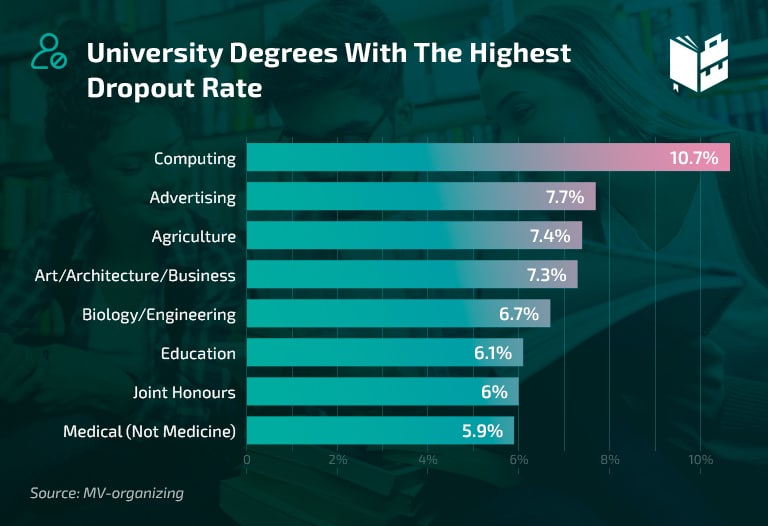 14. One in five students drop out from London Metropolitan University.
(Student Problems)
College dropouts statistics suggest that this university has the highest dropout rate in the UK. Out of the total number of enrolled people, 18.6% decide to leave it. The University of Bolton is second on this list, with 15.4% of dropped out students. In addition, the University of Bedfordshire ranks third with a 15.2% dropout rate.
15. 1% of students drop out from the University of Cambridge.
(Student Problems)
Simultaneously, the University of Cambridge is the one with the lowest student dropout rate in the UK. The most recent college students statistics find five more universities with a relatively low college dropout rate.
The University of Oxford has a 1.2% rate, the Royal College of Music has a 1.5% rate, and the Courtauld Institute of Art has a 1.6% dropout rate. The University of Bath and the Royal Academy of Music share the last place with a 1.7% dropout rate.
16. 47% of adults living with schizophrenia drop out from college.
(NAMI)
A recent study reports that students with severe mental health issues often experience many problems on campus. Studies also reveal that students diagnosed with bipolar disorder are 70% more likely to drop out of college than students without a psychiatric diagnosis.
Other Statistics of College Dropouts
17. A third of college students diagnosed with depression abandon college.
(Imagine-America)
Mental health issues can negatively impact one's college if not appropriately managed. The research also implies that one-fifth of students suffering from depression would have stayed in college if campuses had provided proper support and treatment.
18. 11,852 students dropped out of higher education institutions in Japan from April to August 2021.
(University World News)
Public and private tertiary institutions in Japan saw a high college dropout rate due to the COVID pandemic. In fact, 701 out of the 11,852 students who left the institutions cited pandemic as the most important reason. Other reasons include inability to adapt to online learning, lack of interest in studying, and financial difficulties.
According to a survey, 95% of higher education institutions in Japan have taken action to lessen the impact of the pandemic. They have offered mental counseling and financial support in the form of scholarships to help students and discourage them from dropping out.
19. The dropout rate in higher education institutions in India is 2.82%.
(The Indian Express)
According to the new data on college dropout rates by country, the overall dropout rate in India's higher education institutions has decreased from 7.49% to 2.82% in the last five years. Interestingly, the dropout rates in the Indian Institutes of Technology and the Institutes of Management are now less than one percent. They used to be 2.25% and 1.04%, respectively.
20. 74% of people with some college or associate degree claim they are doing okay financially.
(Federal Reserve)
Almost three out of four people who have some college experience or a technical or associate degree say they are financially okay. 70% of those with high school diplomas claim the same, as well as 91% of individuals who hold at least a bachelor's degree.
21. College dropout rate statistics show that only 11.6% of students who drop out will end up transferring and getting their degrees elsewhere.
(Thirdway)
The current data tells us that roughly one in ten students who drop out re-enroll elsewhere and graduate. This number is for four-year colleges. Still, it's almost identical for two-year colleges and stands at precisely 11.2% at the moment.
22. The state with the lowest rate of college dropouts is Massachusetts — 56%.
(World Population Review)
According to the latest findings, the college student dropout rate is 59% in Colorado, 60% in Maryland, 60% in New Jersey, and 61% in Connecticut. On the other end of this spectrum, the top five states with the highest dropout rate are West Virginia (79%), Mississippi (78%), Arkansas (77%), Kentucky (76%), and Louisiana (76%).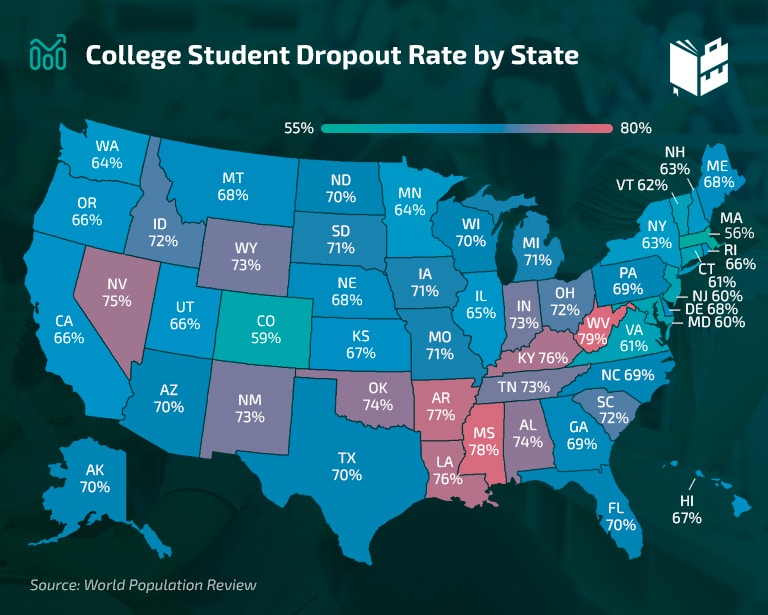 23. Around 13% of college dropouts go back to school in the next five years.
(Forbes)
According to a National Student Clearinghouse (NSC) report, the percentage of college dropouts who go back to school in the following five years is pretty low — only 13% of college dropouts go back to school in the following five years. What's worse, out of all those who re-enroll, only about a half eventually obtain a degree. Most of those who re-enroll go to community colleges, but some also choose online schooling.
Conclusion
Apparently, dropout rates for college students haven't changed much over the years. Students still need a lot of support at home and on campus to do well in college. These stats can help you gain a better understanding of what they go through before they drop out. Hopefully, the insight will encourage you to try harder.
The percentage of college dropouts due to money is high, as we've already stated. The statistics show that around half of all college dropouts decide to drop out because they can no longer afford their studies.
The worse thing here is that, according to the same survey, 79% said that they thought about delaying their graduation because of financial issues. Furthermore, 55% said that they struggled to find money to pay for their studies.
FAQ