This WhiteSmoke review presents a tool that can help you express your thoughts correctly and clearly. Whether you're working on a college essay or an important email, naturally, you want every word to be on point.
You can avoid the stress of double-checking every letter or sentence thanks to this writing assistant. Apart from the grammar checker, WhiteSmoke also has a built-in translator, but more on that later.
We've decided to share our experience with WhiteSmoke with other people. The text you're about to read tells you everything about the software's properties.
So, let's get into the specifics.
Pros & Cons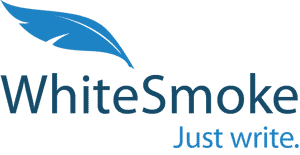 Pricing Plans
WhiteSmoke Web
$10/per month
WhiteSmoke Premium
$13.33/per month
WhiteSmoke Business
$22.99/per month
WhiteSmoke Review – Features and Materials
WhiteSmoke caters to millions of people worldwide. The company was founded in 2002 as a result of a global need for high-quality written communication. It began as a small software business. Today, WhiteSmoke is one of the leading writing assistants.
WhiteSmoke incorporates artificial intelligence with the NLP (Natural Language Processing) technology. Located in Delaware, United States, WhiteSmoke provides its users with an all-in-one writing tool. It performs spelling, grammar, style, and punctuation checks, intending to improve their writing skills.
You can use WhiteSmoke online in a browser (Google Chrome, Firefox, Internet Explorer, Opera, Safari). Apart from the web-based version, you can install WhiteSmoke on your PC or Mac. It's compatible with Windows 7, 8, 10 and macOS Sierra (10.12).
The solutions this company offers aim to perfect the users' content and make it concise, clear, and compelling. Besides the tools we've already mentioned, WhiteSmoke works as a translator and plagiarism checker, too.
The great thing about WhiteSmoke is its versatility. Both Android and iOS users can use the WhiteSmoke app on smartphones and tablets. The mobile app has all the core WhiteSmoke features. It's ideal for fast text and email checks on your way to work.
Still, many people use their desktop computers for business correspondence. It's much easier to edit emails right there on the spot than to open the mobile app and copy them. It's true the desktop app is perfect for this.
But, WhiteSmoke has a shortcut for proofreading. It's the WhiteSmoke Chrome extension. It checks the text as you type and gives you suggestions. WhiteSmoke has a free online checker with limited options. However, the extension is part of the full, paid version.
To recap, WhiteSmoke works as a:
Grammar checker
Spell checker
Style checker
Punctuation checker
Translator
Plagiarism checker.
WhiteSmoke charges its services, so you need to subscribe. Upon completing the registration process, you receive an activation key and you're ready. Each of the tools has a specific set of functions.
We'll talk about them in the next couple of paragraphs.
WhiteSmoke Grammar Checker Review
This feature works as another set of eyes, ensuring top-quality content. It reacts within seconds and marks the content you should change. WhiteSmoke grammar checker can detect a range of issues in a piece of text.
It covers all grammar aspects, and punctuation. It can also tell you whether a sentence is incomplete. Subject-verb agreements are a typical problem for people with poor language skills. So, WhiteSmoke corrects those, as well.
Moreover, it takes care of double negatives, missing words, dangling modifiers, and proper capitalization.
WhiteSmoke Writing Assistant Review – Spell Checker
Spelling mistakes are bound to happen when you're in a rush. So, a spell checker comes in handy when submitting a paper after the deadline or replying to an important email you forgot about. The WhiteSmoke Writer is a program that performs online and desktop spell checks.
It crawls through the generated spelling database and immediately reacts to any errors that might occur. It works on any platform where you do your writing. This includes email, MS Word, social media channels, and various browsers.
Review of WhiteSmoke Software – Style Checker
Developing your writing style requires a lot of experience, hard work, and knowledge. Your style depends on the grammar, punctuation, and sentence construction you use. The WhiteSmoke style checker enables you to advance your style.
ESL learners often rely on this tool. The style checker polishes the content to improve the overall flow. It evaluates your piece of text based on the thousands of writing samples in the database.
Furthermore, this checker gives you precise suggestions for improvement.
WhiteSmoke Writing Software Review – Punctuation Checker
Punctuation can be tricky even for native English speakers. Sometimes we don't know when to use a dash, an em dash, or an en dash. WhiteSmoke punctuation checker knows these things. It's an intricate tool that performs multiple actions.
It identifies missing punctuation like an absent comma. But, it can also find less obvious mistakes like an apostrophe in the wrong place. Eventually, you'll remember these rules because of the writing tips that appear along with the suggestions.
WhiteSmoke Translator Review
This is the feature that sets WhiteSmoke apart from other writing tools. The translator uses SMT (Statistical Machine Translation) technology, ensuring high-quality translations to 55 languages. Additionally, you have a dictionary and a thesaurus at your disposal.
You also see examples of word usage in the target language. Moreover, the tool functions perfectly on various content platforms: social media, blogs, and websites. So, it's helpful for stuff other than language learning and document translation.
WhiteSmoke Plagiarism Checker Review
WhiteSmoke plagiarism checker is reliable because it scans billions of websites online. The volume of its search prevents you from generating the same content. The checker can detect parts in your writing similar to someone else's in your blog posts, articles, research pages, etc.
It's pretty fast and accurate. What's more, you don't need a subscription to use the plagiarism checker. You can purchase a number of credits according to your current needs. There are no long-term commitments upon using up all of them.
WhiteSmoke Premium Review
Desktop Premium includes both the web and desktop software solutions for an all-inclusive experience. It lets you perform grammar, style, spelling, and punctuation checks. You can use it in MS Word, Outlook, web browsers, and other text editors.
Moreover, Desktop Premium is compatible with a wide range of browsers (Google Chrome, Opera, Firefox, Internet Explorer, Safari). It works on devices running the Windows OS, too. Mac users can enjoy the writing tool's perks thanks to the WhiteSmoke for Mac version.
You can easily install it regardless of the operating system. WhiteSmoke's other product, the web-based option, doesn't require an installation. It works in the same browsers as the Premium. And you only need to register and log in.
Ease of Use
WhiteSmoke falls into the category of simple, user-friendly software. It scans your text almost instantly. Also, it's fairly easy to understand your mistakes. The real-life word usage examples are more than helpful. The registration takes only two steps: signing up and entering the activation key.
You need an internet connection for this writing assistant to work, though.
WhiteSmoke Customer Support Review
As soon as you access the WhiteSmoke website, a live chat window will pop up. It's the fastest way to receive an answer from the agents. You can send them an email to [email protected], too.
The phone number for emergencies is +1 (833) 515-4147. Additionally, you can go to the in-depth FAQ section and maybe find the answer to your inquiry.
WhiteSmoke Plans and Pricing
At the moment, you can subscribe to one of the following pricing plans:
WhiteSmoke Web — $10 a month ($5 when we checked)
WhiteSmoke Premium — $13.33 a month ($6.66 when we checked)
WhiteSmoke Business — $$22.99 a month ($11.50 when we checked).
Corporates have to contact the company at [email protected] for pricing information. We'd like to emphasize that these prices are billed as one payment per year. The company renews your subscription to any of these plans automatically.
Unless you cancel it prior to the expiration date.
A lifetime subscription purchase is also available. However, it lasts three years only. In addition, the prices are different when you own a WhiteSmoke lifetime license:
Web — $6.94 a month ($3.47 when we checked)
Premium — $11.11 a month ($5.55 when we checked)
Business — $17.64 a month ($8.82 when we checked).
The credits for the plagiarism checker come in three packages:
1,000 credits for 20,000 words and 80 pages — $10
4,000 credits for 80,000 words and 320 pages — $30
10,000 credits for 200,000 words and 800 pages — $70
15,000 credit for 300,000 words and 1200 pages — $100.
There are no additional charges on top of these credit prices.
Refund Policy
WhiteSmoke has a seven-day refund policy for its products. The WhiteSmoke trial is an exception to this rule. However, the company is pretty flexible about this rule. You can request a refund even after the trial.
The only way to request it is by sending an email to [email protected]. You get an automatic confirmation reply within several minutes. You also need a cancelation authorization number (contact the customer support to obtain it).
Online Ratings
We've come across many online reviews left by people who use WhiteSmoke daily. They find it useful for writing cohesive emails and online submissions. The authors of the WhiteSmoke reviews often say they recommended the software to their friends and family.
It turns out they've been using WhiteSmoke for years to avoid typos and poor grammar use.
People are generally satisfied with how the checkers work. They claim the tools detected even small mistakes. They like how easy it is to polish a piece of text without personalized practice sessions for language improvement. Yet, the users feel WhiteSmoke leans to American English more than to British English.
Some see it as a flaw because sometimes they need a checker for the British language variant. A few of the WhiteSmoke reviews suggest what groups of people use this software. There's a newbie content writer who uses WhiteSmoke to become a better writer.
Furthermore, there's a person with a learning disability who became better at his job thanks to WhiteSmoke. He has reduced the number of errors, and it takes him less time to rearrange his thoughts when writing reports.
WhiteSmoke Review – Final Verdict
All in all, WhiteSmoke has exceptional features that work smoothly. Some aspects of the platform like the character limit could be better. But, other properties truly impressed us. WhiteSmoke operates on two widely used operating systems and all browsers, which speaks volumes about the company's dedication to user experience.
Non-native speakers of English can improve their vocabulary and writing skills with the help of the translator. In essence, WhiteSmoke works well for anyone seeking an affordable yet reliable writing tool.
People Also Ask