We know how important CVs and resumes are, but writing them can sometimes be harder than it seems. As trends change, we need to follow new rules, and we can no longer expect our potential employers to be satisfied with a plain old CV.
Craftresumes.com is a relatively young platform but a reliable writing service provider. In today's Craft Resumes reviews, we'll try to explain its line of work, talk about what sets this platform apart, and answer why you should (or shouldn't) hire a professional resume writer.
Craft Resumes is a service that offers resume writing. Whether you need a fresh resume written from scratch or want to edit your old resume, you have come to the right place. The platform offers many valuable services, from writing professional resumes and CVs to resume editing, creating cover letters, LinkedIn profiles, and thank-you and follow-up letters.
In addition, to resume writing services, this platform helps you build your career with career coaching and consulting. You simply choose the package you like from the website and consult with a writer. You may communicate with your writer via phone or Skype about every detail.
Craft Resumes has one goal—developing a personal relationship with its clients by designing resumes that will showcase their skills and experiences.
Pros & Cons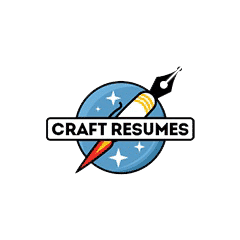 Pricing Plans
Start Package
$188
For Recent Graduates
Little-to-no experience required
Includes a resume and cover letter
Pro Package
$278
For Experienced Individuals
2+ years of experience required
Includes a resume and cover letter
Executive Package
$388
For Experienced Individuals
10+ years of experience required
Includes a resume and cover letter
Features and Materials
Craftresumes.com Packages
There are a few packages you can choose from on this platform:
Resume writing (from scratch)
Resume editing
Resume reviewing
Writing cover letters
Creating LinkedIn profiles
Each package contains essential services and combinations. It's important to note that there are no specialized packages based on your experience level. This means you'll have to pay the same price for the package you choose, regardless of your level (beginners and professionals will pay the same amount).
If you want them to review your resume, you can use this service for free. Just submit your CV, and the staff will get back to you with a review. We'll discuss this service more later.
Craftresumes.com Talk to Your Writer
This service is probably the best feature this platform offers. You can talk with your resume writer via Skype or phone for 45 minutes to discuss the details. The more information you give your writer, the better your resume will be.
Writers have different professional backgrounds (they come from various industries), and they understand what it takes to catch potential employers' attention. They create a unique-looking CV.
Craft Resumes believes that writer-client communication is of utmost importance. Staying close to the customer and paying attention to details is a priority.
Craftresumes.com Resume Writing
Craft Resumes offers a broad range of resume-writing services. Resumes center on your work experience and personal wishes. Each is written from scratch, paying close attention to clients' instructions.
So what service should you choose? Let's see.
If you are fresh out of college and have less than two years of work experience, you should start with the Entry level.
For a more experienced applicant, the Professional level (2+ years) is more suitable.
They tailor Executive/C-Level (10+ years) for experts.
You can choose the Federal resume services to boost your career and apply for a federal government position. Veterans and those applying for a military job can benefit from the Military writing service.
Craftresumes.com LinkedIn Profile Writing
LinkedIn has been an online business service since 2003, mainly used for professional networking. Employers post job offers on this platform, and job seekers post CVs. This network connects career and business professionals. More than 65 million people use LinkedIn to find work or recruit potential employees.
One of the many services that Craft Resumes provides is a LinkedIn resume writing service. You can hire a professional Linkedin profile writer to help create your online persona. When you choose the writer you want to work with, you can expect to get a sneak peek at the draft of your new resume within 24 hours. When you receive the draft, you'll have four days for unlimited rounds of revisions. The writer will create a new draft and send it to you if you're not completely satisfied.
We talked about the pricing before in our Craftresumes.com reviews. It depends on your chosen service, package, and experience. You can get your profile done for 59$ or combine the packages to get a CV and LinkedIn profile for $228, a resume and LinkedIn profile for $208, and a resume, CV, and LinkedIn profile for $367.
Your writer will get paid when you are totally satisfied with your resume. If you are not satisfied, you can get a 100% refund.
Craftresumes.com Cover Letters Writing Review
In the Craft Resumes list of services, you will find:
Resume writing/editing
CV writing/editing
Cover letter writing
Thank-you letter writing
Follow-up letter writing
LinkedIn profile
KSA (knowledge, skills, and abilities)
Writing a cover letter (also called a covering or inspiration letter) is as important as writing your resume. You must craft the letter well and cover a few crucial points: greeting, opening, hook, skills, and closing. If you have a good cover letter, it can help you get the job you applied for.
Craft Resumes professional writers cover every industry, so you don't have to worry about them not knowing what to write. To be sure the resume is unique and personalized, they use a special Craftresumes.com plagiarism checker. They also check every resume before sending it to you to ensure there are no duplicates.
To apply for several job positions in more than one field, you must have a distinctive resume adaptable to various job listings. This is why writer-client communication is so important and, more or less, mandatory. If you want to ensure you'll get the best paper possible, you can ask your writer to send you the draft to review or request changes.
Regarding Craftresumes.com quality, it's difficult to tell if you'll get your money's worth until you receive the end product. Luckily, you'll receive free samples to see how good the writers are. Moreover, you can always read the blog to get some idea about the quality of writers.
If you're a writer who wants to be hired by Craftresumes.com, you must provide work samples, pass the English test, a three-month probation period, and finally, the communication skills test.
Craftresumes.com Writers
You can choose your writers based on their rating, specialization, work samples, and detailed profile information (including photos, statistics, experience, and industry). You can find customer reviews, the number of completed orders, short biography, review rate, and success rate on each writer's profile.
If you are not satisfied with the quality of your new resume or want to rewrite it, Craftresumes.com unlimited revisions are something to consider. In short, the platform offers you a free correction of your resume. You just need to specify what should be changed or improved. You can request unlimited revisions within four days after you receive your draft version.
Check everything, and demand rewriting, if you're not satisfied. You can ask for unlimited rounds of revisions. On top of that, you don't have to pay extra for each revision because your payment already covers everything.
Craftresumes.com Delivery Time and Deadlines
If you recently found out about a job opening, you probably didn't have enough time to prepare your resume. Should you rewrite it or just add some new information and hope it will be enough? With the deadline dangerously closing in, getting it done fast should probably be your main priority. Before you panic, there is a way to get your resume done within a day.
Craftresumes.com 24-hour delivery system allows you to get the first draft of your customized resume within a day. The delivery system is one of the best on the internet, and you can use it without extra fees. If you don't like how your resume turned out, you can send it back and get a full refund. You can use this service if you need to get a new resume written from scratch or renew the old one.
When ordering a new resume, you'll need to set Craftresumes.com deadlines for your writer. This deadline can be one day, a month, or even one year. This depends solely on your needs, so choose the option you see fit.
Now let's go back to our job scenario. Getting the resume done in time requires either starting from the beginning or expanding the older resume with new and valuable information. So what to choose? There are a few options.
Craftresumes.com written from-scratch resumes are best for beginners since they can be adjusted to fit the job seeker's personal goals and aspirations. Remember that employers want to know how you plan to contribute to the company you are applying for. So don't focus only on your work experience. Moreover, they will want to know about your personal goals and how they connect to your dream job.
More experienced job applicants will probably use the old resume template and add some new information. So is a resume writing service worth it if you are already a skillful job hunter?
Employers look for more than just basic information in your resume. Remember that visual trends change quickly, making your old resume look outdated or old school. That's why getting a professional resume writer might be something worth considering, just to be on the safe side. Your resume should uniquely portray your experiences, special skills, and qualities.
Craftresumes.com Career Coaching and Consulting
Many people often confuse these two similar services, although they entail different approaches and techniques. Coaches usually serve your individual needs (goals, wishes, psychological needs), while career consultants work on finding you a fitting job. In other words, consultants work with your skills, employment history, and personality, hoping to find suitable jobs you can apply for.
In addition to the resume writing services on this platform, craftresumes.com usability expands even more. You can boost your career with the help of career coaching and career consulting professionals.
Let's start with career coaching services. The platform provides individual coaching sessions where you can discuss job issues and explore solutions and alternatives. Career services focus on interview coaching, job search coaching, and career planning.
These services revolve around one-on-one sessions. Sometimes you'll have to require one or even more individual coaching sessions to reach your goals. Sessions last one hour, and you can get a discount if you book more than one session.
Craftresumes.com reviews mention career consulting as a specific service on this platform. Career consulting won't help you find a job. It will only give you an idea of where to begin and what life changes you need to make to get that dream job.
To find a suitable career coach, you must browse the profiles available on the website. Once you have chosen your coach, you can book an appointment. The cost of this service varies depending on the coach's skill, experience, and qualifications. Sessions can cost from a minimum of $50 to a maximum of $500 per hour.
Craftresumes.com Resume Optimization
Here are some useful tips for resume optimization that writers on Craftresumes.com use:
ATS (Applicant Tracking Systems). HR professionals often use ATS tracking systems for fast recruitment (in addition to usual tracking systems like LinkedIn, Indeed, or Jobbatical).
To increase the chances of being picked by ATS, you must include relevant keywords in your resume and cover letters.
You need to know how to modify your skills. Don't just recite them; include them in descriptive sentences when you write about yourself;
Mention the technologies/languages you're proficient in.
Creating a catchy resume is an essential step in your job hunting. Craft Resumes will ensure your resume has a clear structure and includes critical information.
Craftresumes.com customer reviews are positive overall, and most customers would recommend this platform to their friends. The prices aren't high, but the services are not cheap either. You can get excellent and affordable service with discounts and special offers.
This is a relatively new service in the resume writing industry, so it's early to pass judgment. If you want to find a good resume writer, this platform has plenty to offer.
Craftresumes.com support team uses different channels to get in touch with their customers. You can contact them through toll-free phone (US residents only), email, and live chat. If you need a quick answer to your question, the live chat is where you should start. They will answer quickly and provide help and guidance if required.
Like many other online services, they have a FAQ section where you can find all the useful information about the platform and writing services.
Craftresumes.com Certification
Craft Resumes writers are members of The National Resume Writers' Association (NRWA) and The Professional Association of Resume Writers and Career Coaches (PARW/CC). So, rest assured, a professional who understands how to make your C.V. stand out will write it. Each writer has a unique professional background, and you can view their profiles and customer reviews on the website.
Ease of Use
The website is easy to navigate. You can find all the important information about their services. Prices are in a special category, and there is a blog you can read to check the quality of the writers. On top of that, you can read numerous clients' testimonials near the end of the page or simply use a sitemap to find something specific.
Plans and Pricing
Craftresumes.com Prices Review
You will pay according to the service you choose, the package, and your experience level (entry-level, professional level, executive level, military level, or federal level).
You can get service from a minimum of $229 to a maximum of $499. For example, the Basic package will cost you $279.99, the Optimal package is $339.99, and the All-in-One package is $499.99. If you need a resume and not a complete package, it will cost you $229, depending on different conditions.
As you'll soon learn from our Craft Resumes reviews, you can combine different services to create a package that fits your needs the most. For example, combine a resume, LinkedIn profile, CV, and cover letter.
If you want to be practical and save money, you should use many combinations. E.g., you'll pay $229 for a resume writing service, but if you combine this service (with a CV), you can save $70. That said, you can get $10 off every extra service you add to your combination.
As for payment methods, you can choose PayPal or use your credit card (Visa, MasterCard, or American Express).
Craftresumes.com Discounts
A few convenient packages can save you money:
Resume Writing: You received an optimized resume with unlimited revisions. The cost is $229.
The Basic package. This package is for recent graduates with little or no experience. It costs $279.99 and includes a resume and cover letter.
The Optimal package. This package is for more experienced individuals (2+ years). It costs $339.99 and includes a resume and cover letter.
The All-in-One package. This package is for people with more than ten years of experience. It costs $499.99 and includes a resume and cover letter.
Craft Resumes reviews point to the All-in-One package as the best value for the money.
How does it work?
Firstly, you need to place an order. To do that, you'll have to provide detailed personal information and your work documents. Pick the career level, the specific service you want to purchase, and additional services or discounts.
Secondly, you need to fill out a simple questionnaire. Here you'll provide important career details (like your previous work experience and career objectives).
Lastly, when finished, your order will be sent to a writer who will create a personalized, unique resume that meets your needs.
Refund Policy
Craftresumes.com money-back guarantee gives you four days after receiving the first draft of your resume to request changes (if needed). In short, if you're not satisfied with the design of your new resume, you will get your money back.
You can review every page to ensure the information is correct and the quality is top-notch. If you are not happy with the writer or the writing style, you can highlight the points that should be improved or rewritten and send your resume back for revision. This service is free.
Online Ratings
Users gave Craft Resumes an average rating, which is not surprising considering that it's a relatively new platform. Talking with your resume writer via Skype or phone for 45 minutes is one of the best features users like, and many recommend it.
Craftresumes.com Pros and Cons
 Pros:
You can view writers' profiles, see samples of their work, how many projects they've completed, and other customer reviews. You can contact your writer via phone or Skype when placing an order.
Free and unlimited number of revisions. After receiving the draft of your new resume, you'll have four days for additional modifications.
You can set the deadline. 
All resume writers are certified.
100% money-back guarantee (four days after receiving the first draft).
 Cons:
Prices may seem high to some customers.
Inability to contact the company on weekends. 
Occasional problems with online chat. 
A relatively small number of tasks the service can handle at once. 
Alternatives
If you feel like you'd like more options, our review of various resume services is worth reading through. Here are a couple of other options to get you started. 
Resume.io
Resume.io scores better in terms of customer rating and pricing. They do not, however, go as in-depth as Craft Resumes and do not offer social media profiles. Check out our Resume.io Review for more information. 
My Perfect Resume
If you want a quick, easy CV and time is a factor, My Perfect Resume may be better for you. It's a clever editor that allows you to skip non-relevant sections, making it easy to tailor each resume for the job. Read more in our in-depth My Perfect Resume Review.
Final Verdict
If we sum up our Craft Resumes Reviews, we can conclude that this platform gives you the freedom to combine a resume and cover letter or resume and CV for affordable prices. If you need a professional and personalized resume and can get past the fact that this is a relatively young resume writing service (that still has to prove its worth), Craft Resumes might be your perfect match—or at least something to keep an eye on in the future.
Frequently Asked Questions (FAQ)