If you think that excellent skills alone are enough to land a dream job, think again. Our My Perfect Resume review explains how this resume builder spices up your resume so that it immediately attracts recruiters' attention. Also, you'll learn about features that set it apart from other resume builders.
Finding the ideal resume builder can be tricky, so we decided to put ourselves in your shoes and try out one of them. Keep on reading to find out what My Perfect Resume offers and whether it has something for you.
Pros & Cons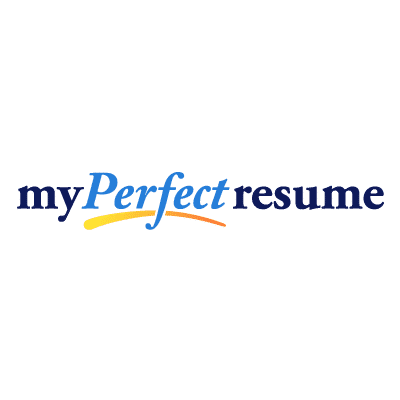 Pricing Plans
Trial Period
$2.95
Full access to the platform for 14 days
Downloading resumes and cover letters
Unlimited Option
$24.95
Billed every four weeks
Can be paid quarterly or annually
Features, Courses, and Materials
Ever since 2013, My Perfect Resume has provided us with diverse resume templates for any industry. As you'll see in this My Perfect Resume review, beginners without experience aren't the only ones applying for jobs with the help of this website. Experienced candidates can find useful CV templates on My Perfect Resume, as well. For those with a creative streak, it's possible to make CVs from scratch. The wizard adds your details as you type them in, but you can skip the sections you don't want to appear in the resume.
This platform is more than an ordinary resume builder. It's also a cover letter builder, resume checker, and a rich source of examples and tips. You can use its job searching engine to find relevant job openings, too. Although the company doesn't offer a My Perfect Resume free trial, you can still explore the following features without limitations for two weeks during a paid trial period:
Resume builder/templates/examples/formats
Cover letter builder/templates/examples/formats
Resume check
Career center
Job search
CV templates
My Perfect Resume Chrome extension
It takes three simple steps to create a resume:
Select a template based on your experience (suitable for students, people without any experience, and experienced people)
Edit the template (header and font color)
Build your resume from scratch or upload it from Google Drive or Dropbox
You need to have an active My Perfect Resume account to save the created file. Unfortunately, you can download it for free only as plain text. Also, you can see the strength and level of completion of the saved files thanks to the Resume check.
Searching for jobs based on your job title and location substantially increases your options. The platform reads DOC, DOCX, PDF, HTML, RTF, and TXT files, so make sure to import your resume in one of those formats.
Let's see what else you can do with the resume templates.
My Perfect Resume Review: Resume Templates
Talking to a professional resume writer on the phone or via Skype can make things much easier, but sometimes it's better to play it safe and use a resume template, allowing you to focus on the content.
My Perfect Resume offers three types of templates you can choose from:
Professional (for jobs in traditional industries)
Modern (for competitive jobs and industries)
Creative (for jobs that demand creativity and out-of-the-box thinking)
What's more, there are Microsoft Word-ready resume templates you can customize for any job. Luckily, the My Perfect Resume price includes all of these templates. They typically consist of a heading, education, a professional summary, skills, and work history. The smart resume software suggests four skills for your job title that you may or may not include in your file. Apart from the standard sections, you can display your certificates, hobbies, accomplishments, affiliations, websites, portfolios, and a section of your choice. My Perfect Resume templates are ATS-friendly, increasing your chances of getting an interview.
Another neat feature is the possibility of receiving a notification when your resume gets picked by the employer's resume screening software. Myperfectresume.com reviews rarely mention it, but it's quite helpful.
Finally, if you need some guidance when choosing the right template, you can always:
Use a template that fits the employer/industry
Use a template that fits your experience
Use a template that fits your personality
Some employees demand a cover letter, too. My Perfect Resume's cover letter builder has the tools for creating one without switching to another platform.
Review of My Perfect Resume Customer Service
Customer service representatives are available from 8 am to 8 pm CST Monday through Friday. You can also contact them every Saturday from 8 am to 5 pm CST and every Sunday from 10 am to 6 pm CST. The phone number is 855 213 0348. Live chat is available during the said working hours.
Upon sending a message via chat, a customer support representative responded after 45 seconds and answered our question. The form for sending them messages via email is available on the official website.
My Perfect Resume Review: Cover Letter Builder
You start by picking one of the 18 cover letter templates. Don't worry; you can change it later if you don't like how it turned out. The templates are minimalistic, with slight differences in terms of text alignment or font size and style.
It's possible to create a cover letter from scratch or upload an existing one. Suppose you want to write a brand new cover letter. We want to emphasize that there aren't any additional My Perfect Resume charges for creating cover letters. You can find a cover letter for a specific job or one you can tailor to a particular job opening. With a particular job and a company in mind, you need to choose three top skills crucial for that position, as well as your top three strengths. You also need to specify your work experience and personalize the file.
Availability, confidentiality, relocation, salary requirements, and other sections might not seem like crucial services for the users of free resume builders. Still, our findings agree with other My Perfect Resume reviews stating they are superb bonuses.
Ease of Use
The wizard for creating resumes and cover letters walks you through sections. The interface is user-friendly, and there aren't any redundant buttons that may confuse you.
Besides, there's no need to wander because all the valuable information is present on the official website. Whenever you feel stuck, you can rely on the tips provided by the team of experts. The job-specific suggestions and brief pointers are with you every step of the way.
How Much Does My Perfect Resume Cost?
My Perfect Resume is a membership-based platform. Once you pay for either the quarterly or annual plan, you have unlimited access to all features. In other words, you can create or download as many resumes or cover letters as you want without additional charges.
The company accepts credit cards only. For $2.95, you have full access to the platform for 14 days. During this trial period, you can create, download, or print an unlimited number of resumes and cover letters.
According to a few myperfectresume.com reviews, downloading files wasn't possible seven days after purchasing the trial period. Upon testing it personally, we couldn't verify the same thing. That is, we were allowed to use the features without limitations for 14 days.
You need to provide the payment method, so the subscription will automatically renew after 14 days. You'll be charged $24.95 every four weeks. You can pay $71.40 upfront instead and use all the features without limits all year long.
The My Perfect Resume cancel subscription policy dictates that you may cancel both monthly and annual subscriptions at any time.
Refund Policy
This online resume builder doesn't offer refunds. However, it's possible to get one if you cancel your subscription before the trial period ends. Otherwise, refunds aren't guaranteed. The good thing is that you can test all the features the tool offers during the trial period and find out what you like about them. If you want to test a company with a more lenient refund policy, check out our ResumeHelp review.
Online Ratings
More than 5,000 users gave My Perfect Resume a total rating of 4.6 on Trustpilot. The reason for My Perfect Resume complaints is the misunderstanding about the free trial.
As much as 80% of all the reviews are positive. People praise customer support representatives for their help. They also love the suggestions for creating outstanding documents because they speed up the process and keep them on the right track.
Even people who aren't that tech-savvy find it simple. They often recommend it to their co-workers when seeking new jobs. Dozens of My Perfect Resume reviews report that users have found new jobs thanks to the professional templates and job boards.
Pros:
Customizable job-specific templates ready for ATS scanning
Prices covering the resume check feature detecting over 30 issues and offering suggestions for improvement
A cover letter builder with optimized cover letter templates
A My Perfect Resume Chrome extension for filling in job applications automatically
A tool translatable to English (US, UK), French, Spanish, and Italian
Cons:
A Chrome extension working only on Indeed, Glassdoor, LinkedIn, Google, Careerbuilder, Monster, Ziprecruiter, Snagajob, SimplyHired, and USAjobs.gov.
My Perfect Resume Review: The Final Verdict
It's all up to you and your preferences. Yet, from an objective standpoint, My Perfect Resume does offer some high-quality features. If you ignore the fact that you have to pay for the trial period, you can see the bigger picture—a plethora of templates coming in dozens of styles and formats.
Let's not forget the collaboration with renowned job boards, enabling you to apply for jobs in various industries. The company doesn't allow you to request a resume from a certified writer, but it's certainly a top-class service for fine resumes at affordable prices.
Frequently Asked Questions (FAQ)