You've probably heard of Jacob and Wilhelm Grimm. These German philologists and collectors of folk tales, introduced us to Little Red Riding Hood and Hansel and Gretel. But have you heard of their fellow countrymen, Markus Witte and Thomas Holl, the creators of Babbel?
They all have one thing in common – the love of languages.
In this extensive Babbel review, we'll walk you through some details that will help you understand how this language-learning app works, what makes it different from similar offerings, and whether you should use it.
Pros & Cons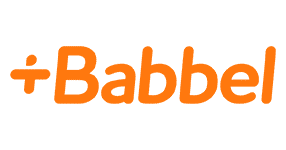 Pricing Plans
One Month
$13.95
No discount
Three Months
$29.85
Save 35% ($9.95/month)
Six Months
$50.70
Save 45% ($8.45/month)
One Year
$83.40
Save 50% ($6.95/month)
What is Babbel?
Babbel arose from the creative minds of Witte and Holl in 2007. Their idea was to create an app that would allow users to learn new languages and use them actively. They chose to start with the help of everyday phrases and practical vocabulary.
The language base on the service isn't extensive, but neither are the course prices. If you want to learn new languages, here's everything you need to know about Babbel.
Babbel Features, Courses, and Materials
Babbel relies on pre-recorded lessons, so there's no interaction with educators. Along with the short duration of classes, which is most welcome in these fast times, Babbel is known for its unique method.
This method includes flashcards, various language exercises (filling the gaps in dialogues, translating the words, and articulating phrases), quizzes, and the part where you get to practice your grammar.
But let's not get ahead of ourselves. Instead, let's start from the beginning.
What Languages Does Babbel Offer?
Babbel has 14 language packs:
English
German
Italian
Spanish
Turkish
French
Portuguese
Polish
Swedish
Danish
Russian
Dutch
Indonesian
Norwegian.
All the lessons are in English, except for the English course, which uses Spanish, French, German, Polish, Italian, Portuguese, and Swedish interfaces.
You can view lessons via desktop or by using the mobile app.
Language courses include the following:
Filling the gaps. Like in school, you'll get sentences with blank spaces where you'll need to fill the gaps with the correct examples.
Babbel reviews. The review feature tells you when you're ready to revise your learned material. How does it work? This Babbel assessment feature works on spaced repetition. In short, the more words and phrases you guess correctly, the more you will progress.
With speech recognition technology, you can get feedback on your pronunciation. Repeat the words or phrases you hear, and let the speech recognition system correct your mistakes.
To make this Babbel language review as honest as possible, we must also point out the platform's limitations. Despite many great features that will help you get started, not every language receives the same treatment.
Less popular languages like Danish, Russian, or Polish only offer beginner courses. The number of available lessons thus differs significantly, and some languages lack the intermediate material.
For this reason, Babbel courses are ideal for beginners and should be used as an additional learning tool, but not as the only source of information. If you're an advanced student who wants to dive deep into a language's complexity, Babbel is not the best choice.
How to Use Babbel
Let's say you've wanted to learn Norwegian ever since you became obsessed with Vikings. You want to know the basics that will allow you to communicate with people (and order the famous fårikål) once you visit the land of the midnight sun.
But there's one problem: you simply can't grasp the baffling grammar rules.
As frustrating as it sounds, grammar is the spine of every language and is often the hardest part of the puzzle. Here's where the Babbel language software comes in.
Practical Conversations
"Hvordan går det?" (How are you?)
This is probably how your beginner lesson in Norwegian will start. Babbel's mission is to prepare its users for real-life situations with everyday dialogues and help them understand the vocabulary through context and examples.
With this method, you will learn how to speak properly. Not only that, but you will also get some insights into the culture and tradition related to the chosen language. For example, A Year in Norway is a Babbel course where you can learn interesting things about Norway's customs.
However, if you want speaking lessons, then Italki might be a better choice. Italki Reviews can tell you more about it.
Does Babbel Have Sound?
Another key point we'll mention is the use of speech recognition technology. This kind of tech is something people have always found fascinating. Numerous individuals have tried to create a machine to answer questions by recognizing human voices.
We have come a long way from the early attempts to create the first official speech recognition software in the 1950s, Audrey. Several language learning platforms use this technology, and Babbel is no exception.
If you want to sound like a native speaker but you have lousy pronunciation, the speech recognition tool used in Babbel language courses will help you identify your mistakes by using voice comparison.
Equally important is the dialogue training. This interactive language exercise will put you in a real-life situation and "force" you to put your conversational skills to use. Native speakers lead all courses, so your bad pronunciation will soon be a thing of the past.
Placement Test
After choosing the preferred language from the Babbel languages list, you proceed to the placement test. This test aims to place you in the most suitable learning module. It might not be as fun as Hogwarts' house placement, but it works similarly.
To demonstrate, you'll get asked a few questions, starting with:
Why are you learning this language?
Have you had any past experiences regarding this language?
How much time are you ready to commit daily (15, 30, or 60 minutes)?
How old are you?
Researching for this Babbel review, we learned that you don't have to take the test.
Instead, you can choose the module you want (Newcomer, Beginner I, Beginner II, or Advanced). However, if you take the placement test, you will automatically be placed in the module that best suits your current language skills.
And if you're not satisfied with the offered module, you can simply jump to another one.
Note that every language has different programs and that the number of courses you can take varies. For example, the Dutch language offers 20 lessons, while Spanish offers 60.
Babbel App Review
Babbel has a dedicated mobile app and a desktop feature. You can listen to your courses via your computer, smartphone, or tablet. The only prerequisite is that you connect to the internet.
You can also access all the courses offline if you use the mobile app. That way, you can download as many lessons as you want and view them offline later. This option isn't available when accessing the service via the website.
Babbel Language Learning Review
Individuals who want to learn the basics of a language should find Babbel helpful. That's because the instructors specifically design the courses to prepare students for real-life conversations.
Each class falls into categories made up of individual lessons. For example, the Countries and Traditions category will introduce you to some interesting customs, while the less glamorous Grammar category will help you improve your writing skills.
Now, let's talk more about the languages offered.
Babbel Spanish Review
We'll start with the most popular language on Babbel, Spanish. As a matter of fact, if you choose to learn Spanish, you will get considerably more lessons than with some other languages we'll review later.
There are over 60 courses, all including several levels, from beginner to Intermediate. Babbel also offers a unique Business Spanish course, where you'll learn how to speak in work meetings, give presentations, and communicate via phone or email.
On that note, Babbel conducted a fascinating study in the form of a challenge. What did they discover? Here's a short Babbel challenge review.
Researchers asked a group of 15 Babbel users to take part in a Spanish language course. The goal was to see if these students could learn the basics of the Spanish language in only three weeks. The results were very interesting.
In short, if you've never tried to speak Spanish before, it should take approximately 15 hours to learn the basics, which comes down to about five hours a week.
Following this model, there are many Babbel challenges you can partake in. For example, you can try to learn a language in 30 days, seven days, 15 hours, etc.
Babbel French Review
We'll continue with the second most widespread language on Babbel, French. If you're keen on mastering French verbs, Babbel has several courses that cover complicated conjugations in the form of rules and examples if you're keen on learning French verbs. At the same time, you can practice French tenses, nouns, and pronouns.
There are also courses for slang words and everyday conversations. If you're a gourmand planning to take a trip to Paris to explore French cuisine, you can learn the names of all the famous dishes and specialties through a course called French Cuisine.
"Une soupe à l'oignon, s'il vous plaît."
Babbel German Review
If you're a beer enthusiast planning to visit the Oktoberfest, you need to learn how to use the dreaded German articles (der, das, and die) and the four cases.
And if the grammar alone isn't challenging enough for your adventurous polyglot mind, you can also learn the difference between various German dialects (Berlin dialect, Hessian dialect, Bavarian, Swabian, etc.).
Beer lovers will be happy to know there's a course called Oktoberfest, where you'll learn important information about this festival's history. The course also covers the Bavarian dialect, so you'll fit right in the next time you visit Munich.
"Oans, zwoa, drei, g' suffa!"
Babbel Italian Review
Next, we have Italy, the so-called "bel paese." There's an Italian course for pronunciation, spelling, nouns, articles, and verbs, but you can also take a creative course called The Riddle of Matera.
Matera is a remote and mysterious city in southern Italy famous for its ancient town called Sassi di Matera. And what's better than learning a new language by exploring the ancient ruins Indiana Jones-style?
Italy is also famous for its cuisine, so it's no surprise Babbel has a unique course called Italian Cuisine. With it, you can learn much more than just how to tell the difference between pastasciutta and other forms of pasta.
Babbel Russian Review
Did you know that nearly 150 million people speak the Russian language? Not only is it the most-spoken Slavic language, but it's also one of the most widely spoken languages in the world, along with Chinese, Arabic, English, and Spanish.
Because it uses the Cyrillic alphabet, Russian is the most complex language to learn. That's why Babbel offers courses on verbs and adverbs, different sentence structures, and name pronunciation.
These courses suffer from topic limitations and a lack of grammar explanations, so you'll only find them helpful if you're a beginner. With Babbel, you may learn to recite Yesenin's poems, but translating Eugene Onegin will probably have to wait.
Babbel Portuguese Review
The last language course we'll mention is Brazilian Portuguese. Unlike the Spanish course, it lacks diversity and study material, so you won't find any special programs or unique courses. However, you'll find the Grammar and Words and Sentences courses, which will help you learn the basics of the language (the use of tenses, verbs, nouns, etc.).
The Portuguese for Carnival course stands out from other, rather uninspired topics. This course might prove helpful if you ever travel to Brazil to experience their picturesque carnivals.
"Vamos dançar!"
This ends our Babbel languages review. Now let's take a look at other aspects of the service.
Ease of Use
Babbel is a user-friendly app. You'll find all the critical information on the website, including tips and tricks for learning languages. The information about individual courses and the list of languages you can choose are both presented at the bottom of the page.
The Help by Topic section takes on the role of an FAQ page. There you'll find all the essential information about payment, subscriptions, technical support, and other topics in the form of articles.
Babbel Pricing and Plans
The pricing on Babbel falls into subscription plans. To clarify, if you want to enter your courses and lessons, you'll have to subscribe to one of the programs Babbel offers. Unlike some other language apps, you pay per month, not per class.
In total, there are four subscription options you can choose from. You can opt for a monthly subscription, a three-month subscription, a six-month subscription, or an annual subscription.
The pricing is surprisingly affordable. You can use several payment methods: credit card, SEPA direct debit (if you live in Germany, Italy, Austria, Netherlands, or Spain), iDeal, Giropay, and PayPal. You may also find some affordable language courses on other online learning platforms.
How Much Does Babbel Cost per Month?
The subscription for one month is $13.95. If you subscribe for three months, you'll have to pay $29.85. A six-month subscription costs $50.70, while an annual subscription costs $83.40. Babbel is far cheaper than Pimsleur.
After choosing the desired language course and purchasing one of the subscriptions, you'll have limitless access to the learning material. As already mentioned, you can access the courses through the Babbel website or the mobile app, which is available for iOS and Android devices.
If you want to change the subscription plan and reduce your Babbel cost, you must cancel your current subscription and select a new one. How do you do that? It depends on the method you initially used to subscribe.
If you use the website or the app, log in to Babbel.com from your computer. Once there, do the following: select Profile and Settings, go to Account Info and click on Cancel Auto-Renewal.
Canceling the subscription via the App Store is easy. Enter your phone's Settings menu, type your ID, find the Babbel sub, and cancel it. Google Play works similarly: enter your account, find Babbel in Menu Subscriptions, and tap to cancel your current plan.
Babbel Free Trial
Babbel offers one free lesson before asking the user to opt for one of the subscription plans. This is an excellent way to take a sneak peek into the app and try out the service before paying for it. Note that you'll have to register for free first.
Refund Policy
With Babbel, you can get a full refund if you apply for it within 20 days of purchase. The best plan for language enthusiasts will thus be to check out the free lesson, subscribe to one of the plans, and then use Babbel's money-back guarantee if they are unhappy with the service.
Online Ratings
Unsurprisingly, Babbel ratings are generally good. After all, it is a user-friendly app with many valuable courses for beginners who want to learn the basics of a language and practice using it actively.
Babbel's pricing is affordable, and if you don't mind the lack of languages available, this service is a good place to start your language-learning adventure.
The company has an excellent overall rating of 4.1 stars on Trustpilot. Reviewers point out the app's one major downside: the deficiency of materials for less popular languages like Polish and Russian. At the same time, the ratings are high for popular languages like Spanish and French.
If you ever need help, Babbel customer service offers two ways to get in touch with the team: by sending a direct message or email.
Desktop users can send a direct message by clicking on the Contact button in the top-right corner. This will open the chat window. The Help button on the website, which you'll find in the bottom-right corner, does the same thing.
Mobile app users can send messages via their profile by clicking on the Help button in the Settings menu.
Babbel Pros and Cons
To properly assess the usability of this learning app, we need to focus on its advantages and disadvantages. Here's a short overview of what you can expect.
Pros:
Affordable prices
More than 6,000 courses and 60,000 lessons
Speech recognition technology
Interesting courses (e.g., The Riddle of Matera, Oktoberfest)
Useful grammar lessons
Cons:
Repetitive lessons
Lack of languages (only 13 + English)
Only beginner and intermediate-level modules are available
Deficiency of learning material (and topics) for less popular languages
Babbel Alternatives
Babbel is one of the many language learning apps that have built popularity on proven teaching methods (flashcards, various language exercises, quizzes, etc.). The courses on Babbel are useful, but the lack of language options might make you seek greener pastures.
For this reason, you should also learn more about the alternatives to this service. In this section, we'll examine the features of a few similar apps – Duolingo, Rosetta Stone, and Busuu.
Babbel vs. Duolingo
The first thing to note when comparing these two competitors is the price. Namely, Babbel uses subscription plans, unlike Duolingo, which is free to use.
The structure of the lessons is similar on both apps, but there's one significant difference. Babbel mainly focuses on conversation, while Duolingo focuses more on grammar and vocabulary.
With Babbel, you can only learn 14 languages, while Duolingo offers 36 world languages and two fictional, High Valyrian and Klingon. With that in mind, Game of Thrones and Star Trek fans would probably give a slight advantage to Duolingo.
Babbel vs. Rosetta Stone
Rosetta Stone is one of the oldtimers in the world of language learning platforms. It's been active since 1992, but you won't find an extensive language base on its website. In fact, there are only 28 languages you can learn, which is still more than the 14 offered by Babbel.
However, while Babbel offers reasonable prices, Rosetta Stone charges twice as much for its courses through five learning levels. The cheapest one costs $179, while a bundle that includes all five levels costs $479.
As for the similarities, both apps are great for beginners and tourists. Learn more with our Rosetta Stone Review.
Babbel vs. Busuu
Busuu and Babbel have many things in common. Both offer affordable subscription packs, have a small language base (Busuu offers 12 languages), and focus primarily on conversation.
Busuu also offers a free version of the service. It costs $12.95 per month. It also provides a premium plus version at $13.95 per month.
An annual premium subscription costs $71.40 upfront, while a six-month sub costs $71.40, paid month-to-month. A two-year subscription is available for $130.80.
The cost of an annual premium plus subscription is $83.40 upfront, while a six-month sub costs $83.70, paid month-to-month. A two-year subscription is available for $154.80.
There is another important difference between the two language apps. You can get feedback on your pronunciation from real people on Busuu, while Babbel doesn't have this option.
If you'd like to learn more before making our decision, read our in-depth Busuu Review. 
Final Verdict
Wrapping up our Babbel review, we can safely say that this is one of the best language-learning apps for beginners. The lessons are short and straightforward, and despite being repetitive from time to time, they are highly effective. You can acquire basic conversational skills within three months and have an adequate vocabulary if you plan to travel.
Babbel has a simple interface, so don't expect a jaw-dropping app design. However, good courses and affordable subscription plans compensate for the lack of flashy graphics. Babbel is undoubtedly one of the best language-learning platforms for many learners.
Frequently Asked Questions (FAQ)