Duolingo is one of the most famous language-learning platforms. It offers its users a sophisticated and customizable educational system. Read our extensive Duolingo review and see if the app can help you develop your language skills.
Duolingo's mission is to make learning fun. People can learn through games, helping them stay motivated in the long run. The best part is that the platform uses a freemium model.
We have tested Duolingo and analyzed hundreds of users' reviews to determine whether the app can help you become fluent in your target language.
Pros & Cons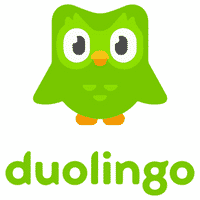 Pricing Plans
Duolingo Plus
$6.99/month
*14 days free before paying for the subscription
*no ads, offline access, progress tracking, and unlimited mistakes
Duolingo Review: All About the Platform
Duolingo is an American platform that offers over 100 courses across 40 languages. It has 500 million registered users from over 190 countries and stands as the most popular language-learning app.
The idea to make language learning accessible to all came to form in 2009; Luis von Ahn and Severin Hacker created an app where users could learn foreign languages by translating simple phrases. Duolingo has evolved, but the goal remains — to give everyone a chance to learn a new language.
After a thorough analysis, we're detailing the Duolingo course offers and how they rank against the competition.
How Does Duolingo Work?
Duolingo is available for Android and iOS, and there is a browser version as well. Registering an account involves three simple steps: you set up a profile, choose the target language, and set daily goals — casual, regular, serious, or intense. You can also decide if you want to start at Beginner 1 level or take a placement test if you already know the basics.
Progressive Learning
Duolingo language courses consist of modules that you unlock as you go. Its lessons are progressive and organized into a skill tree. You need to finish lesson one to progress to lesson two and so on. The app also shows how many days in a row you've studied.
Game-Based Learning
Duolingo lessons are designed as games that guarantee long-term retention and development of listening, speaking, writing, and reading skills. The winning streak feature plays an important role in goal-setting as well.
The app also offers leagues and leader boards that determine who gained the most XP in a given week. You need to complete at least 10 lessons before competing for new Duolingo achievements. A league consists of 10 ranks that range from Bronze to Diamond.
Other gamification features include earning badges and virtual coins called lingots which you can exchange for new outfits for Duo the Owl. In addition, the progress bar goes between 0% to 100%, depending on whether you get things right or wrong.
Targeting Weak Words
Once you complete all lessons in a particular module, you'll be notified about your weakest words. The app identifies the words you've got wrong throughout the module and gives you a chance to go back and revisit the problematic areas.
Preparation for a Real-Life Situation
Duolingo app aims to provide vocabulary and basic sentence constructions that will help you get along with everyday real-life situations. It enables you to acquire basic communication skills and learn useful phrases and words for greetings, shopping, dining, introducing yourself, and more.
Immediate Sentence Building
The courses will introduce you to sentence structure from the very beginning. As our Duolingo app review shows, this is crucial for language learning since you'll be able to see how sentences are formed block by block and how grammatical units are used to express meaning.
Duolingo Language Base
Duolingo offers courses across 40 languages. Popular ones include French, Spanish, Hindi, Chinese, Japanese, German, and Russian. Less spoken languages like Irish, Danish, and Catalan are available too. You can also find endangered languages such as Yiddish, Hawaiian, and Navajo. Fiction lovers might be interested in taking up High Valyrian or Klingon. On top of that, there are 22 English courses for speakers of different languages.
Duolingo German Review
Spoken by over 200 million people globally, German is the fourth most popular language on the platform. Duolingo's German course helps you master the language basics. It focuses on "Hochdeutsch," or "High German," the most widely spoken form.
The introductory lessons cover topics like greetings, restaurants, places, jobs, hobbies, and directions. After that, you'll deepen your knowledge by learning grammar basics, verbs, modals, and datives. According to user reviews, the German course provides an extensive vocabulary base. The exercises assist you in mastering the basic but not more complex grammar constructions.
Duolingo French Review
There are 17.3 million people actively learning French on Duolingo. If you're planning a trip to France or just love learning the language, the app can help you understand formal written French and acquire conversational skills. It also covers a variety of contexts, enabling the users to expand their vocabulary and learn standard sentence constructions. According to users, the app is a fun and motivating resource to study French.
Duolingo Korean Review
With over six million active learners, Korean is among the most popular courses on Duolingo. The lessons are divided into manageable chunks and designed to help users learn conversational skills and communicate with locals.
The course includes speech levels called "honorifics" that help you learn what level of politeness you should use in a particular situation. However, according to Duolingo reviews, lessons don't indicate what speech level should be used in each exercise, making it harder to understand them.
After completing the course, you'll know Hangul and be able to ask for directions, order your favorite food, and shop. It also helps you learn basic phrases, sentences, and verbs. In addition, there are special lessons on Korean pop culture and 2018's Pyeongchang Winter Olympics.
Duolingo Russian Review
Spoken by more than 285 million speakers, Russian is the fifth most-spoken language globally and the most-spoken Slavic language. Learning Russian is complex, especially in the early stages, as you'll need to master a whole new alphabet, cases, grammar categories, and animate and inanimate nouns. Duolingo is a great place to start learning Russian. As our Duolingo review shows, you'll be well on your way to mastering Russian by combining the app with daily practice and other resources.
Duolingo Spanish Review
Spanish is the third most spoken language worldwide and the most popular one on Duolingo besides English. By choosing the Spanish course, you'll be joining 28.5 million active learners. The version of Spanish in the app is closer to the dialect you hear in Latin America than the one used in Spain.
According to Duolingo Spanish reviews, the app teaches a good range of vocabulary, the most commonly used words and phrases, and simple grammar. Therefore, it's not the best choice if you want to learn more complex sentence constructions. Some users have also pointed out that the platform lacks deeper culture-based idioms and flirting phrases. Nevertheless, Duolingo is excellent for acquiring basic knowledge of Spanish and scratching beneath the surface.
Duolingo Japanese Review
The course introduces you to hiragana first. Then, as you progress through the lessons, you'll also learn katakana and kanji and acquire phrases used in everyday conversation. However, as Duolingo's learning is based on examples, there aren't explanations of grammar or new concepts.
Regardless of their native language, users who want to learn Japanese might be confused if they're complete beginners. Such a learning style won't work for everyone. For that reason, they might consider using Duolingo as a supplement to other resources.
Duolingo Chinese Review
With the Chinese course, you'll access lessons divided into categories like entertainment, food, payment, work, colors, family, numbers, and more. You can learn sentence structures, character recognition, and helpful vocabulary. On the flip side, the recordings are a little monotonous and unnatural, making it hard to master native speech.
If you're looking to start speaking Mandarin Chinese and pick up over 600 Chinese characters, Duolingo can be an excellent resource.
Duolingo for Kids
Duolingo offers separate apps for kids to explore and learn new languages. It is designed to help children learn in a fun and exciting way.
Duolingo ABC is an interactive app that helps kids aged 3–7 with reading and writing in English. It is currently available only for iOS and offers over 300 lessons that entice children to spell, trace their names, tap a specific word, and more.
Duolingo Kids is another Duo app created to assist children in learning foreign languages. It is a simplified version of the regular app that uses images rather than translation exercises. It also focuses on spelling and mainly prompts kids to choose the correct word to answer a question.
Ease of Use
Duolingo has a sleek design and user-friendly interface that allows for an interactive experience. The platform's UX is aligned with the app's gamification learning strategy. Duolingo's dashboard has a simple yet fun layout and details your learning progress. Likewise, the app's navigation is easy as it guides you through the content and learning structure.
Duolingo Cost
Duolingo allows full access to its lessons for free. The Duolingo Plus cost is $6.99 and includes additional perks like no ads, offline access, progress tracking, and unlimited mistakes. You can try it for free for 14 days before paying for the subscription. The benefits of the paid version aren't huge, but you can consider it if you find the ads intrusive.
Duolingo Refund
Duolingo doesn't offer in-app purchases. However, our Duolingo review shows that you can ask for a Duolingo Plus subscription refund. Keep in mind that you need to cancel the subscription first. After that, you'll need to follow the steps detailed on Duolingo's website, depending on your device. After completing the request, you might have to wait for up to four business days until you receive info on your refund.
Reviews of Duolingo Online
Duolingo's general feedback indicates that it's great for beginners and learners who want to expand their vocabulary. However, it lacks conversational practice with native speakers that some other language-learning platforms offer.
On G2, 92% of users have rated the app with four or five stars. On Amazon, 82% of raters have given Duolingo more than three stars, and only 10% have given it one or two-star ratings.
Users praise how easy it is to learn with Duolingo. They also appreciate that it incorporates pictures within its lessons. In addition, the grammar is reduced so that customers can learn the language as they level up their skills. Judging by reviews on Duolingo and our experience, the app allows you to learn languages without the pressure of the traditional educational system.
On the other hand, users who want to focus more on grammar are disappointed since the app's focal point is vocabulary. Additionally, the sound quality of the recorded material isn't the best, even though you can make sense of what the people are saying. Other Duolingo complaints are about the repetitiveness of the activities, which might get a bit frustrating once you learn the basics.
Duolingo Alternatives
Duolingo is an excellent tool that you can use for free. However, it doesn't focus too much on grammar and conversational practice. If this is important for your language learning, here are some alternatives.
Duolingo vs. Mango Languages
During our review of Duolingo, we have learned that its strongest point is the completely free lessons. Comparing it with Mango Languages, it's a better deal price-wise.
Mango offers over 70 languages, one of the industry's largest language bases. Through our Mango Languages review, we have learned that the app focuses more on conversational topics. It also offers many specialty courses and movies that can aid language learning.
Duolingo vs. Babbel
Babbel is one of the most popular language-learning platforms that offers 14 languages. The lessons aren't as engaging and fun as those on Duolingo apps, but they provide more comprehensive content. While the selection is limited, their methodology is based on examples from real-life conversations, which will take you closer to achieving fluency.
Duolingo vs. Mondly
Duolingo and Mondly offer a similar number of languages and free and paid plans. The latter also focuses on vocabulary more than on grammar. Our Mondly review shows that the app's lessons are interactive and concise. In addition, Mondly offers study material on correct accents and pronunciation, which is a huge plus.
Duolingo Review: Is It Worth It?
Duolingo is an excellent language-learning platform, especially if you have difficulty learning consistently. The app offers a fun and engaging way of studying where you can track your progress and earn badges. It also helps you acquire a learning habit and master the language basics through interesting content and simple exercises.
On the other hand, Duolingo reviews show there isn't much room for spontaneous learning; you need to follow a pre-established learning order and can't access a new lesson without completing the previous one. Also, it isn't the best choice if you're looking for an app that focuses more on conversational and grammatical skills. The exercises also become a little repetitive once you learn the basics.
Duolingo Frequently Asked Questions