Learning a language has never been easier thanks to the rise of online platforms that gave us plenty of educational services.
Today we'll talk about Italki. This Italki review will leave no stone unturned, so get ready to unravel this platform's potential and unique features that will solve your dilemma whether you should give it a go.
Pricing Plans
Commission Rate
15% fee
Free Trial Included
Charge anywhere between $1 to $80 per hour
3 Trial Lessons Allowed
(Usual Cost is $10 to $30 per hour)
Hopefully, these prices fit well into your plans, and if they do, let's take a look at what Italki is all about:
The founders are Kevin Chen and Yongyue Jiang, whose goal in 2007 was to create one big language exchange community. They wanted to allow teachers to help students online and earn money at the same time.
In addition to Duolingo or Rosetta Stone, Italki should be on your list. What sets it apart from other online schools is its part marketplace, part community approach that aims to connect learners with their teachers.
Features, Courses, and Materials
You can reap the most Italki benefits as a teacher. The most popular language to teach and learn is English. Of course, you can choose any other language, and you can become a teacher in your native language.
Italki is a platform that allows you to book classes directly from a tutor. There are literally thousands of independent teachers from all over the world.
As a teacher on Italki, you can use this platform to promote your classes, set the schedule, prices, and offer your specific teaching styles. Classes are often conducted via Skype, but you can use other apps (WeChat, FaceTime, Google Hangouts).
The hardest thing is getting started. You'll be required to apply and submit your credentials and go through an evaluation. So is it worth it? Let's find out!
Italki Teacher Reviews
If you want to become a teacher on Italki, you'll have to create a personal profile to apply for this position. The processing time usually takes a week. Your application can be rejected if you are not qualified, your profile lacks important information about your skills, or there are too many teachers applying for the same position.
There are two types of teaching positions you can apply for: Italki community tutor (for unqualified teachers), and Italki professional teacher (for qualified teachers).
As noted before, if you want to work on Italki as a teacher (regardless of your qualifications), you'll have to create a profile. Your profile will give the potential students a preview of what you're offering and your teaching experience.
Setting the profile picture is important as well; it should show your face clearly. Try to crack a smile to appear more friendly.
To become a tutor on Italki, aside from your profile info, you need to make a high-quality video. If you're not a good video editor, ask your friends to help you out. A video is worth a million words, so make it count.
Keep it short and sweet. A brief description of yourself and your work experience is mandatory. You can also explain how students can benefit from your lessons. Upload your certificates and diplomas to increase your chance of being selected.
When you finish the introductions, you should set your price. On Italki, every teacher sets a price. Unfortunately, this can lead to considerable differences in Italki cost per lesson.
Prices can vary depending on the demand for teachers and languages. Also, teachers from economically developed countries might charge more. Many teachers start with lower prices to attract more students, and then gradually increase them. This is not a bad strategy for beginners.
So what are your options?
Find out how much people from your country charge for lessons and calculate an average price. You can use discounts to attract potential students. Come up with your own success formula and give it a go.
When it comes to one-on-one classes, Italki suggests its Italki classroom. You can choose the length of your classes, from 30–45 minutes to 1–2 hours. Try not to overdo it. Keep your classes fun and challenging, and don't hesitate to give your students homework.
Italki Teacher Requirements
There are a couple of requirements that you need to meet if you want to teach on Italki:
You need to be a native or proficient (C2) language user.
You need to have a stable internet connection and regular access to the internet (this is important since you'll give your lessons online, communicate with your students, and accept requests).
You'll have to use VoIP software (Skype, Hangouts, Facetime, or QQ).
To be a teacher on Italki, you'll need to use an external microphone and webcam.
You'll have to create an Italki user profile. After creating your account, you'll be able to apply for a teaching account.
You need to fill out the teacher application.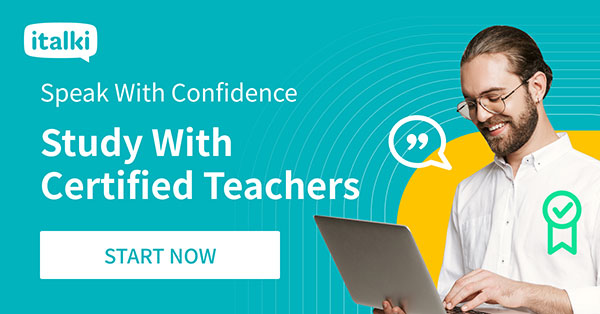 How to Fill out the Teacher Application?
Here are some tips for using Italki that can be helpful:
Choose a "display name" that suits you. When you enter the online application, you'll have to type in your first and last name. Furthermore, you'll need to type in your display name. It doesn't have to be your real name. It should be a name that you want your students to call you.
Don't add a nickname to your display name if you want your profile to be professional. E.g., acceptable display names are "Miss A," "Teacher Anna," or "Annie." Don't use display names like "teacher123," "Spanish Tutor," "teacherEnglishBest," etc.
Write an introduction to explain what you offer, and talk about your past experiences, previous Italki jobs, and teaching background.
Choose an appropriate profile picture. Your profile picture must show your face clearly. For a better picture, use a natural background, smile, and avoid selfies.
Make a short video introduction. This is not mandatory, but it can help you stand out from the crowd. Use the information from your written introduction and incorporate it into the video.
If you want to become a professional teacher on Italki, you need to provide all the documentation of your training.
In our Italki review we talked about the differences between community tutors and professional teachers, but can community tutors become professional teachers? Yes. If community tutors earn a teaching certification, they can apply for an upgrade to become professional teachers on Italki.
What's the Difference Between a Professional Lesson and Informal Tutoring?
If you're at the beginning of your linguistic journey, you should probably choose a professional teacher who conducts professional lessons. A professional teacher can help you with the basic understanding of the language you are trying to learn.
If you are an experienced learner and more interested in practice and casual use of the language, you should start with a community tutor.
Italki informal tutoring benefits:
As an informal tutor, you'll have the freedom to customize the content of your lessons.
Informal tutoring cost less than professional lessons.
As a tutor, you are not obliged to use textbooks.
Italki professional lessons benefits:
Professional teachers have more experience since they worked in schools, universities, or language institutes.
Professional teachers have university degrees in education.
And also important, professional teachers are certified.
If you can't afford private lessons and want to talk with a native who will listen and correct your mistakes (and vice versa), you should use the option called Italki language partners.
The easiest way to start a study session with your language partner is to prepare a specific topic and a list of questions.
Each partner should have enough time to talk, review the list, and ask or answer questions. This will give you the chance to correct each other's mistakes.
Learn How to Use Italki Strategically
How to Choose a Teacher?
Tutors' profiles are detailed for a reason. Read them thoroughly and watch the introduction videos. If you're starting from scratch, choose someone with experience. If you're preparing for a trip, choose an informal tutor. There's an ideal teacher for everyone, but finding that person requires a little bit of digging and patience.
Try Different Teachers
The importance of having different teachers is emphasized in some Italki reviews because each one has a unique teaching method.
Try both professional teachers and informal tutors, and take advantage of the free trial sessions before you make your final decision.
Create a Long-Term Plan
Once you find a teacher or a tutor, create a long-term plan, and stick to it. How often will you have lessons? Once a week, every three days, every day? Keep in mind that some teachers don't work on weekends.
Ease of Use
Italki uses a virtual classroom that can be used to accept or reject lessons, customize the price and date, etc. Another useful tool is screen sharing. In short, you can share your screen with the tutor, and address the problem. If you choose to use Skype or some other app for your lectures, the Italki classroom will automatically connect you.
Italki Alternatives
Duolingo
Duolingo is an American language-learning platform, with over 300 million users, a language-learning website, and a mobile app. Designed like a game, it uses the freemium model (the app and the website are accessible without charge). More than 2,000 universities accept Duolingo's English Test.
Rosetta Stone
Rosetta Stone was founded in 1992. This platform is excellent for beginners, and it has a ton of additional content for advanced learners. You can learn to write, read, and speak more than 30 languages on Rosetta Stone, including several endangered languages.
Busuu
Busuu is an online education platform created for educators and businesses. This app combines vocabulary, grammar, and conversational skills training. It connects users directly with native speakers, and you can choose from 12 languages.
Memrise
We'll finish our Italki review with Memrise, a web and mobile app that helps you memorize characters, vocabulary, and phrases. The platform works like a gamified flashcard app. Mainly users create the content, and there are currently 21 languages available.
The quality of classes created by Memrise users varies dramatically. For some languages, you can find useful collections of slang expressions, business lingo, or specific grammar points, while this is not the case with less popular languages.
Plans and Pricing
Italki Commission Rate
Creating a profile and applying to become a teacher on Italki is free. However, Italki charges a 15% fee on a transaction between a teacher and a student but only after the lesson is confirmed.
Unlike some popular online teaching companies that use hourly rates, Italki lets you charge from $4 to $80 an hour for your lessons. Most teachers start with a low trial rate of $1–$5.
Teachers may also give three trial lessons to their students to help them decide if they are a good choice. The lessons usually cost between $10 and $30 per hour. English teachers charge $25–$33 per hour.
However, this education platform uses one interesting feature to pay its teachers in the form of the Italki credits system. In short, you buy credits from Italki, and then this platform pays the teacher when the lesson finishes. Credits are displayed in USD, and you can purchase them with your credit card (Visa, Mastercard), or you can use PayPal.
To purchase these credits, you'll need to select "My Wallet" that can be accessed from the navigation bar. You can use your credits when you make a purchase through the website, whether for taking a lesson, an online exam, or joining a language challenge.
You can purchase credits by pressing the "Buy Credits" button.
The minimum amount you can buy is $10 credits.
In addition to the credits system, there is an Italki referral system. What does it do? It's simple—if you refer a friend, you will receive $10 when the first lesson is booked (in the form of Italki credits). To get an automatic $10 discount on your lesson, you need a referral by another user who will also get a referral credit.
Another way to make money, except by becoming a teacher, is with the Italki affiliate program. You can refer new students to the platform and earn $10 per student if they make a purchase.
One of the many assets of this platform is the gift card that comes in the form of Italki credits. It can be sent directly to the person you want to give this card, delivered on a specific day to their home address, or be printed out. You can buy the Italki gift card for 200 Italki credits ($20), 500 Italki credits ($50), or 2,000 Italki credits ($200).
This is a good option since it allows you to choose between buying someone an hour or two of lessons or getting them the entire package.
How italki can help boost your career?
Refund Policy
When you buy Italki Credits to pay for classes, you can't return them. However, when you work with a teacher and don't like the courses, you can ask them to put your credits back to your virtual student wallet. These unused credits will always be available, but if you don't want them to disappear, you'll have to log in to your account every 12 months.
Online Ratings
Most of the Italki employee reviews are positive, even though there are some downsides to this platform. According to Trustpilot, the platform has a 4.8 score, based on 3,759 user reviews. 85% of them gave Italki 5 stars, and are generally satisfied with the service.
They like the fact that as a student and a teacher, you get to know different cultures and uses of their native language.
Italki is a big platform that offers more than 130 languages and uses services provided by more than 10,000 teachers from 120 countries.
Italki Pros and Cons
Pros:
You can use this teaching platform as a student or a teacher.
Italki is a great place to find professional teachers, informal tutors, or language partners to help you learn the desired language.
As a teacher, you can set your own prices.
You can try different teachers using free trial before making the final decision.
You can choose a tutor from any country.
Cons:
Not all teachers on Italki are certified.
The quantity of teachers on this platform makes it hard to find the right one.
Teachers have to be booked 24 hours in advance.
As a teacher on Italki, you're not entitled to paid holidays.
Final Verdict
Let's summarize this Italki review. All things considered, Italki is one of the most useful platforms for students and teachers. If you invest enough time in building your online profile as a professional teacher or informal tutor, Italki can be worthwhile.
Thousands of independent teachers from all over the world use this platform because it's, more or less, affordable, and very flexible. If you get over the cons mentioned above and learn how to use this platform to your advantage, Italki can be a useful tool for boosting your career as a teacher.
Frequently Asked Questions (FAQ)