Small business statistics reveal that most businesses fail during the first four years. However, small enterprises can survive if their owners are diligent and have the right knowledge.
The business world seems harsh, especially for startups. In the beginning, it's all ambition and hope, but along the line, most of these entrepreneurs are discouraged as they can't keep up with the competition.
As an entrepreneur, getting to know the latest business trends is essential. Not only will you be capable of getting through critical stages, but you'll also make the right decisions on future development.
Top Small Business Trends, Facts, and Stats (Editor's Choice)
41.3% of US small businesses were temporarily closed due to the coronavirus pandemic
Small businesses create 1.5 million jobs annually
70% of small enterprises close after ten years in business
22% of small enterprises claim the labor quality is the most challenging problem
Entrepreneurs require approximately $15,000 to start a business
The average salary of a small business owner is $69,357
89% of small enterprise owners work during weekends
36% of minority-owned businesses are optimistic about their economic recovery after the pandemic
Global Small Business Statistics — General Information
The coronavirus pandemic's impact could be seen worldwide, and not just in the US. Unfortunately, many small businesses haven't been able to cope with those unexpected and sudden challenges.
Take a look at the latest statistics on small businesses both in the US and worldwide and how they affect the economy.
1. Over 80% of small businesses in the US are nonemployers.
(JPMorganChase) (SBA)
Nonemployers are companies with no paid employees. A vast majority of small businesses operate this way. According to various small business statistics, 25.7 million, or 81% of enterprises, don't have employees.
2. More than half of small European enterprises might not be in business in the next 12 months.
(McKinsey)
As the survey results show, small business owners from five European countries (Italy, the UK, France, Germany, and Spain) have suffered due to the coronavirus outbreak.
Many of them are afraid that they won't be able to stay in business, and even 20% of them said that they'd taken advantage of some forms of governmental aid.
3. 35% of annual survey respondents claim that cyber incidents have posed a risk for small businesses in 2020.
(Statista)
Small business stats point out that IT outrage, data breaches, and cybercrime are among the leading risks for small enterprises. The biggest challenge is related to cyber incidents, and their rates are steadily increasing.
Some other challenges are legislation and regulation changes, business interruption, climate changes, new technologies, and similar.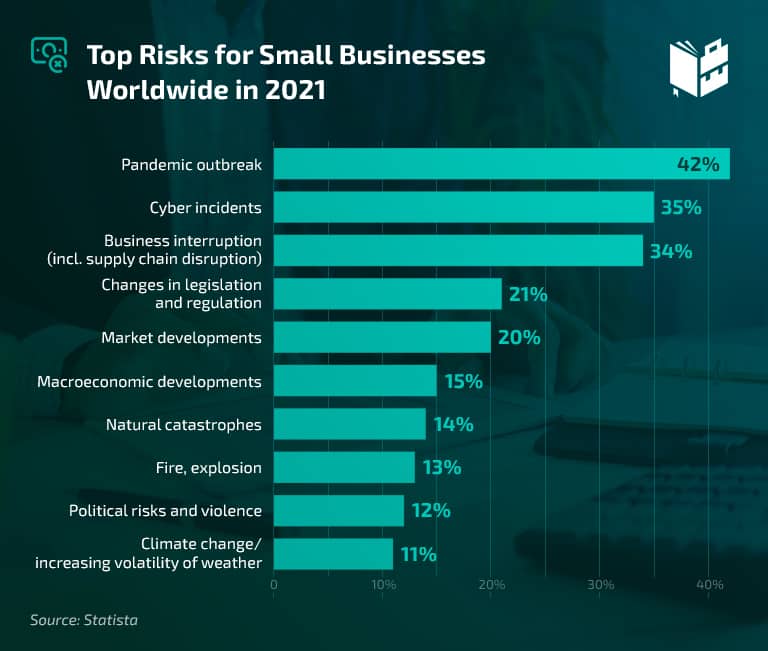 4. Approximately 23.5% of Japan's small-to-medium-sized companies reported from 11% to 20% decline in monthly sales this September.
(Statista)
Small business statistics regarding covid and its impact point out that 80.2% of small enterprise owners experienced a revenue decrease in September 2020. Also, 80.2% of small-to-medium Japanese companies recorded a revenue decline in September.
5. At the beginning of 2020, there were 5.94 million small businesses in the UK.
(FSB)
Those businesses employed between 0 and 49 workers. Moreover, the total employment for small enterprises was 16.8 million. The same statistics showed that the private sector business population was 1.9% higher than last year.
6. 41.3% of US small businesses were temporarily closed due to the coronavirus pandemic.
(PNAS)
Small business statistics about the impact of COVID-19 reveal that more than 40% of small enterprises had to close temporarily, while 1.8% of businesses closed permanently. The percentage of small enterprises that were operating was 55.5%.
7. The business indicator of small enterprises in Sweden was 51 for the construction industry.
(Statista)
Business indicators can be fundamental or technical and may cause a company's stock price to rise or fall. Statistics on Swedish small businesses show that, as of 2020, the business indicator was 45 for the manufacturing and 47 for the trading industry.
8. There are 31.7 million small enterprises in the US.
(SBA) (Small Biz Trends)
One of the surprising small business facts is that 59,915 employees work in small enterprises. However, only 6 million, or 19% of them have paid employees. Also, the state with the highest number of small businesses is California, with 4,203,260 enterprises.
9. Small businesses create 1.5 million jobs per year.
(Fundera)
According to job statistics, small businesses bring about a majority of job positions and account for 64% of new US jobs. However, the great depression still influences employees' confidence, and they mostly strive to get hired in larger companies because they feel safer there.
10. The percentage of small businesses in America is 99.9%.
(Small Biz Trends)
It's important to point out that every state has more than 98% small firms. The state with the lowest percentage of small enterprises is the District of Columbia, with 98.2% small businesses.
11. Small and medium businesses account for up to 70% of global employment.
(Finances Online)
Statistics show that the majority of enterprises worldwide are small. It's no wonder that they generate most job positions and are the base of the world economy. They also comprise more than half of the developed countries' GDP.
Small Business Growth Statistics — Success and Failure Rates
Accelerating small business depends on many factors, including effective leadership, customer-based marketing, winning capabilities, adaptability, and resilience. Such enterprises need to improve and constantly build a good company culture.
Here you can find statistics on small enterprises' growth and see what influences their success and failure rates.
12. Only 49% of small business owners have an elaborated growth plan.
(Elizbod)
The majority of small business owners are optimistic about their business. But just 49% have a clearly stated development plan. According to the small business data based on a survey, only one-third of the business owners with a growth plan have shared it with their external partners.
13. Businesses with one founder are more likely to succeed.
(Inc)
Having a partner who puts in as much hard work as you do and someone you collaborate with can help the business at critical stages.
However, although revenues are higher when a team owns a company, one person costs less than two. Therefore, the small business success rate gets higher. Also, two or more owners are less likely to take chances than one person who acts independently.
14. 70% of small enterprise owners fail after ten years in business.
(Fundera)
According to our entrepreneur statistics, around 20% of small enterprises fail during their first year. Business failure reasons include the lack of market need for a product or service, running out of money, inefficient teams, cost issues, and others. The small business failure rate is high, but it shouldn't discourage entrepreneurs.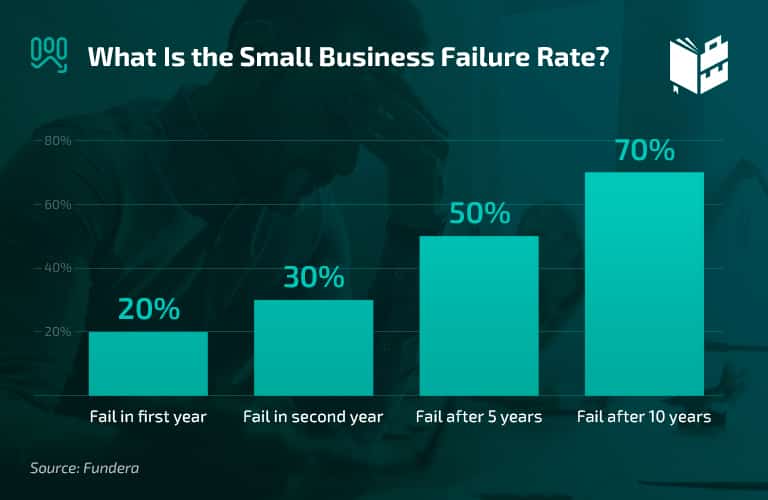 15. 22% of small businesses report the labor quality is the most challenging problem.
(Statista)
Statista surveyed 1,719 small business owners and members this October. The results indicate that labor quality is the most critical problem for small enterprise owners. Some other issues small businesses must handle are taxes, government regulations, low sales, and competition.
16. 85% of small businesses in the healthcare industry survive their first year in business.
(Fundera)
The small business survival rate is the highest in the social assistance and healthcare industries. Statistics point out that around 85% of small businesses in the healthcare industry survive the first year, 75% survive the second, and 60% make it through their fifth year.
17. A small firm's size doubles after five years with an annual growth rate of 15%.
(Synnovatia, Podium)
A growth rate of 15% is considered the first stage. The next stage is a growth of up to 25%, but results like this require hard work. Small businesses that grow 2-3% per annum are considered healthy.
A small business growth rate can even reach 100% annually. However, this can lead to problems with keeping up with the supporting infrastructure.
18. 35% of small businesses in the construction industry survive their fifth year in business.
(Fundera)
Unfortunately, small enterprises in the construction or transportation and warehousing industry have the lowest survival rates.
Around 65% of the construction industry firms make it through their second year, and 40% of businesses in the transportation and warehousing industry survive their fifth year in business.
Stats on Small Businesses — Revenue, Income, and Expenses
Finances are probably an essential factor in small businesses, especially startup enterprises. Enterprise owners need to handle taxes and loans, make smart investments, and continuously improve their products or services to gain profit.
Find out more information about small business revenues, expenses, sales, and salaries from the following statistics.
19. 43% of businesses that were operating full time had annual sales of under $50,000.
(Business Know How)
Research shows that the small business annual revenue was higher before the coronavirus pandemic. For instance, in 2018, 37% of companies' annual revenues amounted to less than 50,000.
According to the same survey, 27% of bigger small enterprises estimate that their sales for this year will be more than 200,000, while 32% stated the same in 2018.
20. Entrepreneurs need approximately $15,000 to start a business.
(Finances Online)
The capital needed for starting a business depends on the firm size. Starting a micro company requires a $3,000 investment.
The small business tax rate is estimated at 19% and should also be taken into consideration. It's also possible to start a home-based franchise, and it would cost between $2,000 and $5,000.
21. Only 11% of surveyed small enterprise owners think their sales will increase within the next three months.
(Statista)
The statistics about optimism outlook reveal that small businesses aren't very optimistic this year. Out of 1,719 respondents, only 11% of them believe their sales will increase over the next three months.
22. The small business loan rates range between 2% and more than 100%.
(NAV)
Loan rates for small businesses mostly depend on the loan type. For example, traditional banks' annual loan interest rates are 2% to 13%, and 7.75% to 10.25% in SBA. The highest interest rate is for a merchant cash advance loan and can range between 20% to 250%.
23. 70% of small businesses are in some kind of unpaid debt.
(Fundera)
Many small businesses take loans to accelerate sales because only 49% of them have their financing needs satisfied. According to small business debt statistics, 21% of them have between $25,000 and $100,000 in debt, while 17% have $1 to $25,000 in debt.
24. The average small business owner salary is $69,357.
(PayScale)
The lowest possible median salary of a small business owner is $30,000, while $135,000 is the highest median salary. The bonuses are estimated at $9,000, commissions at $20,000, and profit-sharing at $39,663.
25. The insurance policy for small businesses ranges from $46 to $85 per month.
(Progressive Commercial)
Small business insurance rates depend on the insurance policy, profession, number of employees, and coverage needs. For instance, the more employees a business owner has, the higher insurance they need to pay.
26. Small business revenues decreased by 52% due to the coronavirus pandemic.
(Forbes)
Apart from revenues, small enterprise payroll expenses also decreased by 54% in the second quarter of 2020. Companies that didn't close experienced a 13% decrease in revenues.
Many small businesses received funding via PPP (Paycheck Protection Program) to survive the pandemic.
Small Business Trends and Other Interesting Statistics
Almost every year, there are new trends that change the way industries work. As a smart entrepreneur, you can use these trends to launch your new business and achieve the success you desire.
Look at the data about the latest trends in small businesses, demographics, enterprise owners, and the like.
28. Women owned 9.9 million small businesses in 2012.
(SBA)
Even though there's still a gender gap when ownership of small businesses is in question, small business owner demographics show that almost ten million small firm owners were female in 2012. However, the number of male owners was still significantly higher (14.8 million owners were male).
29. 89% of small business owners work weekends.
(Fundera)
Small business owners have more flexibility, but they are prone to working overtime. Furthermore, 81% of them work at night.
They bear two significant responsibilities — their customers and their employees. Although they work exceptionally hard, their hard work doesn't always lead to higher salaries.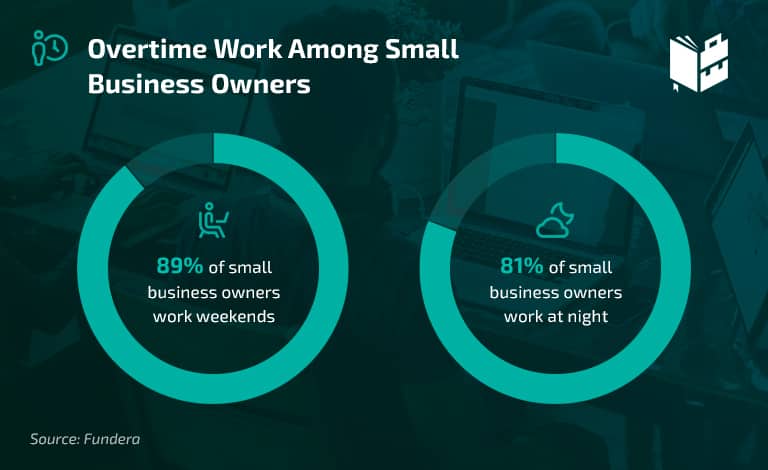 30. 90% of customers think Small Business Saturday makes a positive impact.
(LOCALiQ)
Small Business Saturday statistics reveal that over 100 million customers participated in Small Business Saturday last year, spending $17.8 billion on shopping and dining. Small Business Saturday is an excellent way of supporting small enterprises.
31. 36% of minority business owners are optimistic about their economic recovery after the pandemic.
(McKinsey)
Only 26% of all respondents are optimistic or very optimistic about economic recovery, compared to 36% of minority-owned enterprises. Furthermore, they also tend to be more pessimistic than small businesses owned by minorities.
32. 29% of small businesses plan to start using a website for the first time.
(Visual Objects)
US small businesses' statistics regarding marketing reveal that their websites are the largest area of improvement, while 21% plan to improve their digital marketing. Also, 60% of them want to use their website more this year.
33. 71% of companies don't plan to use any channels less than in previous years.
(Visual Objects)
One of the biggest trends in 2020 is increasing social media usage. Moreover, 7% of businesses plan to use VR or AR technologies more, while 8% plan to use them less.
Small Business Statistics — Conclusion
Starting your own business requires investing a lot of time and energy and keeping up with the latest trends and facts. Enterprise owners must be ready for any challenge, even menaces such as a global pandemic.
Taking note of this data is essential for anyone who wants to dive into the world of entrepreneurship.
The failure rates are not there to discourage you. Instead, they are vital information that will help you make the right decision and avoid possible mistakes.
Frequently Asked Questions (FAQ)