According to popular research and entrepreneur statistics, more than 50% of businesses that failed do so because they lack funds. Many of these stories have helped others, especially people who are just starting their entrepreneurial careers. But it is important to get a clear understanding of what it truly entails.
This article provides a good number of fascinating statistics to help you gain special insights into what goes on in the world of entrepreneurs. But first, we will need to take a brief look at some of the most vital stats that everyone should know.
Vital Statistics About Entrepreneurship
General Entrepreneur Statistics
1. 33% of small businesses get started with less than $5,000.
(Kabbage)
Unlike large-scale businesses, small businesses obviously do not start big. According to one study involving 600 small businesses, it is estimated a third of small startups are launched with less than $5,000.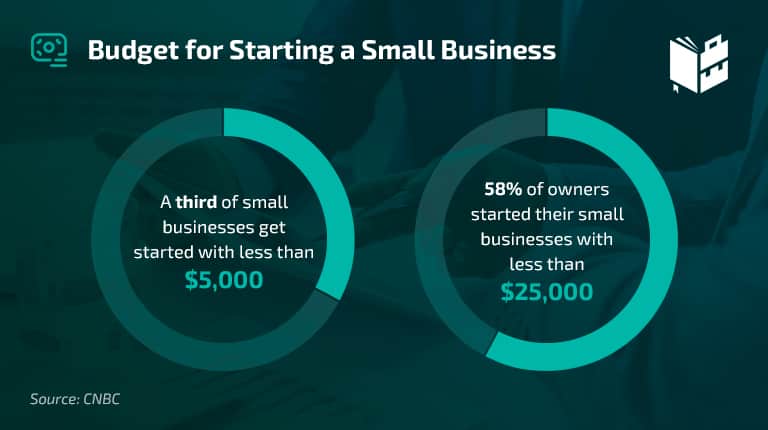 2. 61% of small business owners rely on personal funds to handle financial problems.
(Federal Reserve Banks)
Obtaining funds for running a business can be very challenging, and small businesses are particularly vulnerable to this kind of problem. The most recent entrepreneurship statistics show that more than a half of small business owners are usually left with the option of using personal funds to handle financial issues.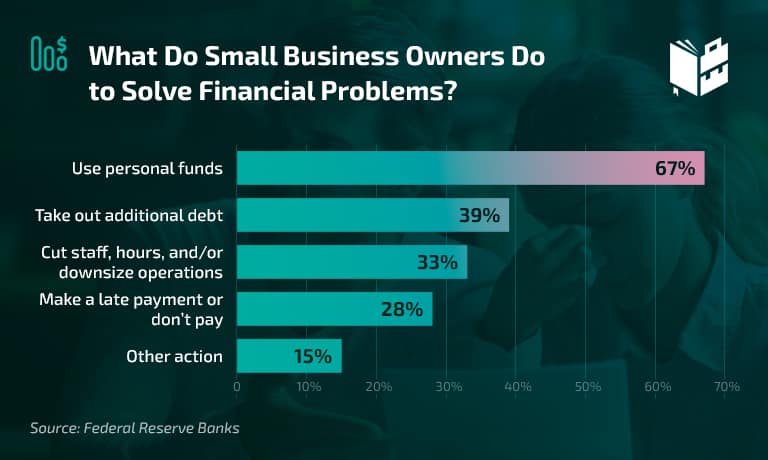 3. 44% of entrepreneurs have a college degree.
(CNBC)
Slightly less than half of the entrepreneurs had a degree before venturing into running a business of their own. In fact, about 26% of them attained a bachelor's degree, while 18% acquired a postgraduate degree.
US Entrepreneurship Facts and Stats
4. There were 32.5 million small businesses in the US last year.
(SBA)
The United States is known to have many entrepreneurs who handle one or more businesses across the nation. There were 32.5 million small businesses in the US in 2021, employing approximately 61.2 million US employees or 46.8% of the US workforce.
5. 63% of US entrepreneurs are older than 40.
(Statista)
Many say "age is just a number." That means most activities and actions are not affected by it. The same thing goes with entrepreneurship, as according to the latest entrepreneurship stats, most US entrepreneurs are 40 or older, while 30% of them belong to the 30–40 age group.
6. The average startup founder salary in the US is estimated at $76,510.
(ZipRecruiter)
Of course, there are lots of monetary gains to be had from a successful business. As of August 2022, the average founder annual salary is estimated to be $76,510, or $37 per hour. While some salaries go as low as $23,500, others reach around $166,500, but most of them fall within the $51,000–94,500 range.
Worldwide Entrepreneurship Statistics
7. There are over 582 million entrepreneurs in the world.
(GEM)
There are entrepreneurs all across the world. Each country of the world has its own set of entrepreneurs, albeit some more than others. Statistics from an expert study show that there are over 582 million entrepreneurs globally.
8. 82% of business failures are due to poor cash management.
(Forbes)
Business failures have become rampant in the world. That is usually due to the poor management of finance. Recent entrepreneurial statistics show that about 82% of business failures are due to poor cash management.
9. 50% of entrepreneurships are home-based.
(SBA)
A good number of people across the world have home-based businesses. And according to research, a half of entrepreneurs ventured into being one after experiencing such significant events.
10. 77.47% of small startup owners are men.
(Guidant Financial)
Male entrepreneurs are known to outnumber female entrepreneurs significantly. There are many facts about this, all of which show men as the leading number. According to small business statistics, men account for 77.5% of startup owners, while women make up 23.4%.
11. Less than 1% of entrepreneurs came from extremely rich or poor backgrounds.
(UniTel Voice)
It is usually a topic of debate whether or not most successful entrepreneurs come from wealthy families. However, research has proven that less than 1% of entrepreneurs came from extremely rich or poor backgrounds.
Entrepreneur Stats About New Businesses
12. There were 5.4 million new business applications in the US in 2021.
(U.S. Census Bureau)
A huge number of businesses are launched every year across the world. The United States Census Bureau research reveals that the number of new business applications last year reached a record of 5.4 million. In 2019, this number stood at 3.5 million, rising to 4.4 million in 2020, indicating an average increase of one million applications each year.
13. 70% of adults believe entrepreneurship is a promising career.
(GEM)
Many adults understand the ins and outs of business management and know what offers good pay. Statistics about entrepreneurship show that about 70% of adults believe entrepreneurship is a good career choice.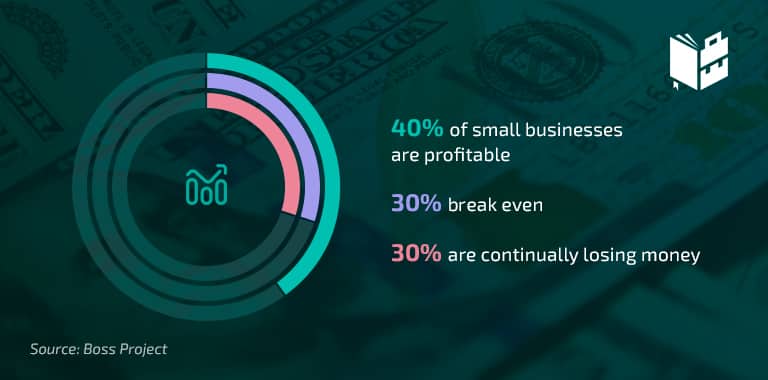 14. 69.4% of small businesses make it to the second year.
(LendingTree)
According to LendingTree's analysis of BLS data, almost 70% of small businesses make it through to the second year. Unfortunately, around 49.7% of small businesses fail within five years, while only 34.5% reach the 10-year milestone.
Fun Statistics About Entrepreneurs
15. Only 8% of entrepreneurs say the desire to make money is a major motivation.
(Business News Daily)
Many people say money is one of the best forms of motivation. It may come as a surprise that only about a quarter of entrepreneurs share that opinion. As our top fun fact about entrepreneurs indicates, 8% of them claim that the desire to make money is a main incentive.
16. A business having two founders has 30% increased odds of making more money.
(Small Business Trends)
Having two founders is one of the many reasons for their success. According to top reports concerning entrepreneur statistics, businesses having two founders have increased odds of making more money.
17. 70% of small businesses are turning toward new digital tools.
(Bank of America)
Modern entrepreneurs are embracing digital technology at rapid rates to keep up with the changing tides. A recent report shows that 52% of entrepreneurs are relying on mobile and online business banking more than before.
Additionally, 43% of small businesses are turning to new cashless payment methods, while 34% are increasing their presence on social networks. 44% of small business owners also say they will prioritize digital sales in the next 10 years.
18. According to new business statistics, men are more likely to receive financing to start a business than women.
(PR Newswire)
Although many people picture men as workaholics, statistics indicate that women are more likely to start a business independently. However, a study led by the SBA has shown that male entrepreneurs have a higher chance of receiving funding, as 34% of them acquired loans in the past year, as opposed to 31% of females.
19. Each entrepreneur starts two businesses on average.
(UniTel Voice)
Statistics on small businesses point out that, aside from making more money, entrepreneurs are looking for various means of investing their skills, funds, and resources. Because of this, a good number of entrepreneurs decide to start another business after becoming successful with one. And from top facts, the average number of businesses they start is two.
20. Owners of small startups report that managing their business is four times more stressful than raising children.
(Bank of America)
Many adults who have kids admit to the fact that raising them takes dedication and commitment. However, startup statistics show many of these adults who are small startup owners also claim that running their business is a lot more stressful than raising kids.
21. 44% of entrepreneurs have two or more children.
(Suitcase Entrepreneur)
Many entrepreneurs have a family. According to Natalie Sisson's "The Suitcase Entrepreneurs" online post, entrepreneur data shows that about 44% of entrepreneurs have at least two children.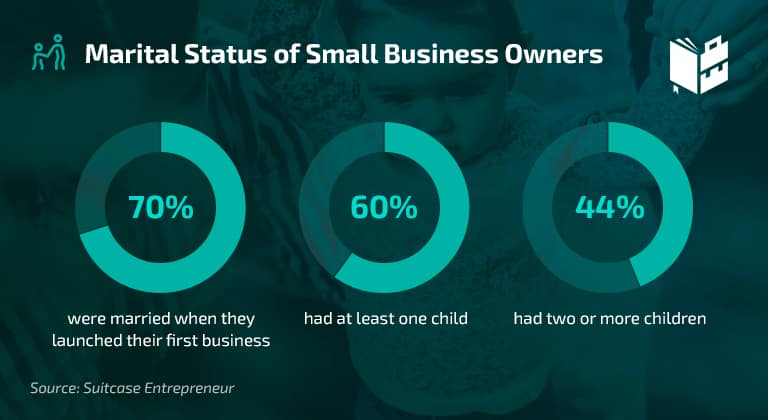 22. 16.5% of self-employed professionals work in the construction field.
(Federal Reserve Bank of St. Louis)
Being an entrepreneur does not necessarily involve a person working in the same business as others. With many industries out there, you are more likely to find entrepreneurs who specialize in running different business types.
According to top statistics, around 16.5% of self-employed professionals work in the construction field, while the individuals working in the professional, scientific, and technical sector made up 13.5% of self-employed people.
Entrepreneur Statistics — Conclusion
Entrepreneurship is common everywhere in the world. Surprisingly, many of the most entrepreneurial countries, like Brazil, are still developing. That is due to the higher number of opportunities to start a venture. Hence, these countries have more entrepreneurs than most other nations.
These top facts and figures will help you understand how people view entrepreneurship. If you intend to become one yourself, these stats are sure to give you better insight into what to expect. Being an entrepreneur is a tough job, but anyone can succeed if they truly understand the process.
Frequently Asked Questions (FAQ)