There is no doubt that investing in real estate is a great option. By investing in real estate, you can ensure a stable income for yourself for the long term, and most probably, it will rise over time. It would be best to learn more about real estate statistics to build logical expectations of the profit generated from real estate investment. If you wish to make your wealth, include real estate investment in your plan!
However, it would be best if you were prepared. By prepared, I mean you need to gather information about real estate investment, especially real estate statistics. In addition, you need to know some real estate facts, such as the sequence of events that have passed over real estate prices in the past years the mortgage and appreciation rates.
As a first-time homebuyer, you might be confused and unable to make the right decision. You may need some guidance, and this is why we are here!
In this blog, we'll introduce you to significant real estate facts. So check out all you need to know about real estate!
Commercial Real Estate Trends
Innovation can be hindered as legacy technology systems continue to dominate over most U.S.-based firms.
Most commercial real estate firms aim to maximize value by reconstructing their properties and dedicating them to alternate uses, causing a change in the workspace statistics.
Companies intend to focus on proptechs investment to make use of real-estate-as-a-service (REaaS)
The talent landscape is being reshaped by the rising demand for technical skills, flexible employment arrangements, and long-term, return-to-work policies. It is an emerging real estate trend!
Commercial real estate companies are beginning to focus on climate change risks.
U.S. Housing Statistics
Real estate stats indicated that about 650,000 properties were sold yearly from 1963 to 2019.
Trading Economics reported that in 2005, there were 1.3 million properties sold.
U.S. housing statistics show that Latino whites dominate the homeownership charts.
Real estate stats affirm that 64.2 percent of Latino whites in the United States own property, while African Americans have the lowest percentage, with only 41.1% of them who own their houses.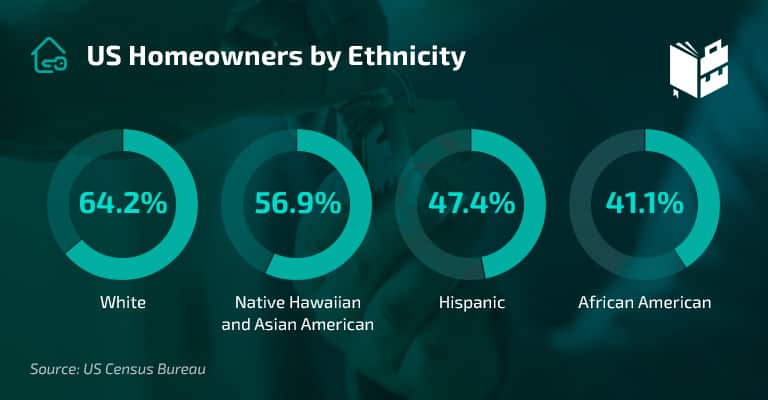 Housing market stats showed that the size of a house increased by 73 percent.
(MSCI)
As a result, there has been a rise in the price of housing units, making U.S. citizens struggle to pay the mortgage. In addition, it has undeniably increased power consumption.
Real Estate Facts and Stats
The number of properties increased by 13.6 percent from 2000 till 2010, according to the housing market stats
(University of Michigan )
As a result, the number of new properties soared due to the vast investments in real estate. Therefore, it is affirmed that the number of Millenials investing in real estate increases day by day.
In 2018, real estate stats indicated 138.5 million available housing units.
According to the U.S. Census Bureau, there are 330,6 million U.S. citizens. This means that 2.3 people are living in the same house.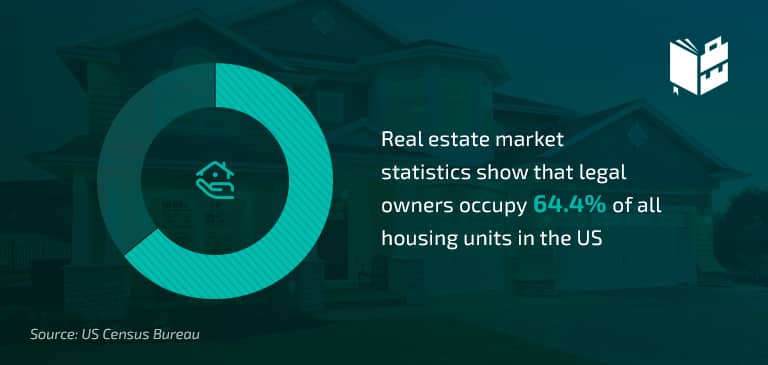 Real estate market statistics reported that legal owners occupy 64.4 % of the housing units. 
This indicates that nearly 36% of the properties are empty, rented, or occupied by friends and relatives.
According to real estate market research, about 2.4 percent of the residential apartments in the United States were available for rent in 2021
(U.S. Census Bureau )
This data percentage can be inaccurate because it is the number of people who reported that their properties are available for rent. Consequently, the number of residential properties available for rent can be much higher.
According to NAR statistics, the vacancy rates of commercial real estate had decreased from 2010 to 2018.
(National Association of Realtors)
National Economy is thriving because of the high demand for business spaces. Though there are still vacancies, the increase in demand resulted in a rise in rental rates.
Home flipping statistics indicate that house flipping is increasing while the number of flips is dropping.
Transactions of home flipping are approximately 6.7 percent of all property sales in 2020, which is slightly less than 2019's. However, despite the inactivity caused by the pandemic, home flipping makes an average profit of $67,902, which is considerably high.
Real Estate Market Trends
Mortgage rates will increase, according to the real estate market forecast
In 2020, we already witnessed an unbelievable crash in mortgage rates. Bankrate's national survey of lenders reported a 30-year loan standard rate decreased to 2.93 percent by January 2021. As a result, people predict that the mortgage rate will spiral upwards in 2022.
The decrease in the mortgage rate has indeed stirred a housing craze in 2020 and 2021. Some would say that it was the influence of the real estate boom.
However, real estate stats are rising!
"Prices are incredibly resilient to rising mortgage rates," says Odeta Kushi, deputy chief economist at title insurer First American.
The Mortgage Bankers Association estimates that the 30-year loan rate will reach 4% in 2022.
You might be wondering how it will affect home prices and sales. Well! That is still unknown. However, history can give us a sneak peek of what to expect. As in 1980, mortgage rates increased by 18%, and in 1990 rates surged to 9%. In both cases, Americans kept snatching up homes.
Average Home Appreciation Rates
Home prices appear to be settling down!
Median home prices reached up to $280,700 in March 2020. An increase of 29% by the start of the pandemic, as prices reached up to $362,800 in June 2021. Since then, the home prices have ranged from $350,000.
National Association of Realtors Chief Economist Lawrence Yun claims that home sales will cool down after the intense run-up in 2020 and 2021. As a result, he estimates real estate appreciation rates will be 2.8% in 2022, compared to 14.7% in 2021.
The declaration is advantageous in so many ways. First, such a slowdown will prevent the dreadful possibility of property values outrunning pay raises. As a result, clients will not have to deal with bidding wars. Most people welcome a calm market with open hands. However, few people predict that pieces will fall.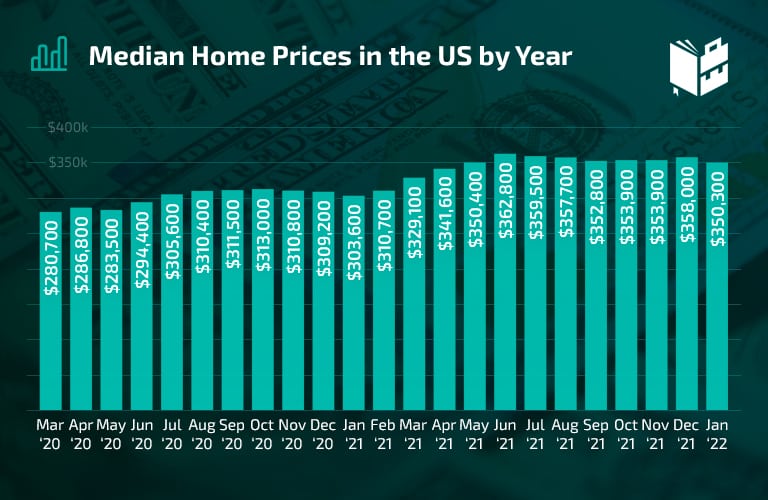 Housing affordability remains a challenge, according to NAR statistics.
A housing shortage was expected after the Americans' paycheck was secured. As a result, the coronavirus has landed a knockout blow to housing affordability. But in a countercurrent that has to lead to the softening of the clients' budgets, driving mortgage rates meager.
According to NAR statistics, the average prices of the sold homes soared to $355,000 in 2021, dropping to $320,000 in 2020.
The rise in prices has made homes affordability quite hard on Americans. Only 55,6% of the home inventories were sold during the third quarter of 2020. It was only affordable to those who earned a high income. Affordability in California is rather critical, as it has been indicated that home prices shoot up far from the pay raises.
The real estate market forecast indicates that offers in iBuyers will be affordable.
iBuyers were quite aggressive during the pandemic in Sun Belt markets. As a result, Offerpad, Opendoor, and Zillow Offers pay iBuyers above the market price in 2021.
In early November, Zillow divulged that it had paid too much over properties through the rapid rise of the home values.
iBuyer stands for an instant buyer. It is a real estate company that buys properties from those who sell them online.
A steady supply chain results in more home sale listings.
"People did not want to list during COVID. If those people feel comfortable selling, we could see an increase in inventory because of that," said Alex Cruz, Vice President of the LGBTQ+ Real Estate Alliance.
Housing market analysis proved that the pandemic is one of the main reasons the housing market was highly competitive, as builders struggled to obtain materials when supply chains slowed all over the world.
All newly built properties took time to come on the market, as homeowners were hesitant to put their houses in the market during the lockdown. However, homeowners will be at ease if circumstances get better as they list their properties. As a result, property inventories will increase in 2022!
Is real estate growing or declining?
Real estate prices continue to rise. 2021 saw the highest annual rise for fifteen years. Prices soared to 10.4 percent from December 2020 to December 2021 nationwide.
However, even though real estate market predictions indicate that it is still growing, we should consider several factors that could lead to the dropping of real estate prices:
1- Mortgage rates are increasing as interest rates surge.
2- The economic bubble of the pandemic is not over yet.
3- We have not yet witnessed the full impact of Omicron and its effects.
4- The rise of inflation is a crisis that continues to make the prices of goods and services increase year after year.
What are the three most essential things in real estate?
Real Estate Leverage
It can not be mentioned that real estate investment has excellent leverage. Leverage means using financial instruments to increase the return of an investment. For example, as soon as you pay at least 20% of your mortgage, you get complete control over your new investment, and that is considerable economic leverage.
Competitive Returns
The returns of real estate vary. It depends on factors such as management, asset class, and location. However, most investors aim to go beyond the average real estate returns on investment, the S&P 500. In the last decade, annual return reaches up to 11%.
Appreciation
Most real estate investors generate income through rental, profits generated by the property-dependent business, as well as appreciation. As you may already know, home value constantly increases. Consequently, with a suitable investment, you can generate profits. Additionally, as a real estate investor, your cash flow will increase over time as properties increase.
Fun Facts About Real Estate
NAR statistics prove that a person moves out 13 times in your lifetime.
It is most likely that a person would move 13 times in his lifetime. At this point, you will probably need a real estate agent to help you out.
One of the most interesting facts about the real estate industry is that home value increases day by day. Even though the housing market has gone through several bubbles over the years, it has always recovered. During such market bubbles, you will find that home appreciation is dropping and home values crash. However, make sure to retain your investment at these uncertain times because eventually, prices will return to normal. This is why the more you keep your property, the more money you get.
Farewell to the times when houses were passed down to our kids! It is sadly becoming more of a myth.
A Home for a Paperclip
Can you believe it?
Kyle McDonald, a Canadian blogger, outdid himself after making 14 peculiar trades of all time. He started with a paper for a pen and eventually a house in Saskatchewan. He gained tremendous popularity all over the world for his intriguing bargaining abilities. So far, this is one of the fascinating fun facts about real estate.
The so-called "Flyer Bandit."
Imagine when the Santa Cruz County Association of Realtors had to send out a safety alert to warn members of the alleged "flyer bandit" for stealing open house brochures in nearby cities.
Their motive was quite hilarious, as the local police stated that the memes are promised a bride the more brochures they collect.
Mortgage and Red Paint
According to Homes MSP, Scots celebrate paying the mortgage by painting their doors red. Whoever owns a home in Scotland is aware of this custom. Even though such real estate facts are cultural, one cannot help but find them quite amusing.
The next time you are in Scotland, pay attention to it!
Real Estate Facts – Conclusion
Real estate investment is good for business. All you need to do is read more about real estate statistics and maybe some real estate facts. You need to understand how to deal with your property when an economic bubble occurs. Just study well, and you will do great!