The importance of outsourcing can't be denied. By now, numerous research studies have been published, and they yield some pretty fantastic outsourcing statistics.
We've compiled the most useful and interesting information so that you can see how common and vital outsourcing truly is. In addition, you will see how this industry behaves and what we can expect in the future.
This article could benefit business owners, especially those who already outsource tasks or just consider outsourcing them at the moment.
Let's dive in and highlight everything you need to know about this industry in the US.
The Most Important US Outsourcing Statistics (Editor's Choice)
Over 60% of tech companies are outsourcing at least a part of their application development.
Companies utilizing outsourcing can reduce their expenses by 20–30%.
Outsourcing harms the US economy, according to 71% of Americans.
Nike outsources the work to five countries.
93% of companies already have a multi-cloud strategy.
Walmart has invested $10 million in moving manufacturing jobs back to the US.
The US human resource outsourcing market is valued at $9.7 billion.
The IT outsourcing industry will reach a $425.19 market value by 2026.
Outsourcing Trends — Stats, Facts, and Projections
Figuring out the latest trends in any industry sector is one of the main perks of analyzing statistics. With such information, you can see what areas of remote work are going to grow in demand. The outsourcing market is no exception to this rule.
In this section, you will find more about key trends that will affect both the global and the US outsourcing market in 2021 and beyond.
1. The outsourced customer care services industry will be worth $110 billion by 2024.
(GlobeNewsWire)
Outsourcing statistics have announced a significant growth of the outsourced customer care services industry in the next couple of years. For now, more than 50% of all companies employ third-party customer support representatives to improve customer experience. Apparently, outsourcing reliable customer support agents retains more clients.
2. 70% of transactions in the outsourcing market are digital-focused.
(Statista)
Most of the outsourcing market transactions are digital-focused, while only around 30% are pure traditional services. Various data on outsourcing show that this number hasn't changed since the fourth quarter of 2019. In the third quarter of 2019, 66% of transactions were digital-focused.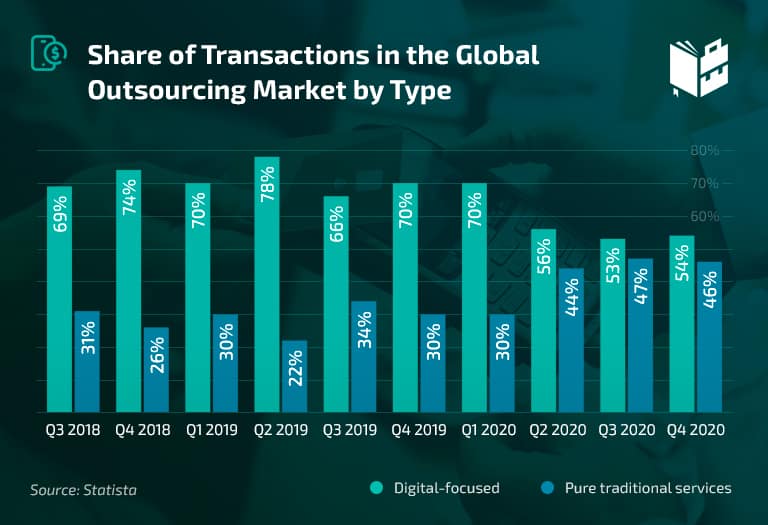 3. Legal process outsourcing trends estimate that the worldwide LPO market size will reach $40 billion by 2024.
(Globe Newswire)
Research shows that the legal process outsourcing market size will rise with a CAGR of over 40% by 2024. Considering that this market size was $3 billion a few years ago, we can imagine how high this increase will be.
Newer LPO trends include uncovering the background information before entering into an agreement, and that's possible because of AI.
4. More than 60% of tech companies outsource at least a part of their application development.
(Avasant)
Outsourcing statistics for 2021 show that application development is one of the most frequently outsourced IT functions. Simultaneously, data center operations, network operations, help desk, and desktop support are the four least outsourced IT functions in 2021.
5. 19.4% of marketers in the US have seen an increase in outsourced marketing activities.
(Statista)
A survey across 13 sectors in the US investigated whether the pandemic affected the outsourcing of marketing activities. The findings show that 58.8% of the respondents haven't detected any change in outsourced marketing activities.
However, almost a fifth of the marketers have noticed an increase in the same activities.
Other Stats on Outsourcing
By examining and comparing data, we've been able to identify why companies in the US decide to use outsourcing as a business strategy. Again, we've covered data on outsourcing in some other countries for the sake of comparison.
Check out what happens with outsourcing in the US and worldwide.
6. A business owner can save around 60% of overall costs with outsourcing.
(Outsource Accelerator)
Business owners have multiple costs when hiring an employee from the US — recruiting, office space, equipment, training, benefits, paid holidays, and the like. So, they can reduce overall costs by outsourcing to other countries.
7. Business process outsourcing trends suggest that business process outsourcing (BPO) generates $26 billion worldwide.
(Statista)
Business process outsourcing is closely related to information technology outsourcing because many business processes are technology-based. Together, these two types of outsourcing generate $92.5 billion. Moreover, the Americas account for over half of this revenue. Additionally, Southern Europe has the largest share of business process outsourcing.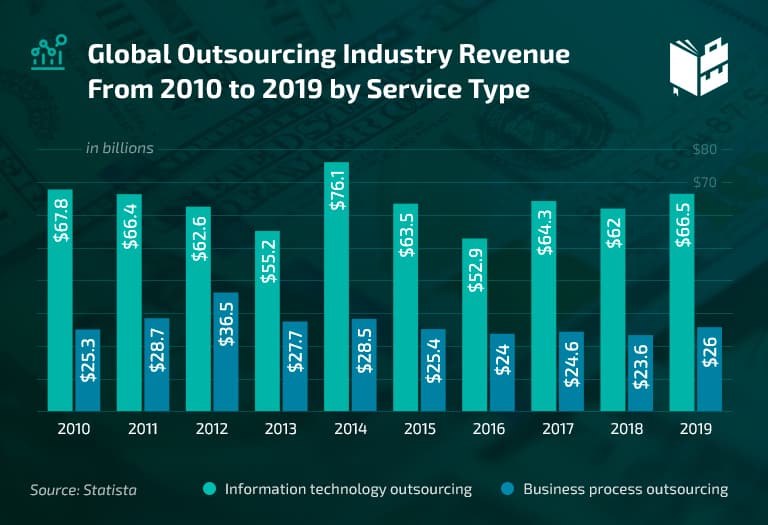 8. US overseas affiliates employ 14.4 million workers.
(BEA) (The Balance)
Job outsourcing helps US companies be competitive in the global marketplace. Therefore, they have overseas branches operating in foreign markets. Technology, call centers, human resources, and manufacturing are the four most often outsourced industries.
9. Outsourcing statistics by country say that companies outsourcing to the Philippines can reduce their wage payouts by up to 90%.
(Outsource Accelerator)
Research tells us that the Philippines has a much lower cost of living than other countries. So, foreign companies can cut their labor costs by outsourcing to the Philippines and still have well-paid workers.
For example, a software developer in the Philippines makes $7,174 annually on average. In the US, a software developer makes $69,589. This means that software developers in the Philippines earn 80% less than their US counterparts for doing the same job.
10. Jobs lost to outsourcing statistics say that over 37,000 jobs were lost due to outsourcing from March to July 2020.
(The Guardian)
Studies show that outsourcing has some bad sides as well. Many US citizens are aware of those. In fact, job loss is the main reason some people strongly object to outsourcing jobs outside the country.
However, the state of the matter shows us that the vast majority of companies still use it, even though US citizens might disapprove of outsourcing.
11. Offshoring trends show that Nike outsources the work to five countries.
(Outsource Accelerator)
Statistics show that Nike has a 47% market share globally, and its sales revenue is close to $3.7 billion. Interestingly, Nike doesn't have manufacturing plants on its own. Instead, the company outsources the work to 500,000 people in the Philippines, Vietnam, China, Indonesia, and Taiwan.
12. 37% of small businesses outsource a business process.
(Clutch)
A report says that small businesses most commonly outsource accounting (37%), IT services (37%), and digital marketing services (34%). What's more, US outsourcing statistics show that 24% of small businesses decide to outsource to increase efficiency.
13. Nearly 90% of survey respondents believe both providers and buyers will be focused on value and outcomes.
(BrainHub)
Both big and small business stats indicate that the value and quality of outsourced goods and services were the top priorities in 2020.
Also, 69% of respondents presume that outsourcing providers will work as systems integrators, which means clients will share the risk with providers.
14. 83% of IT leaders with in-house security teams consider outsourcing their security efforts to a managed service provider (MSP) in 2021.
(Syntax)
Outsourcing statistics suggest that outsourcing cybersecurity is becoming an attractive solution for IT leaders. In 2020, 77% of IT leaders reported more frequent cyber attacks. Unfortunately, many of them weren't equipped to handle the attacks.
15. 92% of companies already have a multi-cloud strategy.
(Flexera)
While we can't predict the future, one of the main IT outsourcing trends is related to cloud solutions. Many companies already use a multi-cloud strategy, and it has already become a must for almost every new company.
16. US companies have moved approximately 800,000 jobs to Mexico due to lower base wages and less strict business regulations.
(Aptude)
The number of jobs outsourced by US companies continues to grow. In fact, outsourcing all kinds of professions has been around for decades. Moreover, many organizations take advantage of hiring a low-cost workforce outside the US borders.
It is only natural that these companies will continue with this practice because of the benefits they get from outsourcing work to remote workers. Even though it could be potentially dangerous for the economy, outsourcing is here to stay.
17. One of the Walmart outsourcing facts is that the company has invested $10 million in moving a part of its manufacturing jobs back to the US.
(iti)
Walmart is one of the top five US companies that outsource jobs overseas. It puts effort into giving some of its manufacturing jobs back to the US employees. However, Walmart still collaborates with around ten thousand manufacturing plants in China.
Outsourcing Statistics by Industry
Outsourcing is common in manufacturing, customer service, and information technology. However, statistics show that some other industries outsource a part of their companies as well. Some do it to reduce their expenses, while others want to increase efficiency.
Let's dive into the numbers.
18. The global data analytics outsourcing market is valued at $5.9 million.
(Allied Market Research)
Data analytics outsourcing means that companies receive data reports from a provider. These reports help enterprises make better business decisions. By 2028, the global data analytics outsourcing market will grow at a 34% rate and be worth $60.3 million.
19. HR outsourcing statistics tell us that the human resource outsourcing market in the US is worth $9.7 billion.
(StrategyR)
The human outsourcing market in the US is growing. However, China is a fierce competitor. As a result, its HR outsourcing market will grow at a 4.7% rate over the next few years.
Eventually, China's human resources outsourcing market will probably reach an $8.2 billion size by 2027. Japan and Canada are another two HR outsourcing markets that will grow at a 4.4% and 4.2% rate during the same period.
20. IT outsourcing trends forecast that the IT outsourcing industry will reach $425.19 by 2026.
(Abto Software)
The IT outsourcing services market reached $318.5 in 2020. The demand for outsourced IT professionals has increased since then. The need for data security, process automation, and AI solutions has caused the growth of the IT outsourcing industry. Moreover, the estimated market value will take place at a CAGR of 4.5% per year.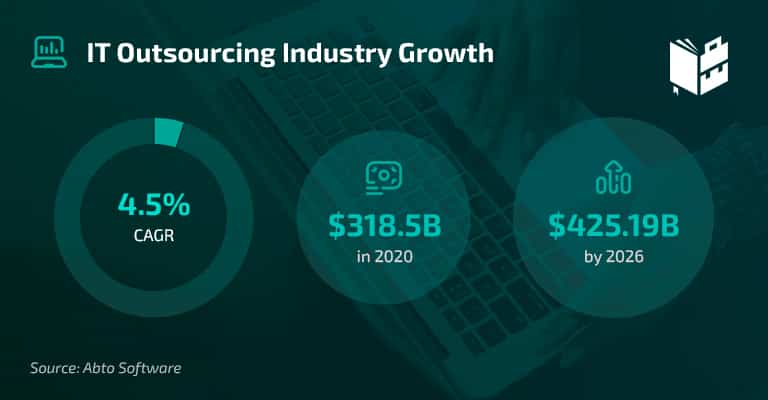 21. The global recruitment process outsourcing market is worth $5.48.
(Grand View Research)
Based on recent research, the global recruitment process outsourcing market will most likely grow at an 18.5% rate by 2027.
22. Hospital outsourcing trends predict that the global hospital outsourcing market will expand at a CAGR of 10.78% by 2026.
(Globe News Wire)
The worldwide hospital outsourcing market size was $267.81 billion in 2019. Thanks to technological advancement and AI, hospital outsourcing is becoming more reliable. By 2026, outsourcing in this industry is supposed to reach $661.68 million.
The growth of the hospital outsourcing market is propelled by several factors — the high demand for reducing healthcare services costs, the rising need for advanced facilities, the rising R&D cost, and strict regulations.
23. Pharma outsourcing trends say that the CDMO outsourcing market will grow at a 9% rate by 2024.
(Business Wire) (Results)
Contract development and manufacturing organizations help the pharmaceutical and biotech industry by offering additional development capacity, specialty capabilities, and cost advantages. Due to the potential advantages over in-house manufacturing, the CDMO outsourcing market will grow by $44.17 by 2024.
24. The IT sector outsources 22% of help desk functions.
(Avasant)
Hiring help desk workers from a service provider is one of the services that helped establish the IT outsourcing industry. However, help desk outsourcing trends suggest that help desk outsourcing is not that frequent in the IT sector. As a matter of fact, barely a fifth of IT companies employ these positions from a third party.
Conclusion
After carefully considering all the stats we compiled, it's clear that the outsourcing market will continue to grow. However, the actual effects of the US job growth are yet to be seen, given that outsourcing decreases the unemployment rate.
Moreover, technology development has made outsourcing much easier. It's hard to tell whether sending jobs overseas has more pros or cons, but companies undoubtedly gain more profit because of it.
Frequently Asked Questions (FAQ)