This Spokeo review will show you how to use the sophisticated search engine to your advantage. Thanks to advanced search technologies, you can find almost anything you need online. However, sifting through this vast sea of data takes a lot of time and effort.
Therefore, we'll tell you all you need to know about Spokeo's features, pricing plans, cancellation and refund policies, customer support, and more. Let's not forget about the importance of online reputation and user experience. Without further ado, let's dive deeper into this review and see what Spokeo is all about.
Pros & Cons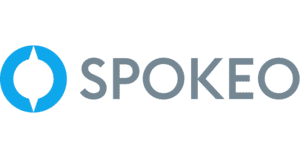 Pricing Plans
Basic Search
Free
Includes age, relatives, city, state, and locations
Monthly Plan
$24.95
Can be purchased for three, six, or twelve months Detailed reports
Individual Report
$0.95
Doesn't require subscription Add-on purchases
Spokeo Review – Features and Services
Spokeo is a people intelligence service founded in 2006 by four Stanford University graduates Harrison Tang, Michael Daly, Eric Liang, and Ray Chen. Despite being one of the newer additions to the people search industry, Spokeo already has over 20 million monthly users.
The company started as a social network aggregator. Later on, it morphed into a people search engine that uses deep web crawlers to go through approximately 12 billion public records. While the free reports include basic searches, people who opt for a Spokeo subscription have access to a broad selection of services divided into four categories:
Location and contact information ― name, phone number, location history, property information
Family and personal details ― relatives, associates, social media accounts
Public records ― court and criminal records, birth and death certificates
Work and wealth reports ― possible income, interests, previous and current jobs
For now, only the users of Android devices have the privilege to explore those categories in the Spokeo app. Nevertheless, we believe there will be an iOS app soon. The public records cover a wide range of official documents on a local, state, and federal level. That means you can search for just about anything from court documents, birth and death certificates to criminal and arrest records. The Spokeo search engine sifts through millions of public records, comes up with a full report, and delivers it to you.
Let's now see what each of the services available on Spokeo can do.
Spokeo People Finder
Spokeo's search engine extracts relevant data from millions of records. When searching for someone, all you need to do is type in the name, and Spokeo will show all the related results in the form of a detailed report.
You can always narrow down the search results by providing additional information, such as the current location or age. Thanks to the customized search, Spokeo will find the person you're looking for along with their name, phone number, age, marital status, and location history.
Spokeo Reverse Phone Lookup
If you don't know who's been calling you, you can quickly check it by typing in the phone number in the search bar. Spokeo will get you the first and the last name of the phone owner, address, and other available information.
This reverse phone lookup feature allows you to put a stop to unknown calls. But it also helps prevent phone scams. Therefore, if you want to avoid losing money or giving out sensitive information, you can trust the phone search on Spokeo.
Spokeo Reverse Email Lookup
This Spokeo feature allows users to track down the person sending you emails. If you've noticed your spam folder overflowing with emails from unknown addresses, you can inspect it on Spokeo. Enter the email in the Spokeo search bar, and you'll receive a detailed report containing the following:
Public profiles on social networks
Public profiles on dating sites
Public photos on websites such as Flickr
Videos on websites such as YouTube
Reviews of products on shopping sites
Blog entries on sites such as LiveJournal
Spokeo Court Records and Criminal Records
Even though these documents fall under the domain of public records, they are among the most researched documents on Spokeo. You can learn a lot about a person, especially if you have insight into their criminal record (if there is one).
Let's say you're moving into a new apartment, and you want to know more about your neighborhood. Knowing if someone has a DUI or is convicted of theft can help you settle in or look for another place to live.
However, you should know that court and criminal records aren't free. You should check the Spokeo pricing and plans and learn more about what they include. Criminal reports don't disappear; even if someone committed a crime outside the US, there would be a record of the crime somewhere. And, with Spokeo's help, you can find it.
It's important to note that some court documents are unreachable by the Spokeo search algorithm. Sometimes, the court seals records for legal reasons. In such cases, Spokeo can't do anything about it.
Find anybody's photos, videos and blogs instantly. You may be surprised!
Spokeo Sex Offenders Records
When someone is convicted of a sex crime, that person is put on the sex offender registry. Fortunately, Spokeo has access to the sex offender records. Therefore, you'll be able to run searches on people you might find suspicious.
Knowing that someone in your vicinity is a sex offender can heavily impact your lifestyle. If you come across some worrying information about your neighbor, for example, you might want to consider changing your place of residence.
Spokeo Marriage and Divorce Records
Marriage and divorce records are part of public records since they are used for census data. This search feature is a good option for those who can't remember the anniversary of their parents, friends, or even their own. In most cases, divorce records might be harder to find than marriage records because they might contain sensitive financial or other kinds of information.
Curious what information about you is out there? You may be surprised!
Spokeo Family History Lookup
If you're looking for a relative you've lost touch with, the Spokeo people search can help you out. Whether all the information you have is a name, a phone number, or an address, the platform can still find that person.
This option allows you to reconnect with your childhood friends on Instagram or Facebook. You can also find a long-lost relative who may help you complete your family tree or even see who their associates are. There is a plethora of data you can obtain with just a few simple clicks.
Spokeo Work and Wealth Data
Many Spokeo reviews claim wealth and work records are fun to browse. And our findings have confirmed this. If you opt for this search on Spokeo, you'll receive the following data:
Lifestyle preferences
Current and previous employment
Property ownership
Investments
While income isn't part of the public records, employment usually is. Therefore, Spokeo can estimate how much a person earns. Additionally, knowing their preferences and lifestyle choices can help you learn more about a person.
Spokeo Opt-Out Feature
If you don't want your public information to appear in Spokeo's search results, you can ask for information removal. You can do it on your own or ask for customer care assistance.
If you decide to remove the report yourself, you need to right-click on the report and get its URL by selecting "copy link address" from the drop-down menu. You should paste that link in the opt-out form, verify your email address, and wait for the confirmation email. Since Spokeo constantly receives updates from public data sources, it can't guarantee your removed information won't reappear in the future.
Spokeo Enhanced Report
According to some online Spokeo reviews that we came across, a few users didn't find Spokeo reports extensive enough. However, we were able to obtain additional information on top of the basic people search. Enhanced reports are perfect when you need to dive deeper. Although they require an additional fee, they include:
UCC filings
Professional licenses
Liens and judgments
Hunting and fishing licenses
FAA aircraft or pilot registrations
DEA registrations
Corporate affiliations
Bankruptcy filings
Spokeo Review – Ease of Use
Owing to the brand new website design, Spokeo is a simple platform that's easy to navigate. Plus, with a clear overview of the services and detailed explanations, users will have no trouble finding what they're looking for.
The search tools are user-friendly, so there's no need for advanced research skills. The process of downloading reports is fairly easy and straightforward.
How Much Does Spokeo Cost?
Spokeo offers basic search results for free, including someone's age, relatives, city, state, and locations. However, advanced search results require payment. The monthly membership plan costs $24.95; you may purchase it every three, six, or twelve months.
As a Spokeo member, you get access to more detailed reports. You can search for names, phone numbers, emails, and home addresses with a standard membership. Such information is much more extensive when you purchase a subscription. For example, a reverse email search can reveal public photos on Flickr.
The company offers multiple payment types, and you can get a Spokeo free trial on particular search types. However, Spokeo doesn't guarantee that a free trial will be offered during the signup process. If you think that $24.95 is too much for a subscription, you can always purchase an individual report for $0.95.
Court and historical records are available as add-on purchases. Moreover, you don't have unlimited searches because subscription plans come with a 100 monthly search quota. Your search quotas reset automatically every month, and you can't roll them over to the next month. Still, you can purchase searches if you need more.
Spokeo Refund Policy
In general, the company doesn't issue refunds. Once you pay for a subscription plan, you have to wait until the end of the billing term. You should know that you can't get a refund even if you cancel your plan.
However, customer satisfaction is very important to Spokeo. The company encourages customers to contact customer support if they are dissatisfied with the service.
Spokeo Cancellation Policy
You have the right to cancel your subscription whenever you want. Since the company renews subscriptions automatically, it's crucial to do it before the current billing period ends. You may cancel it in the Account settings > Usage and Subscriptions.
After the process is complete, you'll receive an email confirming that your account is canceled. Of course, customer service representatives can help you with this if you encounter a problem.
Spokeo Customer Service
We enjoyed how easy it was to navigate the platform—Spokeo did a fantastic job launching a new, neat platform where everything is straightforward. However, if you run into some problems, there are ways to get in touch with the customer care team. You can always contact Spokeo customer service representatives via:
The team is available every day from 5 am to 8 pm (PT). We have to say that we're impressed by the FAQ section containing all the information you could ever need.
Spokeo Online Reputation
Based on what we found online, people like Spokeo for several reasons. The phone number search seems to be the most popular Spokeo feature; people use it to protect themselves from unknown callers, cold calling, etc.
Others prefer Spokeo to similar companies because of its accuracy. Many people turn to it when searching for up-to-date addresses and phone numbers. They think that reports are detailed, professional, and helpful.
We've noticed some Spokeo complaints, as well. Most of them are about missing or outdated information. We can verify that Spokeo updates data regularly. However, the company depends on various sources for the facts we see. So, once those registries update their databases, Spokeo does the same.
A few customers complained about the automatic membership renewal, but they were clearly unaware of how the trial period works. Since they didn't cancel it, the company continued charging them monthly subscriptions.
Is There a Spokeo Alternative?
Spokeo supplies us with first-rate data at more than reasonable prices. Upon testing its services, we've concluded that the company is legit. You get what you pay for. We can even say that you don't need to search for another public records provider.
Still, Spokeo isn't the only people finder service. Out of dozens of background check companies out there, we picked PeopleFinders, Intelius, and TruthFinder to compare services. This is what we discovered about them in relation to Spokeo.
Spokeo vs. PeopleFinders
Both companies started out with the purpose of bringing public data closer to people. Over the years, they have improved their services. At one point, they realized that the value of public data goes beyond ordinary research. Today, many enterprises rely on their services when running background checks on potential partners or customers.
Spokeo for Business can be used for fraud prevention, identity confirmation, debt collection, etc. On the other hand, PeopleFinders Pro went one step further and introduced new Developer APIs that provide real-time data.
Spokeo vs. Intelius
According to our Intelius review, they specialize in people search. You can use its services for obtaining quick and accurate information. You can find out almost everything about anyone. Thanks to the background check search engine, you'll know someone's full name, date of birth, address, relatives, lawsuits, and much more without them ever finding out.
Apart from the usual research, people use Spokeo's reverse email and username lookups to find out if someone is cheating on them. These search engines draw results from more than 100 social media platforms, including dating platforms such as Tinder and Match.com.
Spokeo vs. TruthFinder
To prevent data breaches, Spokeo and TruthFinder offer dark web monitoring. So, if you think that you are a victim of identity theft, you can use either one of them to check it. With TruthFinder, you can sign up for dark web surveillance, credit card monitoring, social security number, and social network monitoring, public records, and more.
Spokeo has a new identity protection tool for scanning the dark web. It allows you to monitor and protect your personal and financial information. Also, you'll receive email and in-account notifications.
Value for Money – The Final Verdict
Knowing all its pros and cons, we can say that Spokeo won't disappoint you. Based on our experience and the information gathered for this Spokeo review, the website is reliable, accurate, and fast.
Even though some people disapprove of Spokeo due to providing outdated information at times, we'd like to remind you that it's not up to the company to keep millions of public records updated. Spokeo might not generate the most comprehensive criminal record reports, but it's as good as any of its competitors in other search domains. Spokeo can be really useful for checking job applicants, even those who have excellent resumes.
Frequently Asked Questions (FAQ)