Many individuals worldwide have the privilege to be bilingual or polyglot. But why do these people choose to put effort into learning one or more new languages? Why is it worth their time?
Some people do it out of thirst for knowledge, while others do it to get a job or move to another country. Being able to converse in several languages grants a person more opportunities on a professional and personal level.
Regardless of the reason, Rocket Languages can help you achieve your goal. In this Rocket Languages review, we'll discuss the upsides and downsides of the services this online language learning platform provides and whether it's worth the price.
Pros & Cons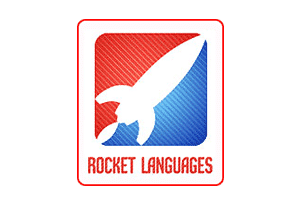 Pricing Plans
One Level
$149.95
Lifetime Access
One Specific Language
Two Levels
$299.90
Lifetime Access
One Specific Language
Three Levels
$449.85
Unlimited Access
One Specific Language
Many language teaching platforms and mobile apps offer online language teaching services, so what exactly makes Rocket Languages stand out? Since it's rather difficult to choose a language learning platform that'll meet your needs, we decided to make your life easier and provide you with all the necessary information.
After inspecting the website in detail and reading other Rocket Languages reviews, we finally got the answer. It's plain to see that customers love and prefer Rocket Languages for its language integration, detailed explanations, and lifelong access it grants after subscribing.
Not only does it have great prices, but the company focuses on helping you achieve your ultimate goal—and that is learning one or more languages, depending on your needs, time, and motivation.
Rocket Languages Review — About the Company
The company was co-founded by Jason Oxenham and Mark Ling in 2004. According to the information we found on the website, Jason Oxenham had difficulty learning French, which brought an idea to life and helped create the platform we all know today as Rocket Languages. It's designed to help individuals learn foreign languages easily and efficiently.
Rocket Languages Services
Rocket Languages offers a variety of languages users can choose from, including American Sign Language.
Once you choose the desired language, you'll have access to audio lessons, culture and language lessons, flashcards, reinforcement activities, and exercises that perfect your pronunciation.
Rocket Languages Review – Spanish
Rocket Spanish starts with practical phrases and daily conversations meant to ease you into learning the language while also making sure that you learn the basics first.
Short pauses are perfect for repeating the phrases out loud and practicing your pronunciation.
Furthermore, Rocket Spanish has an average rating of 4.6 out of 5 left by 912 satisfied users.
Rocket Languages Japanese Review
Rocket Japanese has a total of 387 reviews, out of which 78% (302) are five-star reviews. This all sums up to a 4.7-star average.
Customers state that although the language itself is quite difficult to understand, let alone speak, the Rocket Languages website helped them overcome difficulties with its amazing courses and friendly customer support representatives. We can confirm this since we also had a pleasant experience.
Rocket Languages Review – French
Rocket French users claim to be encouraged by the user-friendly interface and ability to participate. Same as the others, the course begins with sentences and questions that you can use in everyday conversations, making it easier to catch on and learn. Just like Rocket Spanish, Rocket French has a high rating (4.6 stars), considering that 858 customers reviewed it.
Rocket Chinese Review
With 184 five-star reviews and a 4.7-star average, Rocket Chinese ranks high on the top liked and rated Rocket Languages list, and we can see why.
Based on customers' and our own experience, the website's Chinese course offers everything you need to learn a language efficiently and speak fluently. The course helps people improve their vocabulary, provides grammar exercises, and more.
Rocket German Review
Just like the other courses that are available on the platform, Rocket German has many positive reviews. Users claim that it's an excellent course with lots of opportunities to practice, helpful explanations of words, language rules, fun lessons, and last but not least, a fantastic lesson tracking feature.
Almost every customer rated Rocket Languages German course as something they would gladly recommend to a friend.
Rocket Sign Language
Unlike many other online language teaching websites, Rocket Languages provides you with the opportunity to learn ASL (American Sign Language) through demonstrational videos. Knowing how to sign can be crucial for some of us, while others might learn it out of curiosity.
Either way, teaching ASL is one of the great things that make Rocket Languages stand out from all the rest.
Rocket Languages App
This online teaching platform also offers mobile apps to its users, making it easy to learn a language on the go.
These apps are available on Google Play for Android users and the Apple Store for iOS devices. While the app is the same, it's rated slightly differently. Apple customers gave it a three-star rating, while Android users gave it a 3.8 rating.
Plans and Pricing
Rocket Languages charges its users by levels while granting lifetime access to those specific levels. For example, the Rocket Spanish price and Rocket Japanese price are the same. Here's how it works:
Level 1 for one specific language (be it any language on the list) costs $149.95
Levels 1 and 2 cost $299.90
Levels 1, 2, and 3 cost $449.85
However, available coupon codes allow you to get a reduced price. You can save $50 or $189.95, depending on the level you choose. Other language learning platforms are mostly subscription-based.
Refund Policy
Our Rocket Languages review wouldn't be complete without mentioning the refund policy. The company wants you to be absolutely sure that you made the right decision when you chose Rocket Languages. That's why it offers a 60-day no-questions-asked full refund on any purchase. Here's what you need to do:
Have the order receipt at hand (it'll be emailed to you upon ordering)
Contact Rocket Languages and request a refund
Just like that! Your request will be processed within two business days, and you'll get your refund within five business days.
Rocket Languages vs. Rosetta Stone
While both these sites are fairly similar, they do differ in some aspects. Let's see what those differences are.
Rocket Languages allows you to learn 14 languages—Spanish, French, Italian, German, Japanese, Chinese, Korean, Russian, Arabic, Hindi, Portuguese, English, Ingles (for Spanish learners of English), and American Sign Language. On the other hand, Rosetta Stone helps you learn 25 languages.
Additionally, the pricing system is different, as mentioned in other Rocket Languages reviews. Rocket Languages doesn't charge its users per month. Once levels are purchased, users will have lifetime access to them.
Rosetta Stone offers monthly subscriptions for 3 or 12 months. The 12-month subscription will allow you to learn an unlimited number of languages. Furthermore, the company offers lifetime access if you decide that Rosetta Stone is the right pick. If you purchase a lifetime subscription, you will have permanent access to every course the website offers.
Rocket Languages vs. Pimsleur
After reviewing Pimsleur and Rocket Languages, we concluded that both companies offer high-quality courses, and they both have roughly the same rating.
However, if you don't feel like splurging on a language learning platform, you should know that prices are different. Namely, Pimsleur's prices are marginally higher than those of Rocket Languages. For example, Pimsleur's Premium French Levels 1-5 will cost you $575.
Rocket Languages vs. Duolingo
These two online teaching platforms are as different as they come. Duolingo is known for its entertaining and interactive learning techniques. Not only is it engaging, but it can also be used for free with some limitations.
Rocket Languages, on the other hand, is more comprehensive and detailed. It offers a deeper understanding of the language and the culture behind it.
Rocket Languages vs. Babbel
Babbel and Rocket Languages are alike and different in many ways. For example, Babbel offers 13 languages to its learners while Rocket Languages offers 14.
Furthermore, Babbel is excellent for beginner learners, but its advanced levels pale in comparison to what Rocket Languages offers. Rocket Languages put a lot of effort into creating comprehensive, advanced language learning courses so intermediate and advanced learners will find it more useful.
Review on Rocket Languages – The Final Ruling
After reviewing Rocket Languages and its competitors, we can honestly say that the features this language learning platform offers are more than worth the price. Audio lessons are exceptional for people who have a busy day-to-day life, teaching technique is outstanding, and advanced courses are excellent for intermediate and advanced learners.
As such, we strongly encourage you to give a free trial a chance and see if Rocket Languages will meet your needs. We are confident it will.
Frequently Asked Questions (FAQ)