Logos are the key elements of every brand, but creating one is no easy task. Luckily, there are many online tools for making a perfect logo for your needs. DesignEvo is one of those tools.
DesignEvo is a web-based logo maker developed by PearlMountain. This free online tool comes with more than 10,000 templates, enabling anyone to bring a unique design to life within minutes. Reviews show it's one of the best logo-making programs out there, but why is it so? We have compiled everything you need to know in our DesignEvo review.
Pros & Cons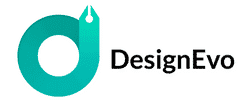 Pricing Plans
Give Credit
$24.99/one time
*No need to give credit
$49.99/one time
*No need to give credit
DesignEvo Tools and Features
DesignEvo has all the essentials for making a simple yet effective logo. Users can search through a variety of available templates and icons. Once you select one, you can modify it by changing the logo's text appearance, inserting shapes, and adding a background. Let's take a look at some of the main DesignEvo features.
Logo Templates
DesignEvo templates are ready-made logos freely available for use. Various freelance designers make these templates, so there are many styles and categories you can choose from. Using them is an excellent practice for logo making. The web version has plenty of templates, but only around 160 are available on the DesignEvo mobile app. However, users can purchase more templates for a very affordable price.
Logo Icons
This logo maker also offers a vast number of vector graphics. This feature is suitable for beginners since they don't have to create anything from scratch. Instead, you can freely choose your perfect icon from thousands of free vectors. Additionally, the app allows you to edit the icon to suit your tastes. You can also change the color, opacity, and so on.
Logo Text and Fonts
Our research for this DesignEvo review shows that the program offers many text-editing options. For example, it allows you to create both a name and a slogan for your brand. You can use bold, italic, outline, shadow, glow, and uppercase options to modify these texts.
Users can also choose from over 100 fonts and styles and create a text object by selecting a font in the program's Classic tab. In addition, they can pick between modern and handwriting fonts or choose an appropriate word art. According to DesignEvo user satisfaction reviews, customers appreciate that they can freely experiment with various text style options.
Backgrounds
DesignEvo's background feature doesn't offer many options but can still complement your design nicely. There are four varieties: transparent, solid, color, and gradient. The gradient option is the most advanced of the lot, allowing you to modify both colors according to your preferences.
If you prefer having a more detailed background, some DesignEvo competitors, such as Visme or Canva, provide more advanced options.
Shapes
DesignEvo allows users to include shapes in their logos. They have the same aspects as icons, but you can find them in a different menu. There are fewer shapes than icons, so they are sorted by categories and don't have a search option. The available shape types are badge, decoration, line, solid shape, outlined shape, banner, and symbol.
Color
Finally, the last editable feature we will discuss in this DesignEvo review is the color of your logo. If you don't have an eye for design, don't worry! DesignEvo has instruments that will help you understand the meaning behind each color and how you can use them. In addition, the program can make combinations of colors and color schemes that go well together to help you find the best combo.
Ease of Use
DesignEvo reviews show that the program's intuitive interface is one of its advantages. With an easy-to-use interface and features, it is among the most beginner-friendly design apps out there.
The prominent sidebar on the left is used to create and modify the logo. The zoom, resolution, and alignment options are located at the bottom of the screen. At the top, users can find the undo, redo, preview, save, and download buttons. The only downside of the interface is that it's missing a layers option. However, this goes hand-in-hand with the website's beginner accessibility since layers could be confusing for non-designers.
You will also be able to find DesignEvo tutorials on the website if you want to learn more about the tools and functionality of the program.
Plans & Pricing
These are the available DesignEvo plans:
Free: One of the most significant DesignEvo benefits is its free version. However, due to its limited features, the largest resolution in which you can save your image on the web is 300×300 pixels, and the only available export formats are .jpg and .png.
You will also be required to credit DesignEvo for the logos you make. Additionally, you can try out the two-week DesignEvo free trial to test all of the features.
Basic: This plan costs $29.99 and comes with additional features, such as downloading your logos as .png images with a transparent background and being able to save files in resolutions of up to 5000×5000 pixels. Moreover, you won't need to credit DesignEvo for your creations.

Plus: The most expensive package costs $49.99, according to information on DesignEvo pricing. It would enable you to save the logos in the much-loved vector format, .svg, or the best sharing format, .pdf. Most importantly, you will be the legal owner of the logos you create.
Refund Policy
You can purchase the paid plans by Paypal and most credit cards. If you aren't happy with the logo and haven't used it anywhere, DesignEvo can give you a full refund within seven days of purchase. You can email its customer support for this or any other questions and expect a reply within one or two days.
Online Ratings
The majority of DesignEvo reviews in 2022 claim that it is one of the top logo-making programs out there. Customers appreciate the tool's web version because of its intuitive design. However, some iOS or Android users have complained the app can be buggy at times.
Despite its numerous merits, DesignEvo is not the only program you can try out if you want to make professional, high-quality logos. Among the most-used DesignEvo alternatives are Canva and Visme.
Canva is among the most praised graphic design tools. However, unlike DesignEvo, it's a lot more complicated to navigate and use and a disadvantageous choice for beginners. Still, if you're interested in a more elaborate program, feel free to check our Canva review.
Much like Canva, Visme is more intricate than DesignEvo. As it is very pricey, Visme is a better choice for designers who need infographics or charts. However, DesignEvo is a preferable choice when it comes to logos.
DesignEvo Review–Final Verdict
DesignEvo stands out as one of the best logo maker tools on the market when it comes to ease of use and variety of choice. Moreover, our research for this DesignEvo review found that its advantages are its accessibility for beginners and that it's almost effortless to create and edit logos. As a result, the platform is an excellent choice for people who want to save money or get into design.
Whether you are a small business in need of a simple design for your brand or simply want to try your hand at making creative logos — DesignEvo is the program for you.
People Also Ask — FAQ