Various gig economy statistics reveal that gig workers have always been a significant part of the workforce. Truck drivers, musicians, content writers, photographers, developers, and all others whose income is project-to-project dependent can be included in this category.
The number of independent contractors, freelance, and part-time workers has increased, and these stats will help you gain an insight into how the gig economy works, why it's becoming more popular, and how big its workforce is.
So, let's dive in.
Top Gig Economy Trends and Stats (Editor's Choice)
68% of full-time independent workers see gig work as more secure than traditional jobs.
31.63% of freelancers say that the demand for their services decreased significantly.
63% of part-time workers in the US are women.
A massage therapist is the highest-paid gig job in the US ($27.84/hour).
The US economy gets $1.21 trillion in revenue from gig workers.
36% of US workers participate in the gig economy.
By 2023, the gig economy's gross volume will reach $455.2 billion.
A better work-life balance is why 70% of freelancers opt to work in the gig economy.
Global Gig Economy Statistics — The Latest Data
Consumers, contractors, and employers are a part of the gig economy. Although its popularity is growing, gig workers and their employers have gone through significant changes this year. Here, you will find the newest information about the worldwide gig economy.
1. 52% of worldwide gig economy workers have lost their job due to the coronavirus pandemic.
(Statista)
According to Statista's gig economy data, more than half of gig economy workers have lost their jobs because of the coronavirus pandemic. Furthermore, another 26% have reported a decrease in working hours.
2. 10 million Americans are considering becoming freelancers.
(Upwork) (Statista)
According to a 2021 survey of 4,000 professionals in the US, 20% of people are thinking about becoming freelancers. For 73% of those, remote work or flexibility are the primary reasons.
Moreover, the number of freelancers in the US in 2019 was 57 million people. Therefore, the 10 million potential freelancers would represent a 17% increase in the total US freelance workforce and gig economy workers.
In addition, it's predicted that there will be 86.5 million freelancers in the US in 2027.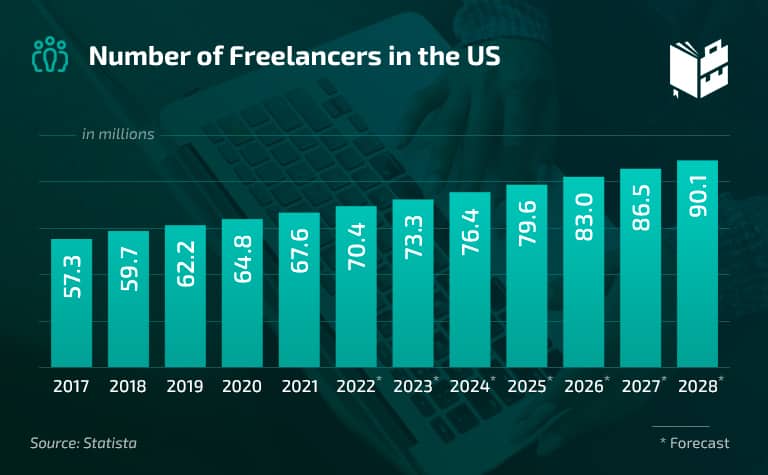 3. 68% of full-time independent workers think that working independently is more secure than traditional jobs.
(MBO Partners)
According to a new survey, 29% of traditional jobholders say that working independently is less risky than traditional jobs. However, statistics about the gig economy show that only 19% of people with traditional jobs thought the same way a year before. This amount is equal to about 5.7% of US GDP.
4. Multiple jobholders account for 4.5% of civilian employment.
(Advisor Perspectives)
Research reveals that 60% of multiple jobholders work their primary job full time and the second job part time. On the other hand, only 5% of them work both jobs full time.
5. 97% of people in India and Mexico are open to gig work.
(ManpowerGroup)
The demand for gig workers has vastly increased in developing countries. Trends in the gig economy show that other countries, apart from the US, are shifting towards independent work. India and Mexico are currently leading the way.
Spain, Australia, Italy, and the UK are right behind these two countries, with 90–94% of people open to gig work.
6. 31.63% of freelancers claim that the demand for their services decreased significantly.
(Payoneer)
Freelancers lost many job opportunities as the coronavirus pandemic went global. However, 23% of freelancers state that the amount of work has remained as usual. Moreover, 17% report that the demand for their services has increased according to freelancing statistics.
7. Since the coronavirus outbreak, furniture moving has seen the largest increase of 54% in its hourly rate.
(GigSmart)
The pandemic has positively affected certain industries and occupations. For example, some skills that experienced a large increase in hourly pay rate are warehouse labor (46%), handyman (42%), carpenter (13%), and security guard (14%).
8. 80% of hiring managers have increased their use of web, mobile, and software development freelancers since the start of COVID.
(Upwork)
Since the pandemic, the largest increase in freelancer demand has been in the mobile, web, and software development categories. Moreover, gig economy statistics for 2021 show that tech freelance talent will remain in demand.
Upwork's latest report tells us that nearly two-thirds of hiring managers plan to increase the use of tech freelancers in the next 12 months.
9. 40% of people who became independent workers in 2021 use online talent and product marketplaces to find new customers.
(MBO Partners)
Gig workers often use online platforms and marketplaces to attract new clients. As a result, the interest in this way of gig job finding has grown since last year (27%).
10. The percentage of female part-time workers in the US is 63%.
(US Department of Labor) (Statista)
According to a survey, women make up more than two-thirds of part-time workers in the US. Interestingly, only 37% of the US part-time workforce are men. As of August 2021, there are 24.57 million part-time employees in America.
11. Without tips, the average net pay of app-based delivery workers in New York City is $7.87.
(WSIMG)
A study reveals that tips represent approximately 44% of couriers' earnings in New York City. Gig economy statistics say that these app-based delivery workers have an unstable income of around $12.21 net pay per hour.
Without tips, they earn much less, which is why delivery workers work at least six days a week. Moreover, 85% of these workers say that food delivery is their main and only job.
12. 68% of gig customer service employees speak more than one language.
(Davies Group)
According to a new global study, over two-thirds of gig customer service representatives are multilingual. Additionally, 72% of gig customer service workers hold a university degree.
Gig economy demographics also show that 9% of the surveyed workers are stay-at-home parents. Moreover, this job is pretty popular among retirees and students. Unsurprisingly, nearly a third of the respondents are gigging on more than one platform.
13. 20–50% of customer service will be made up of freelance customer service experts by 2025.
(Davies Group)
The same survey (see the previous stat) says that 80% agree with this prediction. Thus, more and more companies recognize the importance of having an agile team of customer support agents.
Furthermore, on-demand customer support will become more common than the traditional contact centers.
Gig Economy Statistics Regarding Income and Expenses
If you're interested in freelancing, part-time working, or any other gig job, it's essential to be informed about the average earnings and jobs in various industries.
Gig jobs aren't for everyone, as there are many downsides to the gig economy. Find out more about the gig workers' revenue and expenditure from the following statistics.
14. Massage therapist is the highest-paid gig job in the US, with an average hourly rate of $27.84.
(Statista)
Job statistics point out that massage therapists were the highest-paid gig workers in 2020. Freelancers were also paid well; their average gig pay per hour was $25.33. On the other hand, cleaning was the lowest-paid gig job (cleaners approximately earned $11.29 per hour).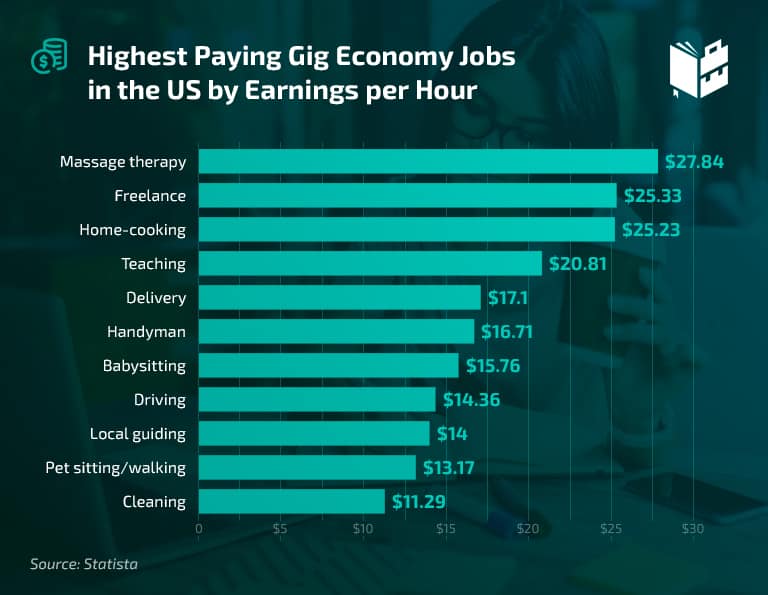 15. Gig workers contribute $1.21 trillion in revenue to the US economy.
(MBO partners) (Visual Capitalist)
To put this into perspective, here is the participation rate of some countries in the global economy: the US contributed $20.49 trillion, Canada $1.71 trillion, Russia $1.66 trillion, Mexico $1.22 trillion, and Sweden $0.55 trillion.
16. Gig economy stats reveal that 27% of gig economy workers whose gig job is their main job have no retirement savings.
(Statista)
Working on a project-to-project basis has its drawbacks. For example, one of the main issues gig workers have to handle is contributing to a retirement plan. According to a survey, only 12% of respondents with a full-time job and a side gig have retirement savings.
17. The independent contractor tax rate stands at 15.3%.
(IRS)
Independent contractors need to pay the same taxes as self-employed workers — both the employer and the employee share, with some modifications. The tax rate consists of 2.9% for Medicare and 12.4% for social security.
18. 53% of freelancers claim that cost is the main barrier to improving their skills.
(Upwork)
More than 50% of college-educated freelancers say training and education are useful for their careers. Traditional workers can expect an employer to pay for their training, but freelancers have to invest their own money in improving their skills.
Stats About Gig Economy Size, Growth, and Workforce
The gig economy growth is noticeable, and its workforce is very diverse. Gig workers go by many names — freelancers, part-time workers, on-call workers, consultants, free agents, moonlighters, and similar. However, gig jobs aren't equally popular among different generations.
In this section, you will find information about the size and predictions for the gig economy and the demographics of the gig economy workforce.
19. 36% of US workers are involved in the gig economy.
(Gallup) (Nation 1099)
Various gig economy workers statistics reveal that over a third of the US workforce has been involved in gig work to some extent. In addition, as many as 162 million American and European workers dabbled in freelancing.
While some of them got into this line of work to supplement the income from their full or part-time jobs, the majority entirely relied on freelancing as their primary income source.
20. In 6% of US companies, 85% of employees are gig workers.
(ADP)
In 38% of enterprises, traditional employees make up 95% of the total workforce. Yet, a new gig economy trend dictates that one in four workers in 40% of companies is a gig worker.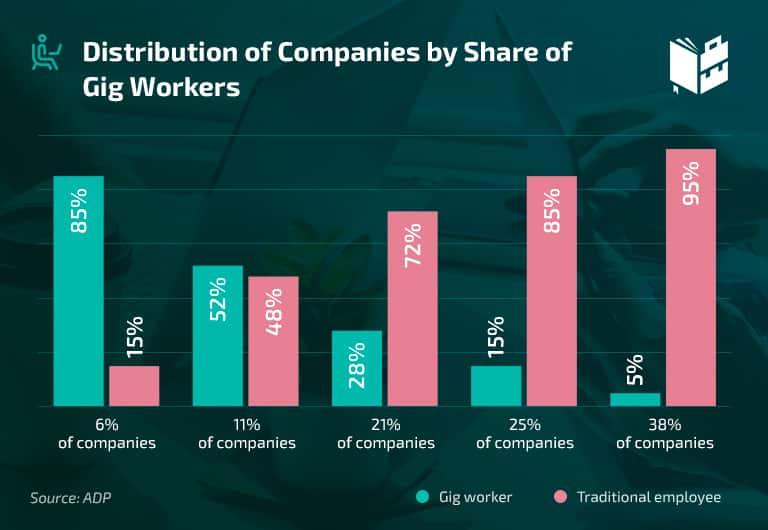 21. The gig economy gross volume is expected to reach $455.2 billion by 2023.
(Statista)
The gig economy market has been increasing steadily since 2018. Currently, the gig economy's gross volume stands at $296.7 billion, but it's expected to increase significantly in the years to come.
22. Florida has 22% of gig workers.
(ADP)
The state with the highest number of gig workers is Florida, along with California and Texas. Their percentage in Massachusetts, New Jersey, Ohio, Pennsylvania, Illinois, and New York is 16%.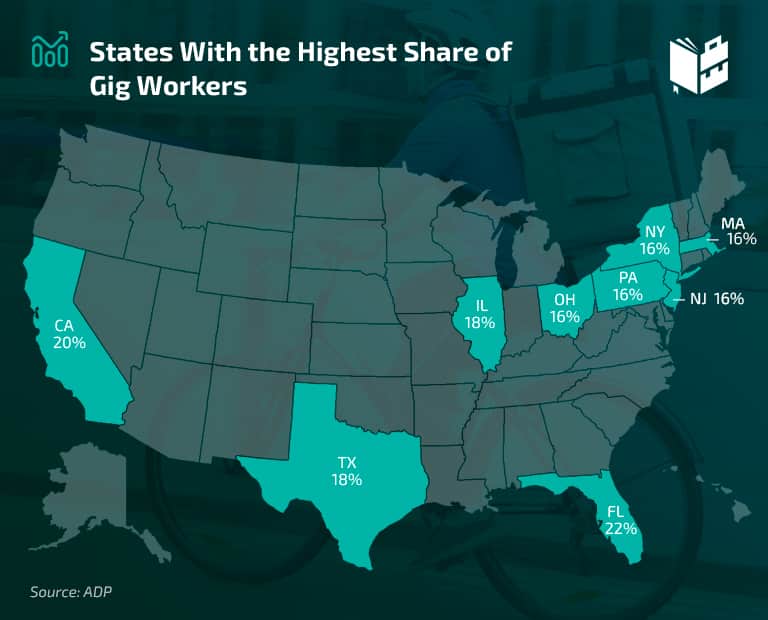 23. Millennial gig economy statistics show that 44% of millennials freelance.
(Statista)
According to recent research, millennials are relatively engaged in freelancing. However, Generation Z is the most interested in it, as 50% of them freelance. On the other hand, baby boomers seem to be skeptical about this kind of work, as only 26% of them are freelancers.
24. In 2020, the freelance job market increased by more than 25% from April to June.
(Freelancer)
Although people usually start freelancing temporarily, the number of people involved in long-term freelancing has increased. According to the 2020 freelance workforce statistics, it's predicted that 48% of US workers will be freelancers by the end of this year.
25. 45% of freelancers provide consulting services.
(DDIY)
The most frequent type of freelance work is related to skilled services. Marketing, programming, or other kinds of consulting services are undoubtedly the most popular freelancing jobs. The construction industry is also very popular among gig workers.
26. When Uber comes to a country, unemployment rates for car owners decrease by 5%, compared to those without cars.
(Mitsloan)
Gig economy job statistics suggest that the unemployment rate in the gig economy decreases as the demand for gig workers grows. This information also proves that the gig economy affects the overall unemployment rate.
27. The demand for gig workers in field services and manufacturing is estimated to reach 88% by 2023.
(Roland Berger)
The demand for field and manufacturing services stands at 63%. This means that their demand will increase by 25% to reach 88% in 2023. Also, the demand for corporate staff and support services is predicted to be 94% by 2023.
28. The freelancer platform market size will boom at a 15.3% CAGR between 2021 and 2026.
(GlobeNewswire)
A recently published overview of the freelance platform market predicts a bright future for this industry. The freelance platform market is growing, and it's supposed to reach $9,192.9 million by 2026.
29. Large corporations and professional service firms use flexible talent for 72% of projects.
(FlexingIt)
At first, flexible talent was the top choice for startups. Nowadays, large service firms qualify as the largest users of flexible talent.
Popular Gig Economy Trends and Other Facts
Many people choose to be independent contractors because of the flexibility and the wide range of opportunities that the gig economy provides. However, they have to be ready for inconsistent income, less stability, and fewer protections.
Take a look at the statistics listed below to find out more about why people choose gig work, their struggles, and prominent trends.
30. 98% of remote workers would like to work remotely for the rest of their careers.
(Buffer)
According to the gig economy statistics based on a global survey that includes more than 3,500 remote workers, just 2% don't count on remote work as a long-run option. Additionally, 97% of respondents state that they encourage others to pursue this type of work.
31. Between 3–10% percent of workers in mature economies rely on gig platforms as a secondary source of income.
(BCG)
Gig platforms such as Fiverr and Upwork aren't so popular in mature economies like the US. Various freelance economy statistics point out that the number of workers relying on these platforms is negligible because of high fees and the freelancers' ability to find work elsewhere.
32. 60% of freelancers claim that they got into the gig economy by choice.
(CNBC)
People wish to work more independently. According to the statistics, 64% of freelancers want to remain independent and don't want to work like traditional employees.
33. 70% of freelancers opt to work in the gig economy because of the better work-life balance.
(FlexJobs)
Flexibility is one of the most significant gig economy trends. As many as 71% of freelancers feel comfortable working from anywhere. Moreover, many of them consider moving to a smaller city. Additionally, gig workers can travel more and devote time to their families.
34. Uber will surpass $35 billion in ride-sharing sales in the US by the end of 2023.
(eMarketer) (Statista)
Uber's share of the US market has declined from 74% to 69% in 2021. Despite this loss, Uber is still growing in revenue and ridership. The estimation is that the company's sales will skyrocket in a few years.
35. Upwork has purged around 1.8 million registered freelancers from the platform.
(Business of Business)
Sharing economy statistics imply that using online freelance platforms is one of the current trends in the gig economy. However, UpWork's CEO stated that almost two million freelancers had to be purged from the platform because of the skill gap between what companies want and what they get from freelancers.
36. 80% of remote employees work from home.
(Buffer)
Remote employees usually work from their homes. Only 9% work from a company's office, 7% from coworking spaces, 3% from coffee shops, and 0.5% from libraries. The rest (0.5%) work from other places.
Gig Economy Statistics — Conclusion
The gig economy has undoubtedly become an integral part of the US and global labor force. In fact, millions of people are switching to this alternative employment. Statistics show that the gig economy gives them the flexibility that traditional jobs simply can't promise.
Yet, unlike traditional employment, the gig economy lacks security. So, it's better to think things through before entering the gig workforce. If you're interested in becoming a gig worker or hiring one, these stats and facts can help you reach the right decision.
Frequently Asked Questions (FAQ)