Having loyal customers is essential to run a successful business. Before even considering creating a brand of your own, there are important brand loyalty statistics that will show the nature of this fascinating and essential aspect of business.
The old saying "the customer comes first" still holds up. Brand owners must be prepared to put customer satisfaction above everything else. Not only are loyal customers a regular source of revenue, but they also provide the best referrals — better than any advertising campaign ever could.
Top Brand Loyalty Statistics 2021 (Editor's Choice)
77% of brands could cease to exist overnight without any market impact
You have at least 3x more chances of selling a product to a loyal customer
Lexus is the number one car brand when it comes to brand loyalty
You can double your profits by increasing your customer retention rate by 5%
eight out of ten people leave a business due to bad customer support
62% of clients will stay loyal to a company after it earns their trust
81% of Americans state they expect companies to be transparent
Apple Inc. is number one in brand loyalty
Brand Loyalty Fun Facts
Developing brand loyalty is something every company needs to invest in. Happy customers generate profit and a positive reputation that can't be established in any other way. Here are the facts about brand loyalty and how to keep your customers coming back.
1. You have at least 3x more chances of selling a product to a loyal customer.
(MarkinBlog)
According to brand loyalty data, loyal clients generate higher profits than one-time customers. The likelihood of a loyal customer buying a product from a company is up to 70%, while a new customer is just 5-20% likely to purchase something for the first time. It costs 7x more to capture a new customer, than it does to retain an older one. Making appreciating current customers that much more critical.
2. 77% of brands could cease to exist overnight, and no one would notice
(Vivendi)
Creating a following and awareness of your brand has never been more important. Brand loyalty statistics show that 55% of people believe companies play an important role in creating a better future, meaning they look for brands that align with their personal values. The data shows that many brands fail to create a meaningful impact on the market.
3. Happy customers will share their good experiences with a minimum of 11 individuals.
(SmallBizGenius)
While happy customers will share good experiences with over ten people, negative experiences are three times more likely to be shared. Millennials are the most forgiving of the generations, telling around 15 people if they've had a negative experience with a company. According to the millennial brand loyalty statistics, this generation may be the most loyal of all, choosing another company after a bad experience just 75% of the time, as opposed to Gen Xers and Baby Boomers who will switch 85% of the time.
4. Almost 80% of customers state that their loyalty to specific brands surpasses 10 years.
(SmallBizGenius)
Customers have never had such ability to share experiences about company services and products than they do today. By posting and reading reviews, sharing on social media, and good old-fashioned word of mouth, 82% of companies realize that customer retention is more cost-effective than acquiring new ones.
The latest trends in brand loyalty reiterate that customer retention and branding is more important than ever, especially through the use of loyalty clubs and programs that offer rewards, discounts, free samples, and exclusive promotion codes. More than half of consumers (58.7%) report that receiving rewards and loyalty points is one of the most valued parts of the shopping experience, coming second only to having a quick and easy check-out process.
Customer Retention Statistics
Brand loyalty is accomplished through increasing your company's customer retention rate. This can be achieved in various ways, but facts show that ensuring your clients receive a prompt and organized customer service experience is a leading factor.
5. You can double your profits by increasing your customer retention rate by 5%.
(99Firms)
Customer retention is highly profitable and is quickly becoming the leading profit generator for businesses. Brand loyalty statistics indicate that loyalty clients spend 33% more than regular clients, making a focus on customer experience absolutely invaluable. By improving customer retention by just a small amount, major profits can be earned. Retention variables such as customer service have the greatest impact, with 65% of customers stating they will decide to make a purchase based on their customer service experience.
6. A little over 30% of clients would stop buying products from a company they loved if they went through one bad experience.
(PWC)
Brand loyalty trends show that, unfortunately, the margin of error when you own a brand is very low, if not non-existent, when it comes to customer service. According to statistics, 30% of customers who love a brand would still switch to another company after just one bad experience. This makes the investment in quality training and hiring worth the cost, as the benefit (or loss) can be catastrophic.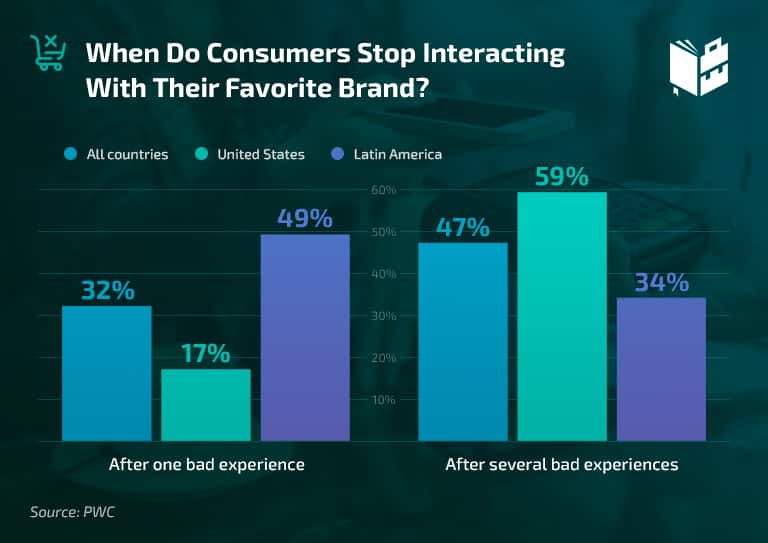 7. Almost 60% of clients say that they would rather spend more than purchase from companies with poor customer service.
(GetFeedback)
According to brand loyalty statistics, more than half of customers are looking for a good experience, not just an inexpensive product. Customer experience is becoming the main brand differentiator in modern business today, above even products and services. This is a whole new world, where price and product development is no longer the driving force behind sales and profitability.
Transparency and Brand Loyalty
No business wants to hear that their brand loyalty is declining in statistics, but the margin of error remains quite low when it comes to keeping your customers after a bad experience. There is some chance, however, of keeping customers if direct honesty and transparency are used to respond to problems and negative situations.
8. 8 out of 10 individuals in the US would stick to a brand after the company made mistakes if it was known as being transparent.
(Annex Cloud)
Examining brand loyalty and the percentage in the US, the transparency of a company is extremely important to consumers. It turns out that people are incredibly tolerant of businesses that have made mistakes or given bad experiences, as long as they are upfront and honest about situations, responding to them appropriately and with tact.
9. 81% of Americans state that they expect companies to be transparent.
(MartechToday)
According to the stats on transparency and brand loyalty, transparency is the primary value most Americans look for when it comes to brands they want to support, even more so than from their friends, family or the government. Especially as businesses turn to social media to do the majority of their advertising, most people say they look for brands that are open (59%), honest (49%), and clear (53%).
10. 62% of clients will stay loyal to a company after it earns their trust.
(Adroll)
When it comes to brand loyalty, recent trends show that the hard part of customer retention is establishing trust, not simply preferring one product over the other. Several variables contribute to this process, such as brand transparency, customer service experience, product quality, brand values,, and store environment (including a usable website).
The data suggests that most companies fail to achieve this relationship with their clients, with only 34% of people stating they trust the brands that they use.
Social Media Brand Loyalty Statistics
11. 49% of customers state that their decision to buy is severely influenced by social media posts.
(Proprofs Chat)
Social media has steadily become integrated into the daily lives of most people around the globe. It holds a primary influence on the people who use the platforms, not only through businesses being able to advertise but through the mass-sharing of information by users, especially influencers.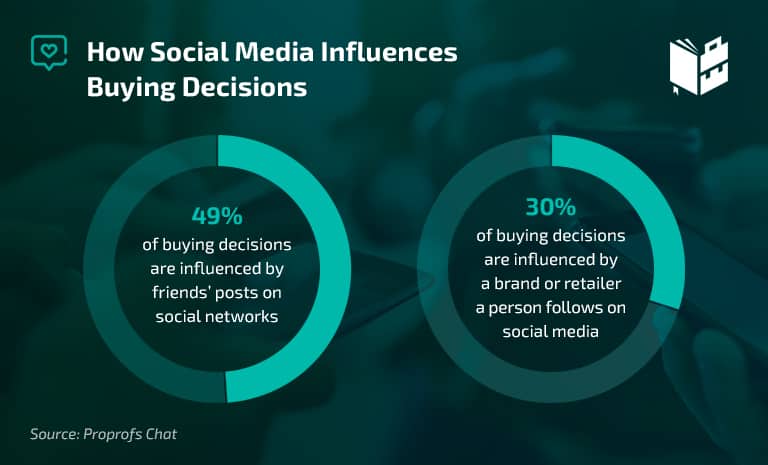 12. 75% of people bought a product after seeing it on a social media website.
(MatchStickSocial)
Social media presence is an integral part of any brand today. According to brand loyalty statistics, not only have three-quarters of people bought something after seeing it on a social media post, but 71% of consumers who have a good social media experience with a brand will recommend it to someone else.
13. Half of people who follow a brand on social media are more loyal to them.
(Convince and Convert)
Social media is useful for client retention for many reasons such as free advertising and regular visibility, but it serves an additional purpose, allowing businesses to see their loyal customers without the use of a loyalty program.
The Biggest Names in Brand Loyalty
According to Apple customer loyalty statistics, we know there are just some brands that get customer retention right. With premium products, innovative designs, and excellent customer service, they have become the biggest corporations in the world due to the respect they get from their customers.
14. Apple Inc. is number one in brand loyalty.
(Nasdaq)
The multinational tech corporation is not only well-loved by individuals all over the world, according to Apple brand loyalty statistics, the good majority of its customers also remain loyal to the brand after purchasing their first Apple product. Apple Inc. is a prime example of establishing customer retention and is one of the richest companies in the entire world.
15. Nike is number one in client perception.
(Forbes)
Although the sportswear market is a highly competitive one, brands like Nike, Under Armor, and Adidas have established themselves as household names. As such, these brands are close in rank when it comes to customer loyalty. According to Nike brand loyalty statistics, Nike is number one when it comes to customer's perception.
16. Disney stays relevant by using multi-segmented marketing plans for different age groups.
(Web Content Development)
Disney has been keeping its fans happy and satisfied for almost 100 years. The multinational mass-media and entertainment organization's advertising team is still doing an incredible job in keeping customers engaged and loyal. In accordance with Disney brand loyalty statistics, the corporation has customers who visit the park twice a week because of their love for the brand and everything it represents.
17. Lexus is the number one car brand in the automobile industry.
(JDPower)
High-end luxury car brands often yield a significant amount of brand loyalty from their customers. From the car itself to brand-inspired clothing, being a loyal customer to Lexus or Ferrari is so much more than just buying a car. According to car brand loyalty statistics, Lexus is first, with a 48% loyalty rate, followed closely by Mercedes-Benz with 47.8%, BMW with 45%, Porsche with 44.9%, and finally Audi with a brand loyalty of 43.4%.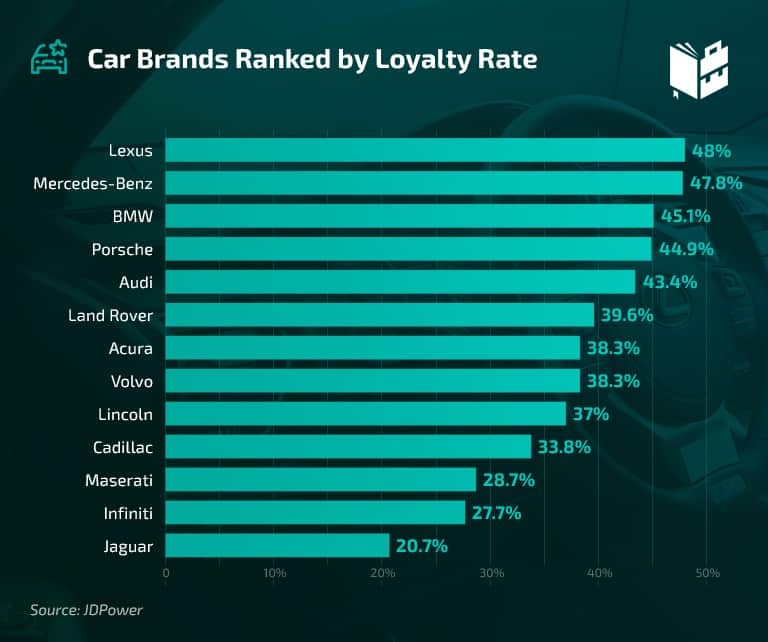 Conclusion
Brand loyalty is becoming the number one factor in differentiating successful companies from unsuccessful ones, even over product cost. Establishing a unique, transparent, and conscious brand that encourages customers to be loyal is more important than ever in any business.
Customer loyalty statistics for 2021 show that if you are an owner of a small business, establishing a clear brand vision that focuses on customer experience and is present on social media can increase profitability dramatically.
Loyal customers spend more, share their experiences with their friends and acquaintances, and are overall an indispensable part of any business model.