Agile adoption statistics show that organizations are increasingly turning to Agile project management. The Agile approach revolutionized software development in the 1990s, and since then, it has been sparking the interest of industries ranging from financial services to retail.
The ability to be adaptive and seize emerging business opportunities are the pillars of the Agile approach. Agility is of the utmost importance in the fast-paced business world, especially after COVID-19 forced organizations to find innovative and easy ways to navigate change.
Key Agile Adoption Statistics (Editor's Choice)
86% of software development teams have fully adopted the Agile approach.
Among marketers, 53% are using Agile.
34% of Agile organizations are using a scaling framework.
Agile projects are twice as likely to succeed than Waterfall projects.
Agile CEOs are spending four times the amount of time on strategy.
For 81% of users, Atlassian Jira is the most recommended Agile tool.
85% of organizations are implementing daily standups.
66% of Agile teams are using Scrum.
Agile Adoption Statistics 2022
1. Pre-pandemic, 93% of business units that adopted an Agile model saw better or significantly better operational performance.
Companies that use Agile methodology are highly adaptable and resilient. Business units that had adopted Agile practices before COVID-19 hit were better equipped to respond to the crisis and outperformed those that hadn't. About 93% have reported better or significantly better operational performance, 76% saw better employee engagement, and another 93% saw better customer satisfaction.
(McKinsey)
2. 53% of marketers are using Agile.
(Agile Sherpas)
Agile adoption among marketers is stronger than ever. According to Agile adoption statistics, 51% of marketing teams have adopted it, compared to 36% traditional and 13% ad hoc approaches. Additionally, nearly 60% of non-users are planning to adopt an Agile approach in the next six months.
3. 38% of marketers said COVID-19 accelerated Agile adoption.
(Agile Sherpas)
Nearly 40% of marketers accelerated Agile adoption due to the pandemic's impact. The percentage of non-Agile marketers planning to shift to Agile as soon as possible is also high, with 59% reporting the shift will happen within the next six months and 34% within the next year.
4. According to Agile adoption trends, 95% of developers are using Agile.
(Agile Sherpas)
It's not a surprise that the IT sector leads in Agile adoption. Recent data reveals that Agile adoption is spreading through other departments too. For example, sales teams report an 18% adoption rate, followed by finance and HR, at 10% each.
5. 77% of creative services and op teams have already adopted Agile.
(Agile Sherpas)
Agile has made its way to different marketing teams, with creative services and operations topping the list. Agile adoption statistics show, the Demand and ABM come in second at 76%, followed by website teams at 72%, social media at 66%, and portfolio and product marketing at 62%.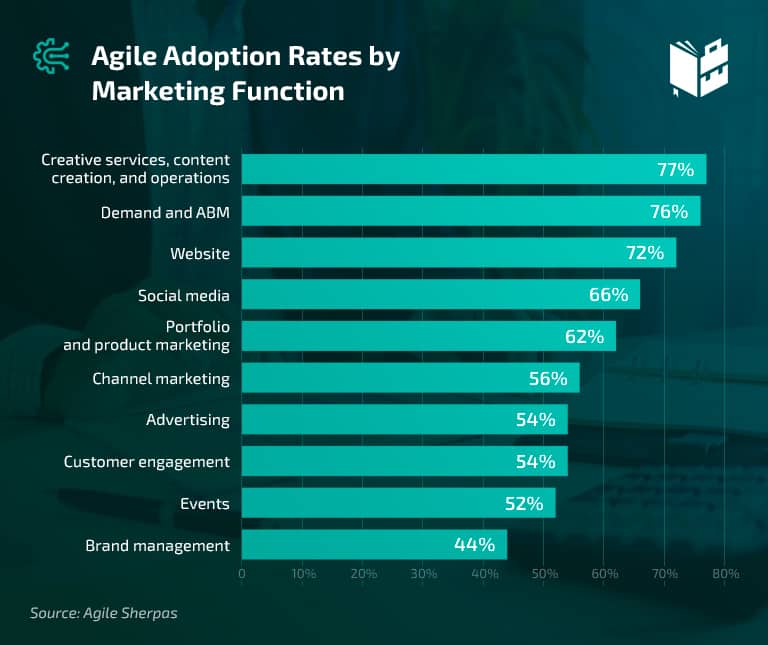 6. 65% of software delivery experts say their company has at least three years of experience with Agile.
(State of Agile)
Agile has been widely used in the software development industry for quite some time now. About 65% of respondents in the State of Agile survey said their company has significant experience using Agile. Looking closer at Agile adoption statistics, 33% have been practicing it for 3-5 years and 32% for more than five years. Additionally, 22% of teams have been using Agile for 1-2 years, 7% for less than a year, whereas only 2% said their team still hasn't adopted Agile.
7. 30% of organizations have faced at least ten challenges while adopting Agile.
(State of Agile)
Organizations face multiple challenges as they adopt Agile practices, techniques, and tools. About a third of them said they had encountered at least ten different challenges during the process.
Adoption of Agile Development Trends
8. At 66%, Scrum is the most used Agile approach.
(State of Agile)
About 66% of teams have adopted Scrum, while an additional 15% of teams have reported they follow Scrum derivations such as ScrumBan with 9% and Scrum/XO with 6%. Kanban and Iterative are also often cited among the most popular Agile methodologies.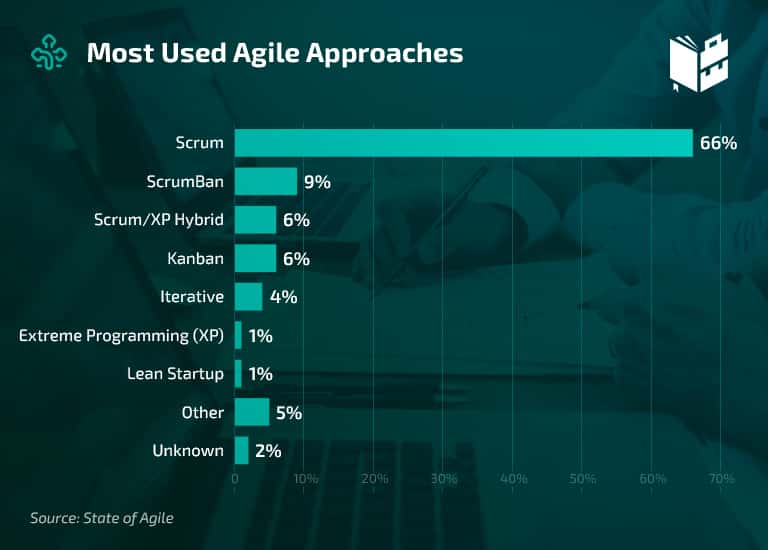 9. 34% of Agile respondents are using a scaling framework.
(Status Quo Agile)
Agile adoption trends for 2021 show the Scaled Agile Framework (SAFe) position as the most popular choice among 34% of Agile respondents using a scaling framework. Furthermore, 35% are developing their own framework, 23% use LeSS, 16% use Spotify-Model, 15% use Nexus, and 15% use Scrum at Scale.
10. 56% of software delivery experts have implemented or plan to implement Virtual Stream Management.
(State of Agile)
VSM is one of the biggest Agile adoption trends. The technique has been gaining traction as it helps companies realize the potential of Agile and DevOps. More than half of software delivery experts have already implemented or plan to implement VSM, whereas 23% say their organization is interested in VSM. Additionally, 70% of organizations will be using VSM by 2030 to improve the DevOps pipeline flow.
11. Daily standup is employed by 85% of organizations.
(State of Agile)
Agile adoption trends show that at least nine out of ten organizations are using daily standups. Furthermore, 83% of organizations use retrospectives, and another 83% cited Sprint/Iteration planning to be their top agile method. Sprint/iteration reviews, Short iterations, and Kanban are also popular agile methods.
12. For 81% of users, Atlassian Jira is the most recommended Agile tool.
(State of Agile)
Choosing the right tool can determine the success of Agile processes. Among the tools software development experts use the most, Atlassian Jira and Digital.ai Agility are the two that stand out with the highest Agile adoption rates. Furthermore, Azure DevOps has a rate of 66%, CA Agile Central, 62%, and Trello has 59%.
13. 74% of organizations either have a DevOps initiative or are planning one.
(State of Agile)
DevOps has a strong level of investment among Agile organizations. About 56% of organizations have a DevOps initiative, and 18% are planning one. Furthermore, 75% have confirmed DevOps is important or very important to their organization.
Agile Statistics 2022: Top Benefits of Agile Adoption
14. 64% of Agile users have listed enhanced ability to change priorities as a leading reason to adopt Agile.
(State of Agile)
The top driver for going Agile is to achieve an improved ability to manage changing priorities. Another 64% of respondents went Agile to accelerate software delivery, and 47% cited increased team productivity as the main driver. Improving business and IT alignment was reported by 47% and better software quality by 42%.
15. 59% of marketers went Agile to increase innovation.
(State of Agile)
The main driver of rapid Agile adoption trends is increasing innovation, as cited by nearly half of marketers. For 54% of marketers, the main reason for Agile adoption was to improve their ability to manage changing priorities, and for 49%, to increase innovation. Faster campaign delivery was cited by 44%, better project visibility by 42%, and improved alignment with other business units by 36%.
16. CEOs who have adopted Agile spend four times the amount of time on strategy.
(Harvard Business Review)
According to recent Agile adoption statistics, becoming an Agile organization significantly impacts senior executive roles. For example, on average, CEOs spend 40% of their time on strategy compared to the 10% they were spending before. Conversely, 25% of the time on operations management compared to 60% before adopting Agile.
17. According to 53% of marketers, the most significant benefit of adopting Agile is shortening the time to get things released.
(Agile Sherpas)
Marketers adopting Agile can get things released faster, increase productivity, and prioritize more effectively. Moreover, they are equipped to change gears quickly, have a higher quality of work, improve business objectives alignment, and enhance team morale. 
Agile vs Waterfall Statistics
18. At 43%, hybrid is the most common approach in projects or development processes.
(Status Quo Agile)
Almost half of teams are using a hybrid approach to project management, with 20% consistently using Agile, and just 8% using classic project management. Nearly a third are exploiting selective Agile methods based on need.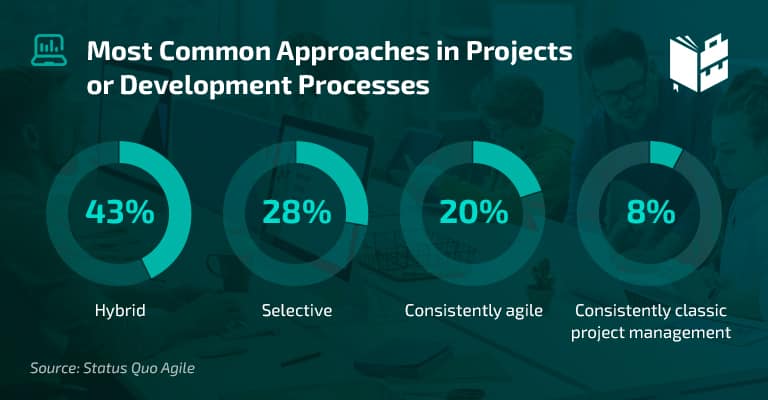 19. Agile projects are twice as likely as Waterfall projects to succeed.
(Vitality Chicago)
The success rate of Agile projects is estimated at 42% compared to 26% of Waterfall projects. Additionally, they are also less likely to fail compared to Waterfall projects. According to agile adoption failure statistics, the Agile adoption failure rate is 8% compared to 21% of Waterfall projects.
20. Only 2% of organizations are exclusively using the Waterfall approach.
(The Beacon)
The vast majority of organizations are either using or leaning toward Agile. Notably, a significant proportion is using a hybrid approach. According to recent data, only 2% are using Waterfall solely, and 7% are leaning toward it.
21. For large projects, Agile approaches are twice as likely to succeed compared to Waterfall projects, Agile adoption statistics show.
(Vitality Chicago)
Agile's Future is Bright
Agile has a better success rate than Waterfall approaches for all projects. That being said, large Agile projects succeed at twice the rate of Waterfall projects and are half as likely to fail. Agile approaches have a 31% success rate for medium-Agile projects compared to 19% of Waterfall approaches. For small projects, the success rate is 59% for Agile and 56% for Waterfall approaches.
Agile adoption statistics reveal that organizations are increasingly leaving traditional project management methods for Agile. Agile is a fast and flexible process that helps businesses become more efficient by letting them learn and improve with each new iteration.
Agile teams can effortlessly manage changing priorities, anticipate incoming changes, and have stakeholders and clients give feedback as the project evolves. Furthermore, Agile empowers teams to work creatively and helps them effectively prioritize.
FAQ
Why do Agile adoptions fail?
While implementing Agile, organizations will undoubtedly face some challenges. Some of them are easy to overcome, whereas some can cause the adoption process to fail. In most cases, Agile adoption fails due to the organization's resistance to change and lack of skills and experience to implement Agile practices properly. Inconsistencies in processes, practices, and poor leadership can also cause Agile adoption to fail.
What are the top two reasons for adopting Agile?
In its essence, the Agile project management approach is based on delivering requirements incrementally throughout the project cycle. Because of its nature, organizations adopt Agile because they want to become more efficient. The top two reasons for going Agile are an increased ability to change the priority and speed up the delivery process. Other drivers for adopting Agile are increased productivity, better alignment between business and IT, and enhanced product quality.
What percentage of companies use Agile?
The recent State of Agile 2021 report revealed that 94% of organizations are practicing Agile. Among them, 33% have been doing so for 3-5 years, whereas 32% have been implementing Agile practices for more than five years. Additionally, 22% of companies that use Agile project management have adopted Agile within the last two years, and 7% have only adopted agility within the last year, according to the latest Agile adoption statistics.
Sources:
Agile Sherpas, Agile Sherpas, Harvard Business Review, McKinsey, State of Agile, Status Quo Agile, Tech Beacon, Vitality Chicago