Are you looking for a Podia review with a difference? Then you're in the correct place. Our team put products and services through their paces rather than just formulating an opinion based on what others say online.
Podia bills itself as a one-stop platform that takes digital marketing to the next level. Users can use the site to create, host, and market their online courses and even manage affiliate networks. According to the platform, you can build an entire website in less than 10 minutes and manage everything in one place.
So, is the Podia platform as robust as the company claims? Is it the right place for you to sell your content? Let's take a closer look.
Pros & Cons

Pricing Plans
Plans
Monthly
Annual (Save 17%)
Mover
$39/month
$33/month
Shaker
$89/month
$75/month
Earthquaker
$199/month
$166/month
*billed annually
Features and Integrations
Podia offers one of the most comprehensive sets of resources on the market today. There is plenty of advice on creating courses from scratch, learning more about your target market, and much more.
You can check the Help Center for answers to questions you never thought to ask. Finally, users can join the Creator Community to garner support from other creators.
Features
The platform lists its features as:
online courses
webinars & workshops
digital downloads
coaching & consultations
email marketing
affiliate marketing
embeds
integrations
However, in this Podia review, we feel we should explain what the features allow you to do instead:
create an online community and remain in contact with them
present video hosting on an unlimited basis through Wistia
playback your course using a professional course player
create a high-converting site for your course and other digital products
offer monthly subscriptions, once-off payments, or payment plans
accept payments securely through Stripe or PayPal
easily handle tricky calculations like VAT and other taxes
create an affiliate link of your own to allow others to sell your product
create targeted email campaigns either on the fly or through a programmed schedule
build your email subscriber base and maintain it over the long term
Website Building Feature: Our Favorite
Can you build your site in under 10 minutes, as Podia reviews claim?
Our team did just that without having to add a line of coding. We used the platform to set up a website for a creative friend who never seemed to have the time. Here's the first screenshot of what we got using sparse detail and a picture from Unsplash.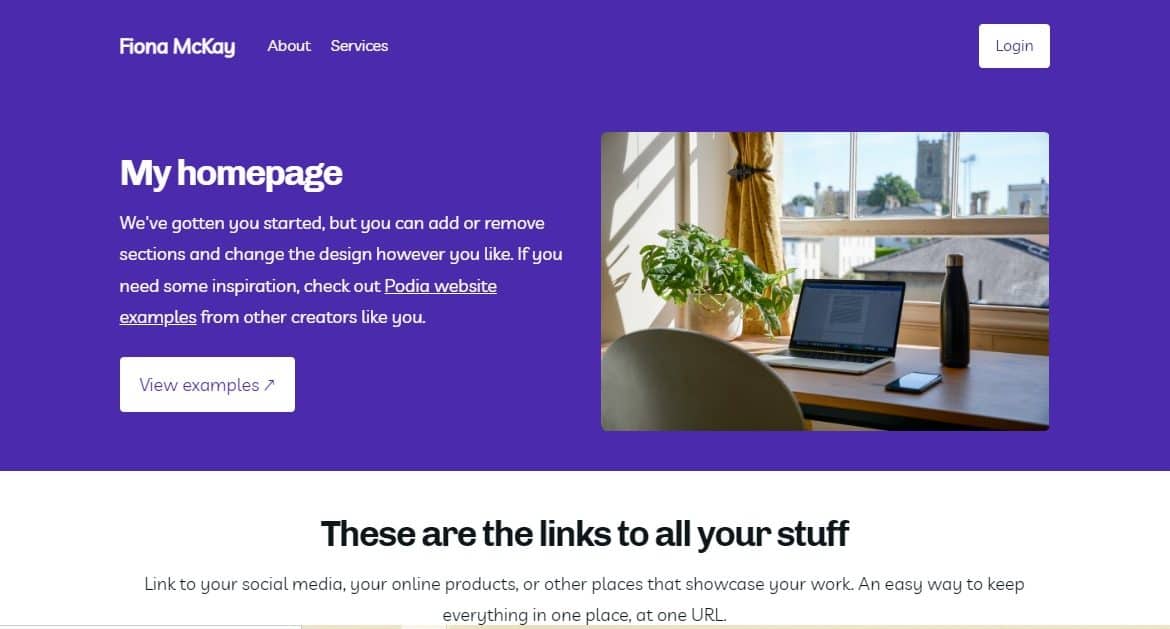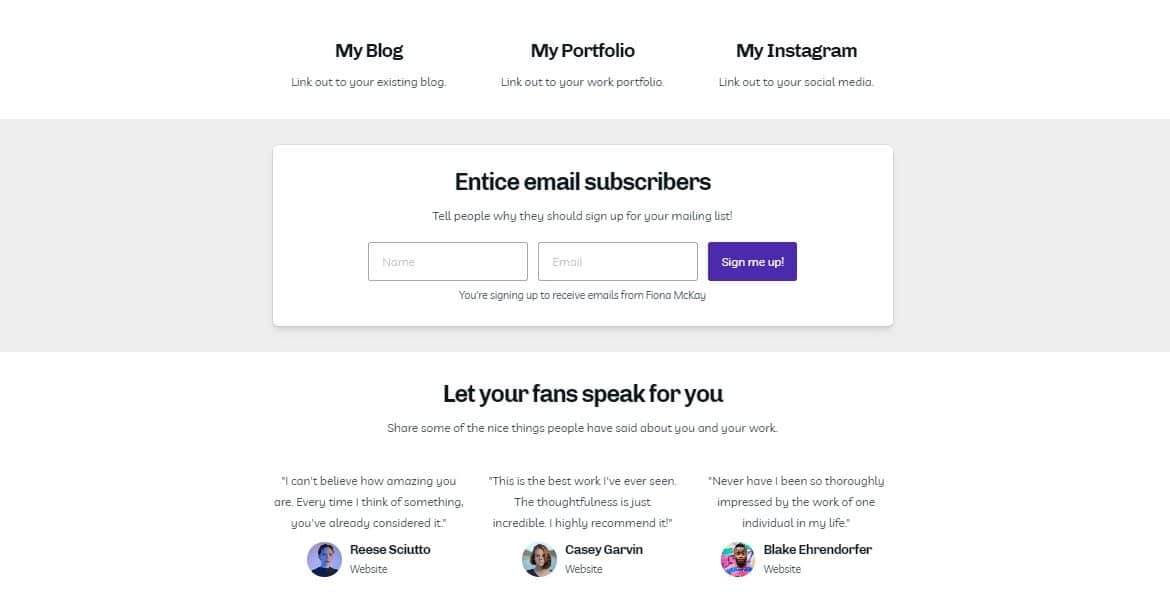 It will not win any awards as it stands, but then again, we did not do much to add any detail. Our friend can easily tweak the site using the recommendations that Podio provides.
The website builder gets a thumbs-up from us for being quick and easy to use.
Podia Integrations
Podia allows you to link an unlimited number of creator tools. The designers created the platform to integrate with all of your favorite tools to ensure you get the maximum benefit.
Podia will collate the data you collect and transmit it to the relevant app on your behalf. For example, when someone buys a product, Podia adds the email address to your list and sends the information to your analytic software.
The low Podia price makes it a cost-effective content management option. Thanks to the platform's integrations, embedding content into your site is as simple as copying and pasting the link. In addition, iFramely enables the users to embed over 1,900 tools like Google Forms or Spotify without typing a line of code.
Podia takes things a step further by also incorporating Zapier. This tool makes it easy to integrate multiple tools and automate functions as necessary. Finally, if you need a custom tool, Podia allows you to drop in a code snippet.
Coupon Codes and Free Programs
Podia supports coupon codes and courses even on the free plan. This is helpful when boosting subscriber numbers or referring people to a class you host on your website. By contrast, LearnWorld and other competitors don't allow free courses in their lower tiers.
Podia Integrations with These Companies are Seamless
ActiveCampaign
Acuity Scheduling
AWeber
Calendly
ConvertKit
Deadline Funnel
Dribbble
Drip
Dubsado
Facebook
Fomo
GetResponse
GitHub
Google Ads
Google Analytics
Google Forms
Google Sheets
HotJar
HubSpot
LeadPages
MailChimp
MailerLite
PayPal
Pinterest
SavvyCal
Spotify
Stripe
Sumo
Third-party snippets
ThriveCart
Trello
Twitter
Vimeo
YouCanBook.Me
YouTube Live
Zoom
1000+ Zapier connections
1900+ Embeds
If you cannot find the application you need on this extensive list, you can always add a code snippet to incorporate it manually.
Podia Affiliate Management
Podia makes it simpler to build and manage your affiliates. It offers tools to:
reach out to past customers, collaborators, creators, and anyone who might be able to market your digital content successfully
manage the affiliate commissions, offers, and network on the platform directly with a few clicks
Why do we like Podia's affiliate management system?
easy setup
customizable commissions
options for restricting access or allowing anyone to join
quick, effortless commission payouts
In addition, you can use the platform to remain in contact with your affiliate network.
Podia Membership Tools
A one-off digital sale is satisfying but prevents further contact with your client, and the money runs out quickly. With Podia, you can create an enticing value proposition for people to subscribe to your digital channel.
What you offer the clients depends on your target market and what they're willing to pay. You will need to think of something that adds value for them and builds your brand reputation.
Podia Alternative
If you're a regular reader, you know that we never leave any stone unturned. Yes, we like Podia because it offers excellent value for the money. However, we are never content to allow a brand to rest on its laurels. There are many new offerings on the market, and it never pays to be complacent.
We looked into LearnWorlds as an alternative. Dubbed the "professional's choice" by many users, we thought it would pay to look into LearnWorlds vs. Podia and see how they compare.
Overall, both sites did well, and we can see why LearnWorlds comes across as the more professional of the two. The site design is outstanding, and several advanced features should enhance your business substantially.
The downside of LearnWorlds is the cost. There is no free plan, so you start by paying $29 per month plus $5 per sale. With this plan, you can offer unlimited paid courses but only have three pages for your website. The advanced programs cost between $84.15 and $254.15 per month.
Ease of Use
Setting up Podia courses and websites is simple enough, even if you've never done anything similar. You don't need any experience in coding, just some common sense. The site is intuitive to use with plenty of resources that teach you about essential concepts.
Read more: Best Online Learning Platforms
You can follow templates to create webinars, email marketing campaigns, e-books, and a wide range of other content. The site has many resources to help you make things like:
eBooks in either EPUB or PDF format
presets like Photoshop brushes and Lightroom settings
templates like CV blanks or day planning schedules
free lead magnets to encourage new subscribers
bundles of your digital products
music for either pleasure or commercial use
audio files, such as podcasts
Podia Pricing & Plans
Podia offers four account levels with various service level agreements as follows:
| Plans | Monthly Fee | Annual Fee (Save 17%) |
| --- | --- | --- |
| Free | $0 | $0 |
| Mover | $39 | $396 |
| Shaker | $89 | $900 |
| Earthquaker | $199 | $1,992 |
We were pleasantly surprised to see the free account matched the others in the essential features. This way, you may sell one downloadable product and one coaching session. You also pay an 8% Podia transaction fee on all sales in addition to the payment gateway's price.
For this Podia review, we focused primarily on the free account. We found that getting a feel for the features was more than adequate. We also felt that if you're a brand new creator who needs an outlet to sell their products, Podia's free plan is perfect for testing the waters. You may choose to upgrade it later when your brand takes off.
With the other plans, the Podia transaction fee ultimately falls away, so you know precisely what your monthly spending is. In addition, there are no limitations on the number of products you can sell on the other plans.
Podia lists its Shaker plan as the best value for the money overall. We agree with that consensus, as you may only initiate affiliate marketing from this level onward.
Refund Policy
It seems that Podia discounts the idea that someone subscribing to its platform might ask for a refund. There is much helpful information on what to do if one of the creator's clients requests a refund, but nothing about what happens if the creator does.
Upon contacting the team, we learned that you may request a refund in the event of renewal or upgrade. To do so, you must reach out to customer service within 72 hours. It will refund the most recent payment, but not anything before that date.
Online Ratings
Podia customer reviews are mixed at best. On TrustPilot, the company rates 2.9 out of 5. However, if you read the complaints, you'll find they're mostly old and regarding subscriber lists that disappear.
It is interesting since Podia lets you download your subscriber and audience lists. Our experience with customer service showed they were quick and eager to assist, and even the negative comments agreed with this opinion.
Therefore we have to wonder if these "disappearing" lists were negligence on the user's part or if the person didn't pay their fees and lost access.
Another Podia review stated that the user had canceled their account and was angry because their clients lost access to the products they bought. However, is it reasonable for someone to expect a company to continue hosting dead products forever? Creators must also take the initiative to make the files available elsewhere for their clients.
Overall, considering the company has been around since 2014, the small number of online complaints bode well for it. There are positive reviews too, but it doesn't seem like Podia actively asks creators to review the platform.
Value for Money — Final Verdict
Podia reviews aren't as precise as you might hope. For one, the site is intuitive and effective. In addition, the pricing model is competitive and comes in lower than some of the company's primary competitors.
The one or two negative ratings don't dull our enthusiasm for the product. Instead, we see them as commonsense warnings to back up all your data on the website. We also recommend considering whether or not your clients need future access to the files.
It may be wise to set up a folder in DropBox and send them an additional link via email if they need to download their files later.
These simple steps are a small price to pay for a robust platform charging competitive prices.
People Also Ask — FAQ