Did you know that 78% of Fortune 500 companies use LinkedIn Learning to upskill their employees? In this LinkedIn Learning review, we'll share with you lots of interesting and useful information about this platform.
There must be something unique about LinkedIn Learning that attracts over 27 million users worldwide. It's an online educational platform featuring more than 16,000 courses divided into three categories: business, technology, and creative. It started as Lynda.com in 1995 as online support for Lynda Weinman's books and classes. LinkedIn acquired it in 2015.
Its users can try out some new features and earn downloadable LinkedIn Learning certificates. The video material covers various topics, such as software development, marketing, business, art, etc.
The purpose of LinkedIn Learning is to enable learners to gain relevant skills. Instructors with real-life experience share their knowledge with students, enterprises, government agencies, and libraries to meet everyone's needs and expectations.
Pros & Cons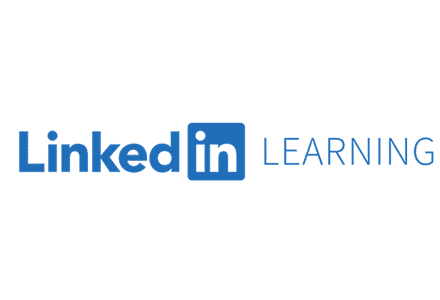 Pricing Plans
Monthly Plan
$29.99
Billed monthly
Yearly Plan
$19.99
Billed yearly
Features, Courses, and Materials
Before we dive into the LinkedIn Learning review, it's important to note that LinkedIn Premium users don't have to pay for a LinkedIn Learning subscription. However, a free LinkedIn account is a prerequisite for LinkedIn Learning membership.
You are probably wondering why.
LinkedIn Learning promotes personalized learning. Therefore, the platform relies heavily on your LinkedIn profile for valuable data. In other words, the platform wants to recommend to you the most relevant courses based on your personal account's information and activity, such as your education, likes, saved content, etc.
The user interface has the same design as LinkedIn itself. The static header displays your account where you can cancel LinkedIn Learning membership, track everything you have studied so far, and change the page language. LinkedIn Learning homepage is where you can select your courses based on your preferences and current needs.
The video material comes in three forms:
Courses
Individual videos
Learning paths
They share some similarities. You can find them by browsing the topics or searching for skills, topics, or software in the search bar. But, let's inspect each one of them separately.
LinkedIn Learning Courses Review
The business, technology, and creative categories contain tons of courses. You can filter them out on the left side of the screen based on their length, level, software, and continuing education units (CEUs) within a topic.
Courses last from less than half an hour to more than three hours. You can find intermediate and advanced courses for more experienced learners. Of course, there are plenty of introductory courses for beginners, as well.
You have the option to create a personal collection of courses and save them for later. Our findings agree with LinkedIn Learning reviews singling out the Course page for its logical structure. The Course page discloses all the information about a course you choose, including the overview of the videos you'll watch and project files or certificates. The skills covered in the course are in the form of clickable tags. You can jump to other courses via those tags. In line with the social component of LinkedIn Learning, you can see how many people have taken the course. Additionally, you can visit an instructor's LinkedIn profile.
You'll get access to certification preparation programs for the same LinkedIn Learning price, too. Individual learners can study for professional certification exams and earn continuing education units. The credits are specified in the course description. (ISC)2, Adobe, CompTIA, Google, Salesforce, Microsoft, SAS, and Unity 3D are some of the many certification programs.
CompTIA, HR Certification Institute, International Institute of Business Analysis, NASBA, Project Management Institute, and Society for Human Resource Management offer remarkable continuing education programs serving as resourceful courses for skill improvement and employee training.
LinkedIn Learning Videos Review
Each video belongs to a specific course. The videos have captions and video transcriptions available in English only. There are four tabs below the video: Overview, Q&A, Notebook, and Transcript. The Overview reveals who published the video, when, and how many people have seen it.
The Q&A section enables you to post questions. You can see other learners' questions, too. The notes you take while watching videos help reinforce your newly acquired knowledge. You can come back to read them later or even export and download them.
LinkedIn Learning Paths Review
Learning paths are the longest and most comprehensive of all videos. They help you find well-organized, curated content about a particular topic. They consist of several courses focusing on a broad topic. Yet, some topics include only courses and individual videos.
Learning paths provide video content for a more comprehensive learning experience. The videos and courses within a learning path come from different instructors. Before you start, you can find all the details about the material in the header—what you'll learn, how many hours it lasts, what you can do with it, etc.
LinkedIn Learning Certificates
If you complete courses on LinkedIn Learning, you'll receive Certificates of Completion. They are proof that you watched all the videos. You can download the certificate or add it to your profile.
The majority of the content is eligible to receive a Certificate of Completion. However, courses that have frequent updates and individual videos aren't. You'll see below each of them if you can earn a certificate and which one(s). The downside is that these certificates aren't accredited.
But, here's something else that not every LinkedIn Learning review brings up. LinkedIn Learning is registered with NASBA as a sponsor of continuing professional education on the National Registry of CPE Sponsors. That means that some courses come with CPE credits. It's specified below those videos if such credits or certifications are available.
Ease of Use
We've already said that a personal LinkedIn profile is everything you need to purchase a subscription. You'll find it among the LinkedIn products under Work next to your photo in the upper right corner.
This review of LinkedIn Learning wouldn't be complete without mentioning the search bar that facilitates video searching. The filters for sorting out videos help you find the type of video you'd like to watch. The player resembles regular video players. You can pause it or speed it up.
Your LinkedIn Learning homepage shows the videos matching your interest to ensure the quality of your learning experience. Your role is the defining factor in video recommendation. Thanks to the common skill tags, you can narrow down your search.
LinkedIn Learning Pricing
The pricing model is transparent. Other than the monthly subscription of $29.99 or $19.99 if billed annually, you don't have additional expenses. None of the videos have additional charges, including those with exercises or quizzes. In fact, some of them are completely free, and you can watch them without subscribing.
Before you decide to subscribe to LinkedIn Learning, you can make use of a 30-day free trial.
Refund Policy
After the trial ends, your subscription will be renewed automatically. You can't get a refund except for the individual LinkedIn Learning courses.
If you purchase one or more individual courses, you have a 30-day refund guarantee. They too become non-refundable after one month. Business organizations can enjoy the perks of this platform, but they need to contact sales to get a custom pricing plan.
Online Ratings
As one of the LinkedIn products, the platform has reached a significant number of users who praise it for multiple reasons. A particular LinkedIn Learning review on Quora compares LinkedIn to Udacity. The general impression is that LinkedIn Learning offers the same quality at a lower price. If you're interested in computer science, business, and AI courses, Udacity could be a better choice.
Although it lacks accreditation, LinkedIn Learning certification has helped many people land a job. In the eyes of recruiters, certificates obtained on LinkedIn Learning show your desire to perfect your skill(s) despite having a job. Therefore, these online certificates do have value.
The LinkedIn Learning cost is among the major reasons users love it. The unlimited access to the video library without additional fees makes LinkedIn Learning quite appealing. Also, it's worth the price because it unlocks some Premium features, such as InMail credits, salary and job insights, and more.
Complaints about the Android app are frequent. Apparently, the users are having problems with the horizontal view. The LinkedIn Learning team has responded to these reviews. It'll try to improve the Android users' experience as soon as possible.
LinkedIn Learning Review: The Final Verdict
In essence, LinkedIn Learning is a fantastic place for gaining new skills or upgrading the existing ones. Since it's designed to help you land a job, the platform recognizes your needs. Of course, some topics and skills require more serious commitment.
Although LinkedIn Learning videos typically have certifications, they differ from accredited online learning platforms. Still, your personal LinkedIn profile would look much better with a couple of LinkedIn Learning accomplishments.
Frequently Asked Questions (FAQ)