Since you decided to read this edX review, you probably want to know more about its university-level online courses. Read on to determine if this learning platform will suit your needs. We will review the platform, its features, and other aspects to help you decide if this is the right course provider for you.
Let's start by telling you a bit about the company, and then we'll discuss if edX is legit. Moving forward, we'll elaborate a bit more on the edX pricing, pros, and cons of this learning platform.
Pros & Cons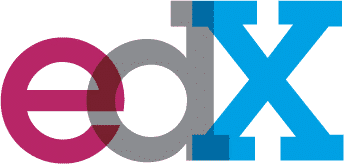 Pricing Plans
Certified edX
$50–$300
Master's Degree
$10,000–$25,000
Micromasters
$600–$1,500
Microbachelor's
$500–$1,500
Cert Program
$150–$1000
edX is a global, non-profit, online platform that holds a variety of learning courses that benefit students in their personal or professional development. Founded by the world-renowned universities Harvard and MIT in 2012, it offers many courses on a wide range of topics with more than 6,000 instructors.
Even though many of the courses are free, students can also pay for graded assessments and official ID-verified certificates. On top of that, the platform provides many training opportunities, certification programs, and complete online master's degrees. Now that you know what edX is, let's move on with this edX review and find out more about its courses and certificates.
edX — Features, Courses, and Materials
The courses vary in terms of length, difficulty, the time required to finish them, and subjects. With more than 2,500 courses available, edX covers the following topics:
History
Literature
Business and Management
Computer Science
Data analytics
Design, and much more
Based on our edX online courses review, the majority of the courses allow 4–12 weeks of learning, each one with a deadline to earn a certificate. When you reach the end date and pass all requirements, you will be eligible to receive a certificate of completion.
Generally speaking, the courses are free to attend for a limited time, but if you want unlimited access to receive a certificate, you will need to pay for the course.
edX Mechanics Review
This physics course is a series of modules that offer mechanics classes using a strategic problem-solving approach. Based on the MIT subject Physics, it covers the following modules: Kinematics, Momentum and Energy, and Rotational Dynamics. If you really want to learn physics, this is the best online course.
The videos are very well created to give you a clear understanding of the main concepts. The course is specifically designed for students and teachers who want to boost their existing knowledge.
edX Cs50 Review
This course is an introduction to computer science and the art of programming. With more than 2,000,000 enrolled students, this is one of the largest courses from Harvard. If you are looking to explore computer science, mobile apps, and game development, it is the perfect choice.
This course fits students of all programming levels. However, even though it's beginner-friendly, it doesn't mean the assignments are easy — you will need to work hard to pass the tests.
edX Analytics Edge Review
The Analytics Edge is a top-quality course that will teach you the power of data and use analytics by studying real-world examples. You will learn specific analytic methods and techniques, such as linear regression, logistic regression, text analytics, visualization, etc. The content of this course corresponds to the MIT classes and covers concrete applications of data analytics in business and industry.
edX Certificate Review
In addition to free individual courses, edX also provides professional certificates. As we mentioned earlier, verified certificates can be obtained for a fee and require that you verify your identity first. Many students use these certificates to apply for a better job, school, college, or request a promotion at work.
While it's true that most employers will recognize the skills and knowledge you show, we agree with many edX institute reviews that these certificates really promote professional growth.
edX certificates serve as proof to employers and educational institutions that you have successfully completed a course. Sometimes we all need an extra push, and this is an excellent way to impress your employer. Imagine what they would think if your certificate from Harvard, MIT, or IBM featured on your LinkedIn profile or resume.
Check out the following professional certificates designed by industry leaders and top universities:
Front-end web developer — If you want to master programming and develop interactive web apps, reviews on edX courses suggest that this might be the right course for you. We found that it will teach you how to create websites and understand the fundamentals of JavaScript and CSS.
Cybersecurity expert — If you are interested in cybersecurity, this certificate will help you understand the importance of cybersecurity protection. You will learn about the policies and procedures used to reduce the risks of cyberattacks.
Corporate finance — The edX certificate value of this program is immense since it can help you understand the principles of finance and how to apply frameworks for valuation and discounting. The course covers sources of external funding for company operations.
edX Online Programs and Degrees
The online learning platform also offers a series of programs that provide a wide range of learning opportunities to broaden students' skillset. These edX online courses are provided by the world's best universities. There are only a few platforms that offer such degrees.
The courses make the learning experience even more enjoyable because they include engaging videos, dynamic graphics, data visualizations, and other interactive elements. Additionally, they allow you to demonstrate your knowledge by practicing with quizzes, open response assessments, virtual environments, etc.
Let's take a look at the following education courses on edX.
edX Micromasters Review
MicroMasters programs are graduate level courses that grant credit toward pursuing a master's degree and accelerate your degree if accepted by the university. These courses provide detailed learning in a specific area and are acknowledged by many employers because they can be applied to a future job.
Unlike traditional master's degrees, you can complete each course whenever you like at your own pace. As far as content is concerned, this program equals around 25-50% of a regular master's degree. Courses vary between International Law, Project Management, Entrepreneurship, Business Management, and so much more.
edX MicroBachelors Review
The MicroBachelors program offers undergraduate level edX courses that allow you to transfer college credit toward a bachelor's degree. These programs are ideal for people looking to improve their career, regardless of their working experience. You can earn a certificate that shows off your new achievement and personal growth.
Most programs are self-paced and we also figured out that you will have the flexibility to organize your learning schedule. edX Microbachelors reviews indicate that you can find courses in many areas, and upon further inspection, we found the following: Information Technology, Computer Science, Professional Writing, Marketing, Cybersecurity, and others.
edX XSeries
Designed by world-renowned experts from prominent universities, XSeries is a sequence of high-level courses that help you better understand a particular subject. These programs follow a certificate that helps you demonstrate your knowledge.
Enrolling is easy — just enter individual courses that are part of the XSeries and choose the verified certificate option. According to edX course reviews and based on our own research, courses vary between Career Development, Food Security and Sustainability, Political Science, Neuroscience, Digital Technologies and Social media, etc.
edX encourages anyone looking for in-depth knowledge of a specific subject to use this program as part of their career enhancement.
edX Features
Here are a few key features that you need to know about getting a professional education with edX courses.
Easy to Navigate
When thinking about the factors that determine a website's success, the first thing that pops into our mind is the experience on the platform. It is very important for a website to have a smooth user interface and navigation, especially if the company wants to make a great first impression.
edX is quite easy to navigate around and discover the information that you need. When you first visit the landing page of the edX website, you will immediately know that you've opened a university website that offers professional, university-level courses.
Since the page is short and simple, you can easily spot the sections of all different courses, the search bar, and the partner list. This allows you to investigate some of the programs and degrees that edX provides. The courses are quite flexible, offering both self- and instructor-paced training. They can be downloaded for offline learning so that you can view them on your mobile, laptop, or tablet. You can also download the edX mobile app for iOS or Android to access your course materials.
Additionally, there are a variety of edX free courses to choose from — Arts, History, Computer Science; you name it. The course pages offer all the necessary information you need to know about the course — a short description, an introductory video, course length, price, language, etc.
Another thing that caught our attention was the testimonial section that is rather disorganized with just a few lines of plain text. This might lead some students to wonder whether edX is legit or worth buying.
Quality Content
Courses vary in quality and consistency. In fact, edX course reviews report mixed grades regarding the quality of the courses. Some people argue that edX is really worth it because they had a great learning experience and got what they were expecting to get for their money. Nevertheless, other students report that they experienced technical difficulties or had not so knowledgeable instructors. edX focuses on fewer topics, like Udacity (find out more about its offers from our Udacity review).
Other edX reviews claim that the courses are quite disorganized and poorly made and that the platform often tends to crash, especially for Mac and iOS users. Anyone who has taken a course from edX is likely to appreciate the quality and flexibility they offer, despite the differences between individual courses. This is quite understandable since the website offers a variety of different courses, so we cannot say that all of them are high-quality or poorly designed.
According to our edX Micromasters review, there are almost 60 different MicroMasters programs from the most prestigious universities in the world. These require a year or year and a half to complete.
On the other hand, the MicroBachelor's programs are quite new on the platform and include a course series in partnership with colleagues, corporations, and universities. These high-quality programs take from three to six months to complete.
Plans and Pricing
It's true that individual courses are usually accessible at no cost. However, if you wish to enroll in certified edX courses, you will be asked to pay for them. The price range for verified certificates is between $50–300, while a complete master's degree can cost between $10,000–25,000.
Furthermore, MicroMasters programs cost between $600–1,500, MicroBachelor's programs can be anywhere from $500–1,500, while Professional Certificate Programs require $150–1000. The Global Freshman Academy requests freshmen to pay $200 per credit.
It is really challenging for a company like edX to balance between making a profit and keeping all students satisfied. Most of the negative edX.org reviews indicate the price as the major factor for customer disappointment, claiming that the company is putting hefty price tags on its online courses.
However, as we mentioned earlier, there are two types of courses available — verified and unverified. Verified courses are quite costly and go all the way up to $300. Of course, you have the option to watch the tutorials for free, but you won't get a certificate of completion at the end.
Consequently, according to our edX courses review, it is safe to conclude that the rates make sense considering that the company actually provides top-notch, university-level courses.
Financial Help
If you want to receive a verified certificate but cannot afford the course, edX offers an option to apply for financial help. The majority of the courses and programs are entitled to up to a 90% reduction of the full price. Students who manage to prove that they cannot afford to pay the certificate fee may qualify to get financial assistance up to five times per year.
The process of applying for financial assistance is quite simple. You will need to enroll in your desired edX online course as an audit learner and complete the financial assistance application. This applies to single courses only.
If you want to apply for the Professional Programs, XSeries, MicroMasters, and MicroBachelors Programs, you will need to enroll in each course individually (not for the whole program). After that, you need to complete the application.
The applications are usually reviewed within 2–4 days, and if they are approved, applicants should get an email with a financial aid code for each course.
Pros and Cons of edX
Let's take a look at some of the advantages and disadvantages of these courses based on our edX course review:
Pros:
Accredited courses — Employers and other educational institutions value accreditation of certificates when applicants are searching for a job.
Reputable partnerships — edX has established partnerships with Harvard, Microsoft, and Berkley. Therefore, you get the chance to be taught by respected instructors and get a valuable certificate of successful course completion.\
Different payment methods — edX lets you pay for the certificate with a credit/debit card or PayPal. Just check the 'Verified Track' or select 'Upgrade to Verified' from your edX dashboard.
14-day refund policy — edX allows you to get a full edX refund within 14 days of purchase if you don't want to pursue the course.
Self-paced learning — Most of the courses are self-paced and can be followed at any time. This allows you to begin the course whenever you like and study at your own pace.
Cons:
Limited topics — edX provides courses by various higher education institutions, which is why you won't be able to find specific topics such as filmmaking or baking like you would on other platforms.
Inconsistent structure — The courses do not follow a specific format. Instead, instructors are encouraged to create edX online classes as they like. This can lead to course inconsistency.
Final Thoughts
When it comes to self-improvement, plenty of methods can change your life and make you better in every aspect of life. If you are serious about transforming your life and yourself, edX higher-education courses can help you make that step. Best online learning platforms are a perfect source of knowledge.
Regardless of your position, you can always pursue and advance your career and professional goals. Whether you need more money, promotion at your current job, or you wish to find another one, edX reviews suggest that these online courses and programs can help you expand your knowledge. And we couldn't agree more.
Acquiring new skills in addition to your existing work routine can only benefit you. But with edX that won't be a problem because you can adjust your schedule and learn at your own pace.
Frequently Asked Questions (FAQ)