The online learning system entered the global education scene two decades ago, and after the coronavirus outbreak, we can safely assume it's here to stay. The online education statistics in this article shed light on the development, growing popularity, and benefits of learning online.
In this article, we'll compare online education stats with those related to traditional learning, cover the data on business online learning, and show how prevalent eLearning was during the pandemic. If you're still not convinced that this approach to learning will become our primary educational method, read on to see what the numbers say.
Key Statistics on Online Education (Editor's Choice)
General Online Learning Statistics
1. By 2025, the worth of the global eLearning market should reach $325 billion.
(Forbes, Statista)
In 2014, the global eLearning market was worth $165 billion, and eight years later, we're witnessing a much greater need for online education worldwide, with an estimated market worth of $243 billion. Apart from schools, online learning has been used in many companies around the world. Fast-forward to 2025; the eLearning market size is poised to reach $325 billion globally.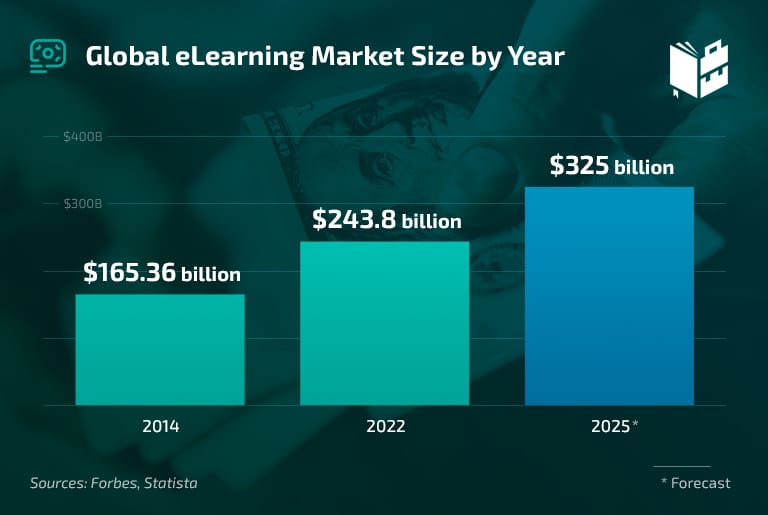 2. The eLearning industry has grown by 900% since 2000.
(KPMG)
We have seen unexpected growth of online education since it first entered our lives — the industry has expanded by a massive 900%. Moreover, it is on its way to evolving even more than what experts have projected.
3. Germany is a leading country in Europe regarding eLearning market growth.
(GlobeNewswire)
When it comes to Europe, Germany is leading the pack regarding the online learning market size. Moreover, it is expected to add more than $12.3 billion to the European share in the following years.
4. The massive open online course (MOOC) is projected to be worth $25.33 billion by 2025.
(ZionMarketResearch)
Since not everyone can afford online education, we've got MOOC — a massive open online course platform created to provide users with numerous free courses. According to eLearning growth statistics, its market value is expected to surpass $25 billion by 2025. It offers free registration and doesn't require attendance or set any other limits.
5. By 2025, the mobile learning market could be worth $78.5 billion.
(GlobeNewsWire)
Mobile phones have become an inseparable part of our lives, and most people nowadays use these devices for completing various tasks during the day. Moreover, in recent years, many people supported the rise of the eLearning trend by taking online classes over their phones.
While the worth of the mobile learning market in 2015 was only $7.98 billion, this number has been increasing and is expected to reach $78.5 billion by 2025.
6. The fastest growth of online learning is noticed in the Asia-Pacific region.
(TechWireAsia)
The Asia-Pacific is one of the fastest developing regions in many aspects, including the eLearning industry. At the moment, this region accounts for 32% of the overall growth of the online learning market.
7. 30% of American high school students get enrolled in one or more online courses per year.
(The New York Times)
The number of students taking online courses in the US is more significant than ever. According to the National Center for Education Statistics, around one-third of US high school students take part in at least one online course, while 13% get all their knowledge online.
8. Around 63% of American high school students use online learning tools every day.
(Statista)
More than half of high school students in the US take advantage of an eLearning tool daily, according to online high school statistics. In addition, 45% of elementary school students use online learning tools. However, that number could be a little lower since only students in the third grade and above have participated in the survey.
9. Online learning results in 90% less energy consumption than face-to-face lessons.
(SH!FT)
Apart from being beneficial on academic and corporate levels, there is a visible impact of online education on energy consumption and global climate change. Due to online learning, there's no need for students to commute, which results in approximately 85% less Co2 emissions and a 90% less energy consumption overall.
10. The US Federal Government generated around $1.67 billion in 2020, thanks to self-paced eLearning platforms.
(Statista)
Online courses are not only beneficial to their users — in 2020, the US Federal Government also profited from online learning products. It gathered approximately $1.67 billion from online education platforms, 5.75 billion from self-paced eLearning services, and $9.93 billion from packaged content.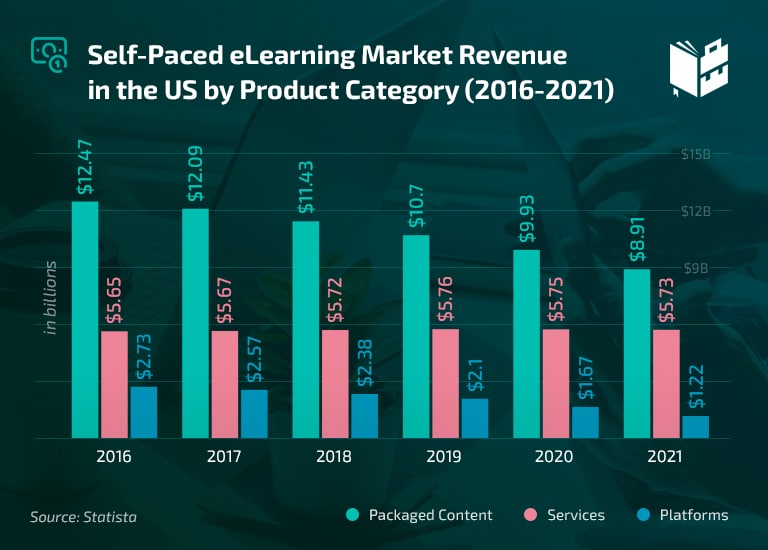 Online Learning vs Traditional Learning Statistics
11. 60% of students with previous online learning experience found the switch to eLearning easy.
(eLearning Industry)
With online learning, you are the one deciding when you will go through the material sent to you by instructors. However, some people still find learning from home difficult — 64% of participants from a survey worry about whether they can stay motivated and focused at home due to distractions.
12. 86% of remote learners think their online degree was worth the money.
(Otter)
Online degrees and certificates have become very popular in the past few years but are still considered less legitimate than those obtained in person. However, online degree statistics reveal that most students are satisfied with the value they bring.
The majority of participants from a survey agree the online degree value equals or exceeds the initial investment. This is mainly because the best online learning platforms often provide cheaper courses and resources. Plus, you'll save a bunch by not commuting to classes.
13. Four out of five students claim that online learning helps their overall academic performance.
(Statista)
Based on online college statistics from 2016, 81% of US college students claim that eLearning helps them get better grades. About the same number of respondents also claimed that digital learning technologies help them save time and be more efficient.
14. Online learning can increase student retention rates from 25% to 60%.
(Forbes)
Students retain around 25%–60% of the studied material through online learning, according to eLearning stats. It seems like a lot compared to a maximum of 10% rate of the standard training methods. This is because eLearning gives learners more control over the learning process and enables them to go back and revisit the materials as needed.
15. 22% of US teachers find it challenging to combine digital learning materials with current instructional content.
(Statista)
Recent years have seen plenty of online classes vs traditional classes research. Some results show that one-fifth of US teachers state that transferring current instructional materials into a digital form was more complicated than it looked. Moreover, 41% claim they haven't been adequately trained to use technology for educational purposes.
16. Students claim they learn five times faster through online learning than through face-to-face methods.
(SH!FT)
Most participants in an online learning program claim they can acquire five times more information for an hour of studying than with the traditional education system. The stats on online education have further shown that the reason for this is that students go over the familiar information more quickly and focus more on their weak spots when studying online.
17. More than 40% of college students find online learning extremely helpful for their homework.
(Statista)
Around 43% of college students in the US stated that eLearning helps them with homework and studying to a great extent. Furthermore, online college enrollment statistics show that around the same number of participants claim online learning helps them prepare for exams, do research for different classes and organize their schedules more effectively.
18. 65% of American educators have opened toward eLearning resources in teaching.
(Statista)
A new learning model has penetrated the US market and made US-based educational institutions rethink their lecturing methods. According to recent online education statistics, approximately 65% of teachers in America offer online learning resources for students.
19. The completion rate for online courses is 72%.
(eLearning Infographics)
The online learning industry has the potential to become the primary option for education. However, at the moment, data shows that eLearning courses enjoy a completion rate of 72%, while in-person courses still stand ahead with a completion rate of 76%.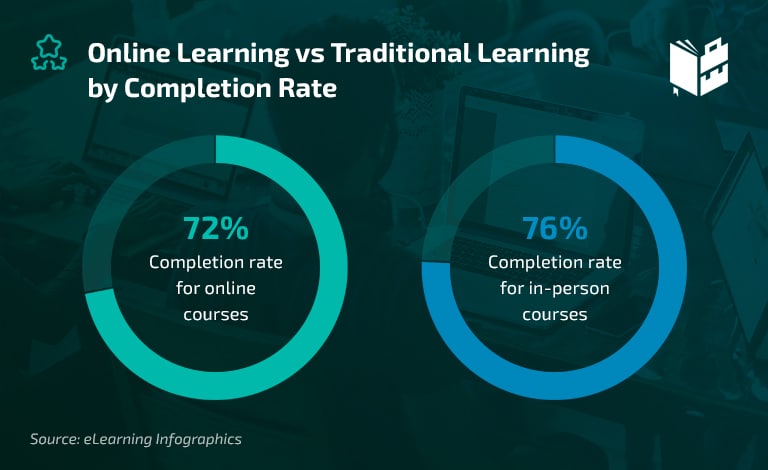 Business eLearning Statistics
20. By 2026, the global corporate eLearning market will be worth $50 billion.
(BusinessWire)
The global online learning market's worth on a corporate level was $14.23 billion in 2017. With a higher adoption of online training by companies worldwide and a CAGR of 15%, the market is forecast to reach $49.87 billion by 2026.
21. By switching to eLearning courses, companies can save at least 50% of their revenue.
(CareersEdge)
Considering the travel and entertainment costs related to in-person training, corporations can save up to 50% of their revenue through online courses. Other benefits of eLearning for businesses include shorter training time and smaller financial investments, which gives better results in the long run.
22. Online learning takes 40%–60% less time than traditional learning.
(Forbes)
The standard learning process is great for everyone who can make the most out of face-to-face contact. However, self-paced learning has been highly valued even before online education, as not everyone responds equally to different teaching methods. By applying the self-paced learning trend in online education, learners report they need up to 60% less time to acquire the required knowledge.
23. IBM has reported savings of around $200 million since implementing eLearning back.
(SH!FT)
More than 20 years ago, IBM announced its revenue savings of $200 million due to switching to online learning. Since then, the connection between online classes and higher profit has become one of the most famous online education facts. Apart from travel, tool, and instructor costs, companies can save much time with remote learning.
24. A total of 42% of US organizations have witnessed an expansion in income thanks to eLearning.
(PapersOwl)
It is not by accident that the US eLearning market is one of the leading forces in the industry. Many organizations turned to online learning when they noticed its potential, and 42% of organizations in the US witnessed a profit increase.
25. Companies get back approximately $30 for each dollar spent on eLearning.
(Docebo)
The eLearning statistics from IBM's research show that companies ready to invest in online learning can expect 30 times more value regarding higher productivity. In other words, a company can gain $30 worth in productivity per $1 invested in eLearning. Moreover, other statistics show that online learning can result in a 60% higher retention rate.
26. Up to 95% of employees value eLearning methods due to the individual learning pace.
(KPMG)
Facts about online education show that what employees appreciate about eLearning is self-paced learning and the lack of commute. The freedom to acquire knowledge at their own pace is essential to 95% of people, while 84% value the fact that they can get the necessary knowledge without going to the office. In addition, 68% of employees claim they are motivated to learn online because the training is mandatory.
Online Education Growth During COVID-19
27. 1.6 billion children worldwide couldn't use their classrooms upon the COVID-19 outbreak.
(UNICEF)
School closure after the coronavirus outbreak forced reforms in education. Schools adapted and looked for alternative ways to provide their students with materials and lessons. The most common option was remote learning through modern technology, so children started attending video classes and learning from electronic textbooks.
28. Only 20% of European and Central Asian countries had online teaching resources when the pandemic started.
(World Bank)
Online learning facts highlight that the pandemic caught many countries unprepared for digital education — only 20% of countries in Europe and Central Asia had digital resources for teaching, and only in certain schools, while 10% had more robust materials.
29. Only 34% of students in Indonesia had access to online learning before the pandemic.
(OECD)
The first requirement for students to learn online is to have a computer, laptop, tablet, or at least a smartphone. More than 95% of students from more developed countries, such as Denmark or Poland, have computers they can use to learn from home. However, distance learning statistics show that only 34% reported the same in Indonesia, highlighting a substantial socio-economic gap.
30. 83% of countries used online platforms to ensure students had access to education during the pandemic.
(UNICEF)
After schools closed during the pandemic, 94% of governments developed policies to provide some form of remote learning, and 83% of countries resorted to online platforms to ensure the continuation of education. Still, with this method, schools reached only about 25% of school children globally. Despite the limitations of TV, data shows that this medium could reach the largest number of students worldwide — 62%.
Online Education Statistics — Final Thoughts
Online education opens new possibilities for everyone and allows you to learn at your own pace and comfort. Plus, it's cost-friendly as it provides faster learning and access to cheaper course materials, allowing you to reduce travel expenses.
This learning method has proven more than reliable in recent years, most prominently in educational establishments and companies that want to provide affordable training. Its expansion isn't ceasing any time soon either, so we can safely say that online learning is a trend of the future.
Frequently Asked Questions