ValoreBooks is an online book trading hub that allows you to buy, sell, and rent used books. It was created for students who are struggling to cover tuition and other college-related costs. As you'll see in our ValoreBooks review, this is one of the most trusted online book marketplaces.
The site is pretty straightforward. All you need to do is find the book's ISBN, insert it in the search bar, and check its availability. Rentals are especially handy, as you can keep a book for 90 or 125 days. That gives you more than enough time to prepare for an exam.
ValoreBooks is a safe and quick option. Whether you're a student or a researcher, you can receive a title at your home address with minimal hassle. According to the company, this method can save you up to $500 every year.
Pros & Cons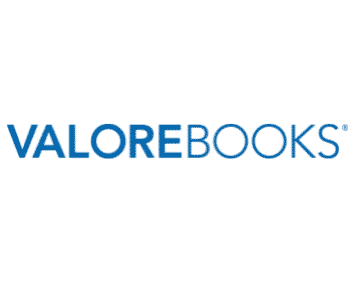 Features, Courses, and Materials
Users can do several things on the ValoreBooks website: rent textbooks, sell textbooks, buy textbooks, and access merchant solutions. There are no limitations in terms of who can request the books. They are available to all users, even if they're no longer studying.
The company offers books from various fields, including accounting, physics, languages, economics, health, art, design, and many more.
Here are all the details on what you can do through this site:
Rent textbooks
Most people visit the website to borrow study materials. ValoreBooks marketplace has several great advantages over its competition, especially traditional book rentals.
For starters, you can rent a textbook for a semester. As soon as your term is over, you can return it without any issues. In other words, you don't have to overpay by renting for half a year or a whole year. Furthermore, the company offers some of the best prices on purchases and rentals.
The ValoreBooks rental policy states that if you find a cheaper rental, the company will refund the difference. Keep in mind that the offer is valid for only seven days from the rental date.
The great thing about ValoreBooks is that it's a one-stop shop for all your textbook needs. It's a marketplace in its truest sense. Thousands of providers offer their books to students and researchers, ensuring that you always get the best price possible. With ValoreBooks, you won't have to waste time browsing countless sites.
Unlike some ValoreBooks alternatives, this company will send a free shipping label to your home once it's time to return the rental. Given that these are used books, there's always a chance that the product might be in poor condition. If you experience any problems of this kind, you're eligible for a full return within 30 days of renting the book.
Sell textbooks
A lot of people sell their textbooks once they finish college. You might keep them for a few years until you get some professional experience. However, once you get a hold of the subject matter, these textbooks will likely become a nuisance collecting dust on the bookshelf.
But there's no need to throw them away when they can still serve a purpose to new students who are barely making ends meet. By selling them, you can help low-income students while getting some of your money back.
The biggest advantage of joining ValoreBooks to sell back is that it offers some of the best (if not the best) prices in the industry. The company has a large network of interested buyers, so you can negotiate prices until you find a person who's willing to meet your requirements.
No matter what the course subject, there's a good chance you'll find the right match through this online platform. As mentioned, the vast number of sellers and buyers makes it easier to find certain obscure titles or older publications. Besides textbooks, the company offers various non-fiction titles, novels, and biographies.
ValoreBooks free shipping is another good incentive. No matter whether you're selling, buying, or renting, the company will offer you a prepaid shipping label. Through order tracking, you'll be able to check the status of the delivery.
In terms of payment options, you can either use PayPal or receive a check by mail.
Buy textbooks
The same advantages that apply to renting and selling apply to buying.
If you don't wish to rent a publication but want to own a textbook, you can always purchase a book.
People have different reasons for buying and renting. While renting is more common among students, the majority of buyers are people who have already finished college and want to have that particular book. Our ValoreBooks review deems these titles are great for people who want to prepare for exams in advance.
Whether you liked the book or just think it would be helpful for your professional career, you can get the used version at a much lower price than what you'd pay for a brand new edition.
According to the company representatives, the thing that separates this platform from the competition is the ValoreBooks customer service, great shopping experience, and convenience. Among others, this is a great place to purchase several textbooks at once.
As mentioned, a student can save $500 during a college year by simply purchasing or renting via the ValoreBooks platform. Even if you find something cheaper in the upcoming days, you can still get the difference back.
With the ValoreBooks expedited shipping, you can start studying the new material within days. This is especially important if you're in a hurry to prepare for an exam.
Once you're done studying, you can always go back to the site to sell these textbooks. A user can get a quote within seconds, and the whole selling process is simple.
Access merchant solutions
Merchant solutions is a feature tailor-made for bookstores. It's great for larger sellers and buyers but can also help small independent stores. The platform provides book merchants with all the tools necessary to manage their inventory. If you check almost any ValoreBooks review, you will notice that this is one of the platform's strongest features.
For example, you can access ValoreBooks sources. This feature helps you optimize automation, correct pricing, and fill rates. You can use it to source various aspects from numerous inventory channels. As a manager of a bookstore, all you have to do is contact ValoreBooks, tell them how many copies you need, and input the desired payment. They'll take care to check your books' condition and hold your order until it's ready for sending.
If you have any excess inventory, you can sell wholesale via ValoreBooks. Like with selling individual books, you'll instantly get a quote. By utilizing various filters, you can see which buyers are within your desired price range and select the buyer with the best offer.
If you check any ValoreBooks sell back review, you'll notice that the company does a great job with textbook buybacks. You can use the platform to increase buyback title count, get competitive prices, and set desired commission rates. The company also has a great support team, which is especially important if you have a large number of users connected to the account.
Ease of Use
Even if you don't have any experience with similar platforms, you'll quickly get the hang of the ValoreBooks interface. When you find the right buyer or seller, you'll get a prepaid shipping label and a packing slip. Here's what the procedure looks like after that:
1. You need to put the packing slip on the package.
2. All the books need to be packaged tightly. Ideally, you should use a padded envelope.
3. Proceed by attaching the shipping label to the package.
4. Drop the package off at the nearest post office.
If you check any ValoreBooks rating and review, you will notice that most people praise its ease of use.
If you've ever sent a book via mail, you shouldn't have any trouble filling ValoreBooks orders. Make sure that the item is properly packaged so that it doesn't get damaged during transit.
Plans & Pricing
Given the nature of the platform, you can always get the best price with ValoreBooks. A user can compare numerous offers and find the lowest ones. The site works as an intermediary, meaning there are no hidden fees. As any ValoreBooks review online does, we also praise such practice.
Once you submit a textbook, the evaluation process will be rather quick. If the product meets the company's quality standards, you can get paid within the next 14 days. You can pay via check or PayPal. If you choose to mail a check, it will be sent to a designated address via US postal services.
The downside to this platform is a limited choice of new books. At the same time, you can get great prices on older publications and especially rundown items. Keep in mind that the free shipping only works for rental returns. Otherwise, you have to pay $3.95 per book.
Using a ValoreBooks coupon is a great way to get a price reduction. Keep your eyes peeled for such offers as they can further reduce your education expenses.
Refund Policy
When the rental period is over, the company will send you a free shipping label. You can get it by going to the order page, and it's available for 45 days. Every textbook will have to be packaged separately.
You can return the books 30 days after purchase. The ValoreBooks return policy is pretty awesome, and you can take advantage of it if you're a fast reader. As long as you return a product within the designated one-month period, you'll get your money back.
Keep in mind that the item needs to be postmarked within 30 days of purchase. Otherwise, you won't be eligible for a refund.
Online Ratings
ValoreBooks review grades tend to vary significantly. People who complain about the website mention the lackadaisical approach, slow responses, or a limited number of new publications.
Sitejabber is one of the best places to learn about the company's service. As of this review, there are 1,579 ValoreBooks reviews on the site. The users gave it an average score of 4 out of 5, which is further broken down into:
Service (3.5 stars)
Value (4 stars)
Returns (3 stars)
Quality (3.5 stars)
Reseller Ratings can also provide a few valuable insights. According to 30,722 reviews, ValoreBooks has an average grade of 3.6 out of 5. The website takes into consideration several things when assessing the quality of service.
Reseller Ratings checks when the review was posted and compares it with other reviews from that period and all other reviews from different periods. That said, the website's score of 3.6 should be a good representation of ValoreBooks's service over time.
College Investor is another reputable site that reviewed its service. The platform received an overall score of 75%, where pricing, shipping costs, and return policy received 80%, while extras received a score of 60%.
ValoreBooks Pros and Cons
Pros:
The platform allows you to rent, buy, and sell
Older books are very cheap
Some of the best prices
You can use it to sell a large book inventory
Easy to use
Cons:
Lots of complaints regarding customer service
Books getting lost in transport
Value for Money—Final Verdict
Although ValoreBooks reviews are somewhat split, the platform generally receives positive grades. The rental feature is great for all struggling students who need access to cheap study materials. Furthermore, the books arrive in just a few days.
When it comes to money, this is probably the best option for you. A large number of users ensures that buyers and sellers always get the best offers. While you might encounter some minor issues during the delivery, the platform allows you to save a lot of money, especially if you use it for a long time.
To conclude our ValoreBooks review, if you wish to contact the company, you can always send them an email. You can also reach them via the ValoreBooks phone number. The company also has an active Facebook page.
FAQ: