Making an attractive and professional-looking resume doesn't have to be a daunting task. In this ResumeBuilder.com review, you'll find how to save time and effort with the platform's services.
More than six million users created their resumes with the help of Resume Builder. It offers over 30 templates with some room for customization. What's more, a team of certified resume writers and hiring managers will make sure your CV is fit for job hunting.
Keep reading to discover Resume Builder's best features, perks, and how it stands out among the competition.
Pros & Cons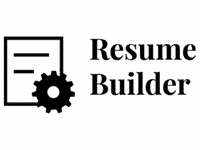 Features & Materials
When hiring a certified resume writer isn't an option, having a sleek resume builder is the next best thing. ResumeBuilder.com reviews reveal it compiles millions of job descriptions from small and large companies. Then, a machine learning engine analyzes their content to build a resume matching profile.
The company's team of professionals in the field aims to determine which elements prove successful or unnecessary when building a resume.
Resume Builder
With Resume Builder, you can create your CV from scratch. It offers elegantly designed, aesthetically pleasing, and professional-looking templates. However, we must note that the ResumeBuilder.com app doesn't provide very diverse designs, and the customization options are limited. You can't add colors or adjust the font styles or sizes.
You don't need to create an account to start building your resume. You'll be prompted to enter your personal details and add education, skills, experience, hobbies, languages, and references. You can choose which sections to use to personalize the look of your resume. Moreover, you can include and name up to 14 custom sections.
According to ResumeBuilder.com reviews, users like that they have complete control over the resume-building process. The added information is visible in real-time, giving you a preview of the resume on the spot, so you'll always know whether the formatting works.
ResumeBuilder.com Examples
By analyzing thousands of winning resumes, Resume Builders's team has built helpful guides to create the perfect, job-specific resume. It has the most comprehensive directory of resume samples among the competition, which is continually updated.
The research for our ResumeBuilder.com review showed you could see downloadable examples, resume text versions, and expert tips for each job posting. Similarly, the site has a rich database of downloadable cover letter samples for all industries, featuring text versions and expert checklists.
Ease of Use
ResumeBuilder.com reviews state that it's very simple to use and excellent for beginners. The interface is user-friendly, and everything is well-outlined. The builder isn't cluttered with tools, as the customization options are limited. You need to input the information, decide on a template, and download the document.
What's more, Resume Builder has excellent customer service. You can call or contact the reps via the form available on the website. It might take up to one day to get a response, but we heard back in half an hour when we approached them.
Additionally, many user ResumeBuilder.com reviews note that the company's agents are responsive and very helpful.
Plans & Pricing
ResumeBuilder.com is one of the few free resume builders. You won't pay a dime to build or save your resume. When you click the "Download" button, you'll have your document ready. One potential downside we found for our ResumeBuilder.com review is that the files can only be downloaded as PDFs.
Privacy Policy
Resume Builder makes users' privacy its top priority. The company is taking all necessary measures to guarantee the security of your information. It also commits not to sell the data you're sharing to create an account or build a ResumeBuilder.com resume to third parties.
Additionally, you can permanently delete your information anytime.
Online Ratings
Users are generally satisfied with Resume Builder's features, especially its simplicity. It got a 4.2 score on Sitejabber, and it's frequently cited among the best platforms for online resume building.
However, some testimonials are misleading, as people claim to have been unrightfully charged for the services. Resume Builder is entirely free and doesn't ask you to fill in your payment information at any point.
ResumeBuilder.com Review — Pros and Cons
Pros:
Free tools and example materials
User-friendly interface
Extensive and continuously updated sample directory
Unlimited resume building
Excellent customer support
High-level security of user's data
Cons:
No cover letter builder
Limited customization
Value for Money — Final Verdict
Although, as we mentioned above in our ResumeBuilder.com review, the platform is limited in customization, its templates are well-suited for people with little experience. A huge plus is that the platform is entirely free and very easy to use. Additionally, you can create an unlimited number of resumes and edit them anytime.
The platform has a rich database of ResumeBuilder.com cover letter and resume examples. They can help you understand what's best to include or avoid in your job application. The company experts continuously research the latest trends to ensure your CV looks professional and contains the right information.
On the other hand, the only format available for download on ResumeBuilder.com is PDF. Plus, there isn't a cover letter builder to complement the resume maker. Considering all, Resume Builder is best for people who are just diving into the job hunt, and it doesn't cost a thing.
People Also Ask — FAQ